The afternoon knows what the morning never suspected. ~Swedish Proverb



Hi Creative Friends,
"Receiving unexpected ‪poetry means
someone is paying attention."

~April Mae Monterrosa



The moon moans in monotony,
once again completing her monthly rounds like clockwork,
never expecting anything different from the wax and the wane,

the tides and the time tables.

Every now and then a eclipse, sometimes a half moon

like a Picasso ice cream cone

moves silently through the exhalation of night

Never knowing how much her beauty

Is embraced by the adoring world below.

There are musical flowers,
flying liked boxed vibrations in cursive flight
an afternoon buzz,
uncorked imagination,
soaring over the Don't Fence Me Inn,

crazy notes, a flying landscape, a carnival,

finding any direction but the one they're used to,

making unexpected poetry

fill with beauty
but never needing to know why.

One of the exercises I designed for my retreats is to instruct everyone to scribble and then play with names and captions for those scribbles. A vast variety of titles lead to unexpected poetry arrives because titles of abstract art are similar to poetic descriptions. Writing and art conspire to find a new world away from the craziness that can sometimes make our ends split, cause constipation and yes, crankiness.
A few of favorites from the Taos retreat from which I just returned from were responsible for the poem above. Imagine what these scribbles looked like:
afternoon buzz

sunflowers

boxed vibration

don't fence me Inn

gather

picasso ice cream

vivid jags

fretting without a guitar

arrows

carnival overload

musical flower

flying landscape

where to put this energy

exhaling

crazy notes

cursive flight

Even playing in a rough draft with low expectations, my attention falls away from the rut to possibility, soothes my soul with the artfulness of words, escapes the weirdness out there by creating a whimsical world where moons have feelings, a much better playground than melancholia and the media.
Simply ask… Where might I find unexpected poetry this week? And then look for evidence.
Or play with the words above in your own poetic play. Pick one or more as a title or combine them and see where they take YOU. Send me what you come up with. I want to see. ~Jill
Creativity Out There in the Cyberland:


Polish Christmas Guide ... to help with the heat wave

Don't Miss My Grandmother's Lingo

30 species in 30 pieces... way cool - in case you missed it last time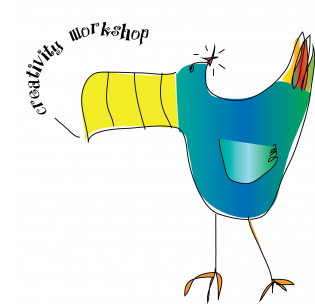 August 6 - December 3, 2018
Become a Certified Kaizen-Muse Creativity Coach
And now for a very DIFFERENT way to learn to mentor people using creative tools, take your creativity (and your life) to a whole new level, and create another stream of income. Using intuition, imagination, in-session experiences. The tax-deductible investment pays off in many many ways. More here on KMCC, payment plans available.The training begins every August and January

SKETCHKON 2018 PASADENA is filling up fast!!
For three fun-packed days, we'll experience a non-stop smorgasbord of rich visual presentations, inspirational talks, collaborative art projects, technical demonstrations, sketchcrawls, and one-on-one advice.
For the first time ever, over five hundred creative folks — including many top sketchbook artists from around the world — will gather in sunny Pasadena to celebrate our art. I will be giving a keynote and a workshop*. SIgn-up soon!
*Kamikaze Drawing and Low-Flying Creativity See More Here
Using fleeting multimedia projections, poetry, music, the silly and absurd you will be tricked into effortlessly colliding with your true creative voice without overthinking or scaring it away. Any perfectionistic tendencies, hesitancy, and/or immobilizing self-judgment will be terribly confused and ask to be excused from this workshop.
You will experience
The unleashing of a deeper creative voice.

What it's like to generate a plethora of sketches in a short amount of time under the influence of an altered state of sketching.

Learn techniques that make sketching not only easier but a hell of a good time to create.

Go home with at least three sketches you'll want to frame, share with the world, or simply become.

February 15- 19, 2019
The Muse in Winter Taos Creativity Retreat in February fills every year. Start a monthly payment plan now to make it easier.
Writing, art, improv, laughter, a private concert, reconnecting with your creative self, transcending the world and finding kindred spirits, especially geared toward introverts, people who don't THINK they are creative and anyone who wants to be pampered and stay where creative greats have gone for many, many years for creative restoration.
. More here

Parallel Universe Time An hour every Monday to get to your creative work or anything you've been putting off. This is a sacred, grounding time where we hold the space for each other to focus. It's been happening for nine years now. No charge. All are welcome. Sign-up here, unsubscribe anytime.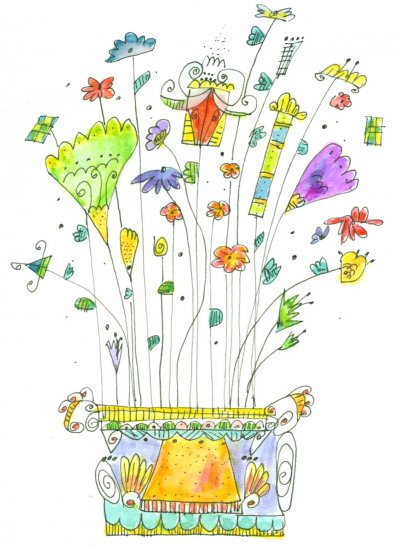 Look around, there's a poem, or a painting, or a Picasso ice cream cone waiting for you to find it,
Jill Badonsky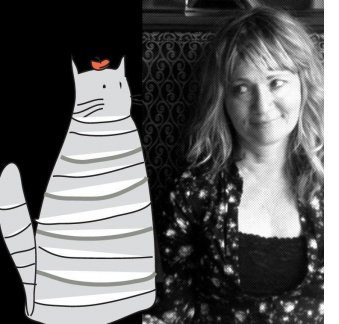 Jill Badonsky, M.Ed. is head muse of the Kaizen-Muse Creativity Coaching Certification Training founded in 2004, multimedia artist, yoga teacher, and author/illustrator of four books on creativity.

Uses ellipses irresponsibly... . ....... ...
<Seen here with one of her drawings.