Follow our craft beer adventures...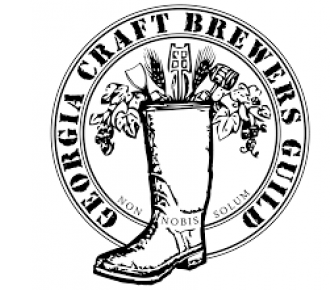 The Wrecking Bar Brewpub will launch the inaugural Georgia Beer Fortnight with a bottle release of their most notable beer, Mexican Siberius Maximus and a kickoff festival with 25-30 of Georgia's best beers, food and live music August 18, 2018 from noon - 4 p.m. More information and tickets can be found at http://bit.ly/meximaxevent

From Aug. 18 - Sept. 1, 2018, more than 50 beer related events will take place at more than 30 sponsoring brewery, brewpub, restaurants, beer bars and retail establishments. Events are focused in geographic areas as follows:



- Saturday 8/18 and Sunday 8/19 – Atlanta Downtown / Midtown / East




- Sunday 8/19 and Monday 8/20 – Atlanta Westside




- Monday 8/20 through Thursday 8/23 – Atlanta North




- Thursday 8/23 and Friday 8/24 – Decatur / Avondale Estates




- Friday 8/24 and Saturday 8/25 – Athens




- Saturday 8/25 through Saturday 9/1 – Savannah, in conjunction with Savannah Beer Week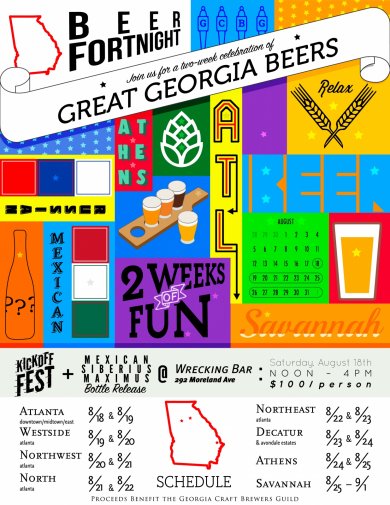 - Central Nashville Brewery Roundup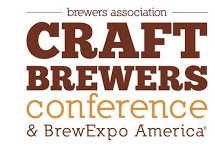 By Owen Ogletree

The Brewers Association's decision to hold its 2018 Craft Brewers Conference, America's largest craft brewing industry gathering, in Nashville confirms that "Music City" has evolved into a southeastern craft beer hub. Want a world-class beer to go with hot chicken, barbecue and country tunes? Nashville is the spot. Owen's article is a run-down of just a few of central Nashville breweries worthy of a visit.



Click

HERE

to check out the entire article.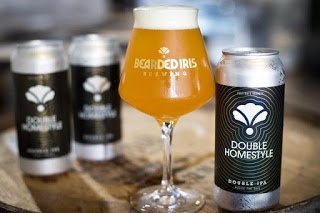 - Atlanta Cask Ale Tasting TICKETS on sale for 2019!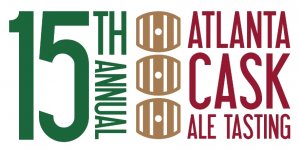 Attendees loved last year's new setup for the Atlanta Cask Ale Tasting at 5 Seasons Westside. The outdoor areas were super fun, and the cask ales were the best ever. Grab your tickets now for our next ACAT before tickets sell out!



5 Seasons Brewing WESTSIDE

Event will take place in 5 Seasons' brewery,
SkyBar, patio and downstairs meeting room.
- Craft Beer Reviews for Summer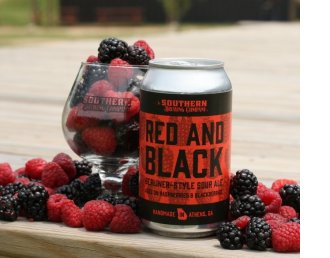 Check out
Owen's summer craft beer reviews
featuring Southern Brewing Red & Black, Red Brick Soul of the City, La Trappe Witte Trappist, Terrapin Gamma Ray, Creature Comforts Crescendo, Service Brewing Teufel Hunden, and more! Click
HERE
to read the reviews.
- Come to Scotland with Us!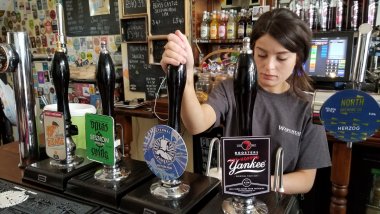 Announcing a NEW Brewtopia beer trip for June 2019. Join us! Registration is now open, and spots will go fast!
MANCHESTER UK & SCOTLAND ADVENTURE - June 4-12, 2019

- Enjoy real ale and single malt Scotch!
- Fly into Manchester for pub and brewery visits.
- Lunch and amazing real ales at Hawkshead Brewery.
- Travel on our charter bus north to Traquair House castle brewery.
- See the classic pubs of Glasgow.
- Attend a beer festival.
- Journey north to Loch Lomond for a visit to Fyne Ales Brewery and a lunch of fresh oysters and seafood.
- Head east on our charter bus to the glorious city of Edinburgh to experience the castle, Scotch museum and classic pubs.
- Tour a couple of single malt distilleries and visit the William Wallace monument.
- We will fly home from Edinburgh.
- Plus much more!



Click

HERE

for more information and to reserve a spot!
- An American Look at the South African Craft Beer Renaissance

This article was published originally in South Africa's On Tap craft beer magazine.

By Georgia's Beer Wench

Three and a half years ago, on a bucket list trip to South Africa with Owen Ogletree, we found craft beer… good craft beer. Last February, we brought thirty-two beer travelers specifically to enjoy the exploding craft beer scene around Cape Town. The most popular question that I've been asked since the trip is "How is the craft beer scene in South Africa?" After much reflection, I have an answer.



Click

HERE

to read the full article.



- Athens, Georgia Homebrew Classic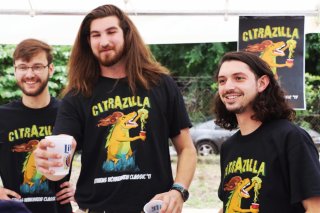 The Athens Homebrew Classic is a locally run homebrew competition divided into two parts: a BJCP
competition where certified experts score entries based on beer style guidelines, and an open to the public
festival where everyone can sample and vote on their favorite homebrew. BJCP Judging occurs on September
15-16th. Those interested in entering, judging (BJCP certification required), or stewarding should
visit HERE for registration and more information. Entries must be registered by September 12.

The public festival will be on September 23 at the Jittery Joe's Roaster (425 Barber Street, Athens, GA). If
you would like to volunteer at the event, sign up here. The event is free, but non-competitors will need a ticket
to enter, and tickets are limited, so get yours today!

Register to Compete

Ticket Information


Dry County Brewing
Neon Neon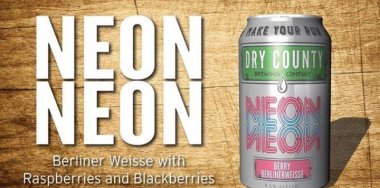 Dry County Brewing Company's Neon Neon is back for a limited time! Neon Neon is a Berliner Weisse with refreshing additions of raspberries and blackberries. This electric beer hits the perfect target between tart and sweet, making for a delicious drinking experience for summer.


- Open a Brewery in Lexington, Georgia

Our good friend Joanne Maki owns a building in Lexington, Georgia (near Athens) that would make a terrific, small, startup brewery. She is willing to rent the space or sell. To inquire, email her at joannemaki22@gmail.com.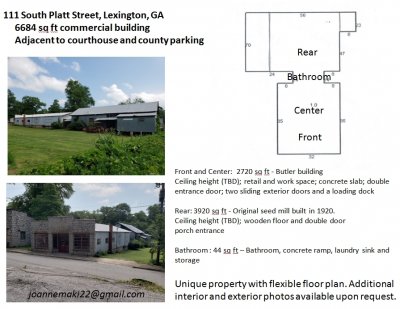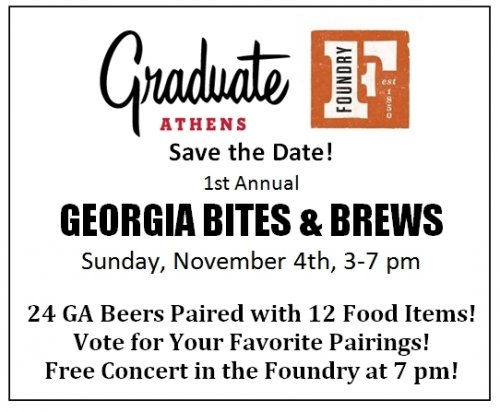 - Brewtopia Events on Facebook & Twitter

CLICK HERE and hit the Brewtopia Events "like" button on Facebook to see live photos and news posts as we sip, quaff and sniff craft beer around the world. Also be sure to "friend" Owen Ogletree on Facebook.

Follow Brewtopia Events on Twitter.
COMING UP...
Owen Ogletree travels to the annual Beer Bloggers & Writers Conference to give a speed talk on beer off-flavors and attend excursions to Baltimore's new Guinness facility, Dogfish Head, and Richmond, Virginia. Stay tuned for photos, news and videos! This is a superb event for anyone interested in writing about craft beer.