Follow our craft beer adventures...
- Georgia Bites & Brews on Nov. 4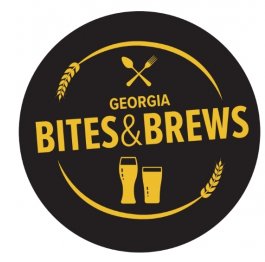 Craft beer pairs extremely well with all types of food, so
make plans to experience our Georgia Bites & Brews craft beer and food pairing festival on Sunday, November 4 at the Terrace and Foundry Ballroom of the Graduate hotel complex in Athens, Georgia.

For one low ticket price, sample delicious food items from 12 stations, each paired with two exciting Georgia craft beers. Attendees vote on which beer pairs best with each food item, and the winning brews will be announced at 6 pm. 12 small plates, 24 trendy GA craft beers, a souvenir pint glass, and a free bluegrass concert from The Plate Scrapers at 7 pm! You can't miss this mouth-watering event that will be hosted by Owen Ogletree of Beer Connoisseur Magazine and Southern Brew News. 21+ only please.



Sunday, November 4, 3-7 pm


Graduate Hotel / Foundry in Athens, GA


Only 200 tickets sold, and these won't last long!





Here are the awesome Georgia breweries that will each have a beer entered in Georgia Bites & Brews...
Akademia Brewing
Arches Brewing
Atlanta Brewing
Cherry Street
Creature Comforts
Dry County
Eventide
Gate City
Monday Night
New Realm
Oconee Brewing
Orpheus Brewing
Pontoon
Red Hare
Reformation
Savannah River Brewing
Service Brewing
Southern Brewing Company
Steady Hand
SweetWater
Terrapin Beer Company
Three Taverns
Wild Heaven Beer
Wild Leap
After Bites & Brews, stay the night at the beautiful Graduate Hotel for the discounted rate of only $99. Call the hotel at (706) 549-7020 to book your room.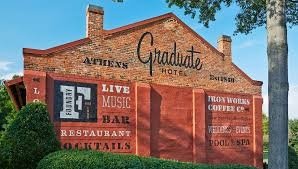 - Craft Beer Reviews for Fall


- Akademia Brewing Hunker Down Brown
is an American-style brown ale loaded with brown malt complexity that provides notes of roasted nuts, dark biscuit crust, light caramel and balancing hops. This ale goes down extremely well during UGA football season.

- Atlanta Brewing Company Soul of the City American IPA is a smooth, pleasing, thirst-quenching IPA with hops that give wonderful nuances of citrus, pine and pineapple. Light esters provide an elegant complexity.




- Creature Comforts Context & Memory Pale Ale
is an easy-drinking, 5.5% ABV American pale ale with generous additions of Mosaic, Citra and Galaxy hops that provide juicy, herbal, tropical fruit notes backed by pleasing malt complexity.
"Context and memory play powerful roles in all the truly great meals in one's life." - Anthony Bourdain
.

- Creature Comforts The Silent World. This smooth, clean, black lager gets its inspiration from classic, roasty, German schwarzbiers. Expect a dark malt-focused brew featuring roasted malt, caramel hints, mild cocoa and nuances of toasted bread crust. Classic German hops provide a pleasing balance in this 5.5% ABV lager.




- Gate City 1864 IPA
is a malty, slightly sweet ale with pleasant malt complexity backed by mild American hop additions. The aroma is malt-forward. Pair with roasted chicken or grilled scallops.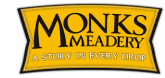 - Monks Meadery Abstinence in the Abbey is a Belgian-inspired mead with coriander, orange peel, grains of paradise and Belgian ale yeast. Light additions of Nugget and Mt. Hood hops are included for bitterness and flavor, and the mead offers beautiful notes of clove, spice, fruit and witbier coriander complexity. Monks Meadery is even looking into producing the mead with chickpea bean water for added complexity and mouthfeel.




- Pontoon Snozzberries Taste Like Snozzberries is a rich, fruity Berliner weisse with strawberry, blackberry, black currant, vanilla and sweet lactose. Like a tart fruit smoothie, this 5.1% ABV ale packs a mouthful of fresh fruit character and mild lactic acidity.





- Red Hare Hasenpfeffer Oktoberfest
is a classic German-style märzenbier with an elegant nose and palate of toasted bread, light nutty malts and hints of toffee and caramel. This clean lager comes across as malty, with no fruity esters. Pop a can alongside a salty, soft pretzel with mustard.

- Southern Brewing Company Mulberry Grove Golden Sour Ale is part of the brewery's Southern Woodpile Series. Aged in oak for more than a year, then dosed with a load of fruit from Lexington, Georgia, this reddish hued, tart brew offers notes of stone fruit, crisp lactic acid, strawberry jam, cranberries and mild Brettanomyces. An elegant fruit ale.




- St. Feuillien Grisette
is available now in cans. This version was inspired by a light-bodied, yet complex, Belgian ale that was popular with Belgian miners early last century. Notes of wheat, fruity esters and mild bittering hops make for an extremely impressive session ale that goes well alongside light cheeses and buttery fish dishes.

- SweetWater 420 Strain G13 IPA contains special terpenes and hemp oils, providing a mildly dank, cannabis-like aroma and palate. The 6% ABV IPA offers a medium body, slight haze, and an even greater depth of dankness from additions of resiny Columbus and Simcoe hops.




- Terrapin Touch of Grisette
. Terrapin's version of this historic style of Belgian ale boasts hints of wheat, farmhouse complexity, light bittering hops, and a touch of acidity. This low gravity ale goes extremely well with goat cheese or raw oysters.

- Wild Heaven Fest Beer. Brewed in the style of an Oktoberfest märzen lager, this beer from Avondale Estates, Georgia also contains a slightly pungent, experimental German hop called Greungeist that provides a unique, interesting twist. Greungeist is a Hallertau derivative. The beer comes across as quite poundable.


Click on the image below to view Owen's new video from the resurrected
Celis Brewery
in Austin, Texas...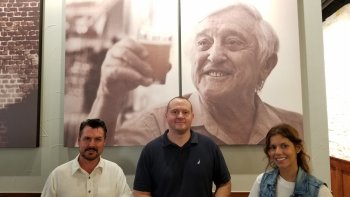 Click on the image below to check out Owen's video focusing on Terrapin's recent collaboration brews at
Wadworth and Banks's
breweries in the UK...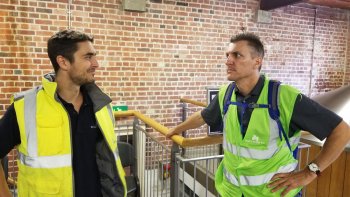 - Atlanta Cask Ale Tasting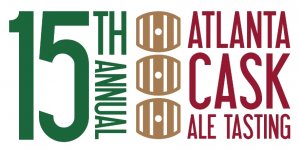 Attendees loved last year's new setup for the Atlanta Cask Ale Tasting at 5 Seasons Westside. The outdoor areas were super fun, and the cask ales were the best ever. Grab your tickets now for our next ACAT before tickets sell out!



5 Seasons Brewing WESTSIDE

Event will take place in 5 Seasons' brewery,
SkyBar, patio and downstairs meeting room.
- Come to Scotland with Us in June!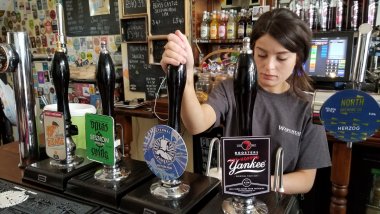 Announcing a NEW Brewtopia beer trip for June 2019. Join us! Registration is now open, and spots will go fast!
MANCHESTER UK & SCOTLAND ADVENTURE - June 18-26, 2019




Click

HERE

for more information and to reserve a spot!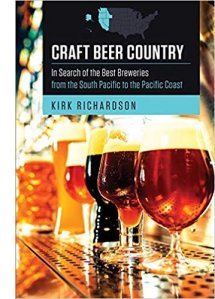 Craft Beer Country
Author: Kirk Richardson

Grab a copy of Kirk's book to read about his personal experiences involved in visiting craft breweries and sampling exceptional beers from the South Pacific to the Pacific Coast. Kirk's book includes delightful quotes and stories from some of craft brewing's most interesting personalities in the western USA, and his tasting notes and beer reviews will surely make your mouth water. This is a people-focused beer book written from the heart.

Release date: October 23, 2018. Pre-order a copy on Amazon.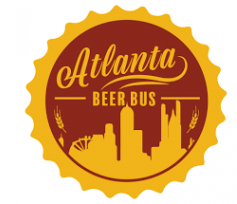 The Atlanta Beer Bus is a fun, hop-on/hop-off shuttle service that runs between many of Atlanta's breweries with regular stops at SweetWater, Monday Night, Urban Tree Cidery, Second Self, Scofflaw, Red Brick, Park Tavern and Orpheus. The bus rolls on Fridays, Saturdays and Sundays, so look to www.AtlantaBeerBus.com for complete schedules and pricing.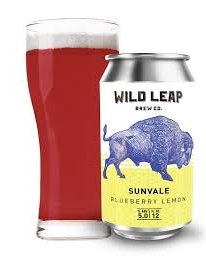 Wild Leap
Sunvale Blueberry Lemon

Wild Leap introduces its newest craft beer, Sunvale Blueberry Lemon (5.0% ABV, 5% IBU).

Wild Leap's head brewer Chris Elliot started with a clean, delicate, wheat beer, then added fresh blueberry puree and lemon. In fact, a whopping 1,000 pounds of blueberries were used to make juicy Sunvale Blueberry Lemon – that's about a half-pound of fruit per gallon. Chris did a secondary fermentation with the fruit to truly integrate their flavor into the mix. The result is bright, light and slightly tart.



10/28/2018 - BARK & BREW free mini beer fest with dogs! Live Wire, Athens, GA. Reserve your spot HERE.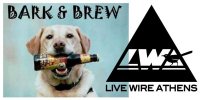 11/04/2018 - GEORGIA BITES & BREWS. Owen Ogletree hosts this fantastic craft beer and food pairings at the lovely Graduate Athens and Foundry music hall in Athens, GA. GET TICKETS NOW!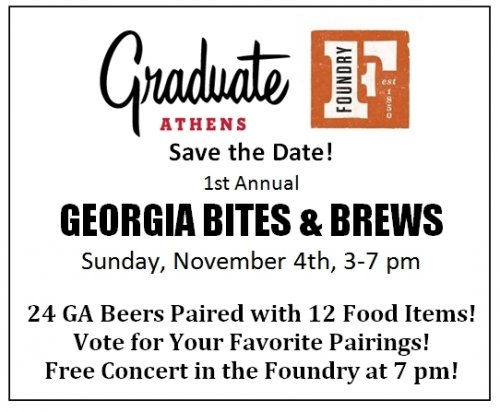 01/19/2019 - ATLANTA CASK ALE TASTING. Experience 55+ one-off, amazing cask ales at our 15th annual ACAT at 5 Seasons Westside. Get TICKETS HERE.
- Brewtopia Events on Facebook & Twitter

CLICK HERE and hit the Brewtopia Events "like" button on Facebook to see live photos and news posts as we sip, quaff and sniff craft beer around the world. Also be sure to "friend" Owen Ogletree on Facebook.

Follow Brewtopia Events on Twitter.
COMING UP...
Owen Ogletree and The Beer Wench take a group of 40 craft beer enthusiasts to Belgium and western Germany to sample amazing beers ranging from lambics and Westvleteren 12 to classic altbier and kolsch. Most of the Savannah Brewers League is coming along! Watch for photos and videos.