Hi ,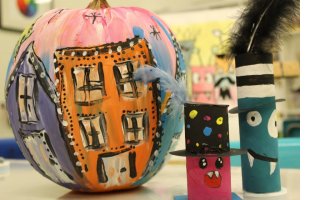 Today's issue is brought to you by the letter P for Pumpkin ... but I have nothing to say about pumpkins ... other than they can be great works of art and I love pumpkin pie with lots of whipped cream on top. Oh and then there's the pumpkin spice epidemic.

So here's something about Passion instead:

It's passion that makes the difference in creativity. Many of the blocks that befuddle the people I work with, (lack of focus, difficulty starting, resistance, procrastination, self-sabotage, time-issues, fear), are ones that I've encountered as well.

The thing that has kept me creating through all these years, that has kept me in business for myself, that has stuck its tongue out at the aging thing and the chaos in the world: Passionate commitment, both perfect and imperfect. My relationship with creativity is my most coveted possession.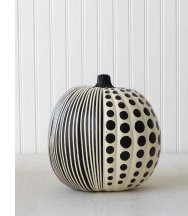 Passion keeps me going with the other P word that makes creativity pleasurable and plethoric (<I made that one up): Perseverance. If you're passionate you persevere, if you persevere- you're practicing. All of these lead to feeling confident, skilled, and enthralled, which are more effective ways to get to your creativity than pressure and self-flagellation. You finish a plethora of projects.

How's that work? If you are feeling passionless, if you are passionate but want more focus, if you have issues with not being good enough, join me in a workshop Thursday November 8, 2018 at 4 pm pacific/ 5pm mountain/ 6pm central/ 7pm eastern where I will share with you some simple Kaizen-Muse tricks that can get you back on track and will take a volunteer on a short and gentle journey to more creativity. Come along with them: Sign-up here , P.S. it's free - you can opt for an internet connection or a phone connection. I'll also share with you about the Taos retreat and the excursion to Paris next September: (the experience will be recorded and sent to you if you cannot make it)

Another way to stoke your passion in the company of kindred spirit is to come to The Muse in Winter retreat in Taos. Sign-up before the prices go up, there are a few spots left. More here




ART FOR ALL PODCAST WITH DANNY GREGORY


Have a listen to this podcast with Sketchbook Skool guru and prolific writer, Danny Gregory, and myself - We talk about perfectionism, comparison, and how Danny sometimes doesn't like his own books:



My kitty, Sunshine gets scary

Rain for those of us in a drought:


Easy typer: Wish I had tha in college !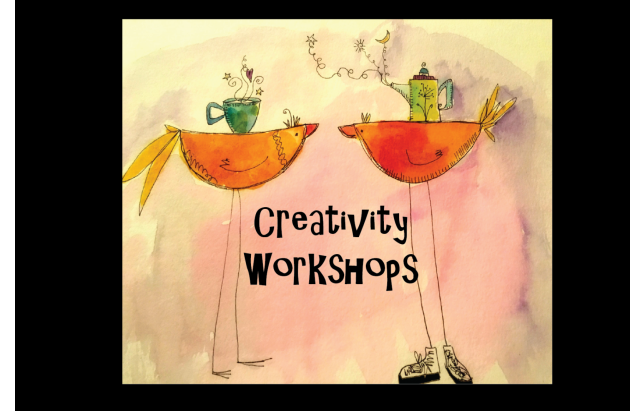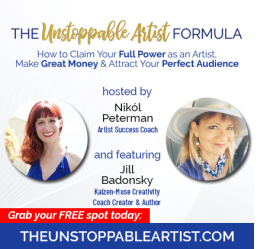 October 29, 2018 Launch Date!
Join me for a free online event
The Unstoppable Artist: Claim Your Full Power as an Artist, Make Great Money, and Attract Your Perfect Audience!


My friend, Nikól Peterman, Artist Success Coach and owner of the Artist Development Company ZenRedNYC, has gathered more than 25 of the best mentors to give you the top industry secrets for FREE!

I'm super excited to be part of this event because it's not just TALK…

Every training will give you the most cutting edge tools and strategies, proven to work, you can implement right away.




November 1-4, 2018


SKETCHKON 2018 PASADENA is filling up fast!!

For three fun-packed days, we'll experience a non-stop smorgasbord of rich visual presentations, inspirational talks, collaborative art projects, technical demonstrations, sketchcrawls, and one-on-one advice.
For the first time ever, over five hundred creative folks — including many top sketchbook artists from around the world — will gather in sunny Pasadena to celebrate our art. I will be giving a keynote and a workshop*. SIgn-up soon!
Danny Gregory, Austin Kleon, Jane La Fazio and many more instructions will be there including your tribe. Hear from Danny here.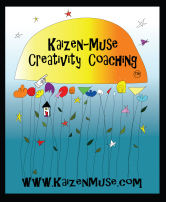 Mondays, January 28 - May 20, 2019

Become a Certified Kaizen-Muse Creativity Coach
And now for a very DIFFERENT way to learn to mentor people using creative tools, take your creativity (and your life) to a whole new level, and create another stream of income. Using intuition, imagination,
in-session experiences. This tax-deductible investment pays off in many many ways. More here on KMCC, payment plans available.
The training begins every August and January. Message or email me to apply.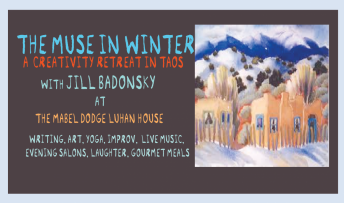 February 15- 19, 2019
The Muse in Winter Taos Creativity Retreat

in

February fills every year. 16 max to keep it intimate and get to know people. Especially made user-friendly for introverts and those worried about what the hell a creativity retreat is... You get pampered, inspired, well-fed and entertained!



Writing, art, improv, laughter, a private concert, reconnecting with your creative self, transcending the world and finding fun. kindred spirits. For people who don't THINK they are creative, those who want to expand their creativity, and anyone who wants to be pampered and stay where creative greats have gone for many, many years for creative restoration. Invest in yourself in 2019 - it's a good time to focus on your creativity.

. More here


Find Your Creative Soul in PARIS!
September 12- 16, 2019


If you've been wondering how to get to Paris... here's a great idea for you. Includes:
* 5 Nights at Hotel Henry IV Rive Gauche
* Breakfast for 5 days
* 4 Hosted Dinners including Farewell Dinner on Bateau on the Seine
* 2 Hosted Lunches
* Entrance fees to Musee Rodin, Musee d'Orsy, Eiffel Tower with Champagne at the Eiffel Tower Champagne Bar, Transportation to Giverny, Entrance to Monet Gardens, Metro Tickets
* Morning Yoga
* Photography, Writing and Watercolor Workshops with Jill Badonsky
* Tax and Fee
Limited to 10 people. email or message me if you want to be added to the list of enlightened and interested people or to hold your space. Deets will go out shortly. We will be talking about this in a call on Thursday, November 8., 4pm pacific/7pm eastern. Recording will be available.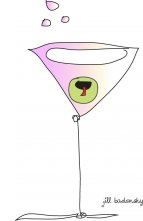 Life is a cocktail of breathtaking beauty, heartbreak,
varieties of chocolate, stubbed toes,
The Beatles, drastically wrong directions,
kindness, misaktes, resilience and corn chips...
it's poetry that doesn't always make sense.
It's speaking up for things that mean something to you.
I'm sipping the next stanza slowly so it doesn't burn my lips this time.
Imbibe in the experience - it's all fodder for writing, art, and creativity. Cheers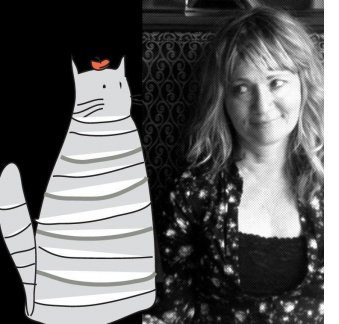 Jill Badonsky, M.Ed. is founder and CEO of the Kaizen-Muse Creativity Coaching Certification Training founded in 2004, multimedia artist, performance poet, yoga teacher, and author/illustrator of four books on creativity.