Kirby Johnson of Johnson Family Farm in Henderson County, NC and his granddaughters



The themes of food and family are strong for many as we enter the last months of the year and holiday celebrations. In November we normally highlight our Thanksgiving for Farmers lesson plan. It is one of our favorites as it is a great reminder to give thanks to those who grow our food.

This year we would also like to shine a spotlight on another opportunity for giving thanks- grandparents. Whether they are grandparents of the family we were born into or not, older generations have traditionally been the keepers of a family's food story. The stories are full of recipes, cooking tips and tricks, and memories of cooking. In their presence a recipe often becomes more than just measurements and ingredients, it becomes a set of directions unique to the family.

One of our Growing Minds team members looked through old family recipes passed down to her and found directions like, "tear the bread into pieces the size that your five year old hands would have torn them into". And with that description, not only did she know exactly how small to tear the bread, but also remembered preparing that same recipe when she was five years old in her family's kitchen.

Personalize farm and food connections by finding ways to integrate family food stories into your work. Community meals and recipe books featuring family recipes are always a favorite. This month's featured books are great conversation starters for recalling family and food stories. Watch one of our favorite farm to school projects where students at Pinnacle Elementary in Rutherford County, NC interviewed their parents and grandparents about farming, their favorite vegetable, and their favorite recipe as part of the school's Food Awareness Day.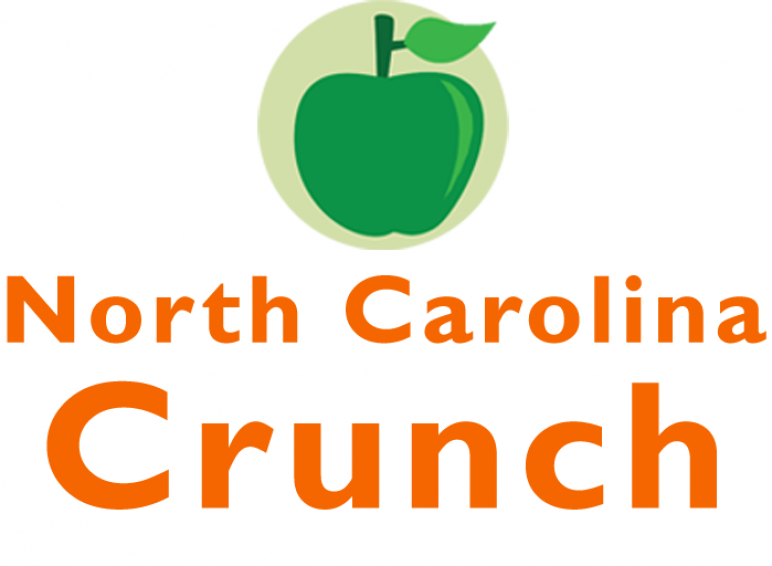 Farm to School Contests

From the ASAP office to schools to trainings, the Growing Minds team Crunched! We joined over 313,000 North Carolina registrants of all ages in celebrating
National Farm to School Month
by crunching into a locally grown apple.
Did you participate in the Crunch event but forgot to register? You can still
register
and be included in our final count.
Submit your Crunch event(s) for recognition
. The NC Farm to School Cooperative is sponsoring a contest to recognize early care and education sites and K-12 schools for their promotion of North Carolina fruits and vegetables during October. This year, the top three entries in each site category will be awarded gift cards, which can be used to support nutrition education and promotion (first place – $250, second place – $150, third place – $100).
Even though October is over, you can continue the excitement of Farm to School Month with the The North Carolina Department of Agriculture and Consumer Services
NC Farm to School art contest
. The contest is open to all public school students in grades K-5. The deadline for entries is Friday, December 14.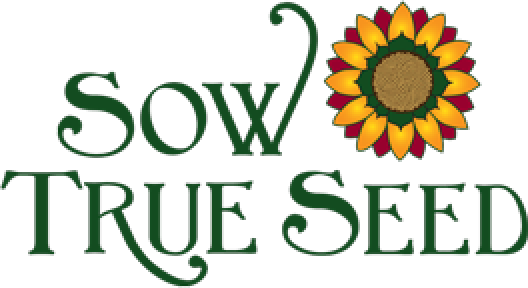 School Garden Seed Giveaway
November 27, 2018
Each year at Sow True Seed they take the leftover seed from the selling year and offer it up to the community at their seed giveaway event.
Eligible school gardens include both public and private schools from preschool through 12th grade. There is no geographic restriction to this giveaway, but you must be present to select seeds on Nov 27th between 4:00-6:00pm. Sow True Seed cannot hold seeds, ship seeds, or make seeds available at any other time. The packet limit may vary depending on seed stock and seed variety options may be limited.
You must register in order to attend this event.
Learn more details and register here
.
National Events and Webinars
National Farm to School Network Webinar Trending Topics: NFSN Seed Change in Native Communities Cohort
November 1, 2-3pm EST
In recognition of Native American Heritage Month, the November Trending Topics webinar will feature partners from the National Farm to School Network's Seed Change in Native Communities project. Since 2017, the Seed Change project has helped to create dozens of school gardens in Native communities, put local and indigenous foods on the plates of hundreds of children, and supported the inspiring work of five school communities dedicated to expanding and sustaining farm to school programming for the next generation of Native youth.
Register here
.
National Farm to School Network Webinar: Farm to School and 21st Century Food Service Programs
November 15, 7-8pm EST
In 2018, National Farm to School Network teamed up with National Education Association as its National Partner of the Year. Growing from this partnership is a movement to challenge schools to build 21st Century food programs. Goals of this partnership include enriching the connection between schools and fresh, healthy, and locally sourced food and building a new school nutrition workforce that will anchor this lofty project in school communities. Join this webinar to hear from participants in this new partnership that are already reaping the benefits.
Register here
.
Grants, Funding, Resources, and Other Opportunities
Native Farm to School Resource Guide
First Nations Development Institute has released a Native Farm to School Resource Guide, a comprehensive manual for planning and implementing farm to school programs in Native American communities. The Native Farm to School Resource Guide was developed by identifying existing Native and non-Native farm to school programs and analyzing best practices, lessons learned, biggest challenges and case study examples of programs that achieved high-level impact and long-term sustainability. The result is a process guide for planning Native farm to school programs as well as a guide for tribal officials to engage their leadership and create buy-in for the farm to school process.
Learn more here
.
National Head Start Association Garden Grants
The deadline to apply is November 15, 2018.
The National Head Start Association and The Scotts Miracle-Gro Foundation have launched a new multi-year Garden Grants initiative, which seeks to bring the life-enhancing benefits of gardens to more Head Start children and families, increasing healthy food access and fostering a lifelong love of gardening. Grant recipients will receive $5,000, plus a garden kit, to create or expand a garden in their community. Schools, community action programs, non-profits, hospitals, community centers and inter-generational groups that host Head Start programs are eligible to apply. Application deadline for the 2018-2019 program year is November 15, 2018.
Learn more and apply here
.
USDA FY 2019 Farm to School Grant RFA
The deadline to apply is December 4, 2018.
The FY 2019 Farm to School Grant Program Request for Applications (RFA) is now open to applicants. Due to additional funding made available to the Farm to School Grant Program through the FY 2018 Omnibus Bill, the Office of Community Food Systems (OCFS) seeks to award approximately $7.5M in FY 2019 funding.
Learn more and apply here
.
2019 Youth Garden Grant
The deadline to apply is December 17, 2018.
Any nonprofit organization, public or private school, or youth program in the United States or US Territories planning a new garden program or expanding an established one that serves at least 15 youth between the ages of 3 and 18 is eligible to apply. The selection of winners is based on demonstrated program impact and sustainability. The top 5 programs will be awarded grant packages worth $2,100. Grant packages worth $500 will be awarded to 20 additional programs.
Learn more and apply here
.
Captain Planet Project Learning Garden
The deadline to apply is March 15, 2019.
Schools can apply now to win a Captain Planet Foundation Project Learning Garden through partnerships with grocery retailers around the country. Grand Prize Winners will receive a Project Learning Garden provided by Captain Planet Foundation, including: 5 garden beds or garden expansion (for schools with an existing garden), mobile garden cooking cart, standards-based Learning Garden lessons and lesson supply kits, and online teacher training.
Learn more and apply here
.
ASAP's mission is to help local farms thrive, link farmers to markets and supporters, and build healthy communities through connections to local food.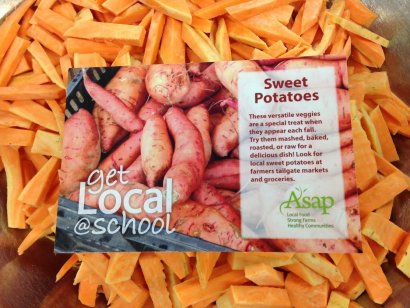 One of our favorite taste tests- local sweet potato sticks!



Taste tests are one of the Growing Minds team's favorite farm to school activities. They are inexpensive, easy to do, and create a fun environment for kids (and adults!) to try a local product.

Some ideas for sweet potato taste tests include:

Include a voting activity in your taste test. Creating only positive voting categories helps to create an environment where trying new foods is a fun adventure. Categories such as, "loved it", "liked it", and "maybe next time" allow taste testers to give feedback without "yucking anyone's yum".
Do a raw sweet potato stick taste test without telling the participants what they are trying. It makes for fun conversation and an opportunity to use observation skills to guess what the item is.
Compare two 'mystery vegetables'- sweet potato sticks and carrot sticks. Have taste test participants try to guess both products and vote on which one is their favorite.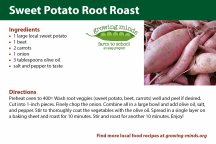 If you work with a preK–12 school in the Appalachian Grown region, you are eligible to come by our office and pick up Get Local @ School recipe cards and "I tried local..." stickers. Our office is located at 306 West Haywood Street, Asheville, NC 28801, and we are open from

9 am to 5 pm,

Monday through Friday. One class set (25 stickers and 25 recipe cards) of each monthly fruit or vegetable product is available for free to any individual working with children in the region.



FARM TO SCHOOL CHILDREN'S BOOKS OF THE MONTH
In keeping with our theme this month, here are a some of our favorite books featuring grandparents sharing their gardening knowledge.

Bluebird Summer
by Deborah Hopkinson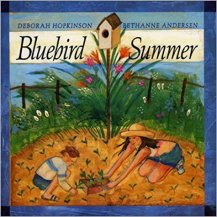 Mags and Cody replant their grandmother's garden after she passes away, and hope that the bluebirds return along with the flowers.

Grandpa's Garden
by Stella Fry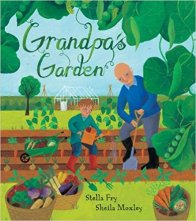 Billy can't wait to start growing fruits and vegetables in his Grandpa's garden. Read along as Billy learns all of Grandpa's gardening tips, and enjoys the fruits (and veggies) of their labor.

How Does My Garden Grow?
by Gerda Muller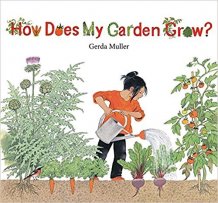 Introduce young children to life in the garden and learn about common vegetables and how they grow.

Watermelon Wishes
by Lisa Moser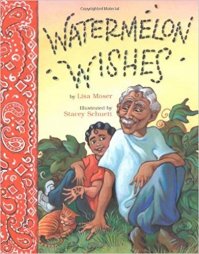 Charlie and his grandfather spend their summer growing a patch of watermelons, and waiting for the perfect one to wish on.

Find more farm to school children's literature in our Growing Minds library.