Queen Ifrica Now Booking
Worldwide
Spring 2019
One of the leading Reggae Performers/Recording Artists - Queen Ifrica will be touring the world in 2019 with her unique style of conscious lyrics coupled with danceable riddims.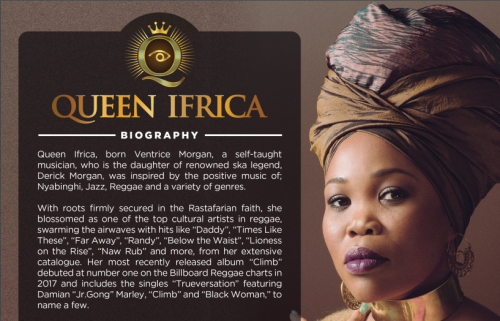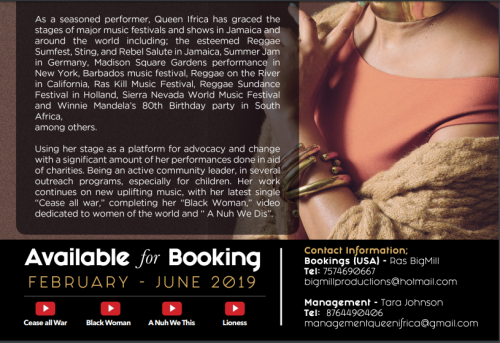 When one thinks of crucial Reggae empresses, Queen Ifrica must come to mind. As a singer/songwriter she has amassed a worldwide following with multiple videos having milllions of views as well as several
chart-topping hits.
Queen Ifrica has graced the stage at many of the world's largest reggae festivals. She has the unique ability to address society's issues while getting everyone dancing. Her live stage show is not to be missed! Her music is the ideal combination of Rasta-Ragga-Intellectual laid over
incredible riddims. As a musician, Queen Ifrica embodies the subtle line between hardcore and relatable for all listeners.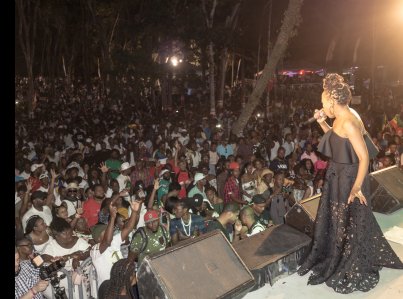 2018 has been
a busy year for Queen as she performed in: London, Bermuda, Barbados, California & New York. She is also about to embark as a performer on the infamous
"Welcome to Jamrock Cruise"
this December.
As one of the leading empresses in the Reggae world, s
he will be will be touring the USA, Canada, Europe & The Caribbean in the spring of 2019. Now is the time to
secure
a date.
Link Booking Agent Here
Interview with
Her Source
Yardhype.Com 2018
Sunsplash Mix Show with Jah Prince
Queen Ifrica Official Videos

Black Woman
Serve and Protect
Times Like These
LIVE at Rebel Salute 2018
Burn Some Herb With Me LIVE at Rastafest