Tomorrow is the first day of December and Black Friday is only a memory (unless you shop online where they have pretty much merged it with Cyber Monday and the whole event is like two weeks long!)
For most people it is time to indulge in various traditional holiday activities...or create new ones!


If you are looking for some local holiday events, check out this week's calendar as we have included some select holiday events for fun for your information.
Looking past the holidays, the ticket sales for our annual IBC fundraiser will be available soon. Please mark your
calendar for January 19, 2019, follow this newsletter, and visit our website for the most up to date information.
Got newsletter feedback or suggestions? As always,you can email me anytime at the address below. We LOVE our readers and want to see
Mark Your Calendar!

Ozark Blues Society

Mark your calendars for our annual IBC Fundraiser. It will be held on Saturday, January 19 at the 21c Museum Hotel in Bentonville.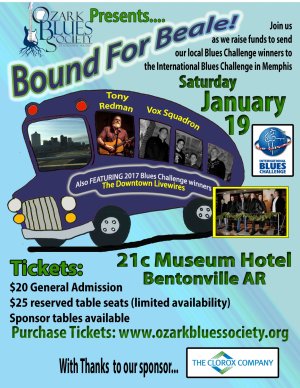 If you didn't get to catch the winner's
sets at the Blues Challenge, the fundraiser will give you another chance! We will feature both Tony Redman, our solo/duo winner as well as our band winner,
Vox Squadron. The band winner of our 2017 Blues Challenge, The Downtown Livewires, will also perform. Tickets will be on sale soon with a general admission price of $20. A limited number of reserved seats will be available for $25. Advance purchase sponsor tables (10 seats) are available for $400. Please email
Liz Lottmann
for more information on sponsor table availability. Please visit our website www.ozarkbluessociety.org
to access the link for ticket sales. Read on below for more information and bios of our winners.
SOLO/DUO WINNER

This year's solo/duo winner for the second year in a row, was Tony Redman. Tony shook the rafters at his venue in Memphis at the 2018 IBC and we look for him to give the 2019 IBC crowd a strong dose of his unique heartfelt blues.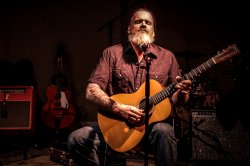 Tony Redman Bio:
"
Tony Redman is a blues guitarist/vocalist, living in Fayetteville Arkansas. Redman's repertoire contains a mix of originals, and classic songs steeped heavily in delta blues. With a high energy live set, Tony Redman has proven to be one of the most expressive vocalists, and powerful slide guitarists in the blues scene today!
"
BAND WINNER

Our band winner this year is Vox Squadron from

Tahlequah,

OK. This band competed in our 2016 Blues Challenge and returned this year for another try....for them, the second time was the charm. They will take their heavy hitting rock oriented blues to Memphis for the 2019 International Blues Challenge in January.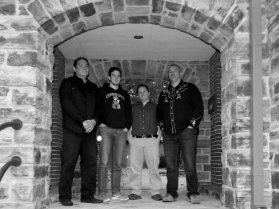 Vox Squadron Bio:
"
The Vox Squadron, formed in Tahlequah, OK in 2014, reflects a common love of electric and psychedelic blues. Members Jack Myers (guitar, vocals), Richard Wood (bass), and Aaron Lee (keys) were high school classmates in the 90's. Jacob Martin (drums) was a welcome addition in 2017. In his spare time between raising 4 children and a busy surgical practice, Myers writes and arranges songs reflecting his youthful idols,
Jimi Hendrix and Ian Moore. Richard and Aaron are multi-instrumentalists in several bands in their locale. Jacob is a jazz scholar at Northeastern State University.
"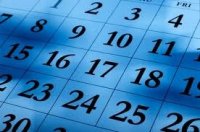 11/30 - 12/08

Please enjoy the following listings comprised of bands, venues, and/or organizations that support Ozark Blues Society. Always check with individual venues for event details and schedule changes.
11.
30
Earl and Them for Happy Hour at George's Majestic Lounge in Fayetteville

Keith Nicholson Trio at JJ's Grill and Chill in Springdale

Route 358 and Lost Bridge Trio at the Meteor Guitar Gallery in Bentonville
12.01
Buddy Shute and the Motivators at Moranos in Fayetteville

Dr NOLA and the Soul Shakers at JJ's Grill and Chill on Dickson in Fayetteville


John Patitucci Electric Guitar Quartet at the WAC in Fayetteville

Ocie Fisher at JJ's Grill and Chill in Springdale

Merry KISSmas with Almost KISS at The Meteor Guitar Gallery in Bentonville

House of Song Songwriter's Showcase at Bike Rack Brewing in Bentonville

Blew Reed and the Flatheads at Rowdy Beaver in Eureka Springs

Tuba Christmas at King Opera House in Van Buren
12.02
Gospel Brunch with Brick Fields at Hoppin' John's in Fayetteville

Roby Pantall Jazz Trio at Stage 18 in Fayetteville

Harm's Way/Stick Tight/Young Bolt at Meteor Guitar Gallery in Bentonville
12.03
Ozark Handbell Ensemble at the Fayetteville Public Libray in Fayetteville

Picking Circle-Monday! at the Bentonville Pub in Bentonville
12.05
Blues Therapy with Brick Fields at Moranos in Fayetteville

Keith Nicholson at JJ's Grill and Chill on Dickson in Fayetteville

"Melody's Mostly Musical Day" Children's Concert at Crystal Bridges in Fayetteville
12.06
12.07
Jesse Dean and Co for Happy Hour at George's Majestic Lounge in Fayetteville

Honeyjack at The Meteor Guitar Gallery in Bentonville

Keith Nicholson Trio at JJ's Grill and Chill in Bella Vista
12/13 Chris Duarte Group at Meteor Guitar Gallery in Bentonville
In this issue: 11/30/2018
Today's show features music performed by Louis Armstrong and Barney Bigard



Louis Armstrong

Blues Education Supporters
Thanks to the following for their support of blues education.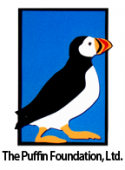 Check Out these regular local radio programs

"The Generic Blues Show" hosted by Paul Kelso airs every Friday night at 9pm on KUAF 91.3FM
Rockin' Hog Radio presents "Sunday Morning Blues" from 8am to 10am every Sunday
LINK
Get Involved with the Ozark Blues Society

Annual membership levels begin at $15 and give you so much in return, including meeting new friends while enjoying the best blues artists in the area.
By being a member of The Ozark Blues Society of Northwest Arkansas, you are helping to support the Arts and to preserve the Original American Art Form known as The Blues.
Membership Benefits Include:

Weekly E-newsletter
Opportunities to win tickets to events
VIP seating at events (when available)
Discounts on OBS merchandise
Social networking – meeting other people who also love the blues
Opportunities to volunteer on OBS committees and at events
Ability to attend board meetings and vote on upcoming organizational issues and elections
Visit our Website to renew or join! Ozarkbluessociety.org