Classical Conferences and Meetings in 2019

CANE–Classical Association of New England
March 8–9, 2019
College of the Holy Cross
Worcester, MA
Representative: Donald Sprague

CAMWS–Classical Association of the Middle West and South
April 3–6, 2019
The Cornhusker at the invitation of the University of Nebraska
Lincoln, NE
Representatives: Donald Sprague and Amelia Wallace

Presentations:
Thursday, April 4
10:00–11:45 am—Second Paper Session, Section F
"Cleopatra's Haggard Image" Gregory N. Daugherty, coauthor, To Be a Roman

3:15–4:45 pm—Fourth Paper Session, Section H
"The Modern Labors of Hercules" Thomas Sienckewicz, coauthor, Vergil: A LEGAMUS Transitional Reader

8:15–9:00 pm Plenary: ACL Centennial Lecture "Latin Teacher Training: Does It Have a Future Tense?" Kenneth Kitchell, author, The Other Middle Ages, They Said It First: The Wisdom of the Ancient Greeks and Romans; coauthor, Catullus: A LEGAMUS Transitional Reader

Friday, April 5
10:00–11:45 am—Sixth Paper Session, Section F
"Check Those References: Quotation, Simplicitas, and Image-making in Martial Epigrams 11" Catherine Keane, author, A Roman Verse Reader: Selections from Lucilius, Horace, Persius, and Juvenal

3:15–4:45 pm—Eighth Paper Session, Section A
"Finding Funding: Three Perspectives on Grant Writing—A Reader's Response: Perspectives and a Roadmap" Carole Newlands, author, An Ovid Reader: Selections from Seven Works

6:45–9:00 pm "Banquet: Welcome Response" Anne Groton, CAMWS President-Elect; coauthor, 38 Latin Stories, editor, Ab omni parte beatus: Classical Essays in Honor of James May

Saturday, April 6
12:00–12:45 pm—Round Table Discussion: Section B
"LUMINA: Discussing an Interactive Learning Tool for LNM and Artes Latinae" Donald Sprague and Amelia Wallace, Editors, Bolchazy-Carducci Publishers

1:00–2:45 pm—Tenth Paper Session, Section A
"Don't Be Passive! Stay in the Middle!: Teaching Voice in Beginning Greek" Wilfred E. Major, coauthor, Plato: A Transitional Reader

3:00–4:45 pm—Eleventh Paper Session, Section A "Sic eat quaecumque Romana lugebit hostem: The Power of Women's Mourning in Livy's Ab Urbe Condita" T. Davina McClain, author, Graphic Greek Grammar Cards

The 54th International Congress on Medieval Studies
May 9–12, 2019
Western Michigan University
Kalamazoo, MI
Representatives: Laurel Draper and Adam Velez

ACL–The American Classical League
Celebrating ACL's Centennial
72nd Annual Institute
June 27–29, 2019
Hilton Midtown
New York, NY
Representatives: TBD

NJCL–National Junior Classical League
July 26–31, 2019
North Dakota State University
Fargo, ND
Representatives: TBD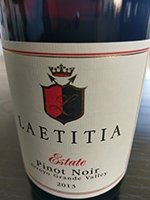 The name of this winery speaks for itself. In vino Laetitia?

---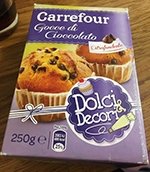 Certainly Wilfred Owen would not chuckle at this, nor probably would Horace. Thanks to Judith Hallett for sharing.

---
You, too, can feast like a Minoan. Learn how.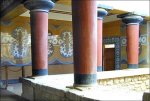 Photo of "Hall of the Colonnades" at the Palace at Knossos. Courtesy of Wikimedia Commons, Creative Commons 2.0.
Sportula Online Conference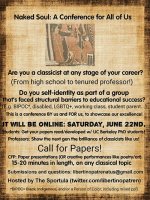 The group of classicists who have formed The Sportula as a means of assisting students with microgrants will be sponsoring an online conference dedicated to inclusivity. Note that abstracts for presentations are due March 15.

Follow The Sportula on twitter.

Cindy Caltagirone and Don Sprague are hard at work planning the ACL Centennial Study Tour of Rome with an optional add-on tour to Campania.

So, mark your calendar for ROME2020ACL100 in July of 2020!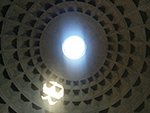 ROME202 Awaits . . .
Bolchazy-Carducci Publishers provides eTextbooks on a variety of eBook platforms. Bolchazy-Carducci textbooks are available through VitalSource,

GooglePlay

,

Chegg

, RedShelf, Adams Book, Follett,

MBSDirect Digital

, and ESCO. Each eBook platform offers a variety of tools to enhance the learning process. eBooks have the same content as our traditional books in print.
eBooks are purchased from the eBook provider. For direct links to purchase Bolchazy-Carducci eTextbooks, visit the title's product page on Bolchazy.com. Just above the product description there is a list of the eTextbook providers and a direct link to purchase the eTextbook. Some eBook providers sell directly to schools—check with your school to make these purchases.
You can read eBooks on a Mac, PC, iPhone, iPad, Android, or a variety of eReaders. Review the eBook providers specifications.
The eyeVocab software leverages human memory for distinctive affective images* presented in isolation to radically improve the speed, depth, and permanence of second language vocabulary acquisition. Images are drawn from classical art, both western and eastern, from photojournalism and historical photography, great book illustration, and other sources.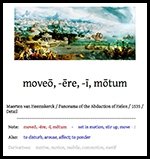 *Learn how images are chosen.

Far more than a set of electronic flashcards, the multimodal vocabulary program facilitates a significantly deeper learning and retention. Students will readily master the frequent Vergil and Caesar vocabulary for the AP® Latin Exam and thereby devote far more of their study time and energy to reading and discussing De Bello Gallico and the Aeneid.

eyeVocab programs correspond to the following B-C books.

Caesar: Selections from his Commentarii De Bello Gallico
(Mueller) (218 words)

Vergil's Aeneid: Selected Readings from Books 1, 2, 4, and 6
(Boyd) (162 words)



Vergil's Aeneid: Books I–VI


(Pharr) (292 words)

Latin for the New Millennium Level 1

(423 words)





Introductory rate for each of the AP® Latin programs is $14.95. The LNM 1 and LNM 2 introductory rate is $24.95 per program. For site licenses, contact Miles Becker at sales@eyeVocab.com.




Click on each title to learn more.
The Pompeiiana Newsletter created and edited by Bernard Barcio ran from 1974 through 2003. The newsletter offered a place for Latin students to publish comics, stories, games, and articles, and was a beloved resource for Latin teachers. In 2008, Barcio granted Bolchazy-Carducci Publishers the rights for all of the Pompeiiana Newsletter. B-C is proud to serve as curator for this archive and has made the issues available for teachers, students, and friends of the classics. Check out http://pompeiiana.blogspot.com/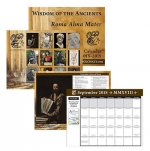 The 2018-2019 Roman Calendar is in the mail If you were not on that mailing list, the calendar is available as a download. We also have copies available at conferences. If you would like to be included in the 2019-2020 Roman Calendar mailing please submit your request.
Preview Bolchazy-Carducci Titles

Preview Bolchazy-Carducci titles before you purchase using Google Preview.
---

Downloadable Products
iPodius - Bolchazy-Carducci Publishers online shop for: audio, software, video, and a treasure trove of teacher-created materials in the Agora.
---
BCP Facebook Fan Page
Become a FAN of Bolchazy-Carducci Publishers, visit our Facebook Fan page for the latest news from BCP.
---
BCP Blog
Visit the BCPublishers Blog for B-C news and information.
---
BCPublishers on Twitter
Follow us on Twitter

---
AP® is a trademark registered and/or owned by the College Board, which was not involved in the production of, and does not endorse, this site.
These products have been developed independently from and are not endorsed by the International Baccalaureate (IB).
Please note: The Bolchazy-Carducci Publishers Webinar Program is intended to be a live interactive endeavor in which presenter and attendees ask questions, make comments, seek clarification, share examples, etc. Thus, by design and in order to protect the presenter's intellectual property, B-C does not make recordings available to non-attendees. B-C encourages those interested in a given topic or presenter to plan to attend the live webinar.



If you have suggestions for webinars, please contact Don Sprague.

---
What Equipment Do I Need for B-C Webinars?

To participate in Bolchazy-Carducci Publisher sponsored webinars you will need high-speed internet access, computer speakers/headphones, current web browser, and the link to the webinar virtual meeting space, which is provided in your webinar invitation.
Webinars Make for User-Friendly Professional Development

Participation is free. All webinars provide opportunity for participants to ask questions. Learn lots—attend as many presentations as you can. Bolchazy-Carducci Publishers provides documentation for your participation. You can share this with your supervisors. Many webinar presenters provide handouts, etc.
All of us at Bolchazy-Carducci Publishers wish you, your families, and your students a wonderful 2019! May your classrooms buzz with active learning! May your students thrive!
May you feel empowered and impactful!
All of us at B-C at this time renew our pledge to do our best to provide you with the best service and materials to serve you and your students.
In the KUDOS section, may I direct you to the Society for Classical Studies Precollegiate Teaching Award citation for recipient TJ Howell. TJ and Ted Zarrow's webinars for B-C on active Latin have been among our most popular webinars. We have finalized the schedule for the spring and invite you to dismiss the late winter and early spring doldrums by attending a webinar. We're especially pleased that Daniel Gallagher, the Ralph and Jeanne Kanders Associate Professor of the Practice in Latin at Cornell University, will join an engaging group of webinar presenters over the next couple of months. Check out the new schedule.
This is a momentous year for classics in North America as the American Classical League celebrates its centennial and the Society for Classical Studies celebrates its sesquicentennial.
Plan to attend the centennial ACL Institute this summer in New York City. We look forward to seeing you there!
Wishing you many moments of joy and your students many "aha" moments this year!
All best wishes,


In recent years, I have heard a great deal about the use of gamification as a motivator in the classroom. A couple of months ago, I read about a website called
BadgeList.com
that allows a user to create a customized set of badges. It occurred to me that this site could be used by a teacher to develop her own system of gamification. The user registers for a free account and creates what is called a "learning group." Within each learning group, the user can create multiple badges. Each badge has a name, a brief description, and an associated image. In addition, the system allows the user to specify what evidence must be submitted in order for a student to earn the badge. Once the teacher has created the learning group and associated badges, she can add students to the group either via an email invitation or by sharing the link. As students develop the skills and knowledge necessary to earn a badge, they can submit evidence for review and the teacher can either award the badge or provide follow-up feedback. Getting started with this type of gamification requires some thought as to how to break down the curriculum into discrete chunks and how to assign each chunk as a badge. I like the idea of having badges for the different skill sets that we focus on in our classes. To get started, visit
www.badgelist.com
.
American Council on Teaching Foreign Language 2018 Meeting

World class cuisine, the jazz scene, and a beautiful cityscape drew over 8,000 language teachers, specialists, and curriculum directors to the annual meeting of the American Council on Teaching Foreign Language (ACTFL) held November 15–18, 2018. Don Sprague represented Bolchazy-Carducci and staffed a booth in the exhibit hall. The American Classical League, National Latin Exam, and National Junior Classical League sponsored the booth next to Bolchazy-Carducci's—which generated steady traffic.
Latin teachers themselves as well as their kind language teacher colleagues and department chairs who wanted to bring something Latin home to their Latin teacher colleagues were especially keen to purchase Latin buttons and copies of the I Am Reading Latin and I Am Reading Latin Stories series as well as Ubi Fera Sunt and Arbor Alma.
Latin teacher participation in ACTFL continues to grow—around one hundred Latinists attended and ten presentations were given by Latin teachers. The American Classical League's centennial celebration reception drew some seventy enthusiastic attendees who enjoyed libations, tasty noshes, and the camaraderie of classicists. A highlight of the reception was ACTFL's Martha "Marti" Abbott's greetings to her colleague classicists. The former Latin teacher served as ACTFL executive director from 2011 to 2018 and previously for eight years as director of education.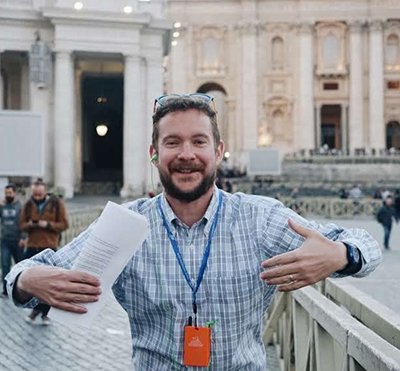 Ed Turner, classics instructor at The Hill School in Pottstown, Pennsylvania, won the Bolchazy-Carducci Publishers drawing at ACTFL 2018. Surely his joy at learning of his winnings matches that of the photo taken in the Piazza San Pietro!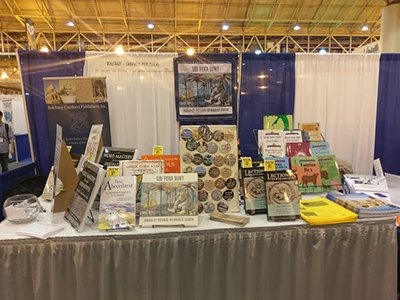 An ACTFL booth tests an exhibitor's facility at maximizing the limited space available for displaying books and other learning materials.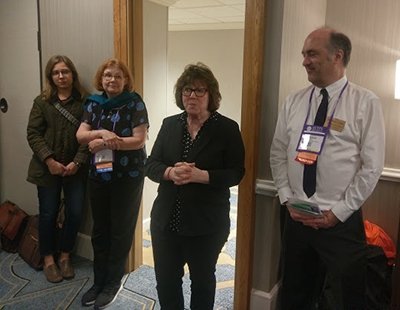 ACTFL executive director Martha Abbott, flanked by ACL president Mary Pendergraft and ACL executive director Sherwin Williams, greets attendees at the American Classical League reception to celebrate the organization's centennial.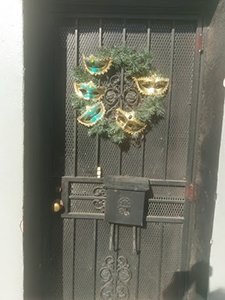 The wreath on the door is representative of what makes New Orleans special.
The Archaeological Institute of America / Society for Classical Studies 2019 Meeting

President Bridget Dean joined editors Don Sprague and Amelia Wallace for the annual meeting of the Archaeological Institute of America (AIA) and the Society for Classical Studies (SCS) at the Marriott Marquis and its marina in San Diego. Held January 3–6, 2019, the meeting drew some 2,200 attendees from across the country. While San Diego was a bit chillier than anticipated, its sunshine was most welcome, especially to attendees who had to endure flight delays due to winter storms in other parts of the country.
The Bolchazy-Carducci Publishers exhibit extended across two exhibit spaces near the exhibit hall's open central space with seating for one-on-one or small group conversations. Wide aisles and the size of the hall gave visitors to the exhibits a sense of spaciousness that encouraged lingering and paging through titles.
The booth opposite B-C's housed Lithodomos VR, an Australian company founded by a classical archaeologist. Lithodomos specializes in providing virtual reality tours of archaeological sites. Visitors to their exhibit "oohed and aahed" as they experienced 3-D reconstructions of various Roman sites. These good neighbors, Tony Simmons and Simon Young, shared their humor and their passion chatting with us.
With three editors staffing the booth, each editor was able to attend a panel presentation. Bridget Dean and her brother Benjamin Buchholz, who lives near San Diego after his service with the US military, attended several archaeology presentations. Buchholz is a writer whose works include poetry, short stories, the novel One Hundred Nights, and the nonfiction book Private Soldiers—both books inspired by his service in the Middle East. Amelia Wallace was energized by the panel "What Can 'Active Latin' Accomplish?" (sponsored by the American Classical League and organized by Ronnie Ancona and Justin Slocum Bailey). Don Sprague attended the Special 150th Panel—From APA to SCS: 150 Years of Professional Classics in North America, organized by Matthew McGowan. In his opening remarks about the presenters, McGowan noted that panelists Michele Ronnick and Ward Briggs had written the introduction and preface respectively to William Sanders Scarborough's First Lessons in Greek: A Facsimile of the 1881 First Edition. Ronnick spoke about "African American Members of the Society for Classical Studies: A Census of Affiliations (1875–1938)" and Briggs presented on "Opening the Gates: The American Philological Association/Society for Classical Studies 1970–2019."
It is with sadness that we report that the AIA/SCS meeting occasioned two incidents of racism. The B-C editors did not personally witness these events and so we refer you to the Chronicle of Higher Education report and the response of Princeton Assistant Professor, classicist Dan-el Padilla Peralta, AIA/SCS panelist whose credentials were verbally assaulted, also published in the Chronicle of Higher Education. Bolchazy-Carducci Publishers encourages our profession as it seeks to more vigorously address the issues of racism and privilege in the discipline and to work at being more inclusive.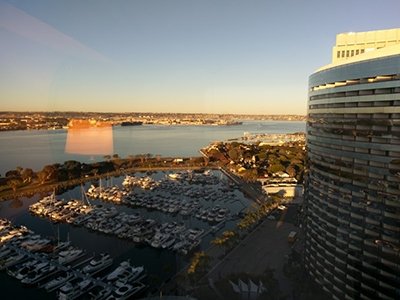 All three Bolchazy-Carducci Publisher representatives raved about the view from their hotel rooms.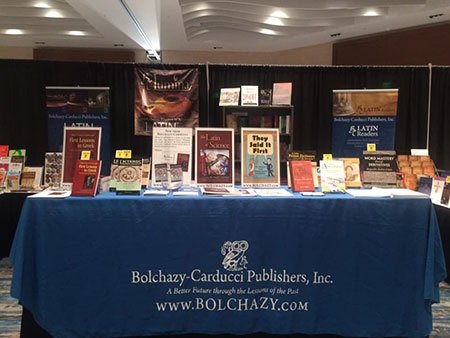 The B-C display showcased the company's new and forthcoming titles.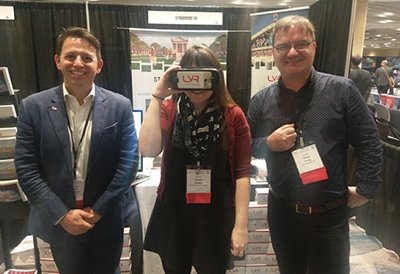 Editor Amelia Wallace—flanked by Lithodomos VR principals, CEO Tony Simmons and Founder, Executive Archaeologist, and Business Development Europe, Dr. Simon Young—explores 3-D reconstructions of Roman sites with the company's special viewfinder.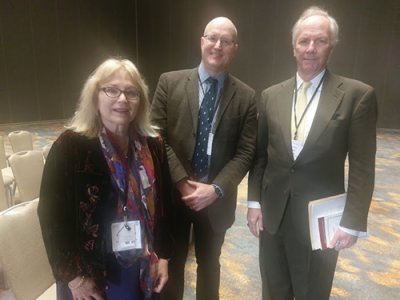 Matthew M. McGowan, who organized the Special 150th Panel—From APA to SCS: 150 Years of Professional Classics in North America, poses with fellow panelists Ward Briggs and Michele Ronnick.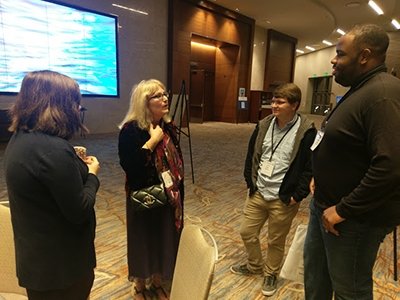 Michele Ronnick, organizer, shares her insights with some younger classicists at the 15 Black Classicists: A Photo Installation on Friday evening.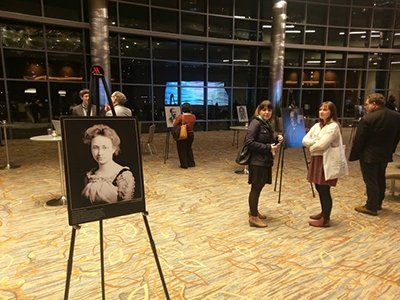 A view of the 15 Black Classicists: A Photo Installation. The exhibit is on view at the Center for Hellenic Studies, Harvard University, Washington, DC, until March 2019.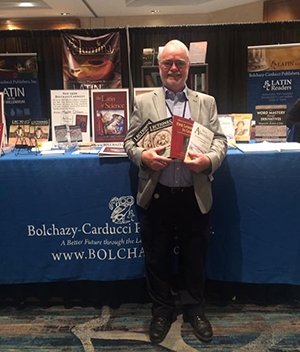 Loyola Marymount's Matt Dillon poses with his winnings from the B-C book drawing—Lectiones Memorabiles Volumes III and IV, William Sanders Scarborough's First Lessons in Greek: A Facsimile of the 1881 First Edition, and Three Abecedaria.
Resources & Teaching Tips

√ Martin Luther King, Jr. and the Classics





Timothy Joseph, Associate Professor of Classics at the College of the Holy Cross, offers some reflections on Martin Luther King, Jr.'s connection to the ancient Greeks. Teachers can share this with classes for the MLK holiday or during February, African-American history month.

√ Caesar Resource





The Landmark Caesar provides a wealth of material for teachers looking to enhance their knowledge of Caesar. Both the print book and the additional essays available online present a breadth of current scholarship on Caesar. Bolchazy-Carducci author (A Caesar Workbook with Rose Williams) Debra Nousek contributed "Caesar, Man of Letters," "The Gallic War as a Work of Literature," and "The Cultural Legacy of Caesar's Commentaries" to the online collection. Dr. Nousek will be presenting "Caesar: Man of Letters" as a B-C webinar on February 5, 2019.


√ Professional Development

• Do check out the Bolchazy-Carducci roster of webinars for Spring 2019.

• The Open University is offering a course on medicine in ancient Greece and Rome.

√ Lingua Latina

• An excellent discussion about active Latin and translation.

• Learn about England's beloved Kennedy's Latin Primer.

√ Archaeology Roundup

• What evidence do we have for the Roman practice of crucifixion?

• Check out how scientists have reconstructed the face of a Bronze Age woman from Scotland.

• Bronze Age regicide may be world's oldest known political murder.

• New excavation brings unique Egyptian tomb to light.

• One person's junk is another person's treasure. Thames River find finds British Museum home.

• Roman cavalry helmet is found in Britons' Iron Age shrine.

• Did the Romans trade with Sri Lanka?






The forum at Pompeii with Vesuvius in the background. Courtesy of Wikimedia Commons.



• Drones help us learn about Pompeii and Mt. Vesuvius.

• Pompeii excavations discover military commander's horse.

• Forbes Magazine showcases Pompeii in the news of 2018.

• Dental debris leads to reappraisal of skilled artists and gender in the Middle Ages.


√ Classics in the News

• Fun facts about Hadrian's Wall.

• A short video reminds us why we love ancient Greece

• The New Yorker highlights the value of ancient Greek.

• Does the techie world value the liberal arts?

eLitterae Subscribers Special Discount

Special 67% Discount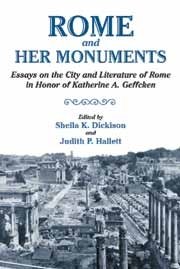 This offer is valid for up to ten (10) copies of book, prepaid, no returns.
Discount is not available to distributors.
This offer expires 02/17/19.
Enter coupon code
eLit0119
on the payment page.
The special offer pricing will be charged at checkout.
(Please note that there will be no adjustments on previous purchases.
Offer is nontransferable and subject to change without notice.
Only valid on products published by Bolchazy-Carducci Publishers, Inc.)
Webinar Registration

Bolchazy-Carducci Publishers professional development webinars are offered on Tuesday evenings 6:00-7:00 p.m. Eastern Time (5:00-6:00 p.m. Central Time). Webinar participants will receive a certificate of participation for professional development credit.

Latin for the New Millennium Springboard to AP Latin
January 29
Presenter: Donald Sprague, Bolchazy-Carducci Publishers

This webinar will demonstrate how all three levels of Latin for the New Millennium prepare students for the expectations of the AP Latin curriculum. This presentation will show how various activities and exercises at each level provide the skills and knowledge that ladder students to AP Latin in fourth year. While addressing this specific aspect of LNM, the webinar will also serve as an introduction to the LNM program.

Caesar: Man of Letters
February 5
Presenter: Debra L. Nousek, Associate Professor, The University of Western Ontario



Professor Nousek is a Caesar devotee who has extensively researched, presented on, and written about him. Her most recent delineated below focuses on Caesar as author. This webinar will be a great learning experience for all teachers of Caesar and especially those who shepherd their students through the AP Latin curriculum.





The Journey of William Sanders Scarborough from Slavery to University Classicist
February 26
Presenter: Michele Valerie Ronnick, Professor, Wayne Sate University



The foremost authority on Scarborough, Professor Ronnick has passionately advocated for the publication of the African American classicist's autobiography and a collection of his works—for which two books she provided the introduction, annotations, and editing—and, most recently, for the reprinting of his First Lessons in Greek, originally published in 1881, for which she wrote the introduction. Professor Ronnick will discuss Scarborough's life and achievements, their historical context, and their implications for today.





Conversational Latin: It's Not What You Think It Is
March 5
Presenter: Daniel Gallagher, Associate Professor, Cornell University



Professor Gallagher's webinar promises to be an illuminating presentation on Latin pedagogy. Gallagher will address such issues as "What is the role of conversational Latin in the classroom?" "What is the ultimate goal of the Latin classroom?" Gallagher is both an engaging presenter and a thoughtful educator. Participants will leave the webinar with some healthy reflection on their own teaching.





Teaching Ancient Medicine


March 19


Presenter: Michael Goyette, Adjunct Assistant Professor, Hunter college and Classics Faculty,k Riverdale Country School





This webinar will discuss approaches to teaching courses and topics about ancient medicine. Professor Goyette will outline some of the readings (in translation), methodologies, and assignments he has used in teaching ancient medicine courses, as well as possibilities for incorporating ancient medical texts into other kinds of courses. He will provide an overview of three sample lessons he has used to engage students in interactive discussions of ancient medical practices and ideologies. Considering the ancient Hippocratic Oath alongside later medical oaths, the Hippocratic treatise 'On Dreams', and the ancient Chinese medical text ''Huangdi Neijing', these lessons will respectively demonstrate strategies for analyzing the development of medical ethics from antiquity to the 21st century, ideas for connecting ancient medical texts with students' lived experiences, and models for drawing cross-cultural comparisons between "Eastern" and "Western" medical traditions. Goyette will show participants around the open educational resources website which he has created for teaching ancient medicine.



---
For complete webinar descriptions and presenter bios visit our webinar page.
National Greek Exam

deadline: January 19, 2019
regular* administration: February 25–March 3, 2019

About the National Mythology Exam

deadline: January 18, 2019
administration: February 18–March 1, 2019

National Latin Exam

deadline: January 22, 2019
regular* administration: March 11–15, 2019

National Roman Civilization Exam

deadline: February 2, 2019
administration: February 7–March 9, 2019

National Latin Vocabulary

deadline: February 2, 2019
administration: February 7–March 9, 2019

The Exploratory Latin Exam - ELE

deadline: March 1, 2019
administration: October 1, 2018–April 1, 2019

Bernice L. Fox Classics Writing Contest

deadline: March 15, 2019 postmark

*Check online for early administration dates.