Saturday, February 16th &

Sunday, February 17th, 2019

Doors Open 3:30PM

Worldbeat Center, 2100 Park Blvd, San Diego - Balboa Park

Cost: GEN Admission Sat: $20 | GEN Admission Sun: $35 | Weekend Pass $50 | All-ages

g
PRESENTING THE BEST IN ROOTS REGGAE AND JAMAICAN SOUND SYSTEMS...
The 2019 line-up:
Sound System Night, Saturday Feb 17:
Downbeat the Ruler, Brigadier Jerry, Shinehead, Ranking Joe, Lady Ann, Tippa Lee, Shinehead featuring Kingston 12 HI-FI, Destiny Roots, TJ Fyah Sound, and Good Over Evil.


Reggae Legends Night, Sunday, Feb 17:
Sly and Robbie and the Taxi Gang with Bitty McLean, Pato Banton, Spiritual, Sara Lugo, Empress Akua, Cherine Anderson, Piracy Conspiracy, Sol Remedy, and Revival.
Master of ceremonies for both days is Jamaican music expert and event host, Junor Francis.
Tribute to the Reggae Legends Festival, formerly known as Bob Marley Day, has been an annual event in San Diego for 38 years. The Annual Festival is one of Southern California's largest Reggae events. World Beat Productions has spearheaded world-class Reggae music coming to San Diego with artists like Peter Tosh, Dennis Brown, Gregory Isaacs, Bunny Wailer, Mikey Dread, Black Uhuru, Steel Pulse, Burning Spear, Lucky Dube, Jimmy Cliff and the brightest stars from Africa, Latin America, Europe and Asia.

Festival Founder, Makeda Dread, was a personal friend of Bob Marley, and after he passed in 1981, Makeda created a tribute to him called the Bob Marley Day which has now transformed into Tribute to the Legends Festival.
Advance tickets can be purchased at the venue or by clicking this ticket below: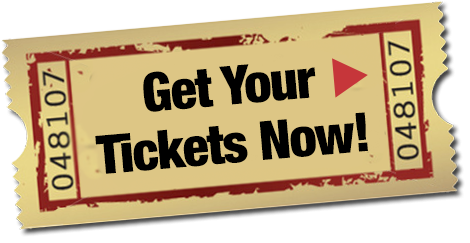 Tickets will also be available at the door.
For more info, visit:
WEBSITE
info@worldbeatcenter.org / 619-230-1190
Watch Promotional Video below: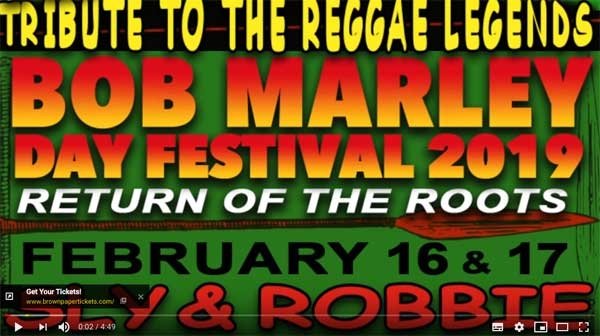 Soundsystem Night, Saturday Feb 17th:
Downbeat the Ruler, Brigadier Jerry, Shinehead, Ranking Joe, Lady Ann and more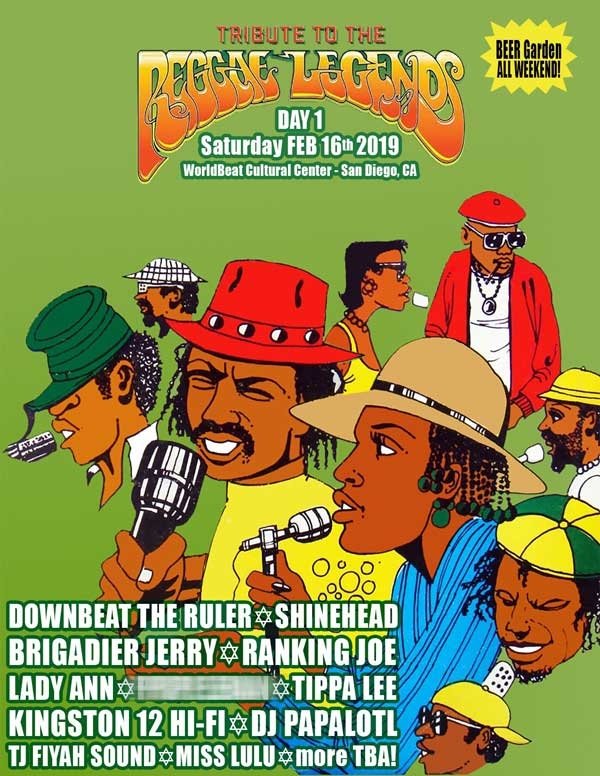 Reggae Legends Night, Sunday, Feb 17th:
Sly and Robbie and the Taxi Gang with Bitty McLean, Pato Banton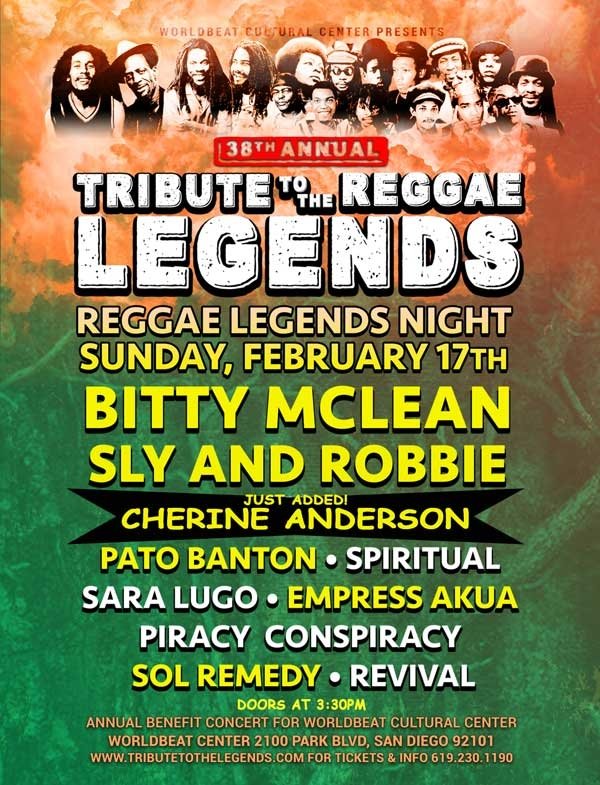 Hotline: 619-230-1237