Chair Yoga & Relaxation
with Judith Grasshopper
Wed. May 8th * 6: 45 pm to 7: 45 pm

Come on in and enjoy an evening of chair yoga with Judith.
Chair Yoga is a gentle form of yoga that is practiced sitting on a chair for support and can be done anywhere. Chair yoga is a great practice that reduces mental and emotional stress, improves flexibility and mobility to our body also helps reduce strains to our joints while flexing at your own pace and within the limitations of your body.
Chair Yoga is one of the gentlest forms of yoga and can lessen chronic illness and pain. Its a good form of Stress Reduction and Stretching.Come on in enjoy an evening of yoga postures, laughter, breathing techniques, meditation all with the aid a chair.
All Ages welcome!
Community Cost: $10.00
To Register email shamanicfirereiki@gmail.com
Location: SFR Soul Haven, 56 West 45th St. Suite 1703, NY, NY 10036
*Please arrive at 6:30 pm - 6:45 pm, afterwards lobby doors will be closed.
About Judith Grasshopper: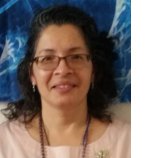 Judith "Grasshopper" is a certified Karuna Reiki Master Teacher, Shamanic and Crystal Practitioner offering certification programs in various levels of Reiki Healing. Initiated and an Indigenous MedicineWay Practitioner, Completed program at NY Open Center under Integrative Sound and Music Practitioner training. Competed a Sound and Sonotherapy program at Sage Academy of Sound Energy. Gong Master Certification. Judith is a graduate of the Lakshmi Chair Yoga