As one of our readers mentions below, books are a way to learn about people and places we might not have met otherwise. To celebrate Women's History Month, we're sharing some books about women you may never have heard of, some you probably have, and some books that are based on the lives of girls or women. Send us your suggestion for an extraordinary woman who inspired you through a book, and we'll enter your name into our giveaway. Biographer, poet, politician, musician, doctor, or librarian--we want to hear about them all!
Julie Chibbaro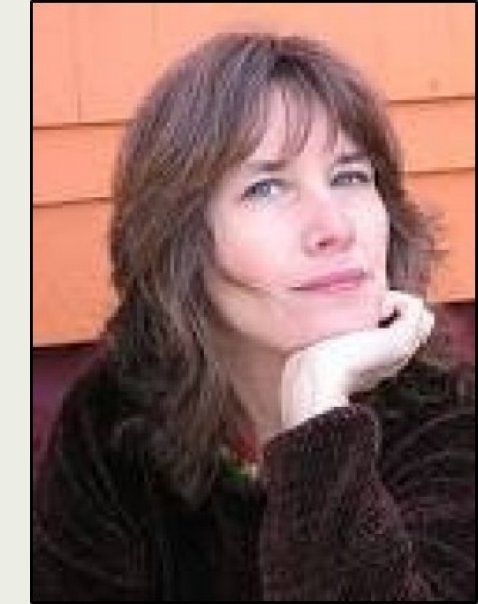 I've always been curious about immigrants (like my family), especially in my hometown of New York City. Where did people come from, how did they get there, how did they survive? This curiosity made writing Deadly a natural fit for me.
Typhoid Mary was an infamous Irish immigrant cook who lived at the beginning of the 20th century in New York. Her story contained compelling elements – she spread disease in her cooking (okay, I'm obsessed with medical mysteries, too!), and she was a real firecracker (busting the female stereotypes of the time). I wanted to write about Mary, but for teens, so I needed to create a powerful girl character readers could relate to.
Enter Prudence Galewski. My 16-year-old heroine helps her mother the midwife, and she loses her brother to gangrene. She wants to know why people get sick, and why they die. She's hired by the Department of Health to help hunt for the cause of the typhoid epidemic. Prudence's voice was a struggle for me, but once I understood her desire to fight death, that gave me her motivation to get the job, and everything fell into place.
My research took me to the microfiche at the library. Old newspapers told me rent prices, food costs, fashion trends, and news about the Typhoid Mary case. I visited the Tenement Museum in the Lower East Side. I read Judith Leavitt's book about Mary, and Caleb Carr's fiction. I looked at many photos (Jacob Riis, Byron). For historical fiction, imagination and curiosity bolstered by facts are really my best tools.
Julie Chibbaro is the award-winning author of three historical young adult novels: REDEMPTION; DEADLY; and
INTO THE DANGEROUS WORLD. She teaches at The Highlights Foundation and Gotham Writers Workshop, and is a mentor for PEN's Prison Writing Program.
Alison Jay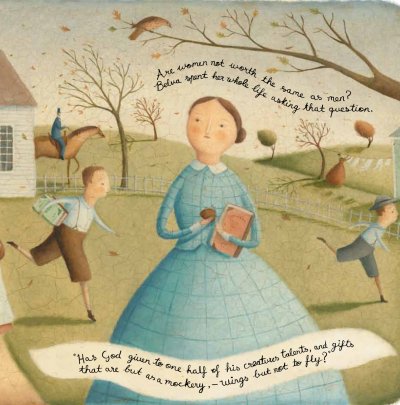 This crackled folk illustration is from

See the third giveaway for a chance to win this

Alison Jay
was born in Hertfordshire and grew up in Derbyshire; she loved drawing and painting as a child. She has been illustrating picture books

for over twenty years, won the AOI award, and has been nominated three times for the Kate Greenaway illustrators award.
by Joyce Hostetter

Read stories of women in history who have done extraordinary things. Ask each student to choose one woman to write about. In their writing ask students to explore the following:
Personality characteristics of the woman

How did those characteristics help this woman to achieve great things?

W

hat weaknesses or setbacks did the woman have?

How did this woman overcome her weaknesses to achieve great things?

How did this woman overcome personal or social challenges to accomplish her goals?

How have her accomplishments benefited others?
A few potential woman to learn and write about include:
Emma Gatewood

(hiked Appalachian trail at age 67)

Jeannette Rankin -

(first woman in US to hold federal office)



Wilma Rudolph -

(overcame polio to win Olympic gold medals)

Sister Elizabeth Kenny -

(went against medical establishment to discover alternative effective treatment for polio)



Golda Mier -

(Israel's first and only female prime minister)

Ida B. Wells -

(former investigative journalist & civil right reformer)
A Teen's Take on Three books

by Tara Penman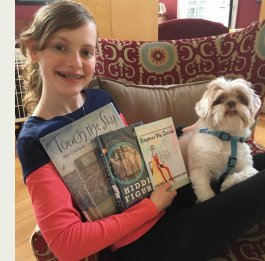 By Laurel A. Rockefeller

There's a reason why you've never heard of this empress of ancient China. She was the most hated woman in Chinese history! Born Wu Zhao, Empress Wu Zetian was destined to be a lowly concubine (fifth ranked) as a young woman because no man wanted to marry such a rebellious woman. Through cleverness and determination, she rose to be a second ranked concubine, and then the first ever Empress of China! Along the way she paved a path for women, made education the forefront of China, and put doing what's right before doing what one is told. Recommended for grades fifth through seventh.
Touch the Sky - Alice Coachman, Olympic High Jumper -
By Ann Malaspina
Alice Coachman jumped over hurdles much bigger than five and a half feet high. "Bare feet shouldn't fly. Long legs shouldn't spin. Braids shouldn't flap in the wind. Sit on the porch and be a lady." Alice disregarded what she was supposed to do (tend to the home) and set her sights on jumping for the moon. From a rural Alabama girl jumping over cloth and sticks to an Olympic heroine in 1948, Alice Coachman constantly redefined the limits in the women's high jump event. You can touch the moon, too! Read this awe-inspiring tale, Touch the Sky - Alice Coachman, Olympic High Jumper. Recommended for grades second through fifth.
Hidden Figures - Young Readers' Edition
By Margot Lee Shetterly
Meet Dorothy Vaughan, Mary Jackson, Christine Darden and Katherine Johnson. These four African-American women each advanced NASA in game-changer ways. In this book, Hidden Figures - Young Readers' Edition, you'll learn how Dorothy became the supervisor and lead programmer of a revolutionary IBM mainframe computer. Mary became the first African American female engineer in a world where engineers were male. Christine was a lead researcher of supersonic flights and sonic booms. And Katherine Johnson worked out the calculations for the first American in space despite having to fight her way through closed doors. These remarkable ladies represent a small sample of the countless segregated women of NASA in the 1940s-1960s. Recommended for grades fourth through sixth.
I'm Tara Penman from Davidson, NC. and I discovered my love for writing fantasy and sci-fi last summer. When not writing, I can be found hanging out with my wacky friends, reading books by V.E. Schwab, and snuggling with my Shih Tzu, Cosmo. I encourage aspiring writers to look for inspiration wherever they go... school, work, the shower, etc. The story will find you!
We love to hear from our readers!

You can contact us through the newsletter or individually at the following websites.

We're also both available for school visits.

Joyce

In our last issue we asked readers to give ideas on how to hook dormant readers. Here our ideas we received:
I have used Barbara's method of short chapters with cliffhanger endings in all of my published novels, and it works! Even kids who aren't drawn to reading like a feeling of accomplishment. If I do a good enough job with that cliffhanger, the reader will be enticed to read another chapter or third. Another thing that works is to read a short passage aloud to a group of students. End the read-aloud on a cliffhanger. Few will be able to resist picking up the book for themselves to learn what happens next.
(Contributed by Kathy Cannon Wiechman, award-winning author of Like A River,
Not On 5th Street, and Empty Places)
********

If you're having trouble emailing us, try using CHROME browser.
Send us an

and we'll enter your name to win one of the three books below.

Each will intrigue a young reader in your life.

If you have a book preference, please mention it. We try to honor requests.

US
address
only.
Enter by

(Or better yet, enter right now!)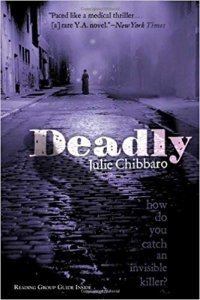 by Julie Chibbaro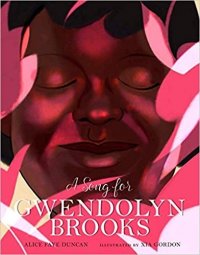 by Alice Faye Duncan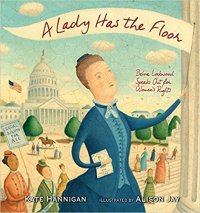 by Kate Hannigan

Congratulations to winners from our

winter issue.

Becky Scharnhorst won Acting Innocent.


Fish In A Tree.


Melissa Hager won Wonderland.

by Carol Baldwin


While writing Half-Truths, I've had the pleasure of "meeting" three women who inspire my characters.
Marie Daly

. In 1947 Ms. Daly was the first black woman in the United States to
receive
a PhD in Chemistry. She made important contributions in the history of histones,
protein synthesis, and the relationship between cholesterol and hypertension.
Marguerite Higgins

. During World War II, the Korean War, and the Vietnam War, Ms. Higgins led the way as a female war correspondent. She was the first woman to win the
Pulitzer
Prize for Foreign Correspondence in 1951.
Gladys Tillett

was a proponent of equal rights for women in Charlotte, NC in the 1930's-1970's. She was the first woman named as assistant to the Democratic National Convention and organized the first county League of Women's Voters in NC.
To Julie Chibarro for being our featured author and donating a copy of Deadly.

To Alison Jay for her illustration.

To Calkins Creek Books for A Lady Has the Floor.

To Tara Penman for being our teen reviewer.

To Sterling Books for A Song for Gwendolyn Brooks.
Please Share Talking Story!
Have you noticed the "Share" button on the top of this newsletter? If you share TALKING STORY either on social media or email it to a friend, we will enter your name in our giveaway. Please
email
by April 1, tell us what you have done, and your book preference and we will add your name to the hat!