Classical Conferences and Meetings in 2019


CAMWS–Classical Association of the Middle West and South
April 3–6, 2019
The Cornhusker at the invitation of the University of Nebraska
Lincoln, NE
Representatives: Donald Sprague and Amelia Wallace

Presentations:
Thursday, April 4
10:00–11:45 am—Second Paper Session, Section F
"Cleopatra's Haggard Image" Gregory N. Daugherty, coauthor, To Be a Roman

3:15–4:45 pm—Fourth Paper Session, Section H
"The Modern Labors of Hercules" Thomas Sienckewicz, coauthor, Vergil: A LEGAMUS Transitional Reader

8:15–9:00 pm Plenary: ACL Centennial Lecture "Latin Teacher Training: Does It Have a Future Tense?" Kenneth Kitchell, author, The Other Middle Ages, They Said It First: The Wisdom of the Ancient Greeks and Romans; coauthor, Catullus: A LEGAMUS Transitional Reader

Friday, April 5
10:00–11:45 am—Sixth Paper Session, Section F
"Check Those References: Quotation, Simplicitas, and Image-making in Martial Epigrams 11" Catherine Keane, author, A Roman Verse Reader: Selections from Lucilius, Horace, Persius, and Juvenal

3:15–4:45 pm—Eighth Paper Session, Section A
"Finding Funding: Three Perspectives on Grant Writing—A Reader's Response: Perspectives and a Roadmap" Carole Newlands, author, An Ovid Reader: Selections from Seven Works

6:45–9:00 pm "Banquet: Welcome Response" Anne Groton, CAMWS President-Elect; coauthor, 38 Latin Stories, editor, Ab omni parte beatus: Classical Essays in Honor of James May

Saturday, April 6
12:00–12:45 pm—Round Table Discussion: Section B
"LUMINA: Discussing an Interactive Learning Tool for LNM and Artes Latinae" Donald Sprague and Amelia Wallace, Editors, Bolchazy-Carducci Publishers

1:00–2:45 pm—Tenth Paper Session, Section A
"Don't Be Passive! Stay in the Middle!: Teaching Voice in Beginning Greek" Wilfred E. Major, coauthor, Plato: A Transitional Reader

3:00–4:45 pm—Eleventh Paper Session, Section A "Sic eat quaecumque Romana lugebit hostem: The Power of Women's Mourning in Livy's Ab Urbe Condita" T. Davina McClain, author, Graphic Greek Grammar Cards

The 54th International Congress on Medieval Studies
May 9–12, 2019
Western Michigan University
Kalamazoo, MI
Representatives: Laurel Draper and Adam Velez

ACL–The American Classical League
Celebrating ACL's Centennial
72nd Annual Institute
June 27–29, 2019
Hilton Midtown
New York, NY
Representatives: TBD

NJCL–National Junior Classical League
July 26–31, 2019
North Dakota State University
Fargo, ND
Representatives: TBD

Bolchazy-Carducci Publishers salutes Sean Smith, Classical Association of New England's 2019 Barlow-Beach Distinguished Service Award winner. Smith is co-author, with Kenneth J. Kitchell, of Catullus: A LEGAMUS Transitional Reader. Smith authored the Teacher's Guide for the Catullus text.

Bolchazy-Carducci Publishers is pleased to provide complimentary webinars on a variety of subjects, especially pedagogical, of interest to classicists. Some webinars are geared to the Latin for the New Millennium program and to topics generated by the AP* Latin curriculum.





Read eLitterae or follow us on Facebook and Twitter for the announcement of our next series of free webinars.




Please note: The Bolchazy-Carducci Publishers Webinar Program is intended to be a live interactive endeavor in which presenter and attendees ask questions, make comments, seek clarification, share examples, etc. Thus, by design and in order to protect the presenter's intellectual property, B-C does not make recordings available to non-attendees. B-C encourages those interested in a given topic or presenter to plan to attend the live webinar.



If you have suggestions for webinars, please contact Don Sprague.

---
What Equipment Do I Need for B-C Webinars?
To participate in Bolchazy-Carducci Publisher sponsored webinars you will need high-speed internet access, computer speakers/headphones, current web browser, and the link to the webinar virtual meeting space, which is provided in your webinar invitation.
Webinars Make for User-Friendly Professional Development

Participation is free. All webinars provide opportunity for participants to ask questions. Learn lots—attend as many presentations as you can. Bolchazy-Carducci Publishers provides documentation for your participation. You can share this with your supervisors. Many webinar presenters provide handouts, etc.
Sportula Online Conference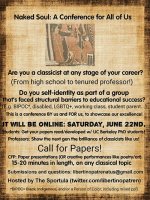 The group of classicists who have formed The Sportula as a means of assisting students with microgrants will be sponsoring an online conference dedicated to inclusivity. Note that abstracts for presentations are due March 15.

Follow The Sportula on twitter.

Cindy Caltagirone and Don Sprague are hard at work planning the ACL Centennial Study Tour of Rome with an optional add-on tour to Campania.

So, mark your calendar for ROME2020ACL100 in July of 2020!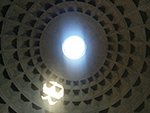 ROME2020 Awaits . . .
Bolchazy-Carducci Publishers provides eTextbooks on a variety of eBook platforms. Bolchazy-Carducci textbooks are available through VitalSource,

GooglePlay

,

Chegg

, RedShelf, Adams Book, Follett,

MBSDirect Digital

, and ESCO. Each eBook platform offers a variety of tools to enhance the learning process. eBooks have the same content as our traditional books in print.
eBooks are purchased from the eBook provider. For direct links to purchase Bolchazy-Carducci eTextbooks, visit the title's product page on Bolchazy.com. Just above the product description there is a list of the eTextbook providers and a direct link to purchase the eTextbook. Some eBook providers sell directly to schools—check with your school to make these purchases.
You can read eBooks on a Mac, PC, iPhone, iPad, Android, or a variety of eReaders. Review the eBook providers specifications.
The eyeVocab software leverages human memory for distinctive affective images* presented in isolation to radically improve the speed, depth, and permanence of second language vocabulary acquisition. Images are drawn from classical art, both western and eastern, from photojournalism and historical photography, great book illustration, and other sources.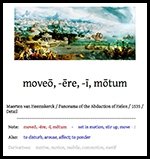 *Learn how images are chosen.

Far more than a set of electronic flashcards, the multimodal vocabulary program facilitates a significantly deeper learning and retention. Students will readily master the frequent Vergil and Caesar vocabulary for the AP® Latin Exam and thereby devote far more of their study time and energy to reading and discussing De Bello Gallico and the Aeneid.

eyeVocab programs correspond to the following B-C books.

Caesar: Selections from his Commentarii De Bello Gallico
(Mueller) (218 words)

Vergil's Aeneid: Selected Readings from Books 1, 2, 4, and 6
(Boyd) (162 words)



Vergil's Aeneid: Books I–VI


(Pharr) (292 words)

Latin for the New Millennium Level 1

(423 words)





Introductory rate for each of the AP® Latin programs is $14.95. The LNM 1 and LNM 2 introductory rate is $24.95 per program. For site licenses, contact Miles Becker at sales@eyeVocab.com.




Click on each title to learn more.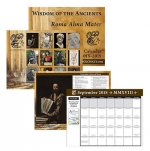 The 2018-2019 Roman Calendar has been mailed. If you were not on that mailing list, the calendar is available as a download. We also have copies available at conferences. If you would like to be included in the 2019-2020 Roman Calendar mailing please submit your request.
Preview Bolchazy-Carducci Titles

Preview Bolchazy-Carducci titles before you purchase using Google Preview.
---

Downloadable Products
iPodius - Bolchazy-Carducci Publishers online shop for: audio, software, video, and a treasure trove of teacher-created materials in the Agora.
---
BCP Facebook Fan Page
Become a FAN of Bolchazy-Carducci Publishers, visit our Facebook Fan page for the latest news from BCP.
---
BCP Blog
Visit the BCPublishers Blog for B-C news and information.
---
BCPublishers on Twitter
Follow us on Twitter

---
AP® is a trademark registered and/or owned by the College Board, which was not involved in the production of, and does not endorse, this site.
These products have been developed independently from and are not endorsed by the International Baccalaureate (IB).
The calendar announces the arrival of spring though the weather is still catching up!
May you and your students enjoy your spring break and return refreshed and ready to end the year with a flourish.
May your students look forward to registering for the next level of their Latin and Greek studies and may your beginning class enrollments bring a smile to your face.
If you're considering a change in texts, don't hesitate to contact us with your questions. Bolchazy-Carducci Publishers' editors bring insights from their own study of the classics and their teaching experience to their work.
While March means the Ides, March Madness, and B-C's Martia Dementia as well as St. Patrick's Day parades and St. Joseph Day tables, it also means the annual meeting of the Classical Association of New England. This meeting is a favorite of mine as it provides me an opportunity to connect with my Boston roots, visit with the family, and connect with teacher friends from Maine to Connecticut. This year's gathering at the College of the Holy Cross has special significance for me—former classics department chair Timothy Joseph began his Latin studies when I was teaching at Loyola Academy, Wilmette, IL. It has been a special privilege to follow Tim's career and many successes.

Amelia Wallace and I look forward to greeting you at CAMWS in April.
All best wishes,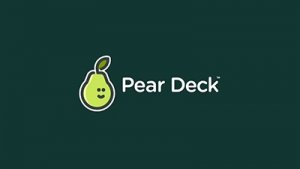 Within the past few weeks, I have seen several teachers very effectively use a tool called Pear Deck so I decided to investigate what it has to offer. In a 1:1 environment, Pear Deck allows the teacher to create a set of Google slides, to push them to student devices, and to control the pacing of the presentation. With the help of the free Pear Deck add-on to Chrome, users can embed a variety of different activities and informal assessment slides in addition to slides that contain content. There are various editable templates already created or teachers can create their own slides and add the activity functions to them.


Pear Deck has a number of different activity and assessment types from which to choose: multiple choice, true/false, short and long answer questions as well as drawing and dragging prompts. I really like the drawing and dragging activity types. Students can mark up a tough sentence, annotate a map, or connect adjectives to the nouns they modify using these activities. There are lots of great applications! The teacher gives students access to the slides via a sharing code that is generated by Pear Deck's website. It is great that there's no need for apps or downloads on the student end at all. Once students have entered the code shared by the teacher, they see the slides individually as the teacher moves them through the lesson.

The teacher can choose to share information about how the students respond to the various embedded activities and informal assessments. For example, the teacher can share the results of a multiple choice question with a single click. For a short answer activity, the teacher can anonymize the responses and display them to the whole class. There are so many ways to use Pear Deck in our classrooms. I know that lots of teachers like to give students access to all the necessary materials in one location. Pear Deck can be that location! I think it is a particularly great tool to use on days when a teacher might need to provide lots of direct instruction. The embedded activities and assessment provide students with really valuable opportunities to interact with the new material. To get started, visit
www.Pear Deck.com
.
---
Editor's Note:
Lynne West, who pens
eLitterae'
s monthly "Tech Tip," will again offer a workshop called "Teaching with Technology" at the Taft School's Education Center in Watertown, CT. The workshop runs from July 29 to August 1 and will provide many opportunities to both learn about great tools and practice using them. For more information, visit the
website
; in the disciplines window, choose "Technology" and place a check in the F-week box.
CANE-Classical Association of New England 113th Annual Meeting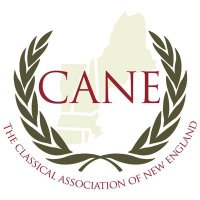 St. James Hill, one of the seven hills of Worcester, MA, drew some two hundred fifty New England classicists to the 113th annual meeting of the Classical Association of New England (CANE) hosted by the College of the Holy Cross, March 8–9. The college, celebrating its 175th anniversary, is an appropriate host for such an occasion—the twelve classics professors take great pride in regularly teaching the largest number of classics majors in the country!
CANE participants delighted in attending their favorites among the forty-six papers and eighteen workshops. In addition, Holy Cross classics students provided guided tours of the classical art at the Worcester Museum of Art. Editor Don Sprague welcomed the half-hour coffee/exhibit break each morning that afforded attendees time to check out the four tables displaying B-C's books and teaching materials.
Bolchazy-Carducci Publishers was pleased to sponsor the wine served at Friday evening's banquet. CANE President, Susan Curry, thanked the company for this special tribute to founder Lou Bolchazy. A highlight of the banquet each year is the presentation of two special awards. CANE honored Ted Zarrow, PhD, Latin teacher at Westwood (MA) High School with the Matthew I. Wiencke Teaching Award. Recently retired from Amherst (MA) Regional High School, Sean Smith received the coveted Barlow-Beach Distinguished Service Award for his service to the classics profession and especially to CANE. The evening's program included the CANE essay award winner Evan Prince, '20, St. Sebastian School (Needham, MA), reading his essay on one's true legacy.
Following the awards, a dozen Holy Cross classics students—majors, non-majors, and cross-registrants from Worcester's Clark University—engaged the attentive audience with their personal testimonies about the various curricular and co-curricular programs offered by the Holy Cross classics department—from the student publication Parnassus to the Manuscripts, Inscriptions, and Documents Club. Indeed, an impressive highlight of the annual meeting!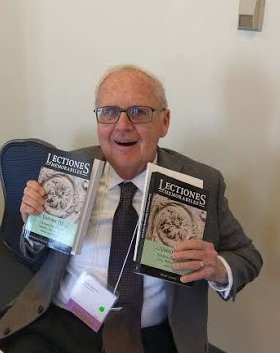 Stephen Rojcewicz wins the B-C book drawing at CANE. In addition to Volumes III and IV, the latest in the Lectiones Memorabiles series, Rojcewicz won a copy of Three Abecedaria. Of note: Rojcewicz is a 2017 PhD from the University of Maryland—his second career after retiring from his psychiatry practice.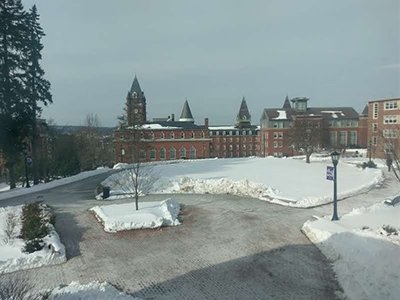 A view of the College of the Holy Cross campus from the third-floor windows of the Hogan Campus Center. The snow arrived a couple days prior to the conference.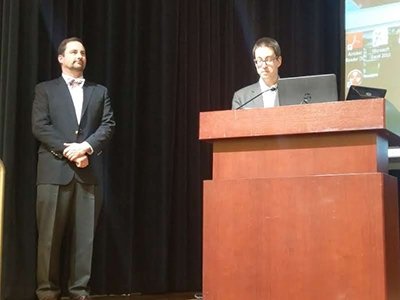 Ted Zarrow, with his signature bow tie, listens as Holy Cross Classics Professor Aaron Seider reads the citation for the Matthew I. Wiencke Teaching Award.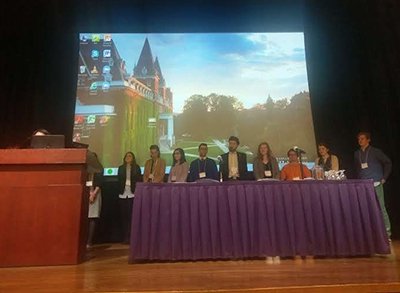 A partial view of the students who shared their enthusiasm and passion for their classics-related experiences at College of the Holy Cross.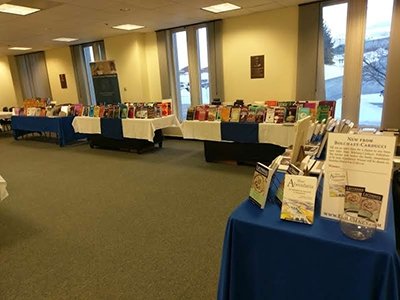 The B-C book display strategically located at the entrance to Room 320.
John C. Traupman, PhD
1923–2019


The staff at Bolchazy-Carducci Publishers joins the classics community in mourning the loss of

Dr. John C. Traupman

, whose impact on several generations of Latin students is inestimable. B-C takes great pride as the publisher of Traupman's popular

Conversational Latin for Oral Proficiency: Phrase Book and Dictionary

. Behind the scenes, Dr. Traupman served as the company's "go to" for his expertise on macrons. Indeed, he meticulously checked the macrons of all three levels of

Latin for the New Millennium

.



A triumvirate of accomplished classicists from the 2006 meeting of the Classical Association of the Atlantic States—Henry Bender, Judith Peller Hallett, and John Traupman. Photo courtesy of Henry Bender.
Resources & Teaching Tips

√ Professional Development Opportunity


• See the Editor's Note following this month's Tech Tip to learn about Lynne West's summer workshop on technology.


• Veteran teacher and AP Latin consultant, Jill Crooker is offering

three workshops

for teachers of AP Latin.

• Not only does the College Board present summer institutes on AP Latin, the board also provides

scholarship

assistance.




√ March—Celebrating Women


• Mary Beard's top five powerful

women

in the Greco-Roman world.

• The achievements of

women

in ancient Rome.

• Women

authors

from the ancient world.

• Pioneering

women

archaeologists.




√ Cupid & Psyche Lesson


• This

N.S. Gill piece

on the great Cupid and Psyche love story is a great resource. For Latin 1 and Latin 2 students, use it in conjunction with the adapted

Apuleius selection

about Cupid and Psyche that appears in

Latin for the New Millennium

, Level 1, chapter 18.




Editor's Note: The LNM PDF is provided for classroom use only as downloaded by the eLitterae subscriber and is not to be otherwise copied or distributed.





√ Spoken Latin
• The Classics Department at Princeton University now offers a spoken Latin course.

√ Sung Greek
• "Mamma Mia" —Μα Τον Δια—in Ancient Greek

√ Corporate Noblesse Oblige
Check out these new sponsors of restoration projects in Rome.
• Gucci funds the Tarpeian Rock project.
• Bulgari takes on the Largo Argentina.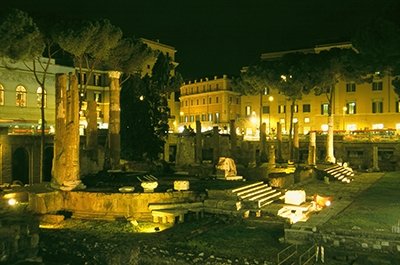 An evocative night view of the Largo Argentina. Photo courtesy of Creative Commons 3.0 and Fl.schmitt.

√ William Sanders Scarborough
• The Journal of Blacks in Higher Education takes notes of the reprinting of William Sanders Scarborough's First Lessons in Greek.

√ Romansch
• Romansch, one of Switzerland's four official languages, and its dialects perdure.

√ Ancient Greece in the News
• The enduring influence and legacy of Homer's Odyssey.
• Mapping the myth of Odysseus.
• Experiencing Eleusis and learning about its mysterious ritual.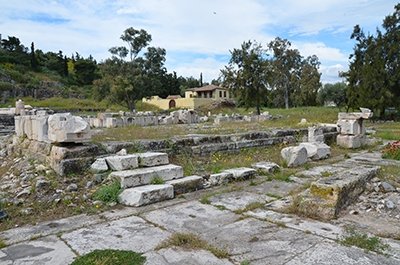 A view of the remains of Eleusis. Photo by Carole Raddato courtesy of Wikimedia Commons and Creative Commons 2.0.



• How old is the Greek alphabet?
• Archaeology corroborates Herodotus.

√ Keeping Up with Res Romanae
• Share this PBS video on discoveries made while building the new subway branch in Rome.


•

Narcissus looking his best revealed in Pompeii.
• A re-enactment of the Parentalia in Malta.
• Learn about Roman and other Mediterranean culinary delights.
• What about the Romans who escaped Mt. Vesuvius's eruption?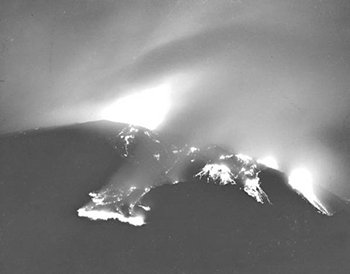 Mt. Vesuvius's 1944 eruption at night. Photo courtesy of Wikimedia Commons and DeGolyer Library, Southern Methodist University



• Modern technology maps Hannibal's route over the Alps.
• Roman fashionistas love this shoe!
• Hadrian's Wall reveals Roman obsession.



Celebrate the renowned dog trainer Susan Clothier.

---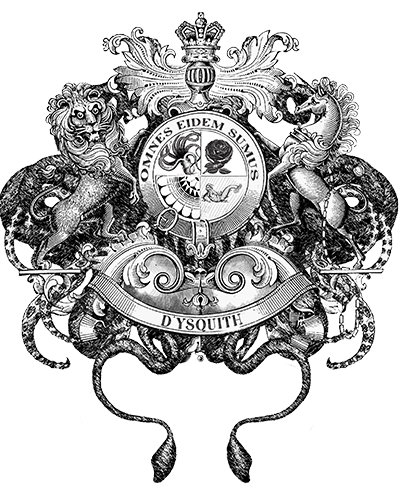 Porchlight Music Theatre recently presented the Chicago/Midwest regional premiere of the 2014 Tony Award Winner A Gentleman's Guide to Love & Murder. Chicago projection designer Anthony Churchill created this coat of arms for the D'Ysquith Family, eight members of whom, all in the line of succession to become Earl of Highcrest, die in the course of this funny play. Note the Latin motto Omnes Eidem Sumus. Churchill's coat of arms is a composite of others, including the House of Windsor. His projections for the Porchlight production helped set the scene for this musical comedy set in Edwardian England.

eLitterae Subscribers Special Discount

Special 30% Discount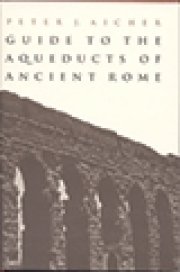 Guide to the Aqueducts of Ancient Rome

by Peter J. Aicher

196 pages, ISBN 978-0-86516-282-2

$37.00

$25.00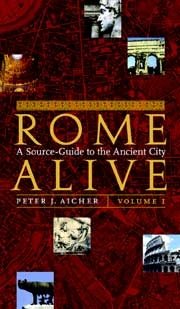 Rome Alive: A Source-Guide to the Ancient City Volume I
by Peter J. Aicher
343 pages, ISBN 978-0-86516-473-4
$45.00

$30.00
Rome Alive: A Source-Guide to the Ancient City Volume II
by Peter J. Aicher
224 pages, ISBN 978-0-86516-507-6
$45.00

$30.00

Must-haves for everyone who visits Rome!

This offer is valid for up to five (5) copies of book, prepaid, no returns.
Discount is not available to distributors.
This offer expires 04/21/19.
Enter coupon code
eLit0319
on the payment page.
The special offer pricing will be charged at checkout.
(Please note that there will be no adjustments on previous purchases.
Offer is nontransferable and subject to change without notice.)