Bolchazy-Carducci Publishers provides eTextbooks on a variety of eBook platforms. Bolchazy-Carducci textbooks are available through VitalSource,

GooglePlay

,

Chegg

, RedShelf, Adams Book, Follett,

MBSDirect Digital

, and ESCO. Each eBook platform offers a variety of tools to enhance the learning process. eBooks have the same content as our traditional books in print.
You can read eBooks on a Mac, PC, iPhone, iPad, Android, or a variety of eReaders. Review the eBook providers specifications.
The eyeVocab software leverages human memory for distinctive affective images* presented in isolation to radically improve the speed, depth, and permanence of second language vocabulary acquisition. Images are drawn from classical art, both western and eastern, from photojournalism and historical photography, great book illustration, and other sources.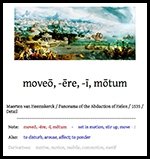 *Learn how images are chosen.

Far more than a set of electronic flashcards, the multimodal vocabulary program facilitates a significantly deeper learning and retention. Students will readily master the frequent Vergil and Caesar vocabulary for the AP® Latin Exam and thereby devote far more of their study time and energy to reading and discussing De Bello Gallico and the Aeneid.

eyeVocab programs correspond to the following B-C books.

Caesar: Selections from his Commentarii De Bello Gallico
(Mueller) (218 words)

Vergil's Aeneid: Selected Readings from Books 1, 2, 4, and 6
(Boyd) (162 words)



Vergil's Aeneid: Books I–VI


(Pharr) (292 words)

Latin for the New Millennium Level 1

(423 words)





Introductory rate for each of the AP® Latin programs is $14.95. The LNM 1 and LNM 2 introductory rate is $24.95 per program. For site licenses, contact Miles Becker at sales@eyeVocab.com.




Click on each title to learn more.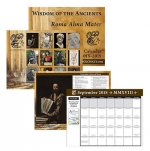 The 2018-2019 Roman Calendar is available as a download. If you would like to be included in the 2019-2020 Roman Calendar mailing please submit your request.
Preview Bolchazy-Carducci Titles

Preview Bolchazy-Carducci titles before you purchase using Google Preview.
---

Downloadable Products
iPodius - Bolchazy-Carducci Publishers online shop for: audio, software, video, and a treasure trove of teacher-created materials in the Agora.
---
BCP Facebook Fan Page
Become a FAN of Bolchazy-Carducci Publishers, visit our Facebook Fan page for the latest news from BCP.
---
BCP Blog
Visit the BCPublishers Blog for B-C news and information.
---
BCPublishers on Twitter
Follow us on Twitter

---
AP® is a trademark registered and/or owned by the College Board, which was not involved in the production of, and does not endorse, this site.
These products have been developed independently from and are not endorsed by the International Baccalaureate (IB).
Special Messages from Bolchazy-Carducci Publishers

Please be informed that the next issue of eLitterae, Bolchazy-Carducci's eNewsletter, will be in August.

All of us at Bolchazy-Carducci Publishers wish you and your families a happy, healthy, safe, and restorative summer break.

Of course, our office will be open regular hours 8:30 am to 5:00 pm. Our
customer service specialists
are just a phone call away. Please call to ask questions, place orders, or speak to one of the classics-trained editors.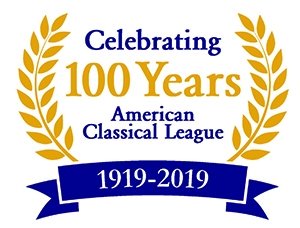 Bolchazy-Carducci editors Laurel Draper and Don Sprague and president Bridget Dean, PhD, look forward to greeting all of you attending the Centennial Institute of the American Classical League in New York City this week. Come stop by our display, tables 31–36 in the Exhibit Hall. Check out our new titles and all our other learning materials. Chat with Bridget and experience a demonstration about Lumina, our new interactive learning program.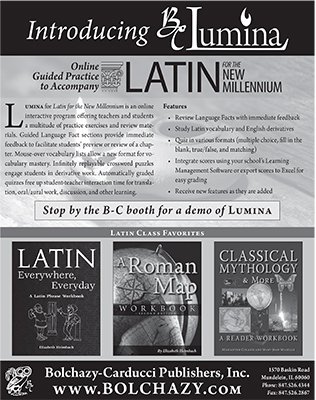 ACL–The American Classical League


Celebrating ACL's Centennial


72nd Annual Institute

June 27–29, 2019

Hilton Midtown, New York, NY

Presentations:
Friday, June 28
8:30 am – 10:00 am
"Quomodo discamus? Tunc et Nunc: A Century of Teaching Latin"
Panelist: Kenneth Kitchell, author, The Other Middle Ages, They Said It First: The Wisdom of the Ancient Greeks and Romans; coauthor, Catullus: A LEGAMUS Transitional Reader

"Teaching Greek Better in the 21st Century"
Wilfred Major, coauthor, Plato: A Transitional Reader

2:00 pm – 3:00 pm
Poster Session: "Rome Through the Ages: A Tour of Rome and Surroundings Celebrating the American Classical League's Centennial"
Cindy Caltagirone, Chair ACL Technology Committee, and Don Sprague, editor, Bolchazy-Carducci Publishers

4:00 pm – 5:00 pm
"The Contemporary City Dionysia, Past, Present, and Future"
Marianthe Colakis, author, Lectiones Memorabiles: Volume I: Selections from Catullus, Cicero, Livy, Ovid, Propertius, Tibullus, and Vergil; coauthor, Classical Mythology & More: A Reader Workbook, Excelability in Advanced Latin: A Workbook for Students, and Lectiones Memorabiles: Volume III: Selections from Caesar, Catullus, Horace, Livy, Ovid, and Vergil

Saturday, June 29
9:00 am – 10:00 am
"Let's Diversify: Using African American Fiction to Bring Black Classicism into Your Classroom"
Michele Valerie Ronnick, William Sanders Scarborough's First Lessons in Greek: A Facsimile of the 1881 First Edition

12:00 pm –1:00 pm
Roundtable Discussions
"Local and Global Perspectives on Latin/Classics Teacher Training"
Ronnie Ancona, author, Writing Passion: A Catullus Reader, Writing Passion Plus: A Catullus Reader Supplement, Horace: Selected Odes and Satire 1.9; coauthor: Horace: A LEGAMUS Transitional Reader and A Horace Workbook, and Arlene Holmes-Henderson, University of Oxford

"Extra Muros: Teaching Latin Online"
Ed DeHoratius, author, Follow Your Fates Series: The Exile of Aeneas, The Journey of Odysseus, and The Wrath of Achilles

---
Congratulations to the ACL 2019 Emeritae Award Recipients: Sheila Dickison, Debra Heaton, and Deborah Ross and 2019 Award for Advocacy honoree Martha Abbot.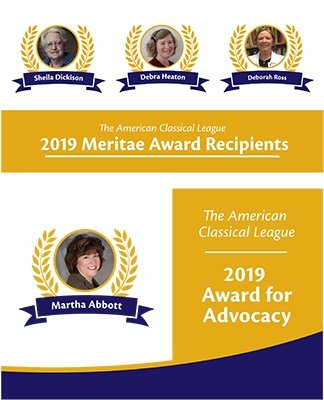 ---
Visit Bolchazy-Carducci Pubishers at:
NJCL–National Junior Classical League
July 26–31, 2019 (book exhibit July 27–30)
North Dakota State University
Fargo, ND
Representatives: Donald Sprague and Amelia Wallace

To celebrate the American Classical League Centennial, ACL is pleased to sponsor ROMA2020—Rome through the Ages, a customized study tour of Rome and neighboring sites and an optional "after party" tour to Campania.

ACL Technology Chair Cindy Caltagirone joins forces with Bolchazy-Carducci editor Don Sprague as leaders for the tour. Together they bring decades of experience leading study tours and especially tours of Rome.

The Rome portion is scheduled to begin July 6 and run through July 16. Those choosing the optional tour to Campania will spend four nights in Sorrento and a final night in Rome.

So, plan to join us for ROMA2020—ACL 100.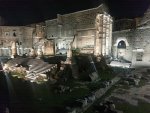 FREE Webinars Introducing LUMINA!!


NEW for the 2019–2020 School Year!!

Lumina: LNM online interactive content to accompany Latin for the New Millennium

and

Lumina: Artes Latinae,
an online self-teaching Latin course

Register here for these free webinars.
---
Lumina for LNM Interactive Activities for Students
Tuesday, July 16, 5:00–6:00 Central Time (6:00–7:00 Eastern Time)
Presenter: Bridget Dean, PhD, President, Bolchazy-Carducci Publishers



Come join Dr. Bridget Dean as she gives a tour of Bolchazy-Carducci's forthcoming interactive program for Latin for the New Millennium. Dr. Dean will demonstrate the various features of the program including how it paces with each chapter in LNM, the vocabulary and derivative reviews, the extra homework/quiz options, and the gradebook as it appears in B-C's Learning Management System, Moodle. Jody Cull, Production and eLearning Manager at B-C, will also be available to address questions of how Lumina will integrate with your school's technology. This webinar is open to anyone, whether or not you currently use Latin for the New Millennium.





For a brief overview of the program, check out this video.

Visit our website product pages for information.
Lumina: Latin for the New Millennium Level 1
Classroom Option
Individual User Option

Lumina: Latin for the New Millennium Level 2
Classroom Option
Individual User Option

---
Artes Latinae : A Self-teaching, Self-paced Interactive Latin Program
Tuesday, July 23, 5:00–6:00 Central Time (6:00–7:00 Eastern Time)
Presenter: Bridget Dean, PhD, President, Bolchazy-Carducci Publishers



Come see a demonstration of the revamped Artes Latinae. This fully interactive online program teaches all of Latin grammar in two courses. This program will debut in its new format for fall of 2019 at a special discounted price of 30% off!





For a brief overview of the program, check out this

video

.




Based on the program developed by Dr. Waldo E. Sweet of the University of Michigan for Encyclopedia Britannica, Lumina: Artes Latinae is an easy-to-follow course that includes all the tools a student needs to achieve a firm command of Latin. The course was carefully crafted and refined to suit the needs and abilities of a broad spectrum of students. Lumina: Artes Latinae meets existing foreign language requirements for high school graduation.



Visit our website product pages for information.
Lumina: Artes Latinae Level 1

Lumina: Artes Latinae Level 2

Webinar Registration Form

---
Bolchazy-Carducci Publishers is pleased to provide complimentary webinars on a variety of subjects, especially pedagogical, of interest to classicists. Some webinars are geared to the Latin for the New Millennium program and to topics generated by the AP* Latin curriculum.





Read eLitterae or follow us on Facebook and Twitter for the announcement of our next series of free webinars.




Please note: The Bolchazy-Carducci Publishers Webinar Program is intended to be a live interactive endeavor in which presenter and attendees ask questions, make comments, seek clarification, share examples, etc. Thus, by design and in order to protect the presenter's intellectual property, B-C does not make recordings available to non-attendees. B-C encourages those interested in a given topic or presenter to plan to attend the live webinar.



If you have suggestions for webinars, please contact Don Sprague.

---
What Equipment Do I Need for B-C Webinars?

To participate in Bolchazy-Carducci Publisher sponsored webinars you will need high-speed internet access, computer speakers/headphones, current web browser, and the link to the webinar virtual meeting space, which is provided in your webinar invitation.
Webinars Make for User-Friendly Professional Development

Participation is free. All webinars provide opportunity for participants to ask questions. Learn lots—attend as many presentations as you can. Bolchazy-Carducci Publishers provides documentation for your participation. You can share this with your supervisors. Many webinar presenters provide handouts, etc.
eLitterae Subscribers Special Discount

Offering eLitterae Subscribers
our 20% Conference

Discount
This offer is valid for prepaid, no returns.
Discount is not available to distributors.
This offer expires 07/29/19.
Enter coupon code
eLit0619
on the payment page.
The special offer pricing will be charged at checkout.
(Please note that there will be no adjustments on previous purchases.
Some products are excluded from this offer, offer is nontransferable, and subject to change without notice.)