Bolchazy-Carducci Publishers provides eTextbooks on a variety of eBook platforms. Bolchazy-Carducci textbooks are available through VitalSource,

GooglePlay

,

Chegg

, RedShelf, Adams Book, Follett,

MBSDirect Digital

, and ESCO. Each eBook platform offers a variety of tools to enhance the learning process. eBooks have the same content as our traditional books in print.
You can read eBooks on a Mac, PC, iPhone, iPad, Android, or a variety of eReaders. Review the eBook providers specifications.
Congratulations to Virginia Anderson of Bolingbrook, IL, who received the Illinois Classical Conference's 2019 Lifetime Achievement Award for many years of service in the classroom, for the Illinois Classical Conference, and to the Illinois Junior Classical Association. In 2003, the ICC named Anderson the Farrand Baker Latin Teacher of the Year. Anderson served as a consultant for Bolchazy-Carducci Publishers' Latin for the New Millennium series.
---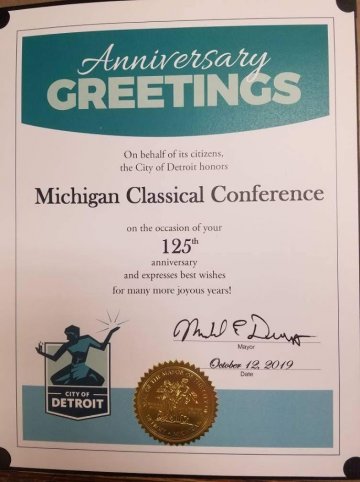 Congratulations to the Michigan Classical Conference on the dedicated group's 125th Anniversary! The official proclamation from the City of Detroit celebrated the anniversary and the MCC's 2019 meeting at the University of Detroit Jesuit High School.
October is right around the corner, which means it's time for Bolchazy-Carducci's annual Halloween costume contest, Dolus aut Dulce! In past years, we've received entries that relied on witty wordplay, sublime clothing-design skills, and everything in between. This year, we are adding a new category to the contest: we now invite you to submit pictures of your Halloween-themed classics classroom in addition to photos of classically themed costumes.

We are also expanding the ways in which you can participate in the contest. You can choose the original method of submission: follow @BCPublishers on Twitter and then tweet us your photo using the hashtag #BCPub. Or, you can like us on Facebook and submit your photo entry on our page timeline. Remember, there are two entry categories: costume photos and classroom decoration photos. The winner in each category will receive a choice of either ten paperback copies of the Grinch (in Latin) or a $50 book credit.
Classical Conferences and Meetings in 2019–2020

2019

Jesuit High School Latin Teachers
St. Xavier High School
Cincinnati, OH
November 7–9, 2019
Representative:
Donald Sprague
ACTFL—American Council on the Teaching of Foreign Language
2019 Annual Convention and World Languages Expo

November 22–24, 2019
Walter E. Washington Convention Center
Washington, DC
Representative:
Donald Sprague
2020

SCS/AIA—Society for Classical Studies/Archaeological Institute of America


2020 Annual Meeting
January 2–5, 2020
Marriott Marquis
Washington, DC
Representatives:

Bridget Dean and Donald Sprague



CANE—Classical Association of New England


March 13–14, 2020
Trinity College
Hartford, CT
Representative: Donald Sprague



CAMWS—Classical Association of the Middle West and South


116th Annual Meeting of the Classical Association of the Middle West and South
March 25–28, 2020
Hyatt Regency Birmingham--The Wynfrey Hotel
Birmingham, Alabama
at the invitation of

Samford University
Representatives:

Donald Sprague and Amelia Wallace



The 53rd International Congress on Medieval Studies


May 7–10, 2020
Western Michigan University
Kalamazoo, MI
Representatives: Adam Velez and Laurel Draper


ACL—The American Classical League

72nd Annual Institute
June 25–27, 2020
College of Charleston
Charleston, SC
Representatives:
Laurel Draper and Donald Sprague
NJCL—National Junior Classical League
Annual Convention
July 24–29, 2020
University of Richmond
Richmond, VA
Representatives: Donald Sprague and Amelia Wallace
Registration is OPEN! Reserve your space for this special program NOW!
To celebrate the American Classical League Centennial, ACL is pleased to sponsor
ROMA2020—Rome through the Ages, a customized study tour of Rome and neighboring sites and an optional "after party" tour to Campania.
ACL Technology Chair Cindy Caltagirone joins forces with B-C editor Don Sprague as leaders for the tour. Together they bring decades of experience leading study tours and especially tours of Rome.
The Rome portion is scheduled to begin July 6 and run through July 16. Those choosing the optional tour (July 16–21) to Campania will spend four nights in Sorrento and a final night in Rome.
So, plan to join us for ROMA2020-ACL100.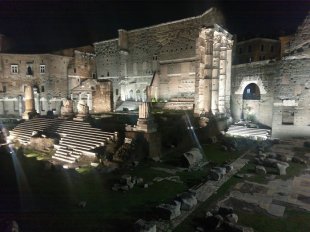 Bolchazy-Carducci Publishers is pleased to provide complimentary webinars on a variety of subjects, especially pedagogical, of interest to classicists. Some webinars are geared to the Latin for the New Millennium program and to topics generated by the AP* Latin curriculum.
Read eLitterae or follow us on Facebook and Twitter for the announcement of our fall series of free webinars.
Please note:
The Bolchazy-Carducci Publishers Webinar Program is intended to be a live interactive endeavor in which presenter and attendees ask questions, make comments, seek clarification, share examples, etc. Thus, by design and in order to protect the presenter's intellectual property, B-C does not make recordings available to non-attendees. B-C encourages those interested in a given topic or presenter to plan to attend the live webinar.
If you have suggestions for webinars, please contact Don Sprague.
---
What Equipment Do I Need for B-C Webinars?
To participate in Bolchazy-Carducci Publishers sponsored webinars you will need high-speed internet access, computer speakers/headphones, current web browser, and the link to the webinar virtual meeting space, which is provided in your webinar invitation.
Webinars Make for User-Friendly Professional Development
Participation is free. All webinars provide opportunity for participants to ask questions. Learn lots—attend as many presentations as you can. Bolchazy-Carducci Publishers provides documentation for your participation. You can share this with your supervisors. Many webinar presenters provide handouts, etc.
In Orbe Novo: The Latin of New Spain

October 22, 2019: 5:00–6:00 Central Time (6:00–7:00 Eastern Time)

Presenter: Elizabeth Manwell, Kalamazoo College
Professor Manwell will discuss the wealth of Latin written in and about the "New World," especially strategies for effectively using Rose Williams's Latin of New Spain. She will share her insights on and enthusiasm for helping students discover the legacy of Latin, whether in a stand-alone course or as a short unit in a course on poetry or prose.

Elizabeth Manwell is the Sally Appleton Kirkpatrick Professor of Classical Studies at Kalamazoo College where she is co-chair of the Department of Classics. She also teaches for the Women, Gender, and Sexuality Program. She holds a BA from The Ohio State University, an MA from the University of Cincinnati, and a PhD from the University of Chicago. Manwell's academic interests include Catullus, women, gender, and sexuality.
Reflections on Using LUMINA:
Latin for the New Millennium
November 19, 2019: 5:00–6:00 Central Time (6:00–7:00 Eastern Time)

Presenter: Michael de Brauw, North Central College
Professor de Brauw uses Latin for the New Millennium in his Latin 101-1 course at North Central College in Naperville, IL. Excited by Bolchazy-Carducci editor Amelia Wallace's CAMWS presentation on LUMINA, an online guided practice learning tool for LNM, he has incorporated its use into the elementary Latin class. In his webinar, Professor de Brauw will share his insights into using this online interactive learning tool with his students.

Michael de Brauw is Associate Professor of Classics at North Central College. He is Program Coordinator for Classical Studies and a member of both the Department of Modern and Classical Languages and the Program in Gender and Sexuality. He teaches Latin and Greek, as well as courses on ancient Greek and Roman history and culture, including classical mythology. His research interests focus on Greek and Roman rhetoric, law, and cultural history. Professor de Brauw has also taught at Johns Hopkins University and the University of Minnesota. He earned his BA from the University of Chicago and his PhD at the University of Texas at Austin.
Implementing Aural/Oral Activities in the
LNM Classroom
December 10, 2019: 5:00–6:00 Central Time (6:00–7:00 Eastern Time)

Presenter: Terence Tunberg, University of Kentucky
Let an accomplished educator and living Latin enthusiast gently walk you through the aural/oral opportunities presented by Latin for the New Millennium, Levels 1 and 2. Coauthor, Dr. Terence Tunberg, will set you at ease as he provides various suggestions and strategies for implementing or enhancing the spoken Latin component of your classes. He will share with you the bounty of aural/oral activities and exercises in the LNM Teacher Manuals and demonstrate how teacher-friendly they are!

Terence Tunberg, coauthor of Latin for the New Millennium, Levels 1 and 2, is a world-renowned Neo-Latinist and scholar of Latin literature through the ages. He is especially esteemed for his enthusiastic promotion of active Latin. The celebrated Conventiculum Latinum Lexintoniense—the Conversational Latin Seminar held each summer at the University of Kentucky and the longest-running immersion program in America—has spawned a network of similar programs across the country. Tunberg earned his BA and MA in classics at the University of Southern California, did postgraduate research and doctoral work in medieval studies at the University of London, England, and earned a PhD in classical philology from the University of Toronto, Canada.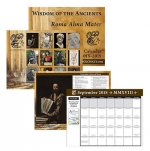 The 2019-2020 Roman Calendar has been mailed. It is also available as a download. If you would like to be included in the 2020-2021 Roman Calendar mailing please submit your request.
The 2019–2020 Roman Calendar features twelve mythical monsters from the 2019 edition of Martia Dementia, Bolchazy-Carducci's annual spring bracket tournament. Be sure to follow the B-C blog for monthly teaching suggestions about the featured monster.
Preview Bolchazy-Carducci Titles

Preview Bolchazy-Carducci titles before you purchase using Google Preview.
---

Downloadable Products
iPodius - Bolchazy-Carducci Publishers online shop for: audio, software, video, and a treasure trove of teacher-created materials in the Agora.
---
BCP Facebook Fan Page
Become a FAN of Bolchazy-Carducci Publishers, visit our Facebook Fan page for the latest news from BCP.
---
BCP Blog
Visit the BCPublishers Blog for B-C news and information.
---
BCPublishers on Twitter
Follow us on Twitter
---
AP® is a trademark registered and/or owned by the College Board, which was not involved in the production of, and does not endorse, this site.
These products have been developed independently from and are not endorsed by the International Baccalaureate (IB).
Autumn is upon us. May you enjoy carving pumpkins and carving time to savor the splendor of the foliage. Encourage your students to enter a classically-themed costume photo to Bolchazy-Carducci's Dolus aut Dulce contest. Perhaps your students donned costumes for their Homecoming pep rally, parade, or half-time show. Enter a photo of your classroom bedecked for Halloween in the contest! Join the fun—you just might win.

B-C is offering you a special Halloween treat, all dulce! Check out the special free shipping offer found later in this issue of eLitterae.

With this issue of eLitterae, you'll find a guest essay from longtime AP Latin consultant and workshop instructor Jill Crooker. This month's essay is the first of two Jill will share with us. Our veteran Tech Tip author, Lynne West, will return in December. In the new year, we plan to alternate the Tech Tip feature with insights on various topics of pedagogical interest from other master classics teachers.

October traditionally kicks off Bolchazy-Carducci Publishers' series of book and learning materials exhibits. Editor Amelia Wallace reports on the Illinois Classical Conference's annual meeting held in the Quad Cities while Editor Don Sprague shares his experience at the Classical Association of the Atlantic States meeting in Silver Spring, Maryland.

This fall has seen the exciting launch of B-C's Lumina online programs for Latin for the New Millennium, Levels 1 and 2 and for the self-teaching Artes Latinae. Mark your calendars for the November 19 webinar when Michael de Brauw of North Central College shares his insights on this new learning tool.

All of us at Bolchazy-Carducci Publishers wish you a wonderful autumn!

All best,

Don Sprague
Editor
don@bolchazy.com

Report on the 2019 Illinois Classical Conference (ICC) Meeting

The 2019 ICC annual meeting took place at Augustana College in Rock Island, Illinois, October 11–13. Many thanks to the Augustana faculty and ICC board members who planned such a wonderful weekend, replete with excellent presentations and workshops!

Editor Amelia Wallace represented Bolchazy-Carducci at ICC 2019. Conference attendees frequented the B-C booth in order to check out recent titles as well as revisit the variety of educational materials on display. This year, many were particularly interested in culture, mythology, and etymology enrichment resources. The novice-level "I Am Reading Latin Stories" series and translations of popular children's books also drew attention. Conference-goers had the opportunity to win B-C's newest book, Latin of Science, an anthology of influential scientific texts that were originally written and published in Latin. Congratulations to Trenton Ferro, professor emeritus at Indiana University of Pennsylvania, who won the book drawing!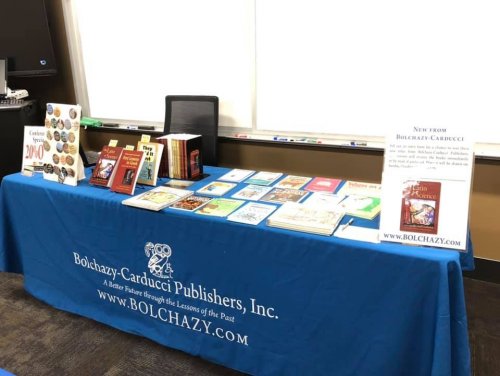 Bolchazy-Carducci occupied three tables in the ICC book room,
right across the hall from where the conference talks took place.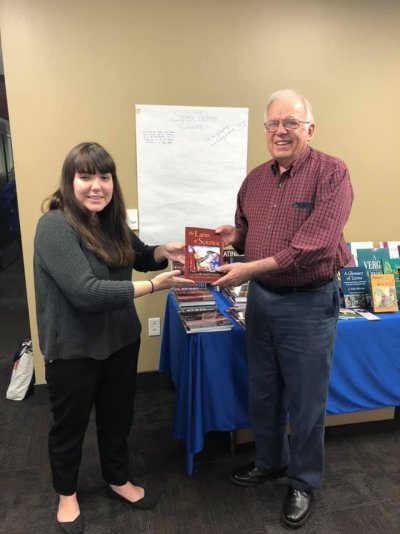 Amelia Wallace presents Trenton Ferro,

winner of the ICC book drawing, with Latin of Science.





Amelia was able to attend several fascinating presentations this year at ICC, including talks on classical reception and Latin pedagogy. She also relished the opportunity to present on the use of Latin in constructed languages in her talk, "From Lingua Ignota to Esperanto: Latin in Conlangs" (stay tuned for a series of blog posts on this subject!). After a long day on Saturday, October 12, everyone enjoyed the chance to chat over dinner at the banquet, which was held at Me & Billy in Davenport, Iowa. As always, one of the highlights of the banquet was the giving of awards. Kudos to Anna Reiff of Stagg High School in Palos Heights, Illinois, who was named Farrand Baker Illinois Latin Teacher of the Year. Kudos as well to Virginia Anderson, who was honored with the ICC Lifetime Achievement Award.



Once again, many thanks to all who made ICC 2019 such a success!

Report on the 2019 Classical Association of the Atlantic States (CAAS) Meeting

Metropolitan Washington, DC, hosted the 2019
CAAS
annual meeting at the Sheraton in downtown Silver Spring, Maryland. Editor Don Sprague joined some 160 classicists for two days, October 11 and 12, chockfull of lectures,
ovationes
, panels, presentations, culinary delights, camaraderie, and conversation. Executive Director Mary Brown of St. Joseph's University, once again, worked her magic in ensuring wonderfully stocked breakfasts and break feasts along with lush lunches and a delicious banquet. Program Coordinator Maria Marsilio, also of St. Joseph's University, and her program committee lined up an impressive roster of speakers from the CAAS territory and from across the country and the Atlantic Ocean.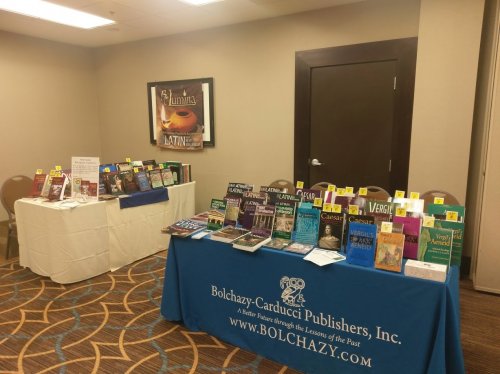 The Bolchazy-Carducci display enjoyed a prime location
just inside the doors to the exhibit room.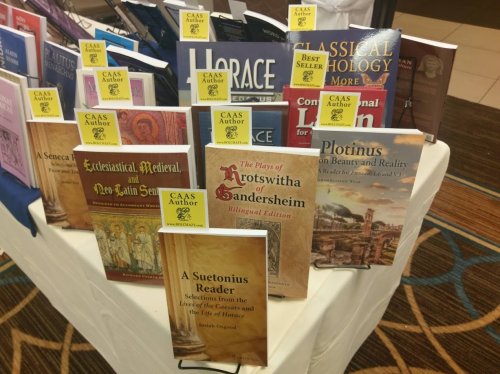 B-C regularly distinguishes "new" and "best seller" titles with a bookmark. For CAAS 2019, books by authors from the CAAS territory displayed a "CAAS Author" bookmark. This photo captures a representative sample of such books.
Strategically located opposite the break catering options, the exhibit room housed a number of classics organizations and Bolchazy-Carducci Publishers, whose five tables made for a handsome display of the company's books and various teaching materials. Half-hour breaks gave ample time for munching, chatting, and book browsing. Attendees who regularly buy our buttons with Latin and Greek aphorisms purchased replacements early so as not to be disappointed that someone else had bought one of their favorites. The new titles They Said It First, Scarborough's First Lessons in Greek, and The Latin of Science—offered as prizes for the CAAS book drawing—drew significant attention. Several professors look forward to the Companion Volume to The Latin of Science and the opportunity to teach a mixed class—students with Latin who will use the primary volume and those without Latin who will use the Companion Volume and be expected to report back to the class on the JSTOR articles suggested for each Latin reading. Several professors stocked up on materials for their community outreach programs and their classical civilization classes.

While staffing the book display required most of Don's time, he took a break to attend the engaging and thought-provoking presidential plenary session entitled "Diversity, Equity, and Inclusion / Racism, Marginalization, and Exclusion: A Frank Discussion on the Past and Future of Classics in the Academy" with CAAS President John H. Starks, Jr., presiding and panelists Shelley Haley (president-elect of the Society for Classical Studies) of Hamilton College, Arti Mehta of Howard University, and Dan-El Padilla Peralta of Princeton University. This session was one of four dedicated to inclusion and antiracism including two entitled "Building and Implementing Racial Competence: A 21st Century Skill for Educators and Students." Don looks forward to following up with American Classical League Executive Director Sherwin Little who attended these sessions.

The Jerry Clack Lecture featured Bruce Frier, the John and Teresa D'Arms Distinguished University Professor of Classics and Roman Law at the University of Michigan. His fascinating talk "Common Things: The Mysterious Seashore" discussed the Roman antecedents of current law about the shoreline with specific attention to a court case involving Lake Michigan and property lines.

CAAS 2019 ovationes were delivered in honor of Diana Jensen of the Maret School, Arthur Eckstein of the University of Maryland, College Park, and Elizabeth Fisher of George Washington University. CAAS investment advisor Walter Schwenk, who has carefully and successfully invested CAAS's endowment funds, was honored with a gratulatio.

The energy and the enthusiasm of the CAAS attendees and their commitment to change were all inspiring. Congratulations to CAAS on a meeting well executed.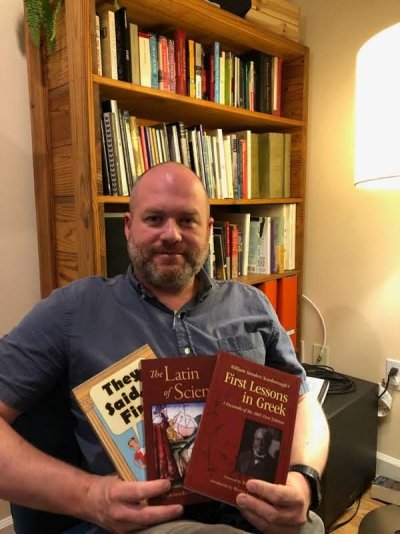 Hugh McElroy, of the Field School in Silver Spring, graciously displays
the books he received as winner of the B-C book drawing at CAAS.
Guest Reflection on Latin Pedagogy:
An AP Latin Program, Part 1

Advanced Placement Latin is a program of Latin study, not a single exam. The course of study begins in Latin 1 and advances each year until its capstone, the exam at the end of the final year. Right from the earliest days in Latin, teachers can integrate into their instructional plans the goals that help students become an advanced reader of Latin. For example: Students can

draw upon knowledge of grammar and syntax.
analyze (in writing or discussion) Latin that is both adapted and unadapted. (Analyze in the early stages simply means to designate what case something is and why.)
use specific terminology to identify grammatical forms.
comprehend previously unseen text (sight work).
Are these the goals you have for your students?
Are these the goals you have for your students?

Latin for the New Millennium, Level 1 has as its first reading Romulus et Remus.

Mārs est deus. Mārs Rhēam Silviam amat. Itaque Rhēa Silvia duōs fīliōs habet: Rōmulum et Remum. Amūlius Rhēam Silviam vinculīs claudit. Amūlius Rōmulum et Remum in aquam pōnit. Lupa ad aquam ambulat. Lupa Rōmulum et Remum bene cūrat et amat. Rōmulus et Remus crēscunt. Posteā Rōmulus et Remus Rōmam aedificant.



This is an adapted reading for a beginning student. In order to tie the comprehension questions to the text expected in an AP short answer or essay, you could ask the student:




Whose sons are Romulus and Remus (lines 1–2) AND what Latin words tell you that?
Translate the phrase vinculīs claudit (lines 2–3) and identify the part of speech of claudit.
In an effort to integrate previously unseen text early in the student's learning you might use Ritchie's
Fabulae Faciles
along with your primary series. This book, originally printed in 1931 by Longman, is available through The
Latin Library
. Take a look at chapter 1, the Perseus chapter.
1. THE ARK
Haec nārrantur ā poētīs dē Perseō. Perseus fīlius erat Iōvis, maximī deōrum; avus eius Acrisius appellābātur. Acrisius volēbat Perseum nepōtem suum necāre; nam propter ōrāculum puerum timēbat. Comprehendit igitur Perseum adhuc īnfantem, et cum mātre in arcā ligneā inclūsit. Tum arcam ipsam in mare coniēcit. Danaë, Perseī māter, magnopere territa est; tempestās enim magna mare turbābat. Perseus autem in sinū mātris dormiēbat.
In order to implement exposure to higher-level short answer questions early in the student's learning, questions might be as follows.

In line 2 (Acrisius . . . necāre) what did Acrisius want to do?
Tum . . . coniēcit (line 4) tells us what about the box?
Discuss Acrisius and his relationship with Perseus. Use Latin to support the sentences you write.
(Discuss at this level means to write two sentences. Support means to give the Latin words that tell why you made those statements.) When you continue to ask discussion questions and ask for specific Latin words, you are teaching the student to become comfortable with the essay requirement that appears on the AP exam: BE SURE TO REFER SPECIFICALLY TO THE LATIN THROUGHOUT BOTH PASSAGES TO SUPPORT THE POINTS YOU MAKE IN YOUR ESSAY.





It seems appropriate to ask the student to give Latin support for any questions in order to remove the practice of random guessing at the answers. This is close reading of Latin text from the very start. And, of course, providing documentation is a key critical thinking skill useful in all academic disciplines.





I am heartily endorsing the idea that beginning in year one, it is our responsibility as teachers to show students how to reach; to encourage them to look out ahead at being proficient at Latin and not consider the first year or second as not as important as the "advanced" year. We teachers are the guides who both inspire and encourage students to become Latin scholars. Whether they read about Romulus and Remus or Perseus, they are experiencing firsthand the Latin literary tradition and will be confidently ready for and looking forward to their adventure with Aeneas and journey with Caesar.



Jill Crooker



Editor's Note: Jill Crooker is a former chair of the SAT II Latin Test Development Committee and for more than 25 years taught Latin I through AP Latin in both the Pittsford, New York public schools and the Allendale Columbia School. She has also taught summer courses for teachers at the Taft School in Watertown, Connecticut, which focus on the development of Latin III curriculum with a reading/translation approach modeled after the AP Latin examination and stressing the National Standards for Classical Languages. She has served as an AP Latin reader and has written numerous articles for professional publications specifically about the SAT II, preparation of students for Section I of the AP Latin Examinations, and assessment practices in the foreign language classroom. Crooker also worked as a consultant for the New York State Education Department, where she mentored teachers, facilitated the Statewide Peer Review for Languages Other than English, and chaired the development of the Resource Guide: Latin for the 21st Century.

Teaching Tips & Resources

►

Beloved Gilgamesh



B-C's beloved founder Lou Bolchazy, PhD, shared his love of Gilgamesh even during his last days when chatting with hospital staff. He would have loved to share this piece. Also, check out this month's special shipping offer.

► Minotaurs, Manticores, Monsters Oh My!

Bolchazy-Carducci's Roman calendar features a mythological monster of the month. Check out the B-C blog with teaching tips for October's.

• The Minotaur has captured imaginations for millennia.

► Homer's Eternal Siren Call
Homer's language continues to delight. Check out the odyssey of some Homeric words and his poetry captured in the compelling cadence of rap.

► Technology Aids Classics
• Check out these ancient "post-it" notes.
• Modern technology brings ancient scrolls to life . . .
• Color brings this beauty to life.
• The treasures of the deep.

► The Legacy of Vesuvius

• Coming of age party in Pompeii.
• The reality of gladiatorial combat.
• New eyes reveal the real purpose of these pendants.

► A Classics Potpourri

• The Getty Trust takes on special task.
• For your next Roman dinner.
• Just what was the purpose of those dodecahedrons?
• Rome shared its urbanitas with the provinces.
• Accidental discovery of Roman fort.
• Trojan-built Tenea found in the Peloponnesus.
• The Greeks in China.
• Professor provides scientific term for experimental examination of excrement.
• The value of the classics . . .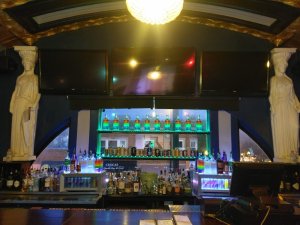 Caryatids add a classical touch to the bar in Mary's Attic

in Chicago's Andersonville neighborhood.

---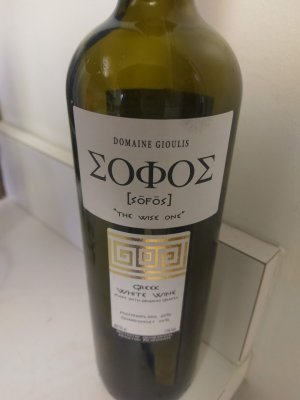 One's wisdom would be impaired,
if one should overindulge.

---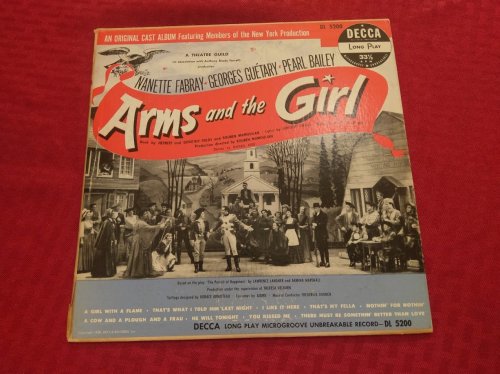 The Broadway musical
Arms and the Girl
ran briefly in 1950.
Someone knew their Vergil . . .
---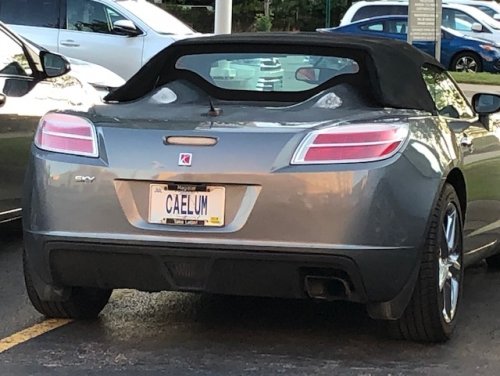 Does that mean this car takes off like a bolt of lightning?

CAMWS College Greek Exam



deadline: October 31, 2019 Fall administration
deadline: January 31, 2020
administration: March 11–15, 2020


National Classical Etymology Exam



registration: September 1–October 27, 2019
administration: November 1–December 13, 2019


CAMWS Latin Translation Contest


[intermediate and advanced levels for
high school students and for college students]

deadline: November 1, 2019
administration: November 18–December 6, 2019


Amherst College


Harry de Forest Smith Greek Translation Contest

Contact Department of Classics
registration: late November 2019
administration: February 7, 2020


(Friday of 2nd week of February)




National Greek Exam



deadline: January 17, 2020
administration: February 24–March 6, 2020


About the National Mythology Exam



deadline: January 15, 2020
administration: February 17–March 1, 2020


National Latin Exam



deadline: January 21, 2020
administration: February 24–March 13, 2020


National Roman Civilization Exam



deadline: January 31, 2020
administration: February 10–March 13, 2020


National Latin Vocabulary



deadline: January 31, 2020
administration: February 10–March 13, 2020


The Exploratory Latin Exam - ELE



deadline: March 2, 2020
administration: January 1–April 1, 2020


Bernice L. Fox Classics Writing Contest




"Hindsight in 2020"
deadline: March 15, 2020 postmark

B-C Proudly Launches Lumina!




Lumina: Online Guided Practice to Accompany LNM


The interactive guided Language Fact sections provide immediate feedback to students as they preview or review each chapter of Latin for the New Millennium Level 1 or Level 2. Mouse-over vocabulary lists allow a new format for vocabulary mastery. Infinitely replayable crossword puzzles engage students in derivative work. Automatically graded quizzes free up student-teacher interaction time for translation, oral/aural work, discussion, and other learning activities.



For a brief overview of the program, check out this video.

See webinar listings in this issue.

Visit our website product pages for information.
Lumina: Latin for the New Millennium Level 1
• Classroom Option
• Individual User Option

Lumina: Latin for the New Millennium Level 2
• Classroom Option
• Individual User Option




Artes Latinae: A Self-Teaching, Self-Paced Interactive Latin Program


Lumina offers a revamped Artes Latinae. This fully interactive online program teaches all of Latin grammar in two courses. Purchase the program at a special discounted price of 30% off!





For a brief overview of the program, check out this video.

Visit our website product pages for information.
• Lumina: Artes Latinae Level 1
• Lumina: Artes Latinae Level 2



Based on the program developed by Dr. Waldo E. Sweet of the University of Michigan for Encyclopedia Britannica, Lumina: Artes Latinae is an easy-to-follow course that includes all the tools a student needs to achieve a firm command of Latin. The course was carefully crafted and refined to suit the needs and abilities of a broad spectrum of students. Lumina: Artes Latinae meets existing foreign language requirements for high school graduation.





Watch B-C announcements for

Lumina

webinars on both the

Latin for the New Millennium

and the

Artes Latinae

programs this fall. Contact us for an individual consultation:

bridget@bolchazy.com

.
eLitterae Subscribers Special Discount

This is all dulce and no dolus!
Free
UPS Ground or USPS Priority USA shipping
on orders of $50.00 or more, one use per customer,
valid October 21–October 31, 2019.
For this offer, select UPS Ground or USPS Priority USA
at checkout and enter coupon code FFS2019 to receive
FREE shipping on your order of $50.00 or more.
This offer is valid for prepaid, no returns.
Discount is not available to distributors.
This offer expires
10/31/19
.
Enter coupon code
FFS2019
on the payment page.
The free shipping will display at checkout.
(Please note that there will be no adjustments on previous purchases.
Offer is nontransferable and subject to change without notice.)