Meditations Music Releases
New Album
:
CAN'T STOP THE
FLOW OF LIFE
As part of the foundation of reggae music,
Ansel "Meditation" Cridland has over 40 years
producing, writing, arranging and performing for fans
all over the world.
As leader of the legendary trio (The Meditations),
Ansel and his fellow band members:
Danny Clarke and the
late Winston Watson,
(who passed away earlier this year R.I.P.),
performed at the historical
ONE LOVE PEACE CONCERT,
held April, 22nd 1978,
at the request of Bob Marley.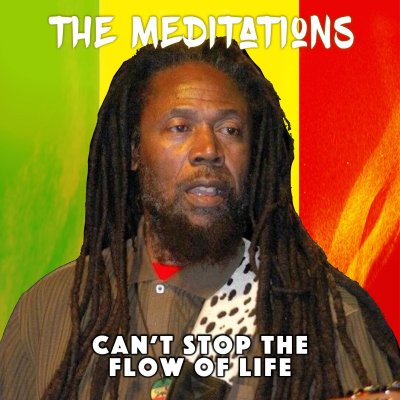 "Can't Stop The Flow Of Life"
has a different feel and energy
than most of the band's releases.
...A fusion of traditional Roots Reggae, with dancehall and dubstep, reminiscent of a time in Reggae Music,
when artists like U-Roy and I-Roy
were "toasting" in the dancehalls of Jamaica.
Ansel, with the help of his long time friend, legendary Reggae artist Ranking Joe, teamed up on three out of the eight songs to give this nostalgic, yet timeless feeling. Check out "Rasta Faith " for example.
It's reminiscent of the pass.
Yet the message in the music reflects the current
state of the culture today.

Video of The Meditations live at the Square Roots Festival
in Chicago, IL . July-13-2019
The

star-studded

set of musicians who came together to make this album
possible,

did not disappoint at all!!!
~Drums: The legendary Sly Dunbar, whose melodies
have set the pace for the culture time and time again.
(Drums are also played by
Damian Martelliere).
~Keys: On keys we have Sidney Mills of the Legendary Reggae band Steel Pulse. On horns & keys we have our multi-talented brother from the motherland, George Kouakou , who toured and recorded with the great Alpha Blondy and the late Lucky Dube. Still on keys, we have the
multi-talented artist and producer Kashief Lindo
and Legendary Reggae artist Ansel Collins.
~Bass: is being played by so many legends, it's crazy...
...musicians like Lloyd Parks, who has an impressive resume
spanning over three decades,
Neville Morris, whose resume includes Lady Saw, and
Michaell " Mykie" Ferguson, who owns and operates his own studio, l
egendary bass player Robert "Robbie" Shakespeare, who needs absolutely no introduction, and finally the legendary,
multi-talented, writer and producer Willie Lindo,
who wrote and produced classics for
Beres Hammond and Dennis Brown, just to name a few.
Hard copies of
CAN'T STOP THE
FLOW OF LIFE
available at
Meditation's
live events
(Check our calendar here)
Available worldwide on all digital music platforms
for
streaming & purchase.
To Listen/Purchase, please click:
I-Tunes

and
Google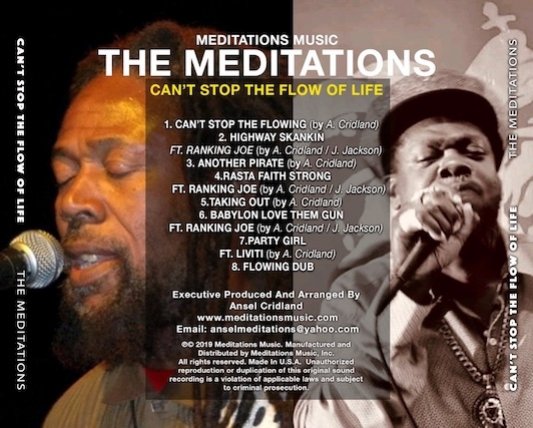 Over the past few years Ansel (who has produced all of The Meditations' albums excluding three) is the only remaining original member of The Meditations that continues touring.

Accompanying him for almost 10 years as background vocalists are Laury Webb (who is also featured on The Good Of Man album) and DaddyLion Chandell.

Together, they've been touring the U.S. performing for fans at venues like the world famous Wild Hare and the Red Rock Amphitheater, where they performed with Collie Buddz, Protoje, Morgan Heritage and Rebelution during their 2019 summer tour.

For more information kindly contact:
Ansel Cridland



Website
AnselMeditations@yahoo.com
1-917-415-4336