The 2020 International Blues Challenge in Memphis is little more than three months away and the competition is heating up already! As an affiliate of the Blues Foundation, the
Ozark Blues Society Blues Challenge offers the opportunity for local/regional bands to win a qualifying round that will give them a spot to compete in Memphis. The OBS Challenge will be held Friday, October 25th at The Meteor Guitar Gallery in Bentonville.
And this year's competitors are...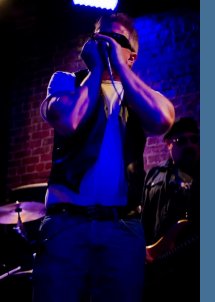 Blew Reed and the Flatheads

Blew Reed and The Flatheads, formed in 2010, whose members are "Blew Reed" (lead singer, harmonica players);Terry "Dajo" Rosenbaum (lead guitar, vocals); Jason "Cheecho" Freeman (bass); ,and Chongo "The Manchild" Bailey (drums),.This is a must see Blues band that has and still is performing at many blues festivals and local venues. Every place they have played they have been booked back by popular request of their fans. If you got the dough, we'll bring the show.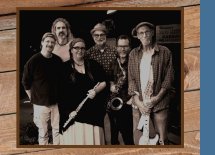 Brick Fields Blues Therapy
The music of Arkansas band Brick Fields, fronted by the invigorating voice of Rachel Fields, has been called many things by their fans but the description that has taken the strongest root after 12 years is "Blues Therapy". The Brick Fields Blues Therapy foundation are married couple Rachel Fields and Larry Brick. Each having longtime careers in various worlds of music before meeting one another, each brought a lot to the table when combining their talents in 2006. Since 2012 Brick Fields Blues Therapy has been NWA's longest running weekly live music event featuring a mix of Arkansas Blues and Roots music. BFBT takes place every Wednesday at Morano's in South Fayetteville, AR from 6pm to 9pm. Though the band's original music exceeds many genres, Brick Fields has been known for keeping the root of blues alive and well in NWA and the surrounding region. Their ability to provide timeless music that is pleasing to the ears of all ages has made them one of the most treasured obscurities in their region's music community and keeps them working more than 225 shows a year. Although both Rachel and Larry are Arkansas born natives, (Rachel of Pine Bluff, Larry of West Memphis), Brick Fields core band "The Blues Therapy Group" include a variety of regionally influenced musicians. Kevin Bonner of NWA joined Brick Fields in 2013. He honed his drumming chops in the Cate Bro's garage and has been the backbone for numerous of NWA most loved bands. Bass player, Hoobie Daniels, of Southern Mississippi joined Brick Fields in 2016 after retiring from Austin to the Ozark Mountains where he is continuing his musical journey. Chris Parker of Tulsa, OK joined Brick Fields in 2014 and adds his guitar stylings who's influences range largely between Chet Atkins and BB King. Hunter Judkins, sax-player joined Brick Fields in 2014 after moving to NWA from Alaska. They all came together through the creative Wednesday night Blues Therapy sessions. Comfortable with themselves and numerous surprise guests, it not unusual at a Brick Fields show for the night to end with as few or as many as 20 players on stage. Musician's musicians Brick Fields has been called a magnet for other musicians and music lovers alike Ever evolving, this couple's original music can charm venues in an intimate relaxed setting with the acoustic duo telling stories of musical roots or bring a full-on band experience that brings the house to its feet.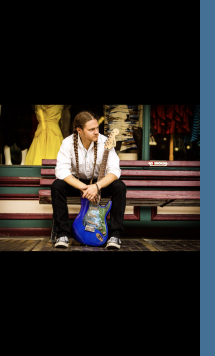 Jimmy Wayne Garrett Band
Jimmy Wayne Garrett was born and raised in Northwest Arkansas. Music has always been an integral part of his life. In church it was hymnals sung by choir, at home his father would introduce him to artists such as The Allman Brothers and Stevie Ray Vaughn. Being interested in music growing up eventually led to the tinkering of pianos that were at church or in the homes of family members, and also playing the trumpet for a few years in Middle School and Junior High. At the age of 13, he began to learn to play the guitar on a century-old classical guitar that his grandfather, Jim Lane Garrett, bought for him at an auction almost a decade earlier. At 17, after being involved with a band at his church for sometime, he started writing songs and playing with groups that weren't church bands. Since then, he has been playing locally in Northwest Arkansas and the surrounding areas, and has been invited to compete at the International Blues Challenge twice. Once as the guitarist for West Street Blues Band, and once as a solo act. He also has released two solo albums, and an album with a 3 piece band.