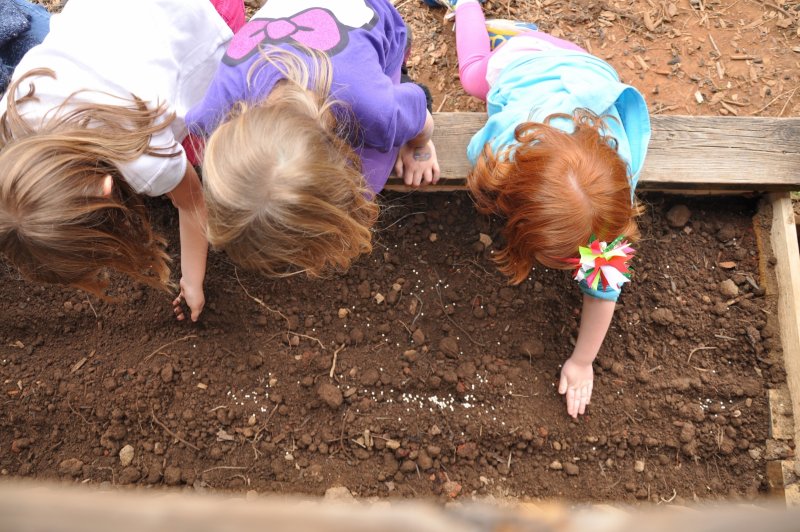 Using the Harvest
As we have tipped into autumn weather, many of us have turned from planting in the
garden to wrapping up the final harvests and "putting the garden to bed" for the season.
What do you do with the harvest?
Vegetable Exploration lesson plans
are a great way to use the harvest in the classroom and get children interested and excited about trying new foods.
There are also a wide variety of children's
books that include recipes
and provide inspiration for using what you have harvested.
While the growing season may be over for many, even in the midst of late fall and winter, you can incorporate the garden into your classroom.
This Week in the Garden: Preschool Edition
weekly activity guides will keep your classroom engaged with the garden year round. They can be used as is, or edited to include information about your own garden.
Farm to Preschool in Action
From
Natasha Bowden and the NC Crunch Guide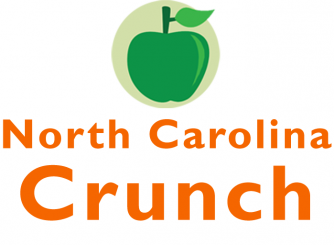 NC Crunch! Highlighting local foods
Across North Carolina, over 155,000 kids and adults crunched an apple from a local farm in October. What a success!!
There were many happy participants this year. See our NC Farm to Preschool Facebook page for more pictures and stories!
This event is about uniting to celebrate North Carolina agriculture, National Farm to School Month,and apples grown by local farmers, and to promote healthy eating!
The North Carolina Crunch promotes healthy eating and supports Farm to School, Farm to Early Care and Education, and other local food purchasing initiatives throughout the state. It's also a fun way to connect food and agriculture to all kinds of classroom curricula–from science to art!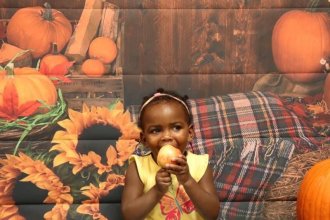 Resources for Finding Local Products
Visit
http://www.ncagr.gov/markets/chart.htm
for a full list of seasonal availability for North Carolina.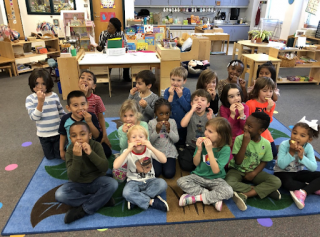 Connect to the Classroom
The North Carolina Crunch can be extended to
learning activities
for a creative way to meet learning requirements for language, math, science, and more! Check out the resources below for learning activities geared to all ages.
Classroom Resources
Pre-K and Elementary Students
by Maria Hitt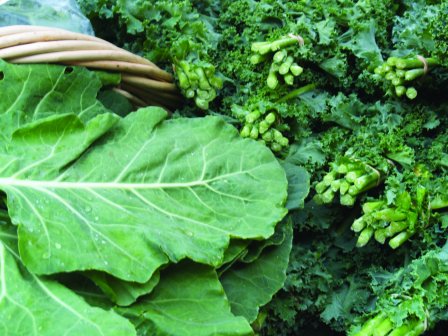 Fall Gardens
Your gardens should be cleaned up by now with old plants removed to the compost pile, weeds to the scrap pile, and bare earth covered with a nice blanket of mulch to hold in the soil and keep the weeds at bay. If you were able to plant a fall garden, thin the seedlings to provide some room for the remaining plants and add a light layer of leaf or straw mulch around those plants to hold in moisture and reduce weeds through the winter. Remember that you can harvest the large outer leaves from kale, chard, collards, and lettuce and leave the center of the plant to continue growing so that you can extend your harvest.
If you grew sweet potatoes they should be dug up before the first frost. Cut the vines into smaller pieces for the compost pile and gently rub the dirt from the tubers. Let them sit in the sun for a day or two to dry out and then if you can, store them somewhere warm for a few weeks and they will get sweeter and develop a thicker skin. Then they can be stored in a cool dark place for many months. The same is true for winter squash. Pick them when the stems have turned dry and brown and store them in a closet or other cool dark spot until you are ready to cook them.
Even though your garden may be put to rest, you can still read books with your children about gardens and foods from near and far, visit a local farm to buy pumpkins, or walk through a corn maze.
Now that the growing season has slowed down, this is a good time of year to invite farmers to visit your classrooms to talk with the children about their work and life on the farm.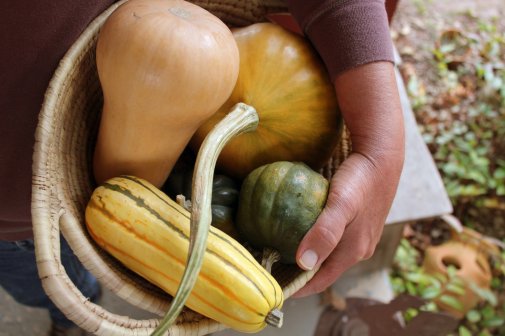 Buy Local for Thanksgiving!
As you prepare for your Thanksgiving celebrations both at school and at home, consider purchasing some of the produce or other products for your Thanksgiving meal from a local grower or farmer. Visit your local farmers market or produce stand and look for sweet potatoes, winter squash, collards, and some of the other fall and winter vegetables that are grown right here in North Carolina.
If you are trying to find a farm near you, check out the Got to Be NC Agriculture website.
The site is new and improved and you can search for markets, farms to visit or by a specific product. Select your area of interest, type in your region and you will get a listing of all the places close to you where you can purchase a local product. This is a GREAT resource for child care directors trying to add local products to their menus. And don't forget there are many local growers of all kinds of meats, poultry, eggs, and milk as well as fisherman plying the waters of our beautiful coastline to bring local products to our tables. Explore the possibilities and try to introduce at least one new local food into your child care menus per month.
by Robert Cates
Along with the cooler fall weather comes all of the cool weather crops. The farmers markets are just booming with greens of all kinds: lettuces, mustard greens, turnip greens, bok choy, cabbages, Swiss chard, collards, and various types of kale. Dark green leafy vegetables are at the top of the charts for nutritional content. And seeing the greens on display always make my mouth water for a dish my son Jared has prepared for us which uses a combination of kale, chard, and collards. It can also be made with just one of those greens, or two, or all three! But I am going to let Jared tell you about it.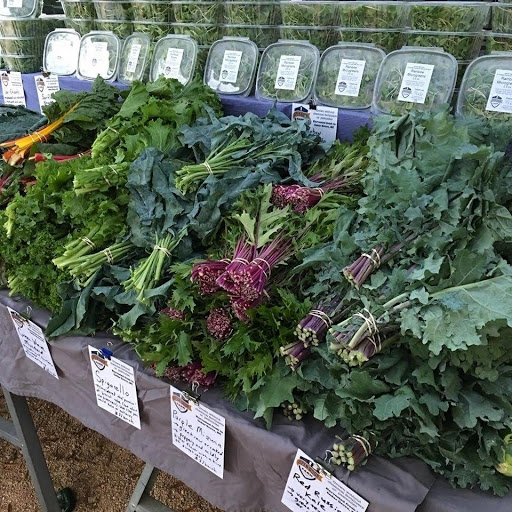 Photo courtesy of Open Door Farm
Jared's Favorite Winter Pie
From the NC Local Food Council website.
Winter gardening is my favorite time, but I always struggle to eat all of the greens that proliferate over those months. I love this as an easy way to get a lot of greens out of my fridge and it's a nutrient-packed meal.
Ingredients:
3 Tbsp olive oil, plus more for brushing
2 medium red onions, chopped
2 carrots, chopped
2 Tbsp minced fresh garlic
1 tsp thyme leaves
1 tsp red pepper flakes (optional)
1 small butternut squash, peeled and cut into small chunks
1/2 bunch kale, ribs removed and thinly sliced
1/2 bunch chard, thinly sliced
1/2 bunch large collard leaves, ribs removed and thinly sliced
1/2 Tbsp apple cider vinegar
3 large eggs, beaten
4 oz grated Parmesan cheese
Salt, pepper to taste
1 Tbsp grated lemon zest
Half pound package of thawed frozen phyllo pastry dough
1 cup shredded or grated cheese of your choice (feta is particularly good!)
Directions:
Preheat oven to 400 degrees. Heat olive oil in large cast iron skillet (at least 12" diameter) over medium heat, and cook onions and carrots around 7 minutes until softened. Add squash pieces and thyme, and cook for another 8-10 minutes until the squash starts to soften.
Remove to a bowl to cool and wipe out the skillet. Add thinly sliced kale, chard, collards, beaten eggs, Parmesan, and lemon zest to the squash mixture and season with salt and pepper.
Layer phyllo sheets in the skillet, brushing each
lightly
with olive oil as you layer the sheets. The phyllo should hang over the side of the skillet. Use a spoon to place greens and squash mix into the dough line pan and spread evenly. Scatter cheese over top of the greens mix and then brush the phyllo with olive oil. Start folding the dough over the filling. The phyllo should overlap as you move aroun
d the skillet, and the center will be exposed.
Cook the pie over medium heat on the stove for 3-5 minutes, just long enough to crisp up the bottom phyllo. Then put into the oven and cook for 20-25 minutes until the cheese is melted and the phyllo is starting to brown. Let it cool and then slice into wedges.

by Pat Brisson and illustrated by Mary Azarian
Book review by Maria Hitt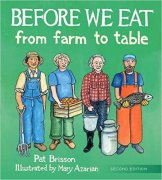 This book is for all the children who answer, "the grocery store" when asked the question, "W
here does your food come from?"
.
Opening with the lines "As we sit around this table, let's give thanks as we are able, to all the folks we'll never meet who helped provide the food we eat." This rhyming story goes on to show all the people and places involved in bringing our food from farm, field, and sea to be packed and shipped to the grocery store and finally into our kitchens. Illustrated with beautiful color wood cuts, this story shares a message of thanksgiving for those who help provide our food. It is a perfect book to read to your class for the coming season of thanks and food traditions.
This expanded edition includes back-of-book features about school gardens and the national farm to school movement.
Ideas for Marketing your Farm to Child Care Program and Parent Engagement

Developed as part of the Wake County Smart Start (WCSS) Farm to Child Care (F2CC) Toolkit this PowerPoint provides ideas like including a statement in your parent handout about how your center or home supports farm to child care, communication strategies with families (including Facebook and email suggestions), and lots of other ideas.
2020 NC Farm to ECE Collaborative for all technical assistance providers who work with child care sites



Would you like to increase access to healthy, local food for children and families? How about creating a culture of health and wellness that extends beyond children to families, child care staff, and the wider community?

If so, please consider applying for the 2020 Farm to ECE Collaborative!

This is a community of practice networks, centers, and Technical Assistance Providers across the state. By attending the Collaborative's workshops and training opportunities, you will identify and use Farm to ECE resources and local community partners. Interested TA Providers can apply to join the network by forming a local community team and recruiting 1-3 interested child care centers.This opportunity is designed to connect children, child care staff, and families to fresh, healthy, local food in the classroom, in the garden, and at meal and snack time.

The 2020 Collaborative will offer Technical Assistance agencies compensation for time dedicated to this initiative—time spent organizing their teams, participating and conducting trainings, and communicating with our project teams. Each child care site will receive mini-grants towards their Farm to ECE activities, and all participants will receive travel stipends.

The 2020 Farm to ECE Collaborative Application is now available on our website.

Applications will be due Friday, December 6, 2019.

Feel free to reach out to the Farm to ECE Project Director, Caroline Stover, at cmstover@ncsu.edu.

You are invited to attend one of two informational webinars at the following dates and times, to learn more about the Collaborative:

Wednesday, Nov. 6
1-2 pm ET
Zoom link (you may need to download and test Zoom beforehand):
https://ncsu.zoom.us/j/708010754

Friday, Nov.8
10-11 am
Zoom link (you may need to download and test Zoom beforehand):
https://ncsu.zoom.us/j/775420652

This Week in the Garden @ Preschool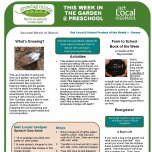 Community Food Systems Conference
December 9-12, 2019
Savannah, GA
January 19-24, 2020
Santa Cruz, CA
April 14-16, 2020
Atlanta, GA
April 20-24, 2020
Albuquerque, NM
School Garden Support Organization Volunteer Management and Community Support
September 26, 3 PM EST
School gardens are ideal places to involve the community and also require significant maintenance, so they're the perfect place to bring people together. Join this webinar to learn about ways to get people out and excited, ideas for managing large volunteer groups, how to engage consistent volunteers, and help keep your garden looking good. This webinar is a part of the School Garden Support Organization (SGSO) Network

.
Register here
.