Merry Christmas-Happy Holidays
Day four working undercover... and they suspect nothing!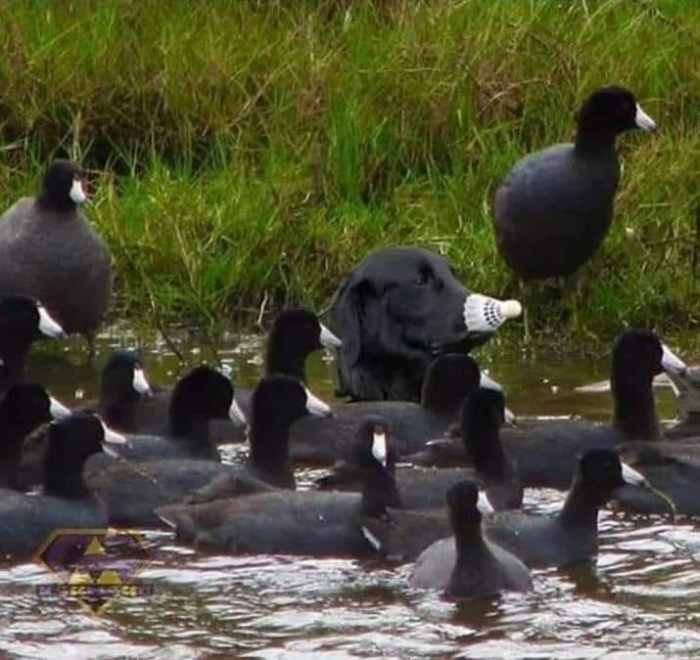 December 2019 Newsletter

For 12 years our newsletter has gone to more than 20,000 Firearms
Collectors,
Enthusiasts, Historians and Professionals Worldwide. We now reprint o
ver 6000 Vintage Gun Catalogs, Books and Manuals from the 1840s to the 2000s
Back issues: you can view the newsletter on our website. For a downloadable copy of our catalog of reprints or manuals this will take you there. Also, we have Interesting downloads at our website. Please forward this letter to your friends.





Most Internet Browsers – Firefox, Edge, Opera etc – have decided to truncate, or cut off, the bottoms of long emails. There is a tiny note at the bottom allowing you to retrieve the rest of the email. Rob and Abby

If you're sitting in public and a stranger takes the seat right next to you, just stare straight ahead and say "Did you bring the money?"

******************

When someone asks what I did over the weekend, I squint and ask, "Why, what did you hear?"

******************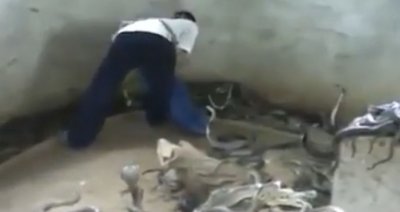 ******************

What do all these words have in common (see answer below)?

Banana
Dresser
Grammar
Potato
Revive
Uneven
Assess

Ho Ho Ho!...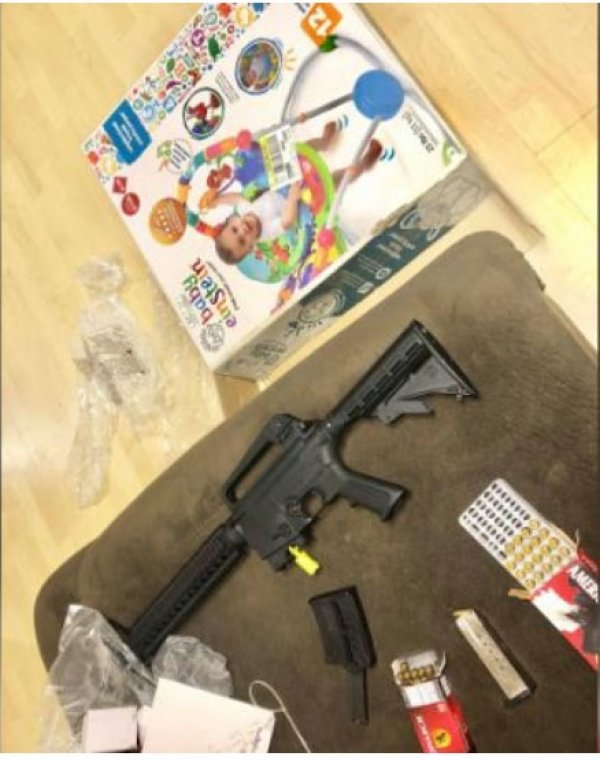 ______________________________________________
Christmas Gifts with a purpose...
There is a silly euphemism ad men and women use to tell many of us we are getting old, "aging out" they call it today. Recently, a couple of fellows have talked with me about their gun collections and what to do with them while they are still in control of their faculties.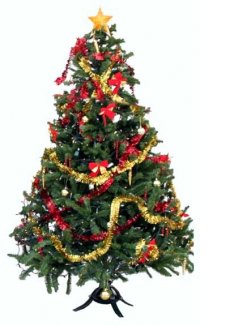 How to we pass along our interest in firearms and history to another generation of youths in an increasingly resistant environment?



Abby and I have a small suggestion, albeit a self-serving one, to engage younger people. We suggest you send a copy of one or more of the following reprints to each of the youngsters on your Christmas list, parents too. We selected "mass merchant" catalogs because they advertised more than guns for wider appeal and we selected locations from all over.





Choose your era, each of these catalogs contains goods specific to the time and place when it was printed and includes all the things Abby listed in each index at the website page- tools, firearms, clothing, toys- everything. We selected catalogs from around the country to bring alive local history from long ago. ...Rob


"Words in Common"- they are all palindromes (words spelled the same backward and forward) with the twist that the first letter can be at the front or back... then, consider that there are also

Semordnilaps (the word

palindromes

in reverse) which are words that spell other words when spelled backwards (for example, star/rats, drawer/reward).





WWII Posters: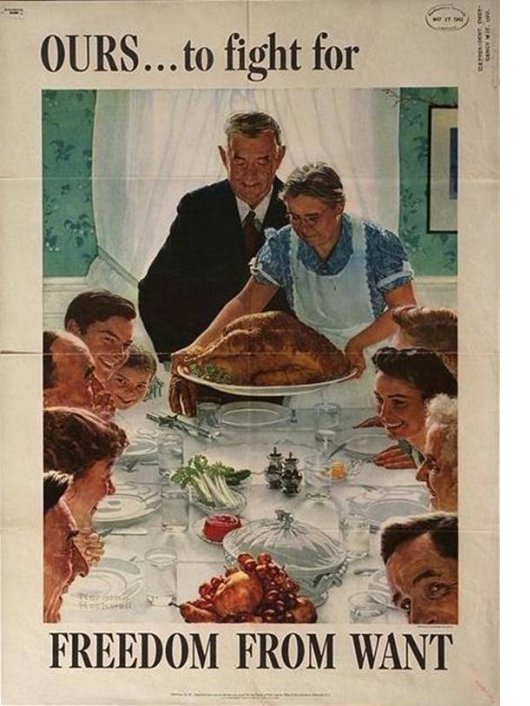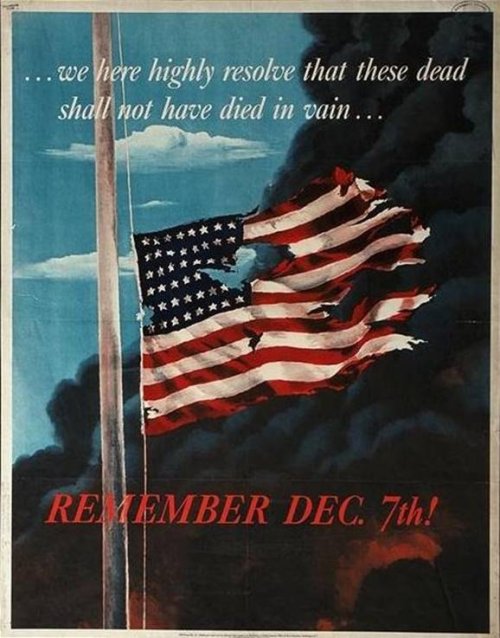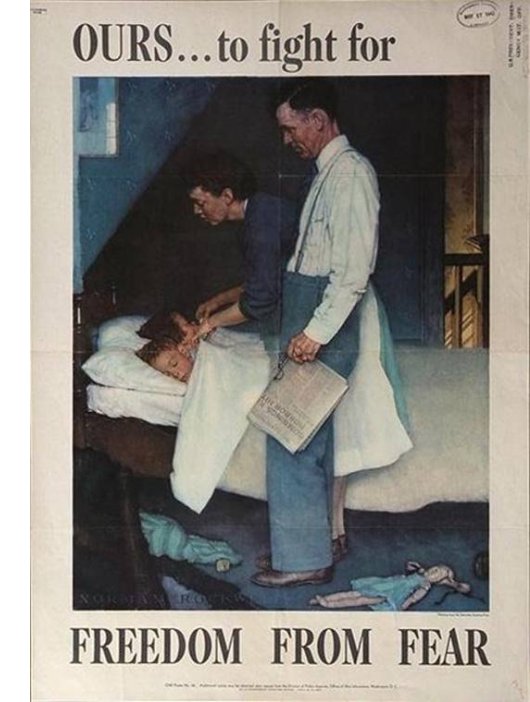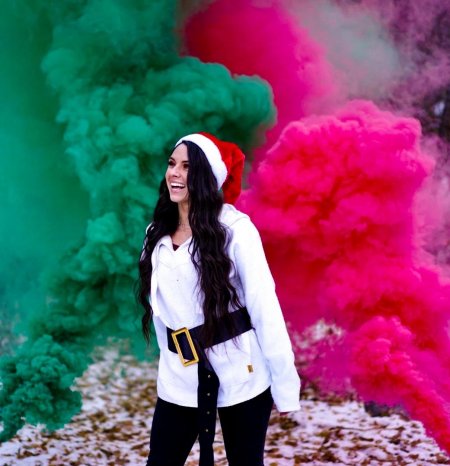 Gift Idea - Red, White and Blue

Check Out These Companies


******************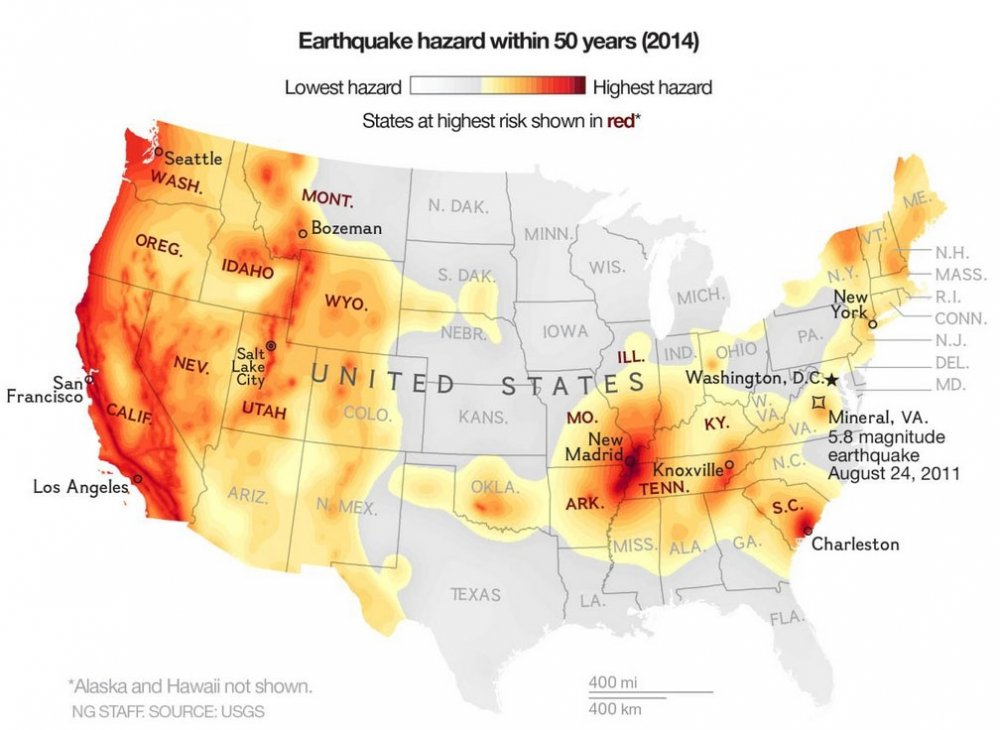 ******************

Takes All Kinds...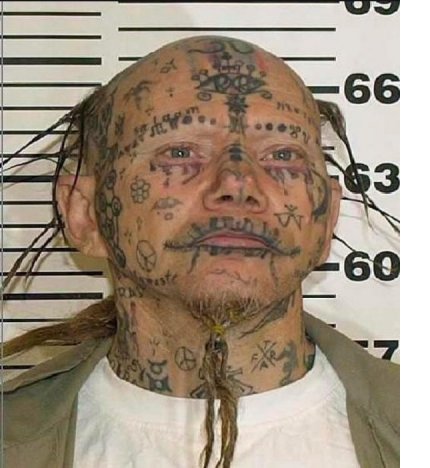 A Cleveland mortuary is offering a novel service to remember loved ones: Skinning tattoos off their corpses and turning them into framed artwork. Father son duo Michael and Kyle Sherwood say they launched the
Save My Ink Forever
company because of the "deep connection" people have with their tattoos. The skin preservation process takes roughly three months, and the framed final product- displayed behind "museum quality UV glass"- starts at $1599 for a 5-by-9 inch tattoo with $100 more for each inch of ink. "So many people say they feel comforted being able to see that piece of their loved one as a constant reminder of them," Kyle said.
We guess this fellow planned to foil the police from finding other people to put in a lineup...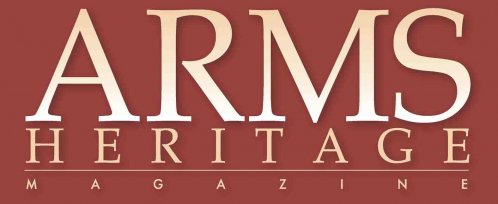 Arms Heritage's next issue, to be published on the 15th of this month, concludes our ninth year of publication. That's 54 issues, jam-packed with hundreds of articles on vintage weapons of all types, from matchlocks to World War II.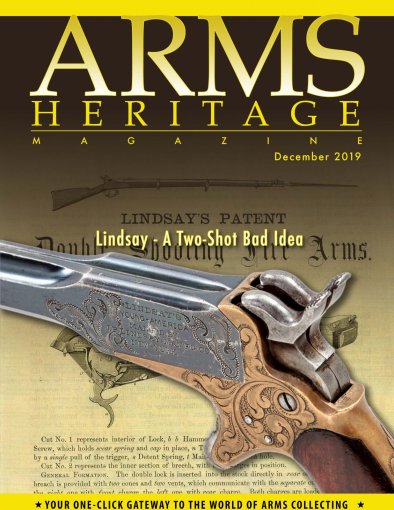 The December issue features an article of Lindsay's Two-Shot Rifled Musket –
"A Bad Idea, Well Executed, Is Still a Bad Idea"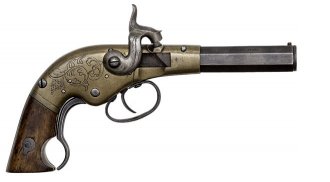 Upcoming, in future issues, are in-depth articles on Marston Arms, both percussion and cartridge types.
With your annual subscription we offer full access to all fifty-four back issues plus the next six issues, all for the measly sum of $19. The magazine is available in your choice of two formats—one allows you peruse the issue as a page by page magazine, the other allows downloading as a pdf so you can easily print out articles of special interest.

Our articles are carefully selected to provide complete coverage of a subject matter. We regularly turn down articles glorifying a single gun to enhance its value.

-----------------------------------

Get your copy!

The 2018 Annual Compendium of issues is ready for you!

************************************************


Hello! Do you send catalogues to Ukraine? I want to buy one German catalog. Michael Alexandrov

Dear Michael, We will ship it to you but I won't guarantee delivery. Tracking stops in Chicago and in our experience many packages to Eastern Europe are lost. Rob
************************************************
Hi Abby, I'm interested in your "Anschutz 1960 Match Rifle Catalog (in German), item #4630 for $13.95 USD.
Do you ship to Canada? Thank you. Glenn Rauhanen

Dear Glen, Sure we do, just put it in the cart and follow your nose. If shipping is too dear, just don't complete the transaction. Cheers, Abby
************************************************
Dear Abby, This item arrived in today's mail and is just what I hoped for. Not a collector of original publications but just wanted it for reference material for my Remington firearms of that period. Your reproductions will certainly satisfy my needs as it is much more durable for my use than an original. I certainly enjoyed the whole process of this purchase especially your timely informative emails as to shipping and tracking information. Great packing with nice clean materials. Thanks much and I will look forward to your manuals in the future when another need arises. I left feedback on the GunBroker sale site for this experience. Trust you had a great Thanksgiving and best wishes for a Merry Christmas and a safe, prosperous and healthy New Year. Hal Russell

Dear Hal, What a pleasure it is to receive a nice note with a compliment, we do appreciate your care in writing to us. Cheers, Abby and Rob
************************************************
Hello, How much would shipping cost be to Christchurch New Zealand for 1 copy?
2013nzjust (Ebay)

I'm sorry to say we no longer ship overseas through our ebay store- too many problems. For that service you would have to go to our website. Cheers, Rob for cornellpubs
************************************************
(Dear Abby and Rob) I received my complete order today. I am extremely pleased with the obvious high quality of your products. Significantly, thank you for your work in preserving this very important information and making it readily available to interested persons. Thanks again, Hugh English
************************************************
Hi- I have a Marlin Mod 48 pump shotgun, serial #8825. Latest pat date is 2/23/1915. The pic of the gun on your cover looks exactly like my gun, but mine is a 12G, whereas the one on your cover is a 20G. Can you tell me if there is any reference to the gun I have in the catalog? The little research I have found indicated it may be a later gun, approximately 1925, so i may not be referenced. Thx mattcingram (ebay)

Dear mattcingram, A quick search of catalogs and parts manuals from 1915-1950 turns up no M48 so this would take some research. Unfortunately, ebay isn't the place to trade pics back and forth, sorry. Rob for cornellopubs.

(Dear Abby and Rob) thanks I found the problem. its a model 43 not 48. The Marlin Model 43 was made from 1922 to 1930. It is a takedown action made in 3 different grades. There is the "43A" grade or standard grade shotgun, the "43T" or Trap Grade and the "43TS" or Trap Special grade. In 1922, the Model 43A sold for $45.00 and at the end of the production run in 1930, the Model 43A sold for $49.80. The Model 43A was also a Marlin Stock Option gun whereas someone that purchased 4 shares of Marlin Company Stock for $25.00 each was offered the option of one of several different guns for free. if you have a catalogue from say 1925, Id be interested? some indication that is the year the Serial number is from.

Dear mattcingram, We have a Marlin 1922 Repeating Rifles and Shotguns Catalog and a Marlin 1928 Firearms - Catalog. Rob
************************************************
Dear Rob and Abby, I am looking forward to receiving the catalogues. Perhaps you will be interested to know that one copy (Deutsche Waffenfabrik, Georg Knaak 1910 Gun Catalog) is for an elderly friend and neighbour, Georg Knaak, 88 years old and the grandson of the founder of the company. This will give him a great deal of pleasure! Kind regards, David Ketteringham - Germany
************************************************
(Dear Abby and Rob) good day . I would like to buy this book from you .. are you sending it to Russia? and how much mail? make a sub-correction for the sale of the book so that I can buy it .. I'm ready to buy the book .. Regards Andrew (ebay)

Dear Andrew, I am sorry. We do not ship to Russia from our ebay account. Rob for cornellpubs
************************************************
All I have is a rifle barrel and the only thing on it is this number J2240 can you help me find out something about it - jaybentle177

Dear jaybem... Sorry, no. Rob
************************************************
(Dear Abby and Rob) Is the Hopkins & Allen Model 2922 take-down single shot .22 rimfire in this catalog? (Hopkins & Allen 1913 Gun Catalog) lawman622 (ebay)

Dear lawman… Because the 2922 was top of the line it isn't pictured in the 1913 catalog although a lower grade of the same model is. The nicest picture of the 2933 is in the 1910 catalog we reprint, at least the picture one does have a checkered stock so I assume it is the 2922. Cheers, Rob

(Dear Abby and Rob) you said 2933; you meant 2922? I was hoping for a photo of the 2922 model with engraved receiver & octagon barrel.

Dear lawman… Yes, typo- 2922, we have a flood of ebay holiday questions! Topline guns were very rarely pictured by makers in that era, I suppose space was too precious for the few sales that resulted. Rob
************************************************
Hello, I have a Winchester Model 94 XTR 30-30 S/N 6015328. It has the angle ejector (AE) style action and the cross bolt safety. It was built sometime between 1992 and 2003. Does this manual (Winchester Model 94 Complete Takedown Manual)cover this model gun? Thank you, Stan J. (ebay)

Dear Stan, Although these are undoubtedly the best repair manuals for the Win94 made prior to 1964 I wouldn't trust it for later guns until I understood all the differences between the machined parts of the older guns and the stamped parts used later. Unfortunately, ebay isn't the place to hold that discussion with pics back and forth etc. Rob for cornellpubs

Cornellpubs, I was afraid of that. The Model 94's built in the years I listed seem to be the orphans of the line. Thank you for getting back to me. Regards, Stan
************************************************
Hello! Does this BELDING & MULLAmmunition Reloading Hand Book 1933
contain load data for 32-20, 32wcf, or 32-20 wcf? Also wondering if this has any data for 300 savage and 32 win special? Please let me know. Thank you! uptheironstrooper1983 (ebay)

uptheironstrooper1983, Yes it does. Best, Rob

(Dear Abby and Rob) Thank you! So it contains 32 win special 300 savage and 32wcf?

uptheironstrooper1983, You know, I looked it all up yesterday and if my ancient memory serves me right it had all the individual loads you asked about. Ebay isn't really the place to answer this sort of question because it is hard to take a screen shot and send it. Rob for cornellpubs.
************************************************
(Dear Abby and Rob) Any idea why this package went from Michigan to Cincinnati to Denver when I live Northwest of Dayton,Ohio? Thanks phillibrand_8 (ebay)

Dear Philli... Many years ago I gave up attempting to fathom the methods and reasoning of the USPS. I guess we can only hope it was an accident and not the usual USPS practice to ship packages around the country. Actually, it might be more fun to think we paid extra to ship the reprint thousands of miles afield just to give the old manual and aged look, a patina. What do you think? Cheers, Rob

(Dear Abby and Rob) Thanks for responding, I guess I ll give the USPS the benefit of a doubt and go with the aging process. Thanks again phillibrand_8 (ebay)
************************************************
(Dear Abby and Rob) does this catalog Winchester 1950 December Arms and Accessories Cataloghave some color pages ??????????? thanks LOU,,,,,,,,,

Lou, We reprint this Winchester catalog in color so the images of the firearms are reproduced in color, if you can see the image that may give you an idea... is that what you meant? Rob
************************************************
Abby, I have been searching your list of SMITH & WESSONcatalogs for a specific combination of handguns. Ideally, I would like to buy a catalog with the following models included: 17-3, 41, 57, 67, 637. The 1997 catalog comes close with four of the five (no Model 57). The model 57 shows up in another issue. Are you aware of any other catalog with all five listed items? Vincent

Hi Vincent, No, I'm sorry, offhand I just don't know. I'd have to look at each issue and just don't have time this time of year. Best, Abby
************************************************
Hello- return customer Brent Gast here, I was trying to look through to see if you have any reloading data for a 30-30 Ackley improved. It's a wildcat. I just bought a Speer manual from you but that one isn't listed in it. So was wondering if I could just buy a few pages of data to cover that caliber or if you know it's listed in a book which book I need to buy. Sorry to be needy I just don't know where to find actual published data. Thank you. Brent

Hi Brent, Sure, I went to the source for the Ackley reload data. It's in the Handbook for Shooters & Reloaders Vol I 1962 Ackley-Wildcat. Cheers, Rob

Rob- thank you, that book is (was-ed) one of my first purchases from you, I just haven't gotten that far in the book as I have been trying to read it and learn as I go. Thank you for taking the time to look it up for me. I'm glad I have it already but would have bought it if I didn't already. Have a good weekend. Brent
************************************************
(Dear Abby and Rob) I would like to purchase 2 more Union Hardware Co. c1908and Union Hardware Co. c1913, but when I try to pay with PayPal I see that the shipping fee for these two are $11.85, which makes no sense to me since my first order shipping fee was $3.63. All three of these catalogs are the same size and rather small, so I would expect only a slight increase from $3.63 if any increase at all. Please advise. Thank you matt3114 (ebay)

Dear matt31... With over 4000 of our 6000+ catalogs, manuals and books listed on ebay we can't calculate combined shipping for all the possible combinations of weight and size. So, we charge a flat rate per item. If you buy more from us at one time, let Abby know and she can refund any overage when she ships them. Cheers, Rob
************************************************
Hello, Do you have information on this machine gun. I believe it was used by U.S. Special Forces WW l l. Thank you,
Ron

Hi Ron, Before we do the research for you please tell me specifically what information you need. Best, Rob

(Dear Abby and Rob) I'm interested in the history of the 76, how many were made, What branches of the service used them, serial number range of mfg. where they were made, Any other country bought and use the 76. Thank you very much! Ron

Hi Ron, I see. Well, in that case, I regret I don't have that for you. Have you tried S&W directly? Rob
************************************************
(Dear Abby and Rob) im k m Desai from india sir please I wount informacion about gun 12 bore DBBL gun hammer gun no 44700 make england . thanks

Hello. I would like to help but cannot. I would need more information. A serial number is not enough information. Best, Abby
************************************************
(Dear Abby and Rob) Couldn't help but comment on the Nigeria scam story. I get far more Spam and Scam than regular mail, and one of my strategies on dubious messages is to look at the country suffix on the sender's email address. if it's .ni, for Nigeria, out it goes. If there are ANY honest people in Nigeria, they have yet to contact me. Bruce Dow

Hello Bruce, these guys are smarter than to use a "local" Nigerian email address. The use sagammo@yahoo.com and their English has improved greatly. I think they have a new shill in the US, in Texas who communicates for them. Rob
************************************************
Hello Abby & Rob, I am delighted with the reprint of item Lyman 1980 Cast Bullet Handbook 3rd Editionthat I received. I will be in touch If there are any additional publications that I need to add to my library. Regards, Jim Jenkins
************************************************
(Dear Abby and Rob) I don't understand a lot of your customers. You plainly state that your catalogs are reprints. Some people get them and then complain. I have ordered several old Savage Arms catalogs from you and have been extremely pleased with them! Keep up your good work! Oopy 38
************************************************

Cheers,
Rob and Abby
The End.