"Advent versus Christmas"

by Pastor Kelly
All around us, we see the signs of Christmas emerging. The day after Thanksgiving is often considered an acceptable time to break out the Christmas decorations and evermore so, the trimmings are showing up in mid-November.
In contrast to our cultural expressions, the first Sunday in Advent (December 1 this year) marks the beginning of the church year and is a season all of its own, separate from Christmas. It is an important

distinction

to make. The deep longing for a Savior is an intimate part of our Christian story. It is in this hunger where we clarify what exactly we are hoping for. It is the place where we clarify the difference between a quick fix to placate our appetites versus the dedicated work of love and peace and justice. Advent is a beautiful time in the life of the church and it teaches us not to unwrap the gifts of Christmas morning too quickly.
On a more humorous note, Hymns #101-123 face off against #124-152. Our New Century Hymnal has more than 800 hymns which are organized according to the church year (which itself is modeled after Jesus' life). Advent and Christmas hymns show up in the first part in our hymnal for just this reason.
Here at Alki UCC, we will sing Advent songs during the first four Sundays in December and then move into the Christmas songs for Christmas Eve and the Community Carol Sing during worship on December 29.
Terrific News about Camp Second Chance!

Last Sunday, Fauntleroy UCC members voted to lease Camp Second Chance. Located in the White Center neighborhood, the camp of 48 tiny houses providing transition housing to homeless individuals was in danger of closing in March upon expiration of a temporary Seattle land use permit. Thirty of the 48 houses were constructed by members of Alki UCC.
Fauntleroy UCC's decision to lease gives the encampment continued life under a special Seattle land use provision when the underlying property is owned or leased by a religious institution. Camp Second Chance was developed and is managed by LIHI, the Low-Income Housing Institute.
During a recent public meeting on the future of the Camp, Fauntleroy pastor Rev. Leah Atkinson-Bilinski explained to broad applause and affirmation what the encampment means to her church. Leah witnessed not just to God guiding them to this commitment, but to finding God through the loving and empowering community the Camp Second Chance residents maintain, even as the community continually changes membership. Forty-four percent of residents succeed in finding permanent housing.
"To be honest, we found God's love when we walked into Camp Second Chance." Rev. Leah Atkinson-Bilinski


Celebrate!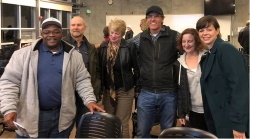 Eric Davis, Low-Income Housing Institute staff, Cinda Stenger from Alki UCC, and Rev. Atkinson-Bilinski
From Your Outreach/Social Justice Team


Holiday Food Drive Sunday, December 8
Bring your filled bags to church this Sunday and next. Extra bags and lists of suggested donations are in the narthex. Thanks to all who have already donated.
Needy Family Gift Adoption
Every year we adopt a couple of families in need. In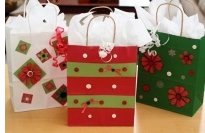 partnership with Multi Communities, a local non-profit, gifts will go to parents and children escaping domestic violence. We may also work with Denny Middle School and/or Chief Sealth High School to provide gifts for homeless students.
We need shoppers! Last year the response was terrific and many of you outdid yourselves. The need is greater than ever so we hope you'll meet or exceed last year's heart-warming generosity. The family wish list of kids and parents will be available very soon.

Christmas Day Brunch
at Camp Second Chance
(C2C)
We serve from 10:00 to 11:00 am at C2C, located in the nearby White Center neighborhood. Cooks and helping hands are needed to prepare and provide tasty egg casseroles, bacon/sausage, cinnamon rolls, orange juice and treats. Additional details to come.
Online petition to support "truth, healing and reconciliation for Washington state native peoples"
Our Pacific Northwest UCC conference invites you to review and sign on to an online Proclamation of Support to establish a commission that will contribute to truth, healing and reconciliation for native peoples in Washington state. This action directly relates to PNCUCC's core initiative on reparation and anti-racism work, as well as the work we have done here at Alki UCC.
The petition introduction reads:
We, the residents of Washington state, recognize that every child matters. If all of our residents are to flourish, a process of truth and reconciliation for Indigenous people in our State must be established.
By signing this proclamation, we have agreed that a Truth and Reconciliation Commission should be established to contribute to truth, healing and reconciliation in Washington State.
We ask that this Commission and its activities be fully funded by the Washington State government.
Read the full petition and sign on here.
We will be taking additional steps to ally with the Duwamish Tribe, on whose land our church was built.
If you are interested in working on this part of the project, please contact Cinda Stenger.
Thank you,
— Outreach/Social Justice Ministry Team
Our Wider Community:


Of Interest Online .

..

Getting Out & About ...




Making a Difference!



West Seattle Neighbors for Peace and Justice
Sunday, December 1, 5:00 pm
Members of the Alki UCC community have an open invitation to come visit. Meetings are the first Sunday of the month in the parlor.
Foolish Wiseman:
A Touring Production of the Taproot Theatre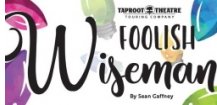 by Sean Gafffney




Sunday, December 8, 4:00 pm




Normandy Park UCC




19247 1st Avenue South




Meet Ogion, the comical and little-known fourth wise man!


Normandy Park UCC invites us to this free event. More information here.



Celebrate Community Solidarity at


Kol HaNeshamah's "Pop-Up Chanukah"


Sunday, December 22 at 5:00 pm




West Seattle's Alaska Junction


Join your West Seattle neighbors to say:
"NO to Hate & YES to Donuts!"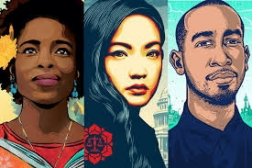 We the Future: Young Leaders of Social Change


Exhibit through




May 23, 2020


Gates Foundation Discovery Center
440 5th Avenue N in Seattle
We the Future showcases the stories of ten young leaders working to build an equitable and inclusive world through their respective social change movements. Inspired by Amplifier's We the Future education campaign and co-curated with the Gates Foundation Discovery Center's Youth Ambassador Program, the exhibit celebrates youth leadership and action across a range of social justice issues and invites audiences of all ages to imagine and become the change they want to see in the world.

Last week we offered Prayers of Congratulations and Celebration for new moms
Gina Erickson
and
Ashleigh Johnson
on the birth of daughter
Cecil Josephine Erickson Johnson.
In this delicate time, Ashleigh and Gina could use some help keeping the family fed. A friend of theirs set up an online account through MealTrain, a site you can use to gift them a GrubHub order, or schedule delivery of homemade chow. Check it out here.
Continued prayers for Dayle Banks, who is reported to be back in the hospital.
For those grieving the recent death of a loved one:
The family of Nancy Van Wyk, Julia Peeler's sister, Larry Gill; the family and friends of Ruth Okada; family and friends of Shelley Webster; Kathy Herigstad and family; Amy Young and family; Lesa Henry
Recent hospitalization, illness and other concerns:
Kirstin Duckett's father, Don Peterson, Jeff Jolly, Jim & Bev Connor, John Kinsman, Lois Constantine, Kathy Herigstad's sister Jackie, Jan Cochran
For homebound members/friends of Alki UCC: Doris Colbert
Wider World: Prayers for the thousands of innocent people being displaced, persecuted and killed as a result of the administration's betrayal of our Kurdish allies in Syria; for all those affected by the increasingly cruel and inhumane US immigration policies imposed by the current administration;
prayers for fewer guns, for all victims and those affected by gun violence; victims and survivors of extremist violence around the world; migrants seeking refuge around the world, and for those who are trying to help them. The rest of the missing schoolgirls kidnapped by Boko Haram, who remain in our hearts as long as they remain missing. The hungry and homeless, the ill and the addicted, the lost and the lonely; the unemployed.

Click on the big blue donate button to learn how to donate by check or a secure online credit card donation.
Worship
This Sunday,
December 1,
10:00 am
The First Sunday

in Advent


Scripture: Isaiah 11:1-10
Color: Purple
Liturgist: Scott Mathews
Note: This Sunday we will celebrate Communion, a time when the sermon emerges from the people in the form of Conversations Around the Table.
Our focus this month is the birth of hope.
Please ponder:
What is one place where you hope for something new? Describe what that might be.
Office Closed
Thursday &
Friday

Wishes for a lovely holiday to you and yours.
The Gift: An Alki UCC Musical Christmas
Sunday, December 15 6:00 pm
Your very own Alki UCC choir, directed by Minister of Music Marshan Goodwin-Moultry, will take you on a journey through new arrangements of traditional Christmas favorites and "get-up-outta-your-seats" Gospel music.

Doors open at 5:30 pm; refreshments and goodies served after the concert in our festively decorated Anderson Hall.
Tickets are $5.00 General Admission (ticket required/no reserved seating). Proceeds benefit The Youth Chaplaincy Coalition.
Limited online sales through Brown Paper Tickets available now. Choir members will also be selling tickets after worship
Childcare available with advance reservation ONLY through gift@alkiucc.org.
Reinhardt Circle Bean Soup for Sale this Sunday

The signature packets, featuring 10 kinds of organic beans, make a delicious, soul-satisfying soup!
They're only $4.00 each and make a great Christmas gift as well. Proceeds benefit a local charity.
Report:
November 24
Congregational Meeting
A short congregational meeting was part of our worship service last Sunday, November 24. There were two items to discuss: a budget amendment and Hope: New Beginnings.
The church council updated the budget by including designated funds for each of the ministry teams. This involved creating line items for those funds and moving them from other parts of the budget. Ministry teams will be able to make decisions to use those funds without having to apply to the council for approval. Julia Peeler and Lowell Park gave the presentation and answered questions.
It was moved to accept the budget amendment as written, then approved unanimously.
Council Moderator Emily Hitchens and Pastor Kelly Wadsworth gave updates on the Hope: New Beginnings process and were available to answer questions after the meeting.
— Charlie Hinckley, Clerk

8:30 am
Stewardship
6:00 pm Alki UCC


5:00 & 10:00 pm