Impeachment. It's on every time I turn the key in my car and every time I look at the daily news. It's everywhere. While there are many layers to the event itself, it is definitely a re-negotiation of power. Who has it? Who does not? Who decides how it will be distributed?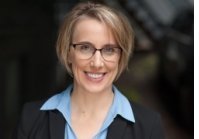 Last Fall, when I coordinated four local pastors for our Spirituality and Power series, I had no idea it would coincide exactly with the impeachment proceedings that have occurred this week. I did know, however, that we are in a broader time of re-negotiating social power dynamics and that we need to acknowledge these shifting mores. As a church, we are something of a microcosm of the national conversations in that we, too, are clarifying our own understanding of healthy boundaries and appropriate authority.
This past Sunday we wrapped up the final week of Spirituality and Power.
In Week 1, we explored silent, defiant power when seminarian Dustin Wilsor reflected on the wise men protecting baby Jesus by traveling home through another route. We were inspired by the power of standing up in Week 2 when Rev. Bianca Davis-Lovelace shared the moving story of her colleague, Sandra Bland, who died while in police custody. In Week 3, Rev. Colleen Chinen shared about her own congregation's courage to face their future head-on by letting go of their sense of entitled power and the surprising blessings that have resulted. Our own Pacific Northwest Conference Minister Rev. Mike Denton closed out our series this past week with a rousing dive into sectarianism and the ways we (everyone!) are swimming in the waters of blind allegiance that run contrary to our faith tradition. Afterwards, he shared briefly with the Personnel team his recent work on solidarity, autonomy and covenant in faith communities and how these three commitments can increase the culture of consent.
We take these themes of community into February when we begin to shift into the next phase of our communal discernment. Our House Groups are 100% completed and the House Group Leaders have already begun their work of compilation and synthesis.
Dates and times for the next round of congregational dialogue are expected sometime in February/March. Please spend time this week in intention and prayer for a collective spirit to emerge and to nudge us into a vibrant and meaningful future.
Ever onward,
Pastor Kelly
A Church of Extravagant Welcome 2.0


New Members Class Planned


for March 1

OR

March 29 After Worship

"Everyone is welcome here."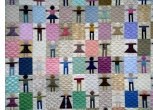 Extending an Extravagant Welcome is one of the UCC's foundational tenants. Anyone can worship with us, get involved in church life and support our community projects. Your voice is heard.
For those ready for a deeper commitment to the collective, to the Meta, Faith Formation is offering a springtime New Members Class.

Your voice already counts, but only members can serve in leadership positions or vote, a critical function in our congregational tradition. Every healthy church needs members who are willing to become educated on issues vital to the well-being of our faith community.
Please respond by Sunday, February 9 if you might be interested in attending.

Let us know your if you prefer Sunday, March 1 OR Sunday, March 29 after worship. The session will last about two and a half hours.
We hope to hear from you!
Important Notice:


Alki UCC End of Year Giving Statements
Emailed this Week

Your 2019 end of the year giving statement was sent to you via email on Monday, January 27.
The title/subject line of the email reads "Intuit E-Commerce Service."
Please check your "junk folder" if you did not receive an email on Monday evening.
Questions? Contact Financial Secretaries
Laura Petrie or Sandy Johnson.
Commemorating International Holocaust Remembrance Day January 25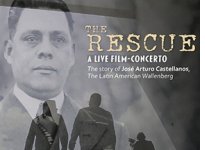 Last Saturday night, nine of us from Alki UCC joined two members of Kol HaNeshamah (KHN), our partner synagogue, on a field trip downtown for an event sponsored by Seattle's Holocaust Center for Humanity to commemorate lnternational Holocaust Remembrance Day and the 75th Anniversary of the Liberation of Auschwitz.
We went stocked with tissues and steeled our hearts against the heartbreaking stories of atrocity we anticipated witnessing in The Rescue, a compelling

documentary short film. Instead,

we had an inspiring and uplifting evening full of hope and renewal, as we learned of Colonel José Arturo Castellanos, a Salvadoran diplomat, who fearlessly issued Certificates of El Salvadoran nationality to thousands of Jews fleeing Europe.
We were especially inspired by Castellanos' humility. He rarely spoke of what he did, saying: "I did nothing more than what others would have done in my position." His words moved our souls; would we do as much if God called us to act?
His grandsons, Boris and Alvaro Castellanos, created the film to tell their grandfather's story, which was accompanied by a unique live musical score performed by local musicians. Creative and powerful, the movie exemplified how anything is possible when love is present. Facing down evil and standing up to fascism, Col. Castellanos found a way to defy the dominant power structure to save lives, because he believed that all people are created in God's image. Read more about him here.
I would like to thank everyone who attended for saying YES to such an important event, and for taking the opportunity to spend time with one another. Let's find more outings to share and build community!
— Cinda Stenger
Our Wider Community:


Of Interest Online .

..

Getting Out & About ...




Making a Difference!



Faith Action Network's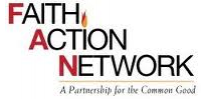 Faith Advocacy Day 2020
Register Now
Thursday, February 6
9:00 am to 3:00 pm/
Olympia, WA
Put your faith into action as you bring the voices of compassion and justice to our elected leaders. The day includes dynamic workshops, legislative preparation sessions and meetings with your legislators and their staff. L
unch Is provided.
Registration: $15.00 in advance; $20.00 at the door. More info here.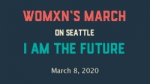 Womxn's March on Seattle
Sunday, March 8.
1:00 to 4:00 pm
Meet at Cal Anderson Park
1635 11th Avenue in Seattle
Come out in solidarity for this year's anniversary march, focused on amplifying the voices of womxn, femme, non-gender conforming people pushed to the margins of society and supporting youth leaders.
More info here.
Bob Jackson reports that his recent foot surgery "was quite a success." He says he has been recovering nicely and can hardly wait to get back!
New moms Gina Erickson and Ashleigh Johnson continue to welcome your help, including meals, visits or GrubHub gift certificates. Here's a link to their Meal Train page.
For those grieving the recent death of a loved one:
Family and friends of Jim Connor, family and friends of

Barbara T. Shadel Madden Andersen,

Kirstin Duckett and family, the family of Nancy Van Wyk, Julia Peeler's sister; Larry Gill; the family and friends of Ruth Okada; family and friends of Shelley Webster; Kathy Herigstad and family; Amy Young and family
Recent hospitalization, illness and other concerns:
Bob Jackson, the Erickson/Johnson Family, Imy Peterson, Sandy Johnson, Dayle Banks, Kirstin Duckett's father, Don Peterson, Jeff Jolly, Bev Connor, John Kinsman, Lois Constantine, Kathy Herigstad's sister Jackie, Jan Cochran
For homebound members/friends of Alki UCC: Doris Colbert
Wider World: Prayers for the earth and for all those affected by the devastating bushfires in Australia and the earthquakes in Puerto Rico; for all those affected by the increasingly cruel and inhumane US immigration policies imposed by the current administration; prayers for fewer guns, for all victims and those affected by gun violence; victims and survivors of extremist violence around the world; migrants seeking refuge around the world, and for those who are trying to help them. The rest of the missing schoolgirls kidnapped by Boko Haram, who remain in our hearts as long as they remain missing. The hungry and homeless, the ill and the addicted, the lost and the lonely; the unemployed.
Worship
This Sunday,
February 2,
10:00 am
The Fourth Sunday

after Epiphany


Scripture: Matthew 5:1-13
Color: White/Gold
Liturgist: Walt Gustafsen
Alki UCC Mardi Gras Sunday
February 23
Join us for a special worship service and festive community luncheon following worship on Sunday, February 23.

Save the date and stay tuned for details!
February Ministry Team Meetings and Upcoming Events
Stewardship:
Sunday, Feb 9,
8:30 am
Worship & Music:
Sunday, Feb 9,
11:30 am
Worship Logistics: Sunday, Feb 9, 1
1:30 am
Business Team:
Sunday, Feb 9,
11:30 am
Choir Leadership: Sunday, Feb 9, 1
1:30 am
Caring Community/ Fellowship:
Monday, Feb 10, 6:30 pm
(Smith home)
Faith Formation:
Sunday, Feb 16,
11:30 am
Personnel:
Sunday, Feb 23,
8:30 am
Communications: TBD
Outreach:
TBD
Minute for Ministry
during Worship
Outreach/Social Justice
February 2
Caring Community/
Fellowship
February 9
Council
February 16:
Sanctuary Task Force
February 23
If you miss a Sunday service, or would like to re-listen to a sermon, visit alkiucc.org, click on the "hamburger" logo to view the section tabs and then click on Sermons.

We're still filling in the audio backlog, so keep checking back if you're looking for sermons from this fall or earlier.
Community Resource
for Prospective Home Buyers
The Community Land Trust is part of the cadre of organizations working to solve the many challenges of providing affordable housing. The organization's mission is to preserve and advance "access to permanently affordable homeownership as a means to create thriving, equitable and inclusive communities."

Their website includes information on homeowner resources and how to access the Trust's many services to prospective buyers.
Among their current sales listings is a 3–bedroom, 2.5-bathroom Townhome with attached garage in West Seattle for $260,000 at 2434-A SW Holden St. Seattle, WA 98106.
Seattle/King County Medical Clinic
February 13–16
The clinic will offer free medical, dental and vision care to anyone who struggles to access or afford healthcare. All are welcome regardless of income, insurance, housing or immigration status. Patients will not be asked for documentation of any type. Patients do not need to reside in King County or Washington State to receive services.
Interpreters, medical professionals, and other volunteers are also welcome. More information here.

Click on the big blue donate button to learn how to donate by check or a secure online credit card donation.