For those of you who follow us on Facebook - sorry for the false start about opening today! Something I was expecting to arrive on Wednesday, did not arrive. So I have just decided to
give it another week to be sure everything is in place and I have time to breathe
So we will be reopening Thursday June 4th and will be open slightly modified schedule to begin with since until the Stay At Home thru June 15th is met, I'm not sure what level of business I will have? So here it is:

Thurs - Sat June 4-6th 10 - 5

Thursday June 11 - 13 10 - 5

Then on Monday June 15th, we will resume our normal hours of Mon - Sat 10 - 5.
After participating in several webinar training programs thru my business insurance provider, I developed a covid-plan in compliance with VOSHA & CDC recommendations and have been thru the VOSHA certification to reopen with safety. If you'd like to know more details about what I've have done to keep both customers and employees safe as we reopen, you can read here , but in short...
face masks will be required and social distancing practiced



there will be a limit on how many customers can be in the store at a time, and





we will be disinfecting all common surfaces at least 3 times daily.



AND, of course...if you prefer to be cautious a while longer, I will continue to offer the curbside pickup even after we have reopened. And of course, you can always order online at northeastfiberarts.com.



The Natural Dye Class scheduled for July is still on and there is room for 2 more to join in this AMAZING workshop.Everyone will have to wear a face mask, and the class size is limited so we can maintain social distancing, but it is a fantastic class and we will be out of doors - so lots of ventilation (I will have both dye tents set up so even if it is rainy, we'll be ok)! Hope a couple more of you can join us.

The Silk Paper Making workshop for early June was postponed and has been rescheduled for Aug 8 & 9th.

The Botanical Print a Scarf class has been rescheduled for Sat July 25th.



Each of these classes will be limited in participation to keep within our distancing guidelines.



You can read more about the classes here.





I am putting in an order to Brown Sheep next Tuesday to restock after the run I had on it here because of the Nalbinding (see below) free tutorial I offered over "isolation".

I had a curbside customer ask me yesterday to get her a couple of colors that I don't usually stock. While most companies require stores to purchase in bags of 10, making it difficult to order colors not stocked if a customer wants just 1 or 2 of the color, Brown Sheep allows me to order even just 1 skein of a color. So I thought I'd extend the offer to any other customers interested in picking up colors I don't usually carry.
So choose either worsted or bulky Lamb's Pride and as few or many of a color as you like, and I'll be happy to add it to my order.
Just call your custom order in by Tuesday at 4 p.m., (802-288-8081). I will call you back for credit card info between 4-6 for prepayment and I'll get the order placed first thing Wednesday morning. I'm not sure what Brown Sheep's shipping schedule is like right now but as soon as it arrives, I'll call you to let you know it's in. Most of my vendors have been a bit slower than usual this spring and I'm not in control of what colors they have in stock vs. they will back order, but I would hope it would be in by the second week of June.
Remember when you leave your order on the answering machine, I need your name and phone number in addition to the order. Please speak slowly when giving the phone number and repeat the phone number twice-sometimes the connection isn't great and I can't understand a return number I'm supposed to call, so saying it twice helps!
R U Nalbinding or Shibori-ing?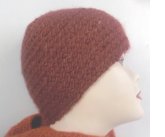 I know a lot of people are nalbinding based on the volume of people accessing my free tutorial and the number of kits I've sold during isolation.

If any of you have any show and tell of your nalbinding experience and you're willing to share it with us all, please email me a photo so I can share it on the tutorial and website! I hope to have some mittens to show in the not-too-distant future!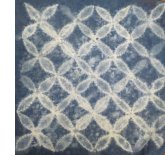 And I need to know who, if anyone, took me up on the offer to shibori a piece of cotton during isolation to come dip in the indigo vat here later this spring/summer? Since there is a max that can participate at a time based on covid reopening rules I need to know so I can schedule the dipping session.

So if you shibori-ed a piece over isolation with the intention of dipping it here, you need to let me know ASAP. Email me at northeastfiberarts@gmail.com so I can figure out a schedule. The dipping won't be until later June or early July, but I need to know this week.

Have a Great Memorial Day Weekend.
Look forward to seeing you soon!
Winnie has missed you all too.
I'm so looking forward to trading out the sweats and yoga pants for real clothes again!!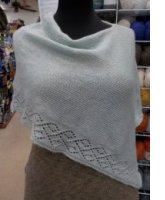 Tussah Kissed Summer Poncho
This was one of my no-brainer knits over isolation. With just the edge 19 sts in a simple lace pattern, that was just enough to keep me interested after 2 rows of mindless stockinette stitch. Knit on US 3 needles, it actually went quickly and I LOVE the weight.
This yarn was lovely to knit with and the garment has a great drape.

Check the yarn out here

Katia Naturally Dyed , Natur Wool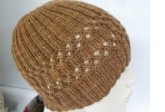 I admit to being a bit bummed to relinquish this knitting project to my sister because I LOVE this yarn - I love the twist, the feel and the colors (although limited, they are each one gorgeous).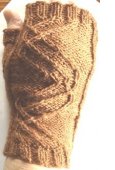 But she was looking for a couple of small projects to interject between sections in her big "isolation afghan" and I was in the midst of a couple myself, so I sent it over to her.

And with one skein she got a pair of these mitts AND the hat shown above. Both have wonderful stitch definition. And there is still a third of the skein left-so the mitts could be longer, if you wanted, or you could knit a second hat!!
Check the yarn out here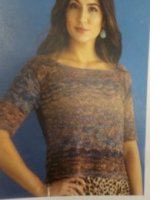 A new linen/cotton blend yarn arrived for the spring. It has a great drape and knits up in a lovely and artistic way. Six or seven colorways to choose from and this Tee shown above uses only 3, 4 or 5 sks.
3 sks will knit up to a 41" chest
4 sks will knit up to a 46"
and 5 sks will knit up to a 51" chest.
This pattern is free with the yarn purchase - it features a simple lace design. But honestly the yarn is so interesting, you could follow the pattern for stitches to cast on, bind off etc and just work it in stockinette if you are in the mood for a simpler knit right now!
You can find it here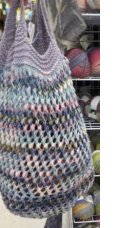 And if you've been knitting a lot of market bags using the popular Cairn yarn, you might change it up and consider this Brighton Beah linen/cotton blend. It is strong and would be great in the free Ravelry pattern The Girlfriend Bag.