What Are You Grateful For?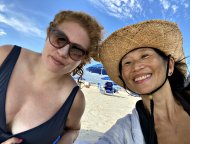 Yoga in the Park with Juan!

In Tribeca, above, and other days in Central Park.





Online classes with my other teacher pals ~

Anna's Acro-Caribbean beats cardio dance party Friday nights! Frank and Elizabeth's Yin, Restorative, and Nidra! Kate's online Yin Yoga Teacher Training!

Beach date with Shula.
Coconut ice in the park with Ora.
Empathy Buddy calls with Eileen.
Compassion Course practice group zoom meetings.
Food pantry and meal volunteering.
Rooftop yoga.
River view slacklining.
"Deep Playa" brilliantly lighted nighttime bike rides!
National Asian American Productions online chorus rehearsals!
Votefwd.letters to Americans to remind all of us to participate.



A husband who does rooftop tango with you. And brings you roses 🌹. Your own self who buys you tango shoes, just because.

Your own body, breath and soul that are there and available any time you want to contemplate or study, inside or outside. On the mat, or any ways that you may choose to move. Music that accompanies those movements; your soundtrack.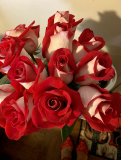 Nature, books, videos, courses, apps, so many of them! Or svadhyaya, sacred study, in communication by reaching out to our fellow human beings.

The plethora of available challenge right now for us to be stimulated by; to have something about which to inquire within! The opportunity to grow from each stimulus.

What if we were not born to be morose or serious, or to correct the errors of the world? Might that be a little grandiose an ambition? We don't ask that of a sunset, or a mountain, or a rose. What do we ask of them? ... That they be willing to be courageously and fully, the mountain or rose or sunset they are meant to be? That is not insignificant. That is huge. And yet they do it all the time.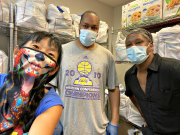 What if, in being grateful for who we are in our world, we help to shape the world to how we would love it to be? What if grateful was the yellow brick road?

When we celebrate who we are, we are so much more free to support and advocate for each other, who they are.

Classes Online ... or On Lawn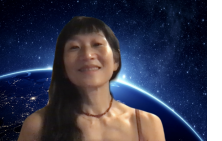 Summertime and so much living to do! I've trimmed my online offerings! My two Zoom classes:

*Sunday 8:30PM Yoga Nidra
*Tuesday 10:30AM-12:00 Slow Flow Meditation.

Online Classes:

https://maryaranas.com/online-classes

Park Vinyasa: New Body mic 🎙 has arrived! Park scouting has commenced! Watch for Park Chakra Flow Vinyasa, which will be on my website when it is scheduled: www.maryaranas.com.

The 2 top candidates for park class locations/times, at present, are:

Wednesday 6:30PM Central Park ~ most likely Sheep Meadow
Sunday 10:30AM Madison Square Park ~ 25/26 St./Madison/Fifth Ave.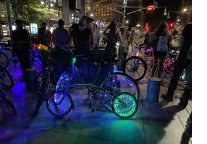 Your votes are welcome and appreciated! Email me!

Find times posted on my Instagram and Facebook, when they're up!

And always the updated schedule for my classes anywhere will be on my website: here

Photos; Charity Partners; Privacy

Photos in the MyYogaMyCity book by the talented yogi Grant Henry.

Charity Partners from Zoom classes this period include:
Crossroads NYC, New York Cares, PrisonYoga Project, and VoteFwd.org.

I honor your email privacy and do not share email lists. Please feel free to Reply, Forward, Subscribe, Unsubscribe, any tie.

Stay cool, catch a light breeze, revel in a flower's blush ~
Dream a little Nidra dream ... be the rose, be the mountain, be the sunset.





OM Shanti ~ Deep Peace,
OMMMMMary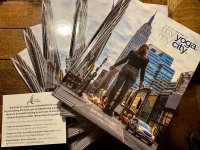 It's out! It has arrived! My beautiful Garuda Sirsasana photo is #47 of the 108 NYC yoga photos in this book that celebrates NYC and Yoga, and supports Exhale2Inhale, a fund bringing yoga to those impacted by domestic violence.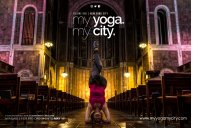 My longtime NYC church, Park Avenue's St. Bartholomew's, is my backdrop ~ though the book names another church/

I'm honored to share these pages with my fellow NYC yogis....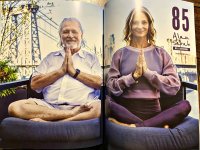 Amongst them: Deepak Chopra (#1, Vira B), Colleen and Rodney Yee (#19, Upavistha Konasana), Dharma Mittra (#46, Vasisthasana), Alan and Sarah Finger (#85, Ardha Padmasana and Sukhasana), and so many dear friends ~ Ora, Juan, Nancy, Esco, Elizabeth, Kay Kay, Charu, Donna, Sandy & Jen, Brent.

Thank you 🙏 Grant Henry and Erica Chen, creators of MyYogaMyCity!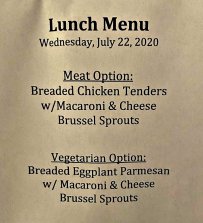 For being in my cyber sangha, my spiritual community in the ether!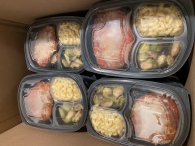 For nourishing my feasting in the midst of famine! Yes, we can and will do it, together!