ICTFL August 2020 Professional Development Opportunities

2.0 Adapting Your World Language Instruction to e-Learning: Online Workshops August 22 and 29, 2020

To support the challenge of adapting to e-Learning, The Illinois Council on the Teaching of Foreign Languages is coordinating online sessions this month. You may register for one or both sessions and earn professional development hours from ICTFL for attendance.

Saturday, August 22, 9:00 - 11:00 a.m.
All in This Together: Building Community in an E-learning Environment
Donna Tatum-Johns Presenter, French Teacher, Trainer Midway, Kentucky

A strong sense of community is at the heart of any healthy classroom and can be challenging under the best of circumstances. But how do we as educators build community when we aren't in the same room as our students? How do we build trust when meeting with our classes on a two-dimensional screen? In this workshop, participants will learn practical strategies for building community and healthy relationships in a remote-learning environment. When students feel valued, heard and included, the results are invigorating, and learning flourishes.
2 hours of Professional Development credit will be awarded. $25 fee.

---
Collaborative Coping Conversations for Illinois Language Teachers

Saturday, August 29, 9:00 - 12:00 a.m. (Three different hour sessions)
Various colleagues including you!

With the start of school, ICTFL would like to invite you to discuss what is working for you, where you would like support, and share how you and your colleagues are coping. ICTFL will provide chat rooms of up to 20 people focused on a specific topic with a moderator. Topics will be released for sign-up a week before the event. For example, How do I assess online? What implications are there in online learning for heritage students? How do I set realistic interpersonal goals in e-Learning? If you'd like to suggest a topic or volunteer to moderate a discussion, please contact ICTFL.

Up to three hours of Professional Development credit will be awarded. Registration is gratis.

---
For more information, please contact ICTFL Professional Learning Chair, Todd Bowen.

REGISTER at least two days before the event.
You will receive the meeting code the day before the event. ICTFL will be providing PD hours based on your selections.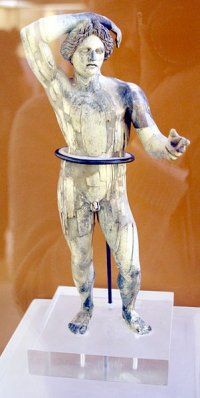 Lycian Apollo. Ivory statuette reconstituted from 200 fragments found

in a well, 3rd century CE. Probably a copy from the Lycian Apollo

by Praxiteles, which stood in Aristotle's Lycaeum. The god used to

hold a bow in his left hand.

Photo by Giovanni Dall'Orto, November 9, 2009. Courtesy Wikimedia Commons.

---
According to the Greeks, size did matter

---
Jackie Kennedy falls in love with
Greece
.
---
Roberto Bolle twirls in the
Coliseum
arena for a charity event in 2008.
---
B-C's Special Distance Learning Page with Complimentary Materials

In response to school closures due to COVID-19, Bolchazy-Carducci Publishers is making a variety of materials available to the classics community in order to ease the transition to distance learning. Please see our new Distance Learning page to freely access downloadable packets of fair use excerpts from our books as well as some fun mythology-related activities.

Fall 2020 Classics Conferences and Meetings

Bolchazy-Carducci Publishers is pleased to be exhibiting virtually at these fall conferences that are to be held virtually.



October 8–10, 2020


October 23, 2020


NB: The biennial meeting of the Classical Association of the Middle West and South—Southern Section, originally scheduled for November 2020, will take place fall 2021.

Bolchazy-Carducci Publishers is pleased to provide complimentary webinars on a variety of subjects, especially pedagogical, of interest to classicists. Some webinars are geared to the Latin for the New Millennium program and to topics generated by the AP* Latin curriculum.
Read eLitterae or follow us on Facebook and Twitter for the announcement of our winter/spring
series of free webinars.
Please note:
The Bolchazy-Carducci Publishers Webinar Program is intended to be a live interactive endeavor in which presenter and attendees ask questions, make comments, seek clarification, share examples, etc. Thus, by design and in order to protect the presenter's intellectual property, B-C does not make recordings available to non-attendees. B-C encourages those interested in a given topic or presenter to plan to attend the live webinar.
If you have suggestions for webinars, please contact Don Sprague.
---
What Equipment Do I Need for B-C Webinars?
To participate in Bolchazy-Carducci Publishers sponsored webinars you will need high-speed internet access, computer speakers/headphones, current web browser, and the link to the webinar virtual meeting space, which is provided in your webinar invitation.
Webinars Make for User-Friendly Professional Development
Participation is free. All webinars provide opportunity for participants to ask questions. Learn lots—attend as many presentations as you can. Bolchazy-Carducci Publishers provides documentation for your participation. You can share this with your supervisors. Many webinar presenters provide handouts, etc.
Bolchazy-Carducci Publishers provides eTextbooks on a variety of eBook platforms. Bolchazy-Carducci textbooks are available through VitalSource,

GooglePlay

,

Chegg

, RedShelf, Adams Book, Follett,

MBSDirect Digital

, and ESCO. Each eBook platform offers a variety of tools to enhance the learning process. eBooks have the same content as our traditional books in print.
You can read eBooks on a Mac, PC, iPhone, iPad, Android, or a variety of eReaders. Review the eBook providers specifications.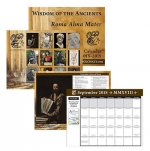 Congratulations to Editor Amelia Wallace and Senior Designer Adam Velez for a terrific 2020–2021 Roman Calendar! The calendar presents Aeneas and the varied world he visited in his travels. Images represent a range of cultures and objects. The calendar will be mailed to everyone on the mailing list in August. If you have not signed up previously and would like to be included in the 2020–2021 Roman Calendar mailing please
submit
your request.
The 2019–2020
Roman Calendar
features twelve mythical monsters from the 2019 edition of Martia Dementia, Bolchazy-Carducci's annual spring bracket tournament. If you didn't receive a copy, i
t is available as a
download
.
Preview Bolchazy-Carducci Titles

Preview Bolchazy-Carducci titles before you purchase using Google Preview.
---

Downloadable Products
iPodius - Bolchazy-Carducci Publishers online shop for: audio, software, video, and a treasure trove of teacher-created materials in the Agora.
---
BCP Facebook Fan Page
Become a FAN of Bolchazy-Carducci Publishers, visit our Facebook Fan page for the latest news from BCP.
---
BCP Blog
Visit the BCPublishers Blog for B-C news and information.
---
BCPublishers on Twitter
Follow us on Twitter
---
AP® is a trademark registered and/or owned by the College Board, which was not involved in the production of, and does not endorse, this site.
These products have been developed independently from and are not endorsed by the International Baccalaureate (IB).
Dear Colleagues,





All of us at Bolchazy-Carducci Publishers send you warm wishes and positive energy as you return to teaching in all of its variations this year. We laud your commitment, your flexibility, and your versatility.





Please find some resources geared to online learning in the Teaching Tips and Resources section. I especially call attention to the one on building community in a virtual learning environment.





Many of us classics teachers love learning etymologies and word origins. I am one of those and also one who loves Triscuits with my cheeses and charcuterie. Thus, I found the

history

of the cracker's name an interesting one.




To celebrate the month of August, I share with you a

link

from the Parco Colosseo that includes some wonderful photos of the House of Augustus on the Palatine.




In the past several issues of eLitterae, we've showcased

Lumina for Latin for the New Millennium

. As you may have noticed from social media announcements, we are especially pleased to have created a set of new interactive digital learning exercises for AP Latin. Check out

Lumina: Caesar and Vergil Selections

, highlighted just below.



All good wishes for the new school year.

Don Sprague
Executive Editor
editordon@yahoo.com

Lumina: Caesar and Vergil Selections

New Interactive and Self-grading Content
Lumina: Caesar and Vergil Selections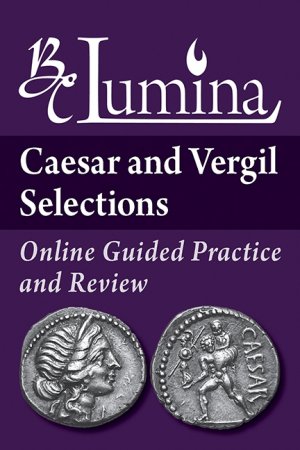 Bolchazy-Carducci Publishers is thrilled to announce brand-new Lumina content that is now available: online exercises to accompany the Caesar and Vergil selections on the AP Latin syllabus! With its comprehensive, completely original content, Lumina: Caesar and Vergil Selections is a perfect complement to Bolchazy-Carducci's print and eBook resources for AP Latin. Better yet, Lumina: Caesar and Vergil Selections works on any internet-enabled device!

Features

Hundreds of automatically-graded multiple choice questions promote close reading of all syllabus selections and provide students with immediate feedback
Copious AP-style free response questions ensure that students develop the necessary skills to thoroughly analyze and respond to all passages on the syllabus
Thorough practice exams prepare students for the format of the AP Latin exam
Vocabulary and figures of speech flashcards allow for additional review.
To support teachers going remote this fall, content will be made available in stages. Multiple choice and free response questions for Vergil's Aeneid, Books 1 and 2, and Caesar's De Bello Gallico, Books 1, 4, and 6, are now available. The rest of the syllabus will be available October 26 or sooner. Practice exam content will follow.

Teaching Tip: Online Collaboration in Upper Level Latin

The loss of an in-person community and the camaraderie it produced were the toughest challenges of learning online in the spring. A lot of my thinking has been about how to construct an upper level Latin class that works around the social restrictions of COVID-19, while striving to replicate the learning outcomes an in-class experience can provide. In short—how to work better together, while (at least 6 ft.) apart. In trying to promote this sense of working together, I decided that group work should take precedence as the default learning modality and tried to rethink my IB Latin class from there.

What I propose for an upper level class is a format and activities rooted in collaboration, one that also emphasizes students' control over their own learning. These suggestions are best aimed at an upper level Latin class. This is largely because in many cases, the students and the teacher will have built up some familiarity from previous Latin classes. I believe this familiarity grants teachers less anxiety about trying something new or radical, while relying on students' patience to go along with new teaching strategies, based on their established trust with the instructor. While my focus with my upper level students has been Caesar and Vergil in IB Latin, these basic strategies are applicable to the study of any upper level Latin course, AP or otherwise. I have also found that
this Eidolon article
by Anna Pisarello and Tom Hendrickson offers useful tips for those looking to build an online learning community from scratch, such as for a lower level Latin course.

With an AP or IB course, the students and teacher know that there is, at minimum, a core set of Latin lines to get through, and that there is some sort of large assessment at the end of the year. At the end of last year, knowing I'd have the same students and that we'd be reading Vergil, I asked the students what other topics in Vergil (e.g., the gods, Augustus, Greek tragedy, issues of reception) they'd like to talk about next year. This both gave my students a sense of some control over the direction of their learning and (if we are so inclined), can provide the core of research groups for projects based on these expressed interests.


What might these kinds of projects look like? I have many students who also do theatre work at school. When I gave them some options of topics to look at in Vergil this year, I was not surprised to see many of them choose "Vergil and tragedy." Projects could include presentations where students can present something on video about tragedy they've read together such as acting out a scene; trying to visualize what a chorus would be like; staging and blocking; or recording the staging of a scene in Vergil as if it were a drama or tragedy.


While I surveyed my students at the end of last year, this could easily be done at the beginning of this school year during the first couple of days. Another way to show students the stakes they have in the learning enterprise, and to instill a collaborative spirit, is to start up the year by setting ground rules for how the class will run, especially in a hybrid or online environment, which will still be fairly new for everyone. This then becomes part of the syllabus, a macroscopic picture of learning and collaboration. Now the students have their remit of Latin lines, ways to approach and study the text, and guidelines and protocols on working together to do so.


On the level of daily class time, a lot of the class is inevitably devoted to translation. How can we make this more efficient online? One way could be by dividing up translation work into small groups. I have found it hard to keep track of and monitor multiple "break out rooms" at once, and with the limitations of time, having small groups prepare their work outside of class also allows students to work at their own pace, while also keeping each other honest. Each group would be responsible for a brace of lines as homework, say four to five to start, and then in class would be expected to discuss their translation, point out unusual grammar (whether sharing their own solution, or asking me and the class for help), show the scansion of the hexameters, and explain mythological references. Especially at the beginning, it will help if the instructor has prepared some template worksheets that guide the students toward a good translation (something like Clyde Pharr's Aeneid, with some grammar and vocabulary help). Using Google Docs, the students can collaborate at home, the instructor can check in and answer questions as they come up, and during class other students can add to the doc to ask their classmates questions rather than just me, the instructor, doing so. Google Docs can work with other course management systems like Canvas and is a simple app that provides a place for everyone to collaborate and critique.


Finally, beyond group projects and translations, there remains plenty of time to engage in writing of various kinds—reflections, quick reactions, think-pair-share, formal short essays—especially with upper level students. Texts like Vergil's Aeneid, with its themes of identity and ethnicity, war, and cultural trauma, provide good starting points for students to think about what's going on today in America. While such assignments start off individually, having students talk about their ideas with each other, as well as peer review each other's work, can continue the collaborative spirit and model a good intellectual working environment based on mutual respect and constructive criticism.


I am not the most tech-savvy teacher, so I have tried to not be proscriptive, since everyone uses different learning management systems, and there's an abundance of apps out there. Google provides several and other tools like Pear Deck thankfully make it easy to centralize these different assignments and projects and serve as a basic infrastructure to communicate and collaborate. While the tech certainly helps, it cannot replace the humanism of good pedagogy. Everyone will still be adjusting to our new learning reality as the school year begins, but now teachers have had the benefit of a few months of relaxation, reflection, and sharing ideas and struggles with each other, in order to do the best for our students, whether in person, hybrid, or remotely.

Mark Wright is an ancient historian who teaches Latin at Sturgis Public Charter School in Hyannis, Massachusetts. He has previously taught at Hope College, Boston College High School, and the Ohio State University, where he received his PhD in Classics. Along with Kara McShane, he is working on an edited text and commentary for the medieval romance Titus and Vespasian for the TEAMS Middle English Texts Series, due out next year.

Classical Association of New England Summer Institute

Please join CANE for the 37th annual
Classical Association of New England Summer Institute
On the theme "Power and the Individual in the Ancient Mediterranean World"
July 12-17, 2021 / Brown University, Providence, RI

(dates will be confirmed in Jan. 2021)
graduate credit available

This summer's 5-day mini-courses include:

He Longed for the Desert: Turning Your Back on Rome

John Higgins, Smith College


Looking For (and at) Royal Women in the Hellenistic World

Patricia Eunji Kim, New York Univ.


Milton's Lycidas and Pastoral Elegy

William Morse, College of the Holy Cross


Equity, Power, and Critical Language Awareness:
Teaching Practices in Ancient Studies Education

Kelly Dugan, Trinity College


Pindar's Victory Odes: Songs and Contexts

Hanne Eisenfeld, Boston College


Tragedy's Empire: Individual Agency in Antiquity and Beyond

Aaron Seider, College of the Holy Cross


Problems in Roman Slavery: Texts and Contexts

Roberta Stewart, Dartmouth College


Dido, Hannibal, Carthage: 'Necessary' Victims
of Rome's Imperial Destiny?

Jeri DeBrohun, Brown University


What Happens When a Ruler is Replaced?
The Problem of Succession in Antiquity
Peter Machinist, Harvard University


The 2021 summer's lecture line-up will feature a series of three lectures by Diane Arnson Svarlien, most well-known as the translator of Medea. Other lecturers include: Kathleen Coleman (Harvard University), Kurt Raaflaub (Brown University), Deborah Boedecker (Brown University), Dan-el Padilla Peralta (Princeton University), Kelly Dugan (Trinity College), Mark Wright (Sturgis Charter Public School), and Aaron Seider (College of the Holy Cross).


The CANE Summer Institute is grateful to the Classical Association of New England, the Department of Classics at Brown University, and the Gladys Krieble Delmas Foundation for their support.

Teaching Tips & Resources

► Resources for Learning and Teaching Online
• Check out the Illinois Council on the Teaching of Foreign Languages online workshops. See details in posting in this issue's sidebar.

• How to build community while teaching online.

• Some good points about assessing student engagement in online learning.

• AP Latin Workshop offered by the College Board – Limited enrollment, act fast!

• Follow the posts from Parco Colosseo to learn more about the amphitheatre, the Forum Romanum, and the Palatine Hill.

• Miriam Patrick, spring 2020 B-C webinar presenter, writes about virtual TPR.

► Res Hellenicae
• Greek remains interwoven with the local community.

• Check out Greece's "Parthenon" of shipwrecks.

• Emily Wilson reads from her translation of the Odyssey on TikTok.

► Res Romanae
• The Palace of Galerius in Serbia reconstructed.

• Dormouse—a Roman culinary delicacy!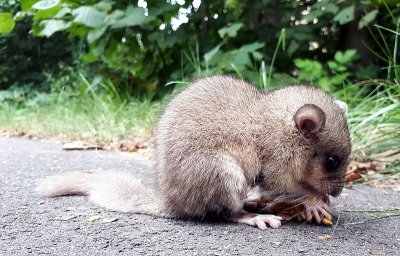 A dormouse photographed at the "Fuldatal" near Kassel, Hesse Germany in August 2019. Photo courtesy of Wikimedia: Creative Commons Attribution-Share Alike 4.0 International.


• Lessons from the Roman Empire's fall.

• Yes, Raphael is buried in the Pantheon.

• Magister Craft presents a video on viae Romanae.

• Join Rick LaFleur's Doctor Illa Flora's LATIN IN THE REAL WORLD (Latina in Vero Mundo) and delight in regular contributions like this one reconstructing the portraits of Roman emperors.

• Isotope analysis explains origin of Alexandrian glass.

► Social Justice
• New translations of epic poems challenge traditional thinking about them.

• Is Latin elitist?

• Current use of classical reference requires caution and careful reading.

• Reflections from a classicist of color.

• A brief history of Black Classicism.

► Res Aegypticae
• King Tut's trumpets played after 3000+ years.

► Res Aliae
• Lost kingdom discovered in Turkey.

NB: The following is the schedule to date. Additional webinar presentations are in progress. Watch for updates.
Tuesday, September 15, 2020, 6–7:00 pm ET
Lumina: Caesar and Vergil Selections—Insights from the Teacher behind the Exercises
Presenter: Patrick Yaggy, BASIS Tucson North, Tucson, AZ

B-C was pleased to engage Patrick Yaggy, master teacher and veteran AP Latin teacher, to help develop the
Lumina
set of exercises and activities for the Caesar and Vergil selections on the AP Latin syllabus. Yaggy will share the principles and rubrics he used in constructing
Lumina: Caesar and Vergil Selections
as he provides an overview of its components including the free response questions and the practice exams. Attend this webinar, get an inside peek at
Lumina
's development, and learn about this valuable learning resource.
Patrick Yaggy has taught high school for over twenty years. He began in Gwinnett County, Georgia, where he established the Latin program at North Gwinnett High School, and now teaches at BASIS Tucson North in Tucson, Arizona. He has taught all levels of Latin throughout his career, including fifteen years of experience with the various iterations of the AP Latin curricula. Yaggy earned his BA and MA in Latin from the University of Georgia. He authored the Latin textbook The Thebaid of Statius: The Women of Lemnos (Bolchazy-Carducci Publishers, 2014). Yaggy currently serves at the Chair of the ACL Mentoring Program and is the Arizona JCL Certamen Chair.

October Tuesday TBD, 6–7:00 pm ET
Teaching Social Justice in the Latin Classroom
Presenter: Miriam Patrick, Parkview High School, Lilburn, GA


B-C is especially pleased to have Miriam reprise her very engaging and informative presentation. Participants enthused about last spring's presentation. Every student has the right to see themselves in their classroom, content, and context. This webinar will focus on ways that Latin teachers can bring multiculturalism into the classroom through choosing appropriate visuals, choosing authentic materials, and reconsidering the context of the Latin language.

A third-generation teacher, Miriam Patrick has long been passionate about Latin and teaching. She strives to teach all types of students and uses research-based teaching methods in her classroom. Patrick has presented on a variety of topics at state, regional, and national conferences on Comprehensible Input methods and ideas, and most recently on social justice issues. Her master's studies included work on proto-racism in classical literature. She is coauthor, with Rachel Ash, of the Latin novella Pluto: Fabula Amoris and its teacher's guide. Patrick was honored in 2012 with the Foreign Language Association of Georgia's prestigious Teacher of Promise given to outstanding individuals in the first years of their careers. Patrick serves as editor for the Georgia Classical Association's publications and serves on the American Classical League's Task Force on Diversity and Inclusion.

Tuesday, November 17, 2020, 6–7:00 pm ET
Insights on the Launch of B-C Latin Novella Series
Presenter: Emma Vanderpool, Springfield Honors Academy,

Springfield, MA


This webinar introduces Bolchazy-Carducci's Encounter Latin novella series, designed to engage and delight novice and intermediate Latin learners with comprehensible stories written entirely in Latin. Talented author Vanderpool will introduce the inaugural volume, Augury Is for the Birds: Mārcus dē Avibus Discit, demonstrating how she incorporated rubrics for the novellas. She will also share the inaugural Explore Latin: Avēs volume in the new "pre-reader" series that provides novice Latin learners with short, nonfiction texts on a range of subjects related to the ancient world.


Emma Vanderpool has been teaching Latin since 2017—two years at the University of Massachusetts at Amherst, a year at Trickum Middle School in Gwinnett County, Georgia, and now back in her beloved New England at Springfield Honors Academy, Springfield, Massachusetts. Vanderpool earned her Bachelor of Arts in Latin, Classics, and History from Monmouth College in Illinois and her Master of Arts in Teaching for Classical Humanities from the University of Massachusetts in Amherst. Among her awards, Vanderpool is the recipient of the Distinguished Teaching Award from UMASS Amherst (2020) and was honored as the Lincoln Laureate for Monmouth College (2017). She serves on the Executive Board for Ascanius: The Youth Classics Institute, is an organizer for the Our Voices conference, and is an organizer for Lupercal. She has self-published five novellae and is pleased to be an author for Bolchazy-Carducci Publishers.

Lumina: Released to Great Acclaim!

Lumina: Online Guided Practice to Accompany LNM


Lumina online content offers new resources to support LNM, Levels 1 and 2. The interactive guided Language Fact sections provide immediate feedback to students as they preview or review each chapter of Latin for the New Millennium Level 1 or Level 2. Mouse-over vocabulary lists allow a new format for vocabulary mastery. Infinitely replayable crossword puzzles engage students in derivative work. Automatically graded quizzes free up student-teacher interaction time for translation, oral/aural work, discussion, and other learning activities. For a brief overview of the program,

check out this

video

.


Visit our website product pages for information.
Lumina: Latin for the New Millennium Level 1
• Classroom Option
• Individual User Option

Lumina: Latin for the New Millennium Level 2
• Classroom Option
• Individual User Option



Artes Latinae: A Self-Teaching,


Self-Paced Interactive Latin Program


Lumina

offers a revamped

Artes Latinae

. This fully interactive online program teaches all of Latin grammar in two courses. Purchase the program at a special discounted price of 25% off! For a brief overview of the program, check out this

video

.


Visit our website product pages for information.
• Lumina: Artes Latinae Level 1
• Lumina: Artes Latinae Level 2



Based on the program developed by Dr. Waldo E. Sweet of the University of Michigan for Encyclopedia Britannica, Lumina: Artes Latinae is an easy-to-follow course that includes all the tools a student needs to achieve a firm command of Latin. The course was carefully crafted and refined to suit the needs and abilities of a broad spectrum of students. Lumina: Artes Latinae meets existing foreign language requirements for high school graduation.




eLitterae Subscribers Special Discount

for eLitterae Subscribers
A Terrific Vocabulary Builder for Latin Students
Word Mastery through Derivatives
vii + 167 pages, paperback
ISBN 13: 978-0-86516-853-4
$24.00
$14.40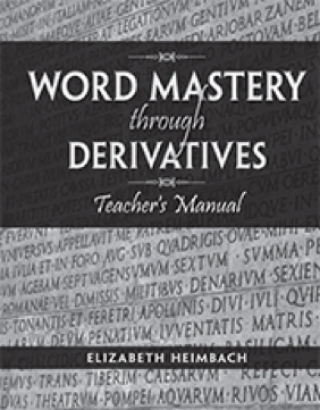 Teacher's Manual:
x + 393 pages, paperback
ISBN 13: 978-0-86516-854-1
$29.00

$17.40
This offer is valid for up to ten (10) copies, prepaid, no returns.
Discount is not available to distributors.
This offer expires 09/20/20.

Enter coupon code eLit0820 on the payment page.
The special offer pricing will be charged at checkout.

(Please note that there will be no adjustments on previous purchases.
Offer is nontransferable and subject to change without notice.)