As I look at the leaves being tinged with color and as a few of them fall, I have to admit, as much as I love fall, I am mentally focused on spring. I am looking forward to things opening (flowers and activities...and opportunities for live music!) I am looking to 2021 with my breath held for positives this year has lacked. Some lost moments can never be recovered. I imagine all of you are also fatigued by the mental gymnastics required as we all move forward making peace with this truth. As tonight I attend a socially distanced band/color guard "senior night" at Fayetteville High School, I will focus my thoughts on appreciating the effort the faculty and staff have made so that we are able to celebrate together.
This week we are featuring the promised interview with 2020 IBC Solo winner, Hector Anchondo. Hector is coming to NWA next weekend for a couple of performances. I had the luxury of meeting Hector at IBC finals and hearing his performance. He is the real deal. If you have the ability to catch him in either Fort Smith of Eureka Springs,
it would be time well spent.
Also note, there is still time if you had thoughts of entering music in the 2021 Blues Music Awards, but you need to hurry! The submission window closes October 15, 2020.Read on below for more information and links.


And remember, for those a bit more adventurous, some local venues are offering limited (mostly outdoor) live music so be sure and follow your favorite artists and venues so you don't miss these limited opportunities.
We are thankful for venues like Georges Majestic Lounge who are trying to
find ways to reunite artists and fans in safer, controlled environments.
If you are a local blues artist and would like to share your information, please click the link below to emai
l Sandy.
And always remember, this is YOUR newsletter! Please send
feedback or suggestions our way. You can reach me by email at the address below. We appreciate our readers and want
to see
your ideas included!
Next Weekend!

2020 IBC Solo/DuoWinner

Hector Anchondo

coming to Arkansas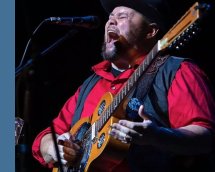 As promised, this week we bring you a personal interview with Hector Anchondo, the 2020 International Blues Challenge solo/duo winner. Be sure and mark your calendar so you don't miss this amazing artist.
Hector will be performing with Ralph Hert on Friday, October 16th at the 906 Lounge in Ft Smith beginning at 7pm. On Saturday, October 17th, he will be at The Grand Tavern in Eureka Springs from 11am-Noon
Hector describes his blues style as

"

eclectic," noting, "if you listen close you can hear a little bit of everything in there." Having had the luxury of hearing Hector perform at the 2020 IBC Finals, I must say the level of talent he brought out to win first place in nothing short of remarkable. Don't miss your chance to catch this incredible blues man.

Blues News You Can Use
reached out to Hector Anchondo with the following questions:
How and when did you get started in playing the blues?
"I was sixteen when I started playing Blues, I grew up on a farm out way out of town and there wasn't much to do, we didn't even have cable television. When I decided that I wanted to learn that was literally all I did, I played from morning until night, I even took my guitar to school to sing and play for classmates and anyone who'd listen. I was ready for the stage from day one."
Who were your musical influences, and who inspired you the most?
"I had many influences and have never been drawn to just one person or band to draw inspiration from. I grew up in the hills of Missouri so I took in a lot of those sounds, the first live band I ever say was a Bluegrass band. A few to mention are SRV, Jimi Hendrix, Clapton, Santana, Muddy, Buddy, and so many more."
How would you describe your personal style of blues?
"I would describe it as eclectic, if you listen close you can hear a little bit of everything in there. From the beginning I wanted to develop my own sound and I always heard that it was very hard to do, so I've gone to great lengths to try to achieve that, so I listened to everything, I figured that'd be on of the ways I could get there."
Please share thoughts on your IBC journey including the process of qualifying and participating in previous years.
"I'd been thinking about entering as a solo act for years. I made it to the Finals with my band in 2016 and it was an honor being in the top eight bands. My mind was in the solo entry from that point on and for the next several years every time I played a solo show I'd think about how I'd play if I were to enter as a solo act. It really pushed me to fine tune my originals and my sound overall. It wasn't until 2018 that the Blues Society of Omaha started doing the solo competition and I wasn't able to compete that year because of a schedule conflict but I was able to the following year. My name was drawn to go first in the local challenge and I practiced very hard to get my songs ready, even my song choice was a hard and lengthy decision for me. I went on first at noon and waited in the club, The Jewell, until 8pm and watched all the other acts. I was relieved when they announced my name. Then it was time to up my practice game to get ready for the 2020 International Blues Challenge. My great friend Ralph Hert offered his Taylor guitar to play because I didn't have an acoustic to use and he said he couldn't let me compete without a nice acoustic, thank you Ralph!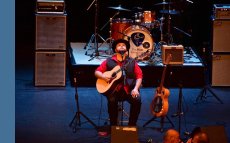 I
didn't go to the IBCs to win, I went there to be me and to shake some hands and network. I wanted to show everyone who I was and if they liked it great and if they didn't then that'd be okay too. My name was drawn for the the first time slot for the semi finals and then first again for the finals. Being drawn first so many times throughout the entire process may be seen as a drawback but I choose to look at the positive side of it, it offered me a chance to play without nerves and again allowed me to better just be normal me on stage. It was a positive for me. When they started to announce the winners I wasn't back stage, I was out with my family in the crowd. Then while I was waiting back stage they announced me as the first place solo/duo winner. I was stunned. I couldn't not believe it and expected someone to snap me out of it and say "hey what are you doing" because I was spacing off and day dreaming. I was flooded with emotion, because this was the first time in my 24 year career that I had a real "break" a moment that would truly change my career path. I knew in that moment that I had made the right decision to never give up and to always keep pushing."
Please share your journey post IBC through this extraordinarily difficult period for musicians. Please feel free to be nakedly honest. These are times of struggle for everyone. (I think most of us had heard of SARS-COV2 as an international situation just before the 2020 IBC, but I know I for one would never have predicted the havoc it would wreak in the US.).
"So in the one month of touring after the challenge I was thinking about all the changes my career was about to take, it was a lot of fun driving and thinking. My schedule had all of a sudden became jam packed and my agents inbox was full of booking requests. My agent and I had some really great conversations and he was just as excited as I was. Then in March, right after I got home from tour the shut downs started happening and watched while my big breakout year cancelled month by month. It was sad for a moment but kept a positive head about it all. I thought to myself, I've spent this long in the trenches, what's a few more years? Thankfully all my big shows, like the Chicago Blues Fest, Blues cruise, Big Blues Bender, and more were rescheduled for next year. My family and I have stayed positive. Even when our home was flooded and we thought, what else could possibly happen this year, we choose to huddle in closer and stay positive. We decided to move full time into an RV to cut costs as low as possible so that my career could survive the next few years and I'd still have some money to spend on the band. Plus we'd have some great adventures and make life lasting memories. Anything, you can flip it around and find the positives and that's what we chose to do. My family and career are going to overcome this."
On a more positive note, please toss us some hopes and dreams (and plans!) for bringing your blues to audiences as we finally wrestle the Covid monster to the ground.
"I'm working on my new album that I'm going to release early next year, it's going to be a solo acoustic album. 2021 will be better and then in 2022 I'm going to release my bands next album and 2022 will be really back on the up and up for all of us. For everyone out there, find the positives and keep your mind on that. We will get through this and the other side of this has rewards for us all. Now is the time to learn and grow and make those life changes we've been dreaming about for years. On to happier times."
To learn more about Hector, check out the links below.
Submissions Close October 15

Blues Foundation 2021

Blues Music Awards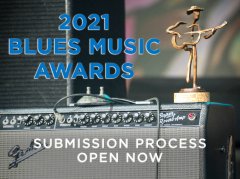 From the Blues Foundation:
All musicians are invited to submit their Blues recordings for consideration.
Blues music released between November 1, 2019 and October 31, 2020 is eligible for consideration for a 2021 Blues Music Award Nomination.
You may now formally submit your album or minimum 6-song EP for consideration via our online serviceher
e.

This year, we have added the opportunity to submit a single for "Song of the Year" consideration even if you do not have a full album or EP released. To be eligible for submission, your single must be professionally released to the public for the first time between November 1, 2019 - October 31, 2020 and may not be part of a larger EP or full album release. To submit a single for "Song of the Year," you must contact Joe Whitmer at joe@blues.org directly. Singles may not be directly uploaded to the online submission platform without a special code.
Submission fees and deadlines

October 1- October 15, 2020
$225 per album or EP submission submission / $125 per song submission
The submission process officially closes on October 15, 2020. You must upload your music and artwork and complete payment for your submission transaction no later than OCTOBER 15TH at 8:00am CST to be considered for a Blues Music Award nomination.
All music must be uploaded as a WAV file with album artwork uploaded as a JPEG or PDF file. If you need assistance with uploading your music, album artwork, and/or liner notes, please contact Joe Whitmer at joe@blues.org.
Support Options

For Local Artists

Please check this section of the newsletter weekly for ideas of how to support local musicians and venues. Information may be submitted by all readers, though if reporting for your favorite musician or venue, please confirm the accuracy of the information you are providing.
All submissions will remain posted with new entries being added to the top of the list each week and will run until the music calendar relaunches.
Buddy Shute and the Motivators
Brenda Baskin shared the following update: If memory serves, the last time our band played in public was March 6th in Eureka Springs. It was a nearly perfect night. We haven't played since—in fact, we've hardly seen
each other. Every once in a while, someone in the band will send a message saying how much they miss the others and we all gripe and agree.

BUT...what we have been doing musically is finishing up our new album. Fine tuning, artwork, finalizing. That's what's kept us happy and looking past canceled gigs and shuttered venues. It's been a labor of love for almost two years. And now, it's about to be released.
"Bar-B-Que" is the latest album from Northwest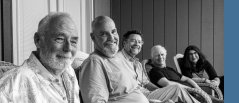 Arkansas' own Buddy Shute and the Motivators. Fourteen Tracks and a lot of love. Recorded, mixed and mastered by Chris Moore at East Hall Recording Studio in Fayetteville. The incredible Rachel Fields lends her vocals to a couple of tracks, and the song "I Been Changed" (aka "Angels in Heaven") was beautifully enhanced by the voices of Rachel, Ashtyn Barbaree, Dawn Cate-Bonner, Janna Falkner-Perry, Ashley Keylor, Kendra Kirklin and Sarah Loethen. Fronted by Buddy Shute (vocals, guitar), the Motivators are: Brenda Baskin (vocals), Mark McGee (harmonica), Steve Baskin (bass, vocals), and Randy Reese (drums). Keith Hubbard was named an honorary Motivator, and his distinctive keyboard playing can be heard throughout. http://www.buddyshute.com
Best of all...we're getting together to rehearse!
Best wishes from Buddy Shute and the Motivators
Facebook: Buddy Shute and the Motivators
*****
Brick Fields
Blues Therapy Live Streams are paused for now. Rachel invites you to check out her segment produced as part of the
Pine Bluff Summer Sets Series. The series highlights Blues and Soul artists that hail from Pine Bluff and includes five artists: Karen Wolf, Rod Clemmens, James Tail Dragger Jones, Joe Pitts, Bobby Rush and Rachel Field. You can find the Summer Sets Series LINK HERE.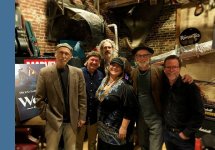 We also have two stores on our website one for music merchandise and another for Blues Therapy handmade items such as essential oil blends, Jewelry, tie dyes, bath salts, body butters and more.
Thank you for your support.
I pray that each of you and your families are all doing okay through this.
Brick Fields
Booking Call: The Brick House 479-846-4668
*****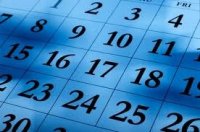 SUSPENDED

Please enjoy the following listings comprised of bands, venues, and/or organizations that support Ozark Blues Society. Always check with individual venues for event details and schedule changes.
Please Check Back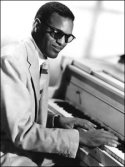 Today's show features music performed by Ray Charles

"Just because you can't see anything, doesn't mean you should shut your eyes."
Ray Charles

Blues Education Supporters
Thanks to the following for their support of blues education.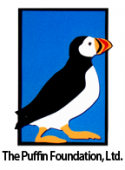 Check Out these regular local radio programs

"The Generic Blues Show" hosted by Paul Kelso airs every Friday night at 9pm on KUAF 91.3FM
Rockin' Hog Radio presents "Sunday Morning Blues" from 8am to 10am every Sunday
LINK
Get Involved with the Ozark Blues Society

Annual membership levels begin at $15 and give you so much in return, including meeting new friends while enjoying the best blues artists in the area.
By being a member of The Ozark Blues Society of Northwest Arkansas, you are helping to support the Arts and to preserve the Original American Art Form known as The Blues.
Membership Benefits Include:

Weekly E-newsletter
Opportunities to win tickets to events
VIP seating at events (when available)
Discounts on OBS merchandise
Social networking – meeting other people who also love the blues
Opportunities to volunteer on OBS committees and at events
Ability to attend board meetings and vote on upcoming organizational issues and elections
Visit our Website to renew or join! Ozarkbluessociety.org