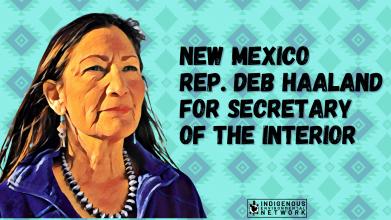 The Indigenous Environmental Network Responds to Historic Nomination of Rep. Haaland to Dept. of Interior.
Bemidji, MN -
The Indigenous Environmental Network enthusiastically supports President-elect Biden's nomination of Representative Debra Haaland to the cabinet position of Secretary of the Department of the Interior. Representative Haaland will help facilitate the Biden/Harris vision for dealing with climate change, addressing the COVID-19 pandemic in Indian Country, ensuring an effective economic just recovery plan for Indian Tribes, Alaskan Natives and Native Hawaiians and communities, overseeing the protection of public lands, and fulfilling all treaty and statutory obligations.
Representative Haaland demonstrated her capacity in all of these areas, and being the first Indigenous person to head the Department of Interior and second in a Cabinet position will inspire and provide hope not only to the Indigenous Peoples of this land, but to all who have vision for the future.
It is our hope that the US Senate will swiftly confirm Representative Haaland. She has already shown her ability to engage in bi-partisan initiatives, while firmly maintaining her values and integrity. After nearly a century since an Indigenous person held a Cabinet level post, Representative Haaland's nomination marks a historic moment, in which Indigenous Peoples are no longer rendered invisible.