B-C's Special Distance Learning Page with Complimentary Materials

In response to school closures due to COVID-19, Bolchazy-Carducci Publishers is making a variety of materials available to the classics community in order to ease the transition to distance learning. Please see our new Distance Learning page to freely access downloadable packets of fair use excerpts from our books as well as some fun mythology-related activities.

Reginaldus Foster, O.Carm.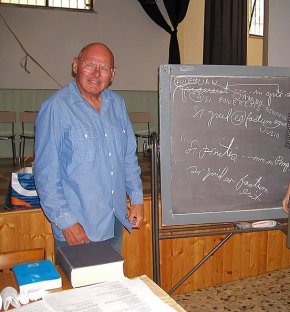 Reginald Foster, in his iconic garb, teaching at Aestiva Romae Latinitas, summer 2001 (Wikimedia Commons, Creative Commons 4.0/Claudia DeSantis-Whitaker).

All of us at Bolchazy-Carducci Publishers mourn the loss of Rev. Reginald Foster, O.Carm., who died on Christmas Day. For thirty-nine years, Reginaldus served as the Papal Latinist and all his life as a Latin enthusiast. His legacy beats strong in the enthusiasm for Latin he fostered in his many students, especially those who took his summer program in Rome, as they fervently promote Latin. Requiescat in pace, Reginalde!

Father Foster's death drew attention from a variety of quarters. The following tributes celebrate this renowned advocate for the study of Latin.

The Smithsonian

America Magazine

NPR

New York Times

Crux Now

The Latin Language.org

In this YouTube video, "Reggie" talks about his interactions with Antonius Bacci, Secretary of Latin Letters, throughout his life.

deadline: January 22, 2021
administration: February 22–March 12, 2021


---

National Latin Exam
deadline: January 22, 2021
administration: February 22–March 12, 2021

---

deadline: January 27, 2021
administration: February 1–March 5, 2021


---

deadline: January 31, 2021
administration: March 15–19, 2021


---

deadline: March 2, 2021
administration: January 1–April 1, 2021


---

Original literary pieces
deadline: March 15, 2021
submission deadline: March 15–April 15, 2021


---

"An Olympian God for the 21st Century"

deadline: March 15, 2021 postmark
Bolchazy-Carducci Publishers is pleased to provide complimentary webinars on a variety of subjects, especially pedagogical, of interest to classicists. Some webinars are geared to the Latin for the New Millennium program and to topics generated by the AP* Latin curriculum.
Read eLitterae or follow us on Facebook and Twitter for the announcement of our winter/spring
series of free webinars.
Please note:
The Bolchazy-Carducci Publishers Webinar Program is intended to be a live interactive endeavor in which presenter and attendees ask questions, make comments, seek clarification, share examples, etc. Thus, by design and in order to protect the presenter's intellectual property, B-C does not make recordings available to non-attendees. B-C encourages those interested in a given topic or presenter to plan to attend the live webinar.
If you have suggestions for webinars, please contact Don Sprague.
---
What Equipment Do I Need for B-C Webinars?
To participate in Bolchazy-Carducci Publishers sponsored webinars you will need high-speed internet access, computer speakers/headphones, current web browser, and the link to the webinar virtual meeting space, which is provided in your webinar invitation.
Webinars Make for User-Friendly Professional Development
Participation is free. All webinars provide opportunity for participants to ask questions. Learn lots—attend as many presentations as you can. Bolchazy-Carducci Publishers provides documentation for your participation. You can share this with your supervisors. Many webinar presenters provide handouts, etc.
Bolchazy-Carducci Publishers provides eTextbooks on a variety of eBook platforms. Bolchazy-Carducci textbooks are available through VitalSource,

GooglePlay

,

Chegg

, RedShelf, Adams Book, Follett,

MBSDirect Digital

, and ESCO. Each eBook platform offers a variety of tools to enhance the learning process. eBooks have the same content as our traditional books in print.
You can read eBooks on a Mac, PC, iPhone, iPad, Android, or a variety of eReaders. Review the eBook providers specifications.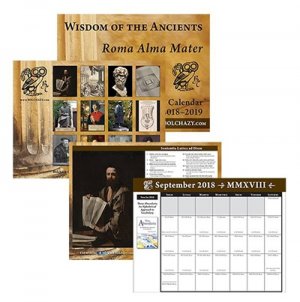 The 2020–2021 Roman Calendar has been mailed. If you did not put yourself on the mailing list or would like to download a printable PDF, we have the full file posted on our website!
The 2020–2021 Roman Calendar follows the travels of Aeneas, with each month focusing on a representative image corresponding to each of Aeneas's stops. We'll be posting JPEG images of each month of the calendar—feel free to use these calendar resources in your LMS or online classroom!
January's image represents Aeneas's stopover in Actium, having fled Crete and then evaded the hazardous Harpies. In Actium, the Trojans celebrate athletic contests and make offerings to Jupiter. These actions prefigure Roman history, namely Octavian's victory at the Battle of Actium, his dedication of the spoils of war, and his establishment of the Actian games.
The subject matter of this month's painting reflects a different element of the Aeneid: this miniature from a late eighteenth-century icon depicts the Sibyl, whom Aeneas must consult once he reaches Cumae, Italy. Painted by the Athenian artist Anastasios Ristos in 1798, the icon is on display in the Church of St. Charalampos, Preveza.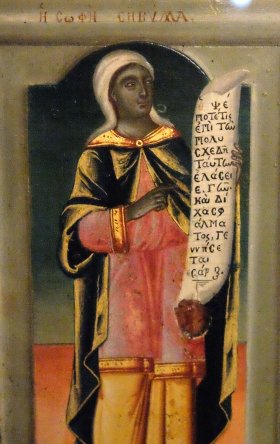 Watch Facebook for monthly postings.

---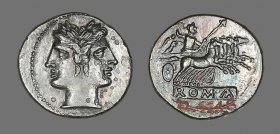 January's third-century BCE didrachm depicts the god Janus on one side and Jupiter riding in his quadriga on the other (Open Access Image: The Art Institute of Chicago). Janus, the two-headed god of beginnings and transitions, has long symbolized the advent of the new year and has lent his name to the month of January.
The act of looking backward and reflecting while looking forward with hope and expectation seems especially relevant now. As we say goodbye to a rather difficult year and look ahead to 2021, we wish you all health, hope, and happiness.
Preview Bolchazy-Carducci Titles

Preview Bolchazy-Carducci titles before you purchase using Google Preview.
---

Downloadable Products
iPodius - Bolchazy-Carducci Publishers online shop for: audio, software, video, and a treasure trove of teacher-created materials in the Agora.
---
B-C Facebook Fan Page
Become a FAN of Bolchazy-Carducci Publishers, visit our Facebook Fan page for the latest news from B-C.
---
B-C Blog
Visit the BCPublishers Blog for B-C news and information.
The most recent addition to the blog includes tips on incorporating 3-D printing projects, including Latin inscription cookies, into the Latin classroom.
---
BCPublishers on Twitter
Follow us on Twitter
---
AP® is a trademark registered and/or owned by the College Board, which was not involved in the production of, and does not endorse, this site.
These products have been developed independently from and are not endorsed by the International Baccalaureate (IB).
Dear Colleagues and Friends,



We are living in trying times. We empathize with our teacher colleagues who have not only been doing their very best to navigate learning in these Covidian times but have also had to deal with the disturbing challenges to our democracy. May the presidential transition go smoothly! Let us all work to build a just society for all Americans. Teachers play a quintessential role in preparing the citizens of tomorrow. We applaud you!





In the sidebar of this issue, please find a set of tributes to Father Reginald Foster, whose encouragement of Latin and its study many considered peerless. It was my good fortune to meet the legendary Reginaldus at an American Classical League Institute. We chatted about a former student, Michael Lowe, who had composed an inspiring profile in 2011 of the renowned Latinist for Fox TV Milwaukee. I highly recommend the

eight-minute piece

, "Mike Lowe Reports: The Latin King."




Fr. Foster spoke warmly of his experience with reporter Lowe, as did I. Mike and I used to pronounce the homeroom announcements each morning over the PA at Loyola Academy when he was a student (class of 1997) and I was the associate principal. I also shared that Mike's dad, Bill, after a successful career in corporate communications had returned to his first love and was teaching Latin at the Academy. In chatting with Mike about Foster's death, he enthused what a delight it was to interview the renowned Latinist. He affirmed as one of the obituaries had noted, "It's true he never went more than ten minutes without saying something quotable. For example, "'Classics Conference'? I went to a "Classics Conference." It was an education. It was an education in what not to do.'" I wonder if Foster was referencing the conference at which we had met!

In mentioning Mike's dad, I must salute Dr. Lowe and another Loyola Academy teacher colleague, Rebecca Wick, whose Latin teacher colleagues honored them as the 2020 Illinois Latin Teachers of the Year! A fitting tribute to outstanding teachers who had served together as co-presidents of the Illinois Classical Conference!

In the summer of 1984, it was my privilege to undertake a powerful learning experience as I undertook the Vergilian Society tour of Roman Britain. Emory University professors Janice and Herbert Benario led this phenomenal tour. To ensure an exceptional experience for participants, the dynamic duo had themselves traveled the route, visited the sites, and vetted the accommodations previously. Since I had read Tacitus's Agricola in a Roman biography course when I was at Boston College High School, the tour was especially meaningful. The tour was the inspiration for my leading a similar adult learning experience years later. While I knew the Benarios were accomplished classicists, only much later did I learn from Herb that Janice had served her country during World War II as a code-breaker. Join me in celebrating the life of this remarkable woman. Requiescat in pace.




Wishing you all good things for the New Year and your second semester!

All best,

Don

Don Sprague
Executive Editor
editordon@yahoo.com


Classkick is a web tool that allows the teacher to monitor student work, provide help, and offer feedback in real time. It is a great help to teachers who are teaching remotely or in a hybrid model. The Classkick interface resembles a slide interface to a degree. The teacher can put instructions, an activity, or prompt on one or more slides. After the slides have been prepared, the teacher shares a link with students. Students click on the link to bring up the slides and they begin to perform whatever tasks are presented on the slide.

For example, the teacher may put an image on a slide and ask students to write three sentences that describe the image. When students access the slide, they will each be able either to type their sentences on the slide or handwrite them with a stylus. The students can raise a virtual hand to indicate that they have a question and chat with the teacher in real time within Classkick. As students are working on the activity, the teacher has a bird's eye view of each student's slide. The teacher can zoom in to a particular student's slide to check on progress and answer any questions. The teacher is able to provide written feedback to the student directly on the slide.

A particularly nice feature is that the teacher can create custom stickers to use as feedback. The stickers stay in the teacher's Classkick profile so they can be reused in subsequent activities. Creating custom stickers for the types of feedback that we frequently give to students is a great time-saver.

B-C Launches Its Novella Series!

Designed to engage and delight novice and intermediate learners, these Latin readers use limited, high-frequency vocabulary and copious images to support comprehension. The debut titles in the
Explore Latin
and
Encounter Latin
series focus on the world of Roman augury—entirely in Latin!
The nonfiction text
Explore Latin: Avēs
offers an immersive introduction to the significance of birds in Roman culture and religion. This "pre-reader" pairs perfectly with the
Encounter Latin
novella,
Augury Is for the Birds
, which delves deeper into the ins and outs of augury and its role in ancient Rome.
Great gifts for the young Latin learner in your life!

Marvelous reading resources for your Latin 1 classroom!

Editor's Note: We are pleased to call your attention to materials, including lesson plans, added to the digital content for
Augury Is for the Birds: Marcus de Avibus Discit.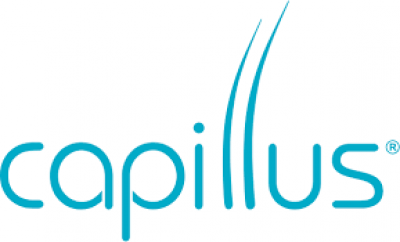 ---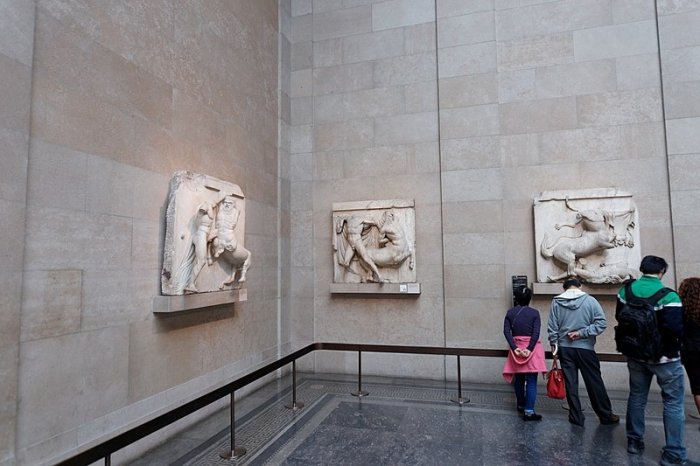 The Parthenon marbles at the British Museum

(Wikimedia Commons, Creative Commons 4.0).

---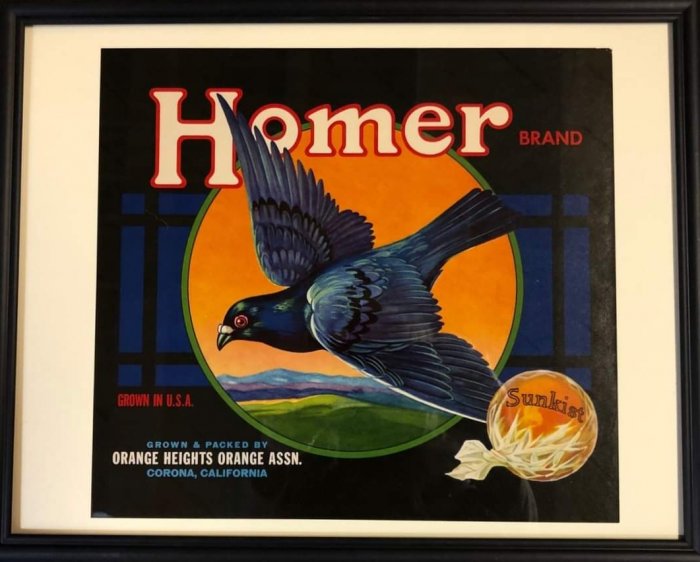 Homeric Influence! An antique fruit crate label of Corona, California oranges sold as "Sunkist" under the Homer brand.

---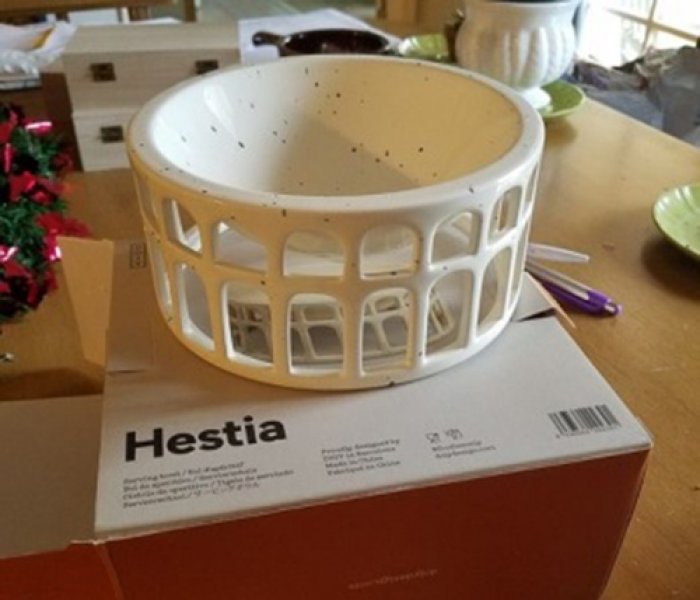 The Coliseum as serving bowl, thanks to Davina McClain.

---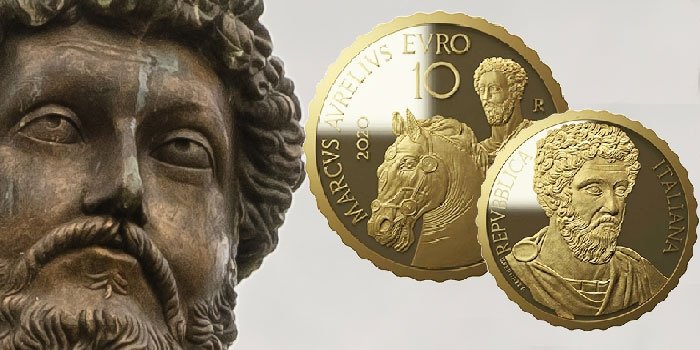 Marcus Aurelius honored with 10-euro
gold coin
.
Winter/Spring 2021 Webinars

We are pleased to share the following webinars for this semester. We are in the process of finalizing the complete roster of professional development presentations.
Tuesday, February 16, 2021, 6–7:00 pm ET
The Jewish Diaspora in the Roman Context

Presenter: Amelia Wallace, Editor, Bolchazy-Carducci Publishers

This presentation is intended to equip secondary teachers with materials and ideas for developing and teaching a unit about the Jewish Diaspora in Rome; this unit fulfills aspects of the Connections Goal of the Standards for Classical Language Learning. While it will address the connection between violence and the Jewish Diaspora—for example, the significance of the Roman destruction of the Temple in Jerusalem in 70 CE—it will focus on Roman-Jewish cultural exchange, as well as quotidian interactions between Romans and Jews within the city of Rome and its environs.

Amelia Wallace received her MAT in Latin and Classical Humanities from the University of Massachusetts Amherst and her BA in Classical Civilizations from the University of Michigan. Prior to joining Bolchazy-Carducci in 2018, she taught Latin at the middle school, high school, and university levels, in addition to tutoring students of all ages. Wallace pursues a variety of topics in classics and keeps up to date on developments in classics pedagogy.

Tuesday, April 20, 2021, 6–7:00 pm ET
The Archaeology of "Race" in the Roman Empire:

Old Problems, New Approaches
Presenter: Sinclair Bell, Northern Illinois University, DeKalb, IL


Can we write an archaeology of "race" in the Roman period? In this webinar, Dr. Bell considers the question through the lens of images of and artifacts related to Aethiopians (that is, Sub-Saharan Africans). After providing a brief overview of the corpus of objects and their imagery and the critical axioms of their study, he will propose some new ways of thinking about this material culture and discuss the ethical stakes of such a project within the field of archaeology more broadly.

Sinclair Bell
is a classical archaeologist and art historian. Professor of Art History at Northern Illinois University, he is also the editor of the
Memoirs of the American Academy in Rome
. His current areas of research include the art and archaeology of the Etruscans; the art and archaeology of the Roman provinces; spectacles in the Roman imperial period; the visual and material evidence for slaves and foreigners in the Roman Empire, especially Aethiopians/Nubians. He has co-edited 12 books, including
Free at Last! The Impact of Freed Slaves on the Roman Empire
(London 2012). After earning his BA in Classical Studies and History at Wake Forest University, he earned a master's degree in Classical Archaeology at the University of Oxford and the University of Edinburgh, from which he received his PhD in Classics in 2004. He also studied at the University of Cologne and has been a Fellow at The American Academy in Rome, the Deutscher Akademischer Austauschdienst, and the Howard Foundation.
Teaching Tips & Resources

► Online Resources
• A round up of virtual museum experiences.

• Take a digital tour of the Acropolis Museum.

► Res Romanae
• An overview of the Romance languages.

• Caligula's Garden of Delights discovered and restored in Rome.

• Mosaic documents luxury living in Britain during the "dark ages."

• Virtual tour of Augustus's mausoleum.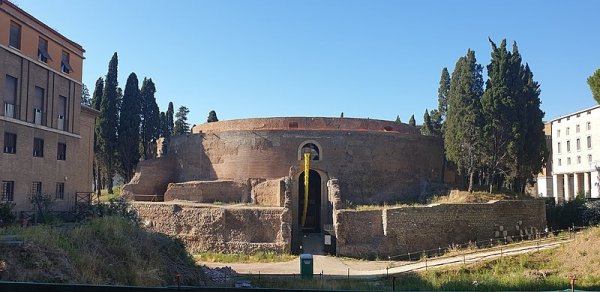 The Mausoleum of Augustus undergoing reconstruction work

(Wikimedia Commons, Creative Commons 2.0/Jamie Heath).


• Where is the Rubicon? (from 2013)

• Roman wooden wine barrels found in Champagne.

• Wine with a pinch of salt? Do as the Romans did!

• Bringing Latin to Russia.

• Roman concrete—stronger than ever!

• New flooring planned for the Coliseum.

• The Alexander the Great mosaic.


Detail from the Alexander the Great mosaic from Pompeii's House of the Faun

(Public Domain, Wikimedia Commons).


► Thermopolium at Pompeii


The thermopolium in Pompeii's Regio V is a treasure trove of frescoes and materials that enable us to learn more about Roman everyday life. The significance of the find is evident in the array of print media coverage.


• From the Pompeii Sites website.

• Photos from Pompeii's superintendent.

• Smithsonian details Roman fast food choices.

• Coverage from the Los Angeles Times.

• From the Guardian.

• From Reuters news service.

• All the news that's fit to print.

• From CNN.

► Res Hellenicae
• Sixth-century BCE temple to Aphrodite found near Izmir, Turkey.

• Excavations reveal Greek roots of Jaffa, Israel.

• Video shows special lighting project for Athenian monuments is spectacular.

• Some insights on vengeance in ancient Greece.

• Artworks depicting the Odyssey.

► Res Aegypticae
• Technology meets Egyptian mummy.

• Newton, alchemy, the pyramids, and the Apocalypse—what a combo!

► Social Justice Issues

• Celebrating John Wesley Gilbert.

• Learning Latin with dyslexia.

► Res Aliae
• Saudi Arabia presents ancient Hegra to the public.

• Baby burial in Israel puzzles scholars.

• Fascination with the Ark of the Covenant.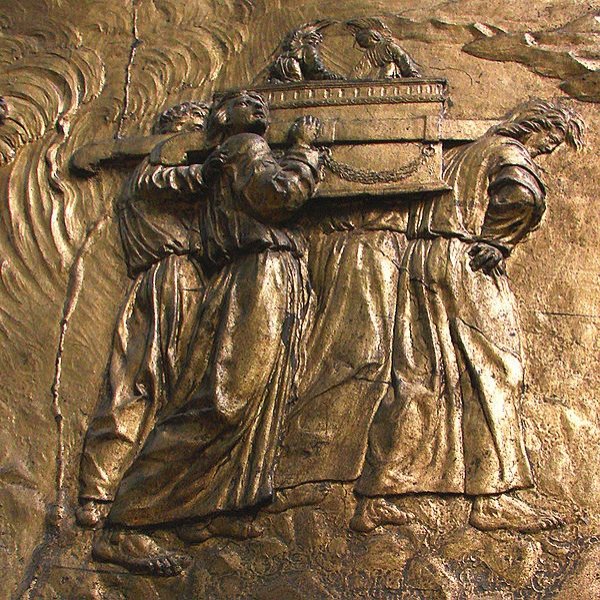 Relief from Auch Cathedral, France, "Carrying the Ark of the Covenant"

(Public Domain, Wikimedia Commons/Vassil).


• New thoughts on the origin of the alphabet.

• 4400-year-old Iranian writing deciphered.

• First-century CE ritual bath found in Garden of Gethsemane.

2021 Classical Conferences and Meetings
Lumina: Released to Great Acclaim!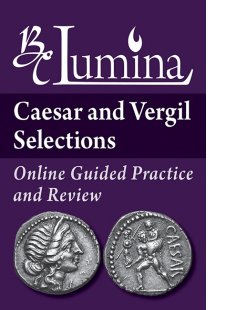 Lumina: Caesar and Vergil Selections
Bolchazy-Carducci Publishers is thrilled to announce brand-new Lumina content that is now available: online exercises to accompany the Caesar and Vergil selections on the AP Latin syllabus! With its comprehensive, completely original content, Lumina: Caesar and Vergil Selections is a perfect complement to Bolchazy-Carducci's print and eBook resources for AP Latin. Better yet, Lumina: Caesar and Vergil Selections works on any internet-enabled device!

Features

Hundreds of automatically-graded multiple choice questions promote close reading of all syllabus selections and provide students with immediate feedback
Copious AP-style free response questions ensure that students develop the necessary skills to thoroughly analyze and respond to all passages on the syllabus
Thorough practice exams prepare students for the format of the AP Latin exam
Vocabulary and figures of speech flashcards allow for additional review.



Lumina: Online Guided Practice to Accompany LNM


Lumina online content offers new resources to support LNM, Levels 1 and 2. The interactive guided Language Fact sections provide immediate feedback to students as they preview or review each chapter of Latin for the New Millennium Level 1 or Level 2. Mouse-over vocabulary lists allow a new format for vocabulary mastery. Infinitely replayable crossword puzzles engage students in derivative work. Automatically graded quizzes free up student-teacher interaction time for translation, oral/aural work, discussion, and other learning activities. For a brief overview of the program,

check out this

video

.


Visit our website product pages for information.
Lumina: Latin for the New Millennium Level 1
• Classroom Option
• Individual User Option

Lumina: Latin for the New Millennium Level 2
• Classroom Option
• Individual User Option



Artes Latinae: A Self-Teaching,


Self-Paced Interactive Latin Program


Lumina

offers a revamped

Artes Latinae

. This fully interactive online program teaches all of Latin grammar in two courses. Purchase the program at a special discounted price of 25% off! For a brief overview of the program, check out this

video

.


Visit our website product pages for information.
• Lumina: Artes Latinae Level 1
• Lumina: Artes Latinae Level 2



Based on the program developed by Dr. Waldo E. Sweet of the University of Michigan for Encyclopedia Britannica, Lumina: Artes Latinae is an easy-to-follow course that includes all the tools a student needs to achieve a firm command of Latin. The course was carefully crafted and refined to suit the needs and abilities of a broad spectrum of students. Lumina: Artes Latinae meets existing foreign language requirements for high school graduation.




eLitterae Subscribers Special Discount

for eLitterae Subscribers
xiv + 187 pages, paperback
ISBN 13: 978-0-86516-288-4
$24.00
$16.00
This offer is valid for up to ten (10) copies, prepaid, no returns.
Discount is not available to distributors.
This offer expires 02/20/21.

Enter coupon code eLit0121 on the payment page.
The special offer pricing will be charged at checkout.

(Please note that there will be no adjustments on previous purchases.
Offer is nontransferable and subject to change without notice.)