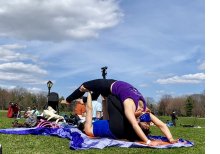 Welcome to Spring! There is so much that is new. In NYC, indoor group fitness classes began March 22nd, at 33% capacity, with great care.
Today, we complete Week #1 "back to school" for so many of us after 1 year, 1 week.
Eyes wide, gentle smiles, carefully observing temp checks, health forms, space, sanitizing and sanity! Doing all speaking, breathing, and yes for me chanting, through our masks. And ... I am thrilled. I feel deeply blessed as we arrive back.
I taught vinyasa flow today at Equinox E.54 to 7 masked souls with their unique year-long and life-long journeys. Tonight I go for my 2nd Moderna shot, thanks to Crossroads volunteer work. And tonight, EDT 9PM, I teach Sunday Night Yoga Nidra bliss sleep dream meditation on Zoom, serenaded by Raul's gentle, live guitar. Who's blessed? I am....
I reflect today, Passover Sunday, Palm Sunday, on our year past. Humbler, kinder, stronger I hope. No journey leaves us unscathed, but are we more human, more divine for our scratches and our heartbreaks? Our new crinkles and grays and wrinkles? ... I sincerely hope so. Group yoga labs are open for play. Come and taste each of my week's dishes. Help bring me the key recipe ingredients: you!
Tues 12-1 Gentle Yoga @E.85 Club
Tues 1:45 Restorative Yoga @E.92 Club
Sun 11:45 Vinyasa @E.54 Club
Thur 2-3 Yoga Nidra Meditation
Fri 11:45-1PM Flow & Restore
Sat 11-12 Slow Flow Meditation
Mon 10-12:30 Slow Flow Meditation
Sun 9-10PM Sunday Night Yoga Nidra Dream Meditation

Trainings & Retreats:
Yoga Nidra, Reiki, and Restorative

Trainings

: to be announced.
Wagging Tail Yoga June Weekend Retreat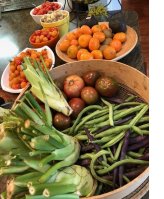 June 18-20, Friday to Sunday, join myself and Ora Ramat and for a very special weekend, at her Wagging Tail Yoga retreat center in Bethel, NY, in the Catskills.
We typically sell out, with limits on group size, and this year we take more spatial care than ever.
Pre-registrations by email invitation are open now. Web page with description will follow in April. Early Bird closes May 18th. Cancelation policies are available upon request.
We reprise all our faves, and this spring/summer we add a few treats!
There's Friday
Yin/Restore/Nidra, Saturday hike yoga, flow yoga, partner yoga, slackline intro, and compassionate communication movement games. Sunday yoga and closing circle.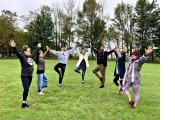 Then there's catered healthful meals all weekend, Friday welcome supper, Saturday night fire circle, inspiration cards and journaling. Oh yes, and the pool will be heated, and hammocks waiting! Chuck's organic garden is a great visit, and the guest alpaca flock will likely make their annual visit to greet us, too.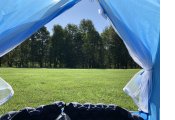 Room options include the main house, yoga annex, and lawn camping or "glamping" for the adventurous.
We kindly request all participants be fully vaccinated by two weeks before June 18. Speak to us if you have a question on this! We'll help out!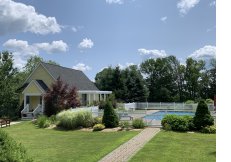 Thanks for photos this issue to m

ostly my iPhone!



Thanks

also to:





Ora Ramat,




Lesley Kennedy,




Raul Aranas,




Sandy & Bodhi Ames,

and


The Compassion Course.




I value your privacy and do not share email lists.

Please feel free at any time to Reply, Forward, Subscribe or Unsubscribe.

Om shanti!
Love, light, and peace,

Mary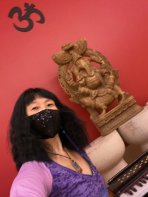 So I am keeping this issue short and sweet! Because we have so much catching up to do in person!
Join me virtually for a Zoom class by donation, or if you are privileged to do a Pure or Equinox mat class, let's play there! And, listen to any of my 7 Chakra Guitar Meditations on Insight Timer.
If you are an AcroYogi or Slackliner let's play - safely - in Central Park or Queensbridge Park!
Turbovax is the Twitter feed that helped me schedule my vax, BTW, if you are looking to find appointment times.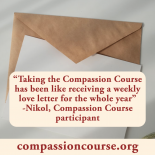 And ... just like that, we have yoga classes again. One week, one year, one long snow day.
Just like that ... we have vaccines in our towns, arm by arm, neighbor by neighbor. In the USA's Northeast, we have spring flowers.
Everywhere, we have Passover. We have Easter. What have we passed over?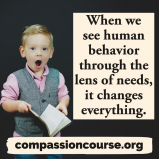 Just like that, we are still grieving the lost, still protecting those in harm's way, from viruses in lungs, and in minds.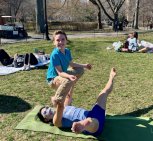 Join me this June for Compassion Course 2021, a 52-week email course by Thom Bond, longtime student and mentee of NVC founder, Marshall Rosenberg. I've taken this 7 years running, and I still really appreciate the learning and the practice.
I repeat my 2nd year of hosting my alternate Wed. eve practice group for maximal c
ommunity, learning, & fun.
Join me!