Hey everyone. We hope you had a wonderful and sweet Pesach.

(Speaking of which, please check out the time-critical offer at the end from my Friend Murray.)

Yet another lovely session last week. So grateful for all of our teachers and for all who attended.





This Thursday's session promises to be lots of fun as usual. If we only had the amazing CID Virtual Team - Dayeinu. But we are also excited to welcome out guest teacher, Ilai Szpiezak, a very talented dancer, choreographer and markid. He hails from London but his roots are in Israel and Argentina. You will not want to miss him (around 7:30PM Central Time).





Time to start thinking about all the important events coming up in the Jewish calendar. In particular, Yom Hasho'a, Yom Hazikaron and Yom Ha'atzma'ut. Regarding the latter, we will celebrate at our session on April 15th and are very excited to host our guests, Yisrael and Michelle Yakovee!

Yisrael specifically invites you




to enter your requests for his dances in advance. Please do so after our 4/8 session by going to David Karger's Request App here.

Requests Here

(BTW, the app is available now for this week's session.)





We are beginning to see more and more things opening up here in Chicago and around the country. Hopefully we might be able to start dancing physically together again over the summer.

Maybe sooner. I am looking at the options.

Time will tell, but we are definitely heading in the right direction. However, even when our "real" sessions resume, we plan to continue on zoom at the same time so that our amazing virtual community can continue to participate together. ❤❤❤

We are thrilled to with our new logo, courtesy of the amazing Carol! We love it and it is already making a big splash. There is a lot going on there in this deceptively simple looking design. Carol, thanks so much. ❤❤❤




Speaking of the amazing Carol, she has relaunched the campaign for those who would like to order one.


Order Here









So, I've been wrong about this kind of prediction before, but it is my guess that this dance by Yuval Tabashi and Michael Barzilay will be one of the next "big things" in our world. What do you think? Resisim




If you feel like helping to support this endeavor financially, you can use PayPal Direct Paypal Link or Chase Quickpay (Zelle) (philip_b_moss@hotmail.com) or Venmo (PhilipBMoss - phone last 4: 8669)




Looking forward to seeing you all this week.





In this issue:


The Plan
Last Week 4/1 (and recordings)
Personals/Shout Outs
Chicago Israeli Dancing - Virtual (Local)
Machol Merkaz
Publicizing Your Dance Events on chicagoisraelidancing.com
Report on La Mona Myr's Riku meshuGAME Episode 3
May 1, 2021 - Kochavim and Yad Beyad Zoom Camp
Murray Spiegel's 300 Ways To Ask The Four Questions

Be safe,


Phil


The Plan
7:00PM: Penny starts off with a half hour of beginners/classics.

7:30PM: Teaching/set with Ilai. Here is your homework for Am Yisrael Chai



8PM -

sets led by: Stuart, Nina, Sarah, Penny, Barb, Rina W., Ilan, Mayla and Gabi!!! By the way, during Penny's second set, she will review Rafi Ziv's lovely dance, Tetaru Lachem. Homework



Finishing around 11:30PM





Team members on LOA this week: Ariane, Rina R., Denis, Latishya, Aaron and Deb. Looking forward to your returns!








This Week's Teachers:




Gabi




Last Week April 1 (and recordings)


Dance Presented:


Tetaru Lachem by Rafi Ziv

Go about 2 hours and 18 minutes in to the Zoom recordings below to find Penny's teaching of Tetaru Lachem

Speaker View
Gallery View

Three weeks ago we had an unbelievable celebration of our zoom anniversary. Yay team 😁😁


Go about 30 minutes in to find Ariane's teaching of Ilai Szpiezacks's Lecha Dodi. Speaker View Gallery View


Ilai


Sarah


Rina W.


Nina







Personals/Shout Outs
Thanks to Eline for doing an outstanding job of representing Cleveland last week!

Thanks to Penny for teaching Tetaru Lachem (on short notice)

Big thanks to Ariane and Sarah for teaming up for Echad


Congrats to Orly for kicking butt in Episode 3 of La Mona Myr's Riku meshuGAME.
Episode 3 Speaker View
Episode 3 Gallery View










Mayla


Stuart


Ilan


Chicago Israeli Dancing - Virtual (Local)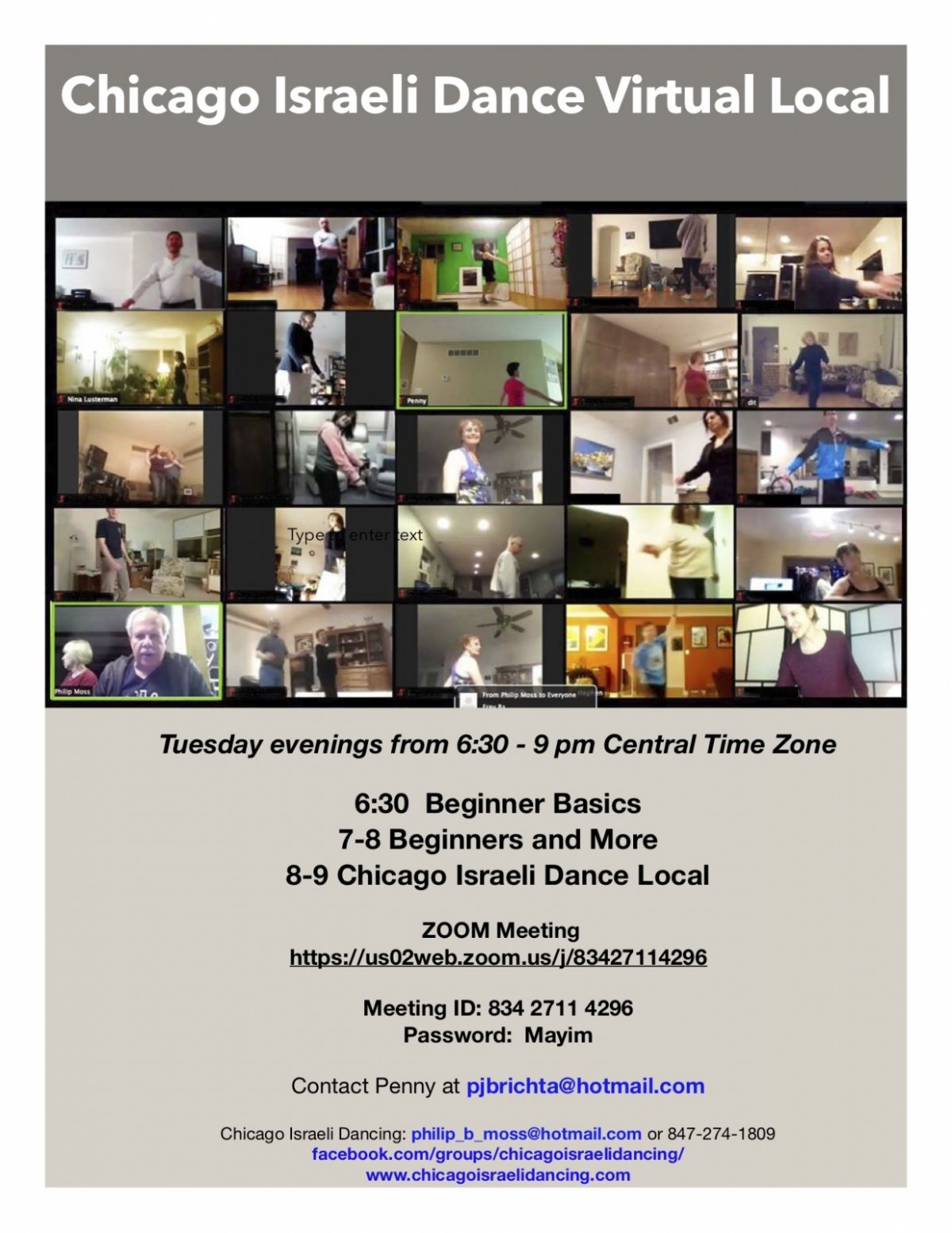 The Tuesday night session under the leadership of Penny Brichta has expanded to 3 segments. Starting at 6:30, Penny teaches Beginner Basics, aimed at newer dancers and those who want more instruction. The goal is for dancers to more easily transition to Beginners and More which runs from 7-8. During Beginners and More, Penny teaches as well as calls steps from dances previously introduced in the session. From 8 until 9, the Chicago Virtual Local Team takes over with one teach of a more advanced dance followed by dancing led by the local team.
Link for all sessions:
Join Zoom Meeting
Meeting ID: 834 2711 4296
Passcode: Mayim
Thanks!
Penny
Please spread the word!

Publicizing Your Israeli Dance Events on chicagoisraelidancing.com
Hey fellow dance organizers, if you would like me to publicize your Israeli dance events on my website, it would be my pleasure. Send me a jpg and the details. Milwaukee, St. Louis, Indianapolis, etc? Go for it!
As an example, in the adverts section too, this just in from the Twin Cities:
Israeli dance Zoom session with Shira Schwartz, from the Twin Cities, Minnesota. We dance on Sundays from 6:00 - 8:30 Central. All are welcome!
Shira will teach/review one or two dances for the first half hour. Then, starting about 6:30, we just play the music and dance till the end.
Here is the link
:
zoom link
Meeting ID: 831 0590 8998 Passcode: MNRoked
We also have a partners session on Saturdays from 5:30 - 6:45 Central. Here is the link for that session:
zoom link
Meeting ID: 827 0817 0860 Passcode: MNZugot
Look for new updates from Cleveland and Denver too.
And please check out this link to the
Adverts section
on chicagoisraelidancing.com Aura Levin Lipski has a new place for you to post information about your business.


Report on La Mona Myr's Riku meshuGAME Episode 3
Congratulations to La Mona Myr and Orly on a hysterical Episode 3. The official results are in. Orly kicked butt and has qualified to return for the Challenge of the Champions (whenever that happens)!!! 😁👍😁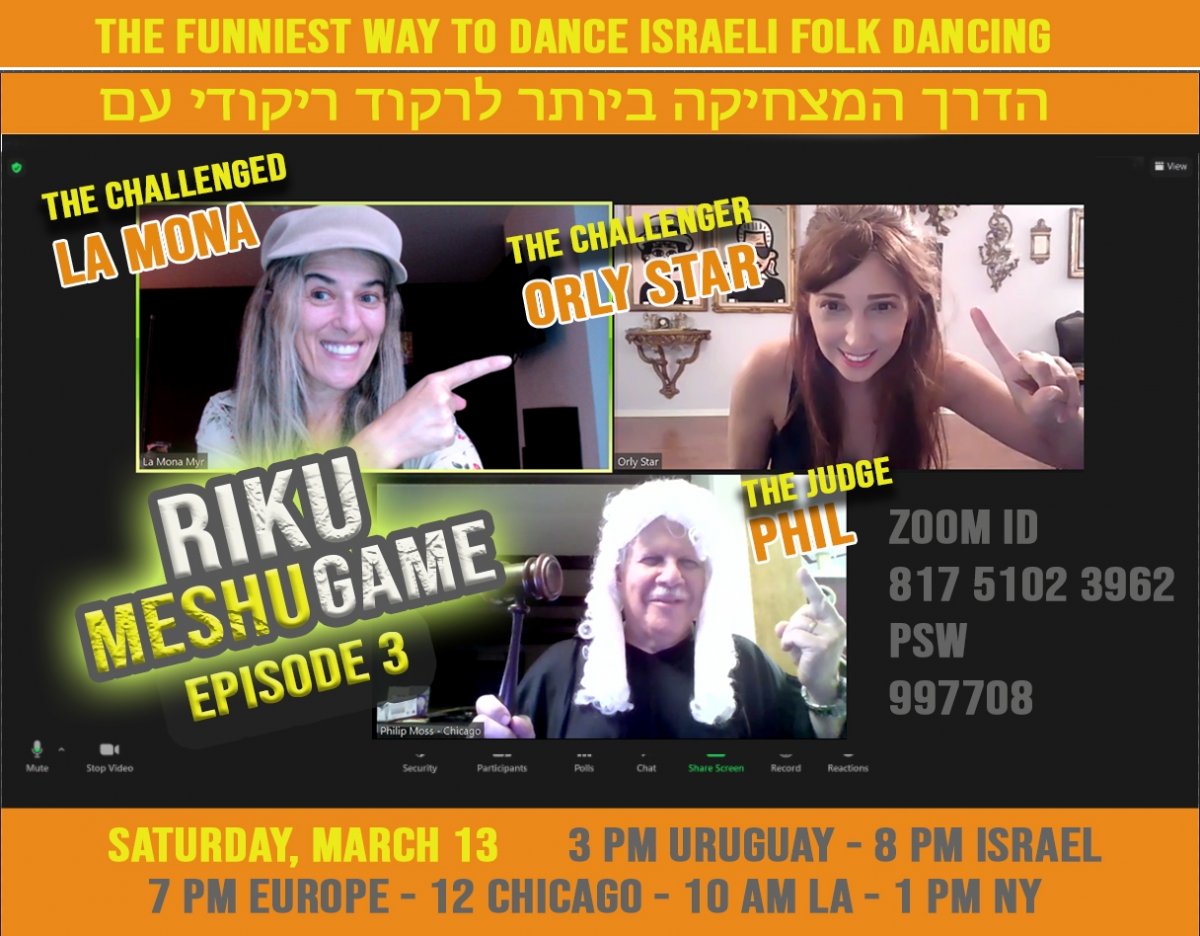 May 1, 2021 - Kochavim and Yad Beyad Zoom Camp

MURRAY SPIEGEL'S 300 WAYS TO ASK THE FOUR QUESTIONS
Posting this on behalf of my good friends, Murray and
Randi Levine Spiegel. I am very happy to help out.
I got a Passover book in December and was completely blown away by it. This is so cool! 300 Ways to Ask the Four Questions is beautiful, whimsical, educational and enhances every seder. It's loved and used by seder attendees of all ages. It's also an ideal gift for friends and relatives for their own seders.
You may know Murray Spiegel from various folkdance events. He's extending a special discount to us, only until a week after Passover ends. I urge you to GET THIS BOOK.
It has 4 Questions translations from contributors worldwide - every language you've heard of, and more! It's the most multicultural book that has ever been published. With ANCIENT (Egyptian from Exodus time,) MODERN languages (Zulu, Judeo-Iraqi, Ladino) and FUN PARODIES (Valley Girl, Klingon) you can't go wrong.
This discount won't be available much longer; get it now.
Thank you thank you thank you!