[To be read with a New Jersey accent]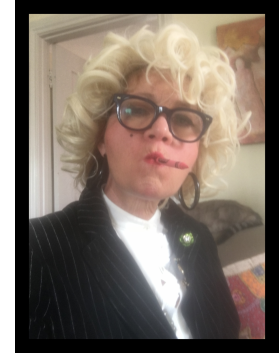 Dear Creative Kid,
Greetin's.
This is your Muse Mutha, Blanche, just in time for Muthar's Day.
Mom's day can be a mixed bag ... and I'm kinda a mixed bag too, so I thought I'd chime in because chimin' sounds like charmin' and I'm also that too on a decent day.
Mixed feelin's can run rampant around the house like kids with snotty noses, climbing walls, screamin' with painfully high pitches, throwin' tantrums after eatin' too many bowls of Cocoa Puffs.
Emotions may be spillin' over the edges related to the whole mom concept; some emotions accessorized in sweet memories… some pulling at your heart like a heavy sack of sadness. Maybe even some growlin' like a sloberrin' dog runnin' up and down the fence to his yard. Those are normal feelin's; you are not alone, sweethart. There's a whole slew of peoples feelin' the same way, but Hallmark doesn't fashion dye-cut, glittery cards for them.
I just want to tell you, dawlface, that you have been doing a frickin' aMAZing job hangin' in there with this pandemoniademic. It's been a hell of a year or so, but no matter what you think, (because I know you sometimes have a hard time acknowledgin' yourself), you are crushin' it, and that's what I knows.
These are not easy times, and if you are still showin' up for at least an eighth of what you think you should, you are remarkable and a credit to your species. If that's hard to accept, accept just a little teensy tiny bit of it. Or cawl me and I'll say it right in your ear.
You may feel burnt out, overwhelmed, a little crazy doing the same things over and over and over and over, or disenchanted with life right now. Or you may be hula-hoopin' around your living room … I don't care. Either way, for Mutha's Day, be tender with yourself for spell. Even if it's just for five minutes, even if you have kids, especially if you don't. Slap your body down on Mother Earth and hug her.
Whatever feelin's you got-- invite them in and give them plenty of space -- even if they may be compromisin' your enjoyment of the roses bloomin' in your backyard or the way you glow when you occasionally remember who you are. Givin' them space settles them down like a kid nappin' with his bunny and blanket. Oh yeah, and breathe.
What's this got to do with creativity? A plethora, that's what ... (excuse my spittin' when I said "plethora"). When we feel nurtured, we want to create. So let that be your rationalization to:
Give yourself $20 and let yourself spend it however you like, no questions asked - have a sandwich from the deli delivered

Sit under a tree and look up at the sky with no demands on yourself for 10 full minutes. Set a timer and STAY.

Bathe yourself in a fresh spring breeze for 5 seconds longer than you usually do.

When you go to sleep tonight, sink into the comfort and safety of your sheets and let your cinematic subconscious, filled with all them images, sensations, and universal associations, treat you to dreams where you feel so much love the next day you are convinced you are enough, just the way you are.

Because, dawlface, you are.