For over 17 years our newsletter has gone to more than 50,000 Firearms
Collectors,
Enthusiasts, Historians and Professionals Worldwide. We now reprint o
ver 6500 Vintage Gun Catalogs, Books and Manuals from the 1840s to the 2000s
Back issues: you can view the newsletter on our website. For a downloadable copy of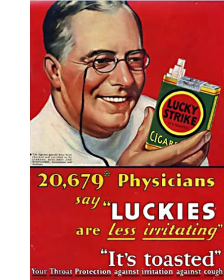 our catalog of reprints or manuals this will take you there. Also, we have Interesting downloads at our website. Please forward this letter to your friends.





Most Internet Browsers – Firefox, Edge, Opera etc – have decided to truncate, or cut off, the bottoms of long emails. There is a tiny note at the bottom allowing you to retrieve the rest of the email. Rob and Abby

____________________________________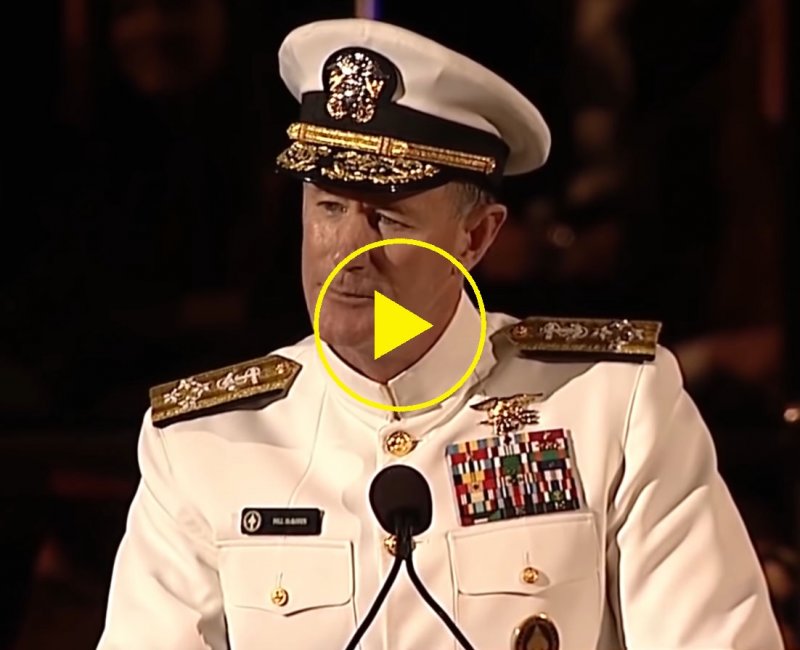 Fire Up the Barbie...
Ford Motor Company sold more than one million Ford Model Ts in 1919. Each one used 100 board feet of wood for parts such as frame, dashboard, steering wheel and wheels.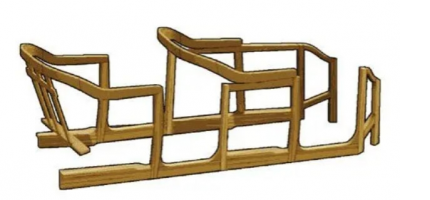 Because of the amount of wood used, Henry Ford decided to produce his own supply. He enlisted the help of Edward G. Kingsford, a real estate agent in Michigan, to locate a supply of wood. Kingsford's wife was a cousin of Ford.[2] In the early 1920s, Ford acquired large timberland in Iron Mountain, Michigan, and built a sawmill and parts plant in a neighboring area which became Kingsford, Michigan. The mill and plants produced sufficient parts for the car, but generated waste such as stumps, branches and sawdust. Ford suggested that all wood scraps be processed into charcoal.
A University of Oregon chemist, Orin Stafford, had invented a method for making pillow-shaped lumps of fuel from sawdust and mill waste combined with tar and bound together with cornstarch. He called the lumps "charcoal briquettes." Thomas Edison designed the briquette factory adjacent to the sawmill, and Kingsford ran it. It was a model of efficiency, producing 610 lb (280 kg) of briquettes for every ton of scrap wood. The product was sold only through Ford dealerships. Ford named the new business Ford Charcoal and dubbed the charcoal blocks "briquets". At the beginning, the charcoal was sold to meat and fish smokehouses, but demand exceeded supply.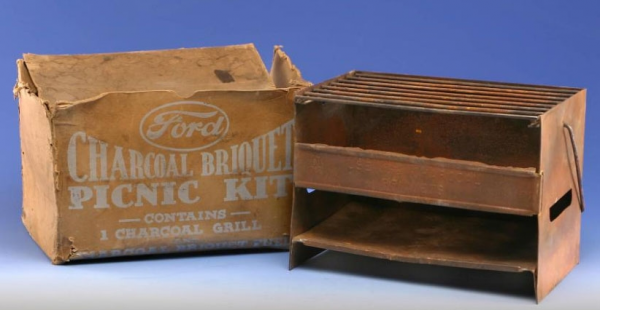 By the mid-1930s, Ford was marketing "Picnic Kits" containing charcoal and portable grills at Ford dealerships, capitalizing on the link between motoring and outdoor adventure that his own Vagabond travels popularized. "Enjoy a modern picnic," the package suggested. "Sizzling broiled meats, steaming coffee, toasted sandwiches." It wasn't until after World War II that backyard barbecuing took off, thanks to suburban migration, the invention of the Weber grill and the marketing efforts. An in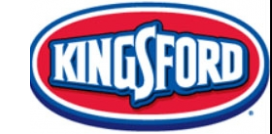 vestment group bought Ford Charcoal in 1951 and renamed it to Kingsford Charcoal in honor of Edward G. Kingsford (and the factory's home-base name) and took over the operations. The plant was later acquired by Clorox in 1973.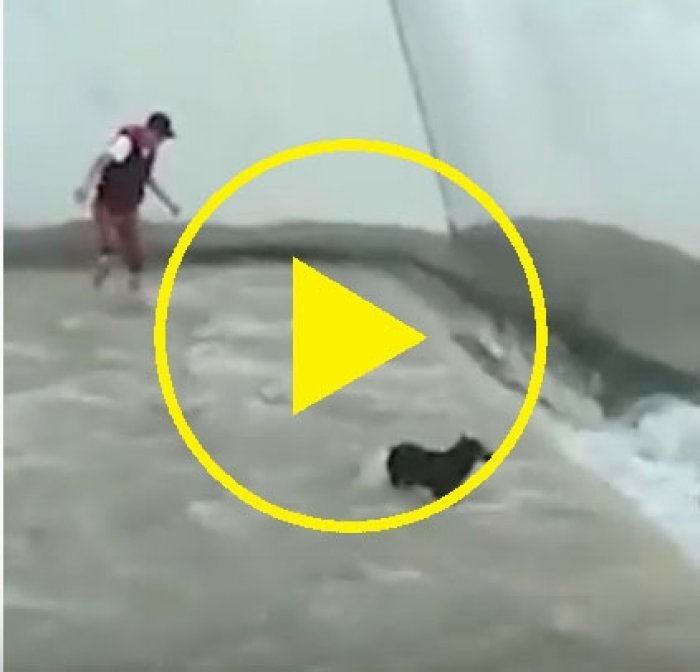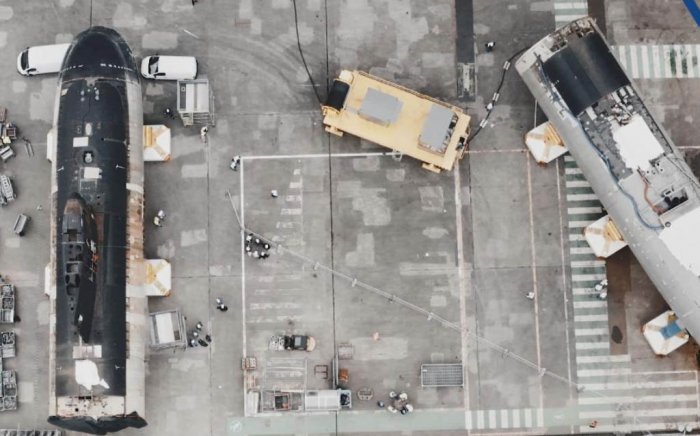 ______________________________

Civics 101

Note: This isn't intended as a lecture, the copy here is only background to explain the relationship of the maps to our governmental structure. The fact that the maps have blue and red in them is not meant to indicate the politics of any region, they are only colors.
Established by Article I of the Constitution, the Legislative Branch consists of the House of Representatives and the Senate, which together form the United States Congress.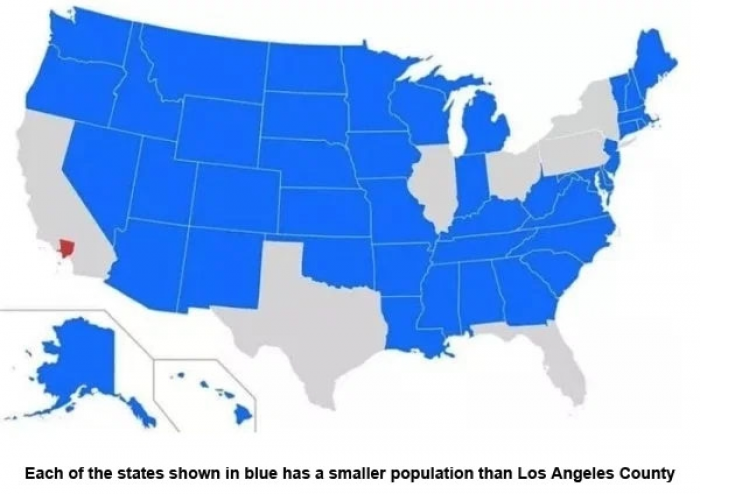 The House of Representatives is made up of 435 elected members, divided among the 50 states in proportion to their total population. In addition, there are 6 non-voting members, representing the District of Columbia, the Commonwealth of Puerto Rico, and four other territories of the United States: American Samoa, Guam, the U.S. Virgin Islands, and the Commonwealth of Northern Mariana Islands. The presiding officer of the chamber is the Speaker of the House, elected by the Representatives. He or she is third in the line of succession to the Presidency.
The Senate is composed of 100 Senators, 2 for each state. Until the ratification of the 17th Amendment in 1913, Senators were chosen by state legislatures, not by popular vote. Since then, they have been elected to six-year terms by the people of each state. Senators' terms are staggered so that about one-third of the Senate is up for reelection every two years. Senators must be 30 years of age, U.S. citizens for at least nine years, and residents of the state they represent.
This balance is necessary because regional political differences vary and if we were to rely entirely on population to legislate (the House of Representatives) then large areas of the country with smaller populations would not have an equal voice with denser populated areas, the Senate equalizes this disparity. The two maps vividly illustrate the need for two chambers of our Congress
_____________________________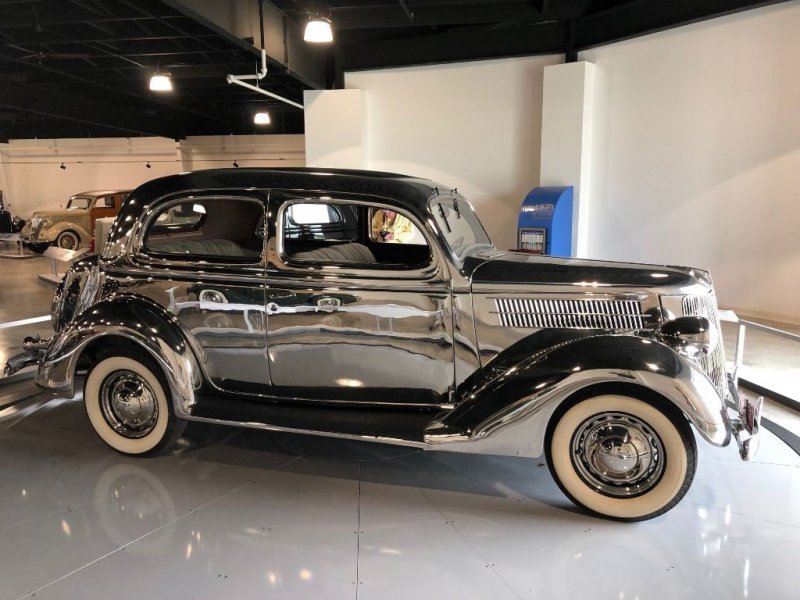 I Read it in the Papers...
"A well regulated Militia, being necessary to the security of a free State, the right of the people to keep and bear Arms, shall not be infringed."
— Second Amendment to the U.S. Constitution.



Is the second amendment a right granted to a state militia group or an individual to bear
arms? This question has been litigated repeatedly and the opinion has changed over the years. Most recently in 1939 and again in 2008 the Supreme Court has ruled on the issue. It would seem to us, with a conservative court today, the current opinion will not change. But then...

...So, the Supreme Court, with only the brief of the federal government in hand and only federal prosecutors present at oral argument, unanimously ruled in 1939 that the statute was constitutional because the Second Amendment protected only the collective rights of state militias to keep and bear arms — not the rights of individual persons to do so...

...Then in a landmark 2008 decision, written by the late Justice Antonin Scalia, the court reversed the Miller case. Scalia wrote that the right protected by the Second Amendment is the ancient personal right to self-defense. Just as you have the right to punch someone in the nose who has punched you or is about to do so, you have the right, the court ruled, to protect yourself and your home using the same means as your potential attackers.

... now we have the Biden era and possibly another appearance of the Second Amendment before the Supreme Court. Do you think the conservative court will uphold the Scalia opinion or torpedo the right to bear arms?


Another question to ponder is whether the groups below constitute a "well regulated Militia" or individuals carrying weapons under the Second Amendment, or dangerous anarchists? These are perilous times and our opinions matter. Contact your congressional representatives and let them know where you stand!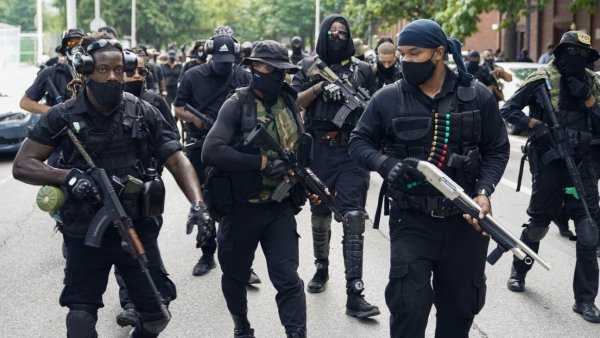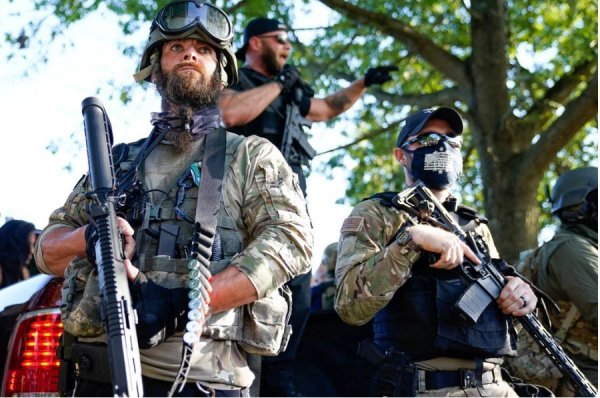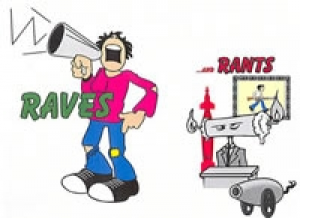 Godfrey, Chas. J. 1906-7 Catalog (New York)I bougt this book off you because you claiomed it has in it information about the little Wonder shotgun but you lied about it has nothing about about information of who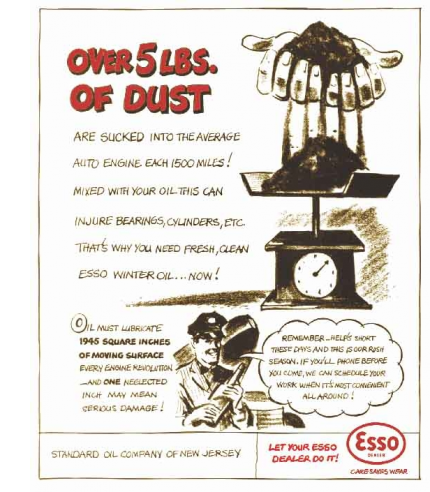 made it or a picture of the action lock. The picture isn't right either because the books says it looks like the gun they sell, garbage from you I want a refund and I'm going to report you to the authorites and board members who trust me but not you. I may do that anyway because tyou sell suck garbage and it is unreadbly too. Jason Boatright
Do I detect some anguish in your note? Given how distressed you seem to be about the reprint you bought I'll ignore your threats and ask Abby to refund your purchase price. In defense of your complaints, let me explain that all Abby did was copy the contents of the catalog as they appear, she did not promise the information that has eluded you. Regarding your threats, they are unnecessary, we like happy customers. Best wishes, Rob
You know nothing and your "explaintion" is a lie like your hole business and cheating customers is what you do best. Have a good life because I won't buy from liers like you again ever- Jason Boatright
Oh wow, too much caffeine methinks? Rob
************************************************


Air Guns of the World (NY, NY) 1939 Catalog- Like the picture listed, does the book show a parts blow up pictures of the Benjamin 3100 rifle?

No, it doesn't. After a little digging, I think it is possible the 3100 was introduced after 1950 based on the 1939 catalog not listing it, there is a nice engineering drawing of the 310 in the following catalog however: Benjamin Air Rifles 1946 Catalog Rob
************************************************
Savage c1916 Arms Company No. 60 Catalog- Hello Abbey, does this contain the pic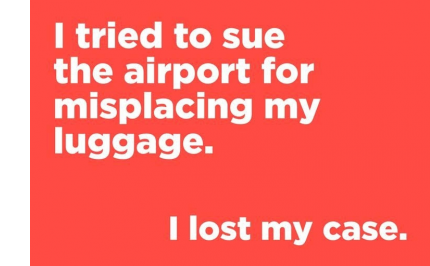 ture of a tiger taken by rev. Caldwell with .22 Hi-power? Thanks! Clair



Hi Clair, No, the images are strictly parts and gun pictures. Cheers, Rob for cornellpubs


************************************************
French FSA 49/56 MAS Semi-Auto Rifle & MAPX1 806 - French Model FSA M1949 & 1949/56 7.5mm MAS Semi Auto Rifle - What is the difference (information wise) between the two versions of this booklet? thanks DazinYuma



Sorry, I'm not an expert on these guns and I haven't read them. Please check the index with each item. Rob


************************************************

Greetings, I just purchased the Marbles Arms 1910 Catalog thru Ebay. I will leave a positive Ebay feedback as I do with all sellers even if I'm dissatisfied. So that being said I will feedback to you what a disappointment the readability and clarity of the images and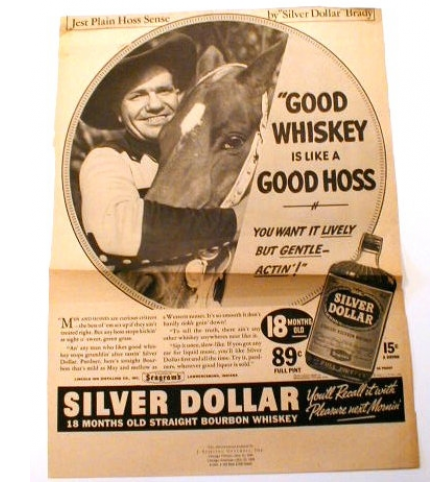 type. Images nearly blacked out and grainy, printing too dark thus lacking detail in the illustrations. I will not order your reprint catalogs again. Roger Loupias



Roger, We reprint over 6000 different old firearms catalogs. Naturally the "quality" of each varies with the condition and type of donor was used by us to make the reproduction. Some are lousy others are as good as new.





Our purpose is to preserve the information in these old catalogs for enthusiasts and future generations before the originals and older reproductions are all gone, but we do try to indicate in the description if we feel one isn't great. This copy states it is from a photocopy. We also show an image of an inside page to help indicate quality. I'm sorry you didn't like the Marbles, a few of the old Marbles came from older photocopies. But we do offer refunds. Please let me know if you would like a refund (you can keep the copy we sent you, we don't stock anything, we print to order). Cheers, Rob


************************************************
Garate Trocaola & Lemes Inc, Firearms c1920 (New York & Spain)- Hi, Might you have a Garate Anitua y cia catalogue ? With Thanks, Gaston



I'm sorry, no, we don't have that. Rob for cornellpubs



That would be a surprise, since you do seem to have them all ! Thanks for the response Gaston
************************************************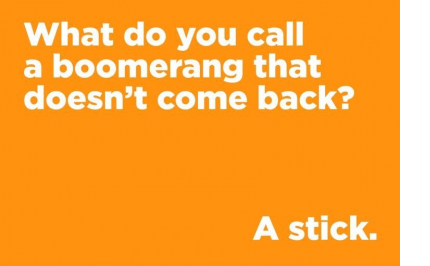 cornellpubs: Hi Mike, I never processed your order, so thanks for letting us know. It looks like the print slip got stuck to the one above it and, poof, it was gone. I am very sorry so Abby is refunding your money and I'll print your copy with the next shipment on Monday, we'll send it Priority for free. Again I am sorry, completely my fault. Cheers, Rob

fin-addict-2-na: No need for a refund I would definitely like the 1905 or maybe even the 1900 which ever one I get I will definitely be looking forward to it and your money is assured I most definitely need one or the other even though I've been trying them rich and have a file from them I cannot open it because I do not have a computer Please let me know when it's on Its Way, Mike Boyer retired United States Navy !



cornellpubs: Hi Mike, thanks for the offer to pay for the catalogs we sent you too late but, no, we are fine and that deal is all set. Again, I am sorry we lost your order. Regarding other things we offer that are not on ebay, we can't add any more to ebay right now so the website cornellpubs is the only place for you to go. Cheers, Rob



fin-addict-2-na: Don't know if you're home yet but if you are? I tried to go on their website , to no avail I would like to order another book on those sheets that you had stapled together the last Page it said Marlin 1893 I think it said 24 pages? If you could find this and put it on eBay send me the heading it's under I'll buy it form you 😎 if not I'll figure out how to do it myself thanks for your help and the books they did help some. Mike

fin-addict-2-na: Thanks Rob after close inspection on the paper it wasn't an 1893 it was a 1993 Marlin and I have no need for that thanks for all that you do have a safe year 😎
fin-addict-2-na: Hi Me Again,just noticing that you have a Marlin 1893 B I have a 1893 serial number B693 in 30-30 ! Hope this helps in your decision on which to make 🤔Mike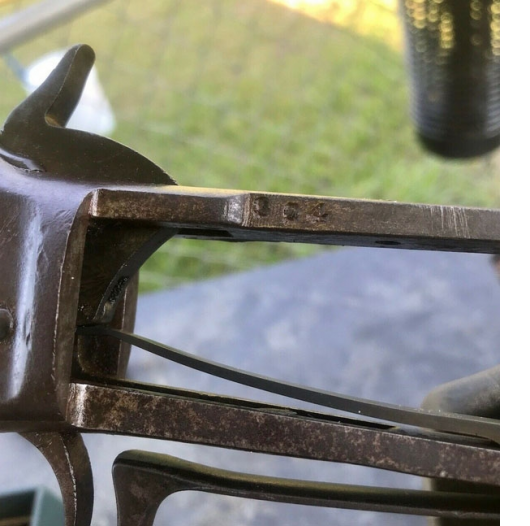 cornellpubs: Mike, I'm not sure what you are asking here. When you say "make" are you asking about printing a particular catalog we offer? Rob

fin-addict-2-na: OK guys I realize that your agents for Colonel publishing I was just telling you what kind of rifle I have one of so many. If you come across something in your travels through all these items that you think might cover my 1893 marlin please drop me a line! Mike



cornellpubs: Mike, actually, we are Cornell Publications, it is our company. So, everything you see is always available, we print to order. We only sell some of the things we offer on ebay. Rob



fin-addict-2-na: Very interesting Rob! Not trying to go around you and not knowing you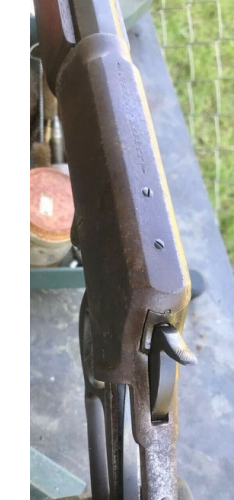 are Cornell publishing I tried to order on your website last night 175 page Book that might help me find the serial numbers and more stuff on how to work on my 1993. I hit pay by PayPal went to the PayPal website signed in and from there on I was confused because it did not have the book that I have ordered and I didn't know how to get it so I signed out of PayPal and that's where I'm at 🤔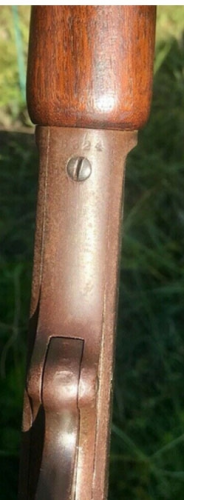 Marlin 1897 Fire Arms Big Catalog - fin-addict-2-na: Hi Rob, it's me I found one of the catalogs I would like to have marlin 1897 firearms big catalog and if you have a manual for a marlin 1893 and or a marlin 1893B I would love that also looking forward To hearing from you at your convenience 😉 Mike



Mike, You may order the 1897 Marlin catalog online at ebay if you wish. I should mention a couple of things. I don't believe Marlin ever manufactured a model 1893"B" because I can't find one in any of the early catalogs. Also, I don't think the "B693" is a serial number, a serial number should be higher, at least, I cannot find a Marlin serial number that matches anything that low.





Ebay is not the place to have this conversation because I am not allowed to give any any references at all outside ebay, so I can't help you on ebay any further. A telephone call is also not a good idea when we are this busy, we just don't have time to chat this time of year. Now, I better get to work catching up with orders that backed up over the time we were away. Cheers, Rob



Hey Rob, here are a few pictures of the serial numbers! And they did make a 1893B but it was for a black powder and it said so on the barrel it cost less
************************************************
I have a 30" full choke 12ga barrel with no name on it! Can You tell me about what manufacture made it? It came with a 500 Mossberg 12ga. But Mossberg does not have a shotgun with a 30" barrel. Gary Arney



Gary, Offhand, I'm sorry, I don't know who made the barrel. Best, Abby


************************************************
Hi, Abby... My first air rifle was a Sheridan Blue Streak back in the 1970s. While I still have the rifle, it's great to have the Sheridan Nov. 1970 Blue Streak and Silver Streak Air Gun Manual (quality copy) by you folks! Just wanted to say thanks and keep up the good work! Best regards... ...James
************************************************
baggy2700: How come you won't ship this to me up in Canada?

We've stopped shipping outside the US only through our ebay store due to the lousy mail service on both sides. Delivery was taking way too long so people asked for, and got, their money back, so we were out of pocket. Rob for cornellpubs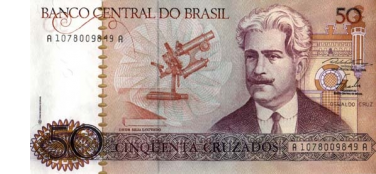 baggy2700: That's too bad and I know what you are talking about. I ordered a couple of books that I got refunds for and they eventually came. I sent checks off to the businesses however after getting them as I'm one of the honest people. Dave
************************************************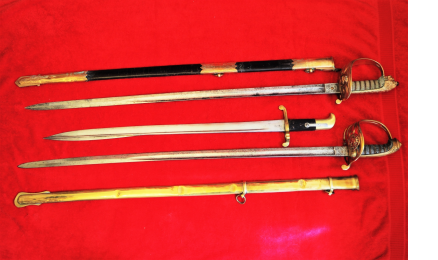 Hi Peter, These are the photos I have of Harry's edged weapons we asked about in the May Newsletter. Harry went to a great deal of difficulty to get a friend to come to his place and the two of them spend an entire day coming up with this lot. I am afraid they are not exactly magazine quality and they lack some of the detail I asked for but this is what I have. Thanks so much for taking a look, I really appreciate your time.
Cheers, Rob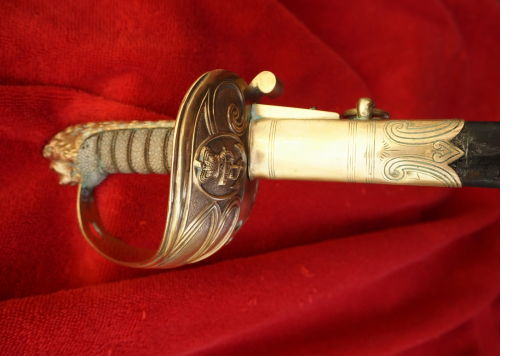 Hello Rob, Thanks for these - they are of some help. The naval sword is obviously Victorian from the nature of the crown in the cartouche - the blade is rather stained unfortunately but considering the environment in which it was used, not surprising perhaps. Unusually it has a catch to retain it in the scabbard. Overall in fairly good condition and certainly collectable.

The infantry sword (brass scabbard) looks to be the 1822 pattern for officers of generals rank and staff officers, denoted by the crossed swords in the cartouche - these are quite rare in comparison with the standard i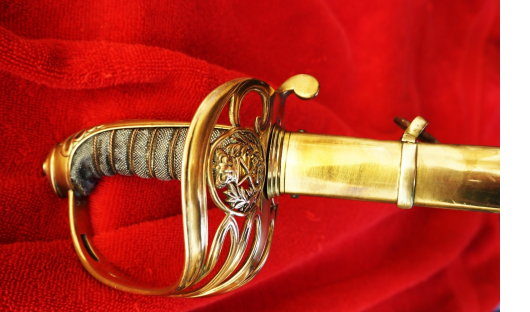 nfantry officer's swords. The scabbard is damaged - possibly in service or possibly from being played with by children, but note the unusual downturn of the suspension rings - desirable despite the damage!

The inset brass disc on both blades is often referred to as a 'proof mark' and usually had the maker's or retailer's name or initials but I am unable to make anything out.

The bayonet you show lower down the page is the distinctive brass-hilted bayonet for the Lancaster oval-bore rifle issued to the 'Sappers and Miners' (later Royal Engineers) in 1855. These bayonets were later re-issued as 'side arns' for the Royal Army Medical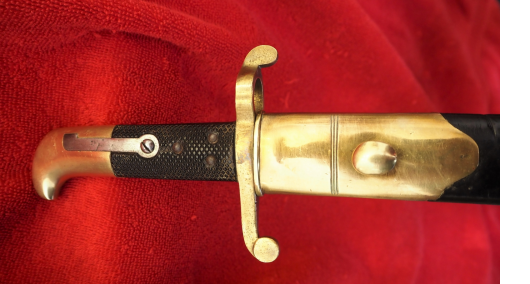 Corps (RAMC). From closer examination it appears to be in very good condition although no regimental markings that I can see so may have remained in store!

I'm afraid I have no idea of values but hope this may be of some help. In addition to Cowans, it might be worth asking Tim Prince in Texas - he deals a lot in English and European arms. best wishes, Peter; Dr. Peter G. Smithurst,Curator Emeritus, Royal Armouries



Peter, Thank you so much for your help with Harry's collection I am certain your comments will be a great help, it was very kind of you. Your suggestion of speaking to Tim Prince is a great help and I'll pass that along today. If we can ever help you with your research please let me know. Cheers, Rob



Hello Rob, Happy to help - not much use having what may be knowledge if it is not shared! My particular interest is arms manufacture, especially the Enfield rifle of 1853 (which is what I got my PhD for) and of course US technology - Ames & Robbins & Lawrence - features largely in that process. I realise you do not deal in artefacts but I am on the lookout for an Enfield 1853 bayonet made in America (has an 'A' stamped on the blade by the inspector based in the US) - if you should ever encounter one available I would be grateful to hear of it. I have most things written about arms manufacture, plus what we have in Royal Armouries' collection, so am well catered for in that direction! best wishes, Peter; Dr. Peter G. Smithurst,Curator Emeritus, Royal Armouries;
************************************************
Ref: Hibbard, Spencer, Bartlett & Co. 1884 Gun Catalog (Chicago) jwo16: There is another 1884 hsp catalog for sale with 196 pages, why is yours so many fewer? I know they are both reproductions, but I would think they would be the same number of pages. Can you explain? Thanks, Bill.



Bill, Not really, I haven't seen the others. I found a B&W-cover one for $45 on ebay claiming 166 pages but not the one you mention. My guess is that HBS was pretty much like Sears and ours is the the firearms and related catalog not the entire catalog. Printing very large books is expensive and the postage is huge so given our firearms specialty we prefer the shorter version. Ours has an index, does the other have one? Rob for cornellpubs


************************************************
Webley & Scott c1922 Manual New Service Revolver Mark IV .38 cal. Significant Errors With Images In Manual - Good evening Abby, I was comparing the images in that Webley & Scott c1922 Manual New Service Revolver Mark IV .38 cal. (which I had purchased from you), with my Webley Mk. IV revolver, and I immediately noticed that the images on pages 5, 7 and 11 are not images of a Webley Mk IV .38 revolver. Instead, those images on pages 5, 7 and 11 are of an Enfield No. 2 .38 revolver.

The key indications are: 1) Enfield No. 2 revolvers have a removable side plate to access the lockwork on the left frame side, and 2) the trigger guard is an integral part of the frame forging. Whereas; Webley Mk IV .38 revolvers do not have a frame side plate and the trigger guard is removable from the frame with 2 screws holding it in place. I would suggest that you look closely at the photo images that are widely available for both Webley Mk IV .38 revolvers and Enfield No. 2 .38 revolvers, (with attention to the left frame side and trigger guard), and you will see the differences and also confirm that the errors in that re-print manual are real.

Needless to say, I was somewhat shocked by seeing such an error contained in your reproduction manual, since your products are usually well researched and accurate before they are re-printed. I would recommend that you do not sell any more of that re-print manual until the images are corrected. In the mean time, I will be ordering the only literature you seem to have for my 1950's vintage Webley Mk IV .38 Revolver, which is your Webley 1956 Mark IV .38/.32/.22 Revolver Maintenance Instructions. Sincerly, Kenneth Lolos



Hello Kenneth, Webley had 4 different versions of the MK IV frame. When designing their .38, Enfield copied the illustration that Webley used in their 1922 catalog. Enfield lost the subsequent lawsuit over their imprudent use of the design. Best wishes, Abby




At the end of the First World War, the British military decided that the .455 calibre gun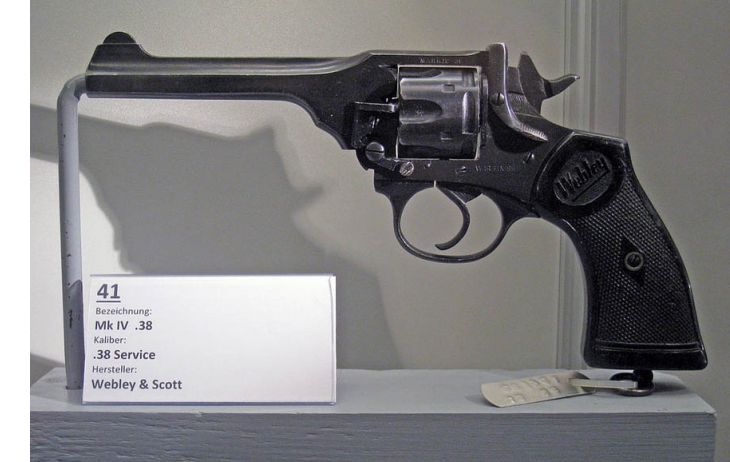 and cartridge was too large for modern military use and, after numerous tests and extensive trials, that a pistol in .38 calibre firing a 200-grain (13 g) bullet would be just as effective as the .455 for stopping an enemy.

Webley & Scott immediately tendered the .38/200 calibre Webley Mk IV revolver, which as well as being nearly identical in appearance to the .455 calibre Mk VI revolver (albeit scaled down for the smaller cartridge), was based on their .38 calibre Webley Mk III pistol, designed for the police and civilian markets.

Much to their surprise, the British Government took the design to the Royal Small Arms Factory at Enfield Lock, which came up with a revolver that was externally very similar looking to the .38/200 calibre Webley Mk IV, but was internally different enough that no parts from the Webley could be used in the Enfield and vice versa. [citation needed]
The Enfield-designed pistol was quickly accepted under the designation Pistol, Revolver, No. 2 Mk I, and was adopted in 1932, followed in 1938 by the Mk I (spurless hammer, double action only), and finally the Mk I (simplified for wartime production) in 1942.

(see the Wiki page link above to view the images associated with the story)



Webley & Scott sued the British Government over the incident, claiming £2250 as "costs involved in the research and design" of the revolver. This was contested by RSAF Enfield, which quite firmly stated that the Enfield No. 2 Mk I was designed by Captain Boys (the Assistant Superintendent of Design, later of Boys Anti-Tank Rifle fame) with assistance from Webley & Scott, and not the other way around. Accordingly, their claim was denied.

By way of compensation, the Royal Commission on Awards to Inventors eventually awarded Webley & Scott £1250 for their work. RSAF Enfield proved unable to manufacture enough No. 2 revolvers to meet the military's wartime demands, and as a result Webley's Mk IV was also widely used within the British Army in World War Two.
************************************************
Rob and Abby, Please keep up the outstanding printing of great catalogs and reprints. Excellent service and quality. Best regards, John Kissinger
************************************************
Good Afternoon. Do you have any of the parts list books for the Remington XM2010? I tried the search bar and found nothing but thought I would ask. Tom



No, I'm afraid not, try googling for TM 9-1005-438-13&P, Best Abby


************************************************
Hello. I recently received the information that you do not ship to my location (Estonia). However, I am writing with a enquiry, which I hope you will have time to read and maybe even respond to. I write because I have spent a lot of time looking for a catalogue from a certain period and I have found nothing (except a PDF of a Remington catalogue). I understand about the shipping, but now I enquire if you have anything digitized and if you would sell and then send a PDF (or any other format). If you don't have it or don't sell just please disregard my enquiry. I am organizing a series of historical (fictionally set in year 1876 in Black Hills, Dakota) events (friends and family) and therefore I am in need of a gun catalog from the period of 1870-1880 (preferably even 1873-1876). It would be best to have a catalog of a gun seller who has guns from different manufacturers etc. I can easily print it locally. I am a fan of history and do this as a hobby. I fully understand my request may be way too specific and I apologize if I have wasted too much of your time! Regards, Laur Kelder



Hello Laur, Please find attached the Great Western 1872 catalog. I hope that helps, Abby



Hello Abby! Wow! Thank you so much! Exactly what I was looking for! All the best! Laur


************************************************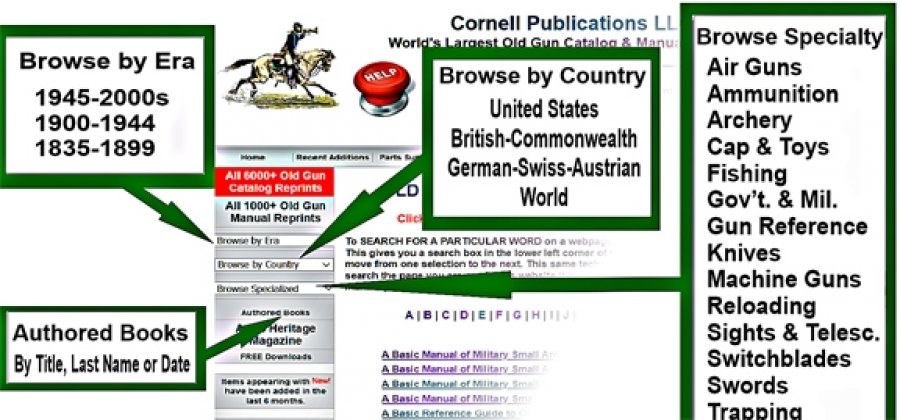 Cheers,
Rob and Abby
The End.