I just received an email from someone who wrote the salutation:
In light and health and grace,

Breathing in and out.

I appreciate how these words awaken softening, space inside my body, and more ease.
A couple hours ago, aware of the pending deadline for this newsletter, I sat down to write but I had no ideas. The distress of all the world events weighing upon me. Darting, distracted attention. What can I say that hasn't already been reported on, investigated, invested in, blown apart, argued about, insisted upon, pleaded for, remedied, flooded, burned, rescued, bought, sold; or made into an art project, political movement, and spiritual practice?
In light and health and grace,
The middle of my back aches.
My head shakes, belly quivers, skin shivers……….
Reaching for a topic I look up the word hope. I find the definitions hopeless. The primary meaning of hope must include the object of one's hopes. Objects annoy me—concrete and conceptual. Is it possible to hope without an object as one's reason for hoping?
Definitions of hope from a spiritual orientation include metaphors of light—rays of hope—and focus on the future of what could be.
Pausing….. tension-filled wrists hover above the keyboard… waiting…..breathing……finally wrists, lower arms, elbows, drop slowly with quiet inhaling….exhaling.
I refuse to hope for any return to an objectified memory of the past. I find grabbing for a vision of the future effortful.
In light and health and grace…………. Mind empties………………
A question arises: What happens if I am just hoping? Hoping now?
Taking the past and future out of hoping, I feel my eyes drop back in my head, softening, widening….moistening.
Breathing deepens, filling me more completely,

legs settle, lengthening.

Right now…………….

I am here, listening, wondering, hoping with

Light and health and grace.

We are nearing the end of summer, and August has been the most active month for MBR in 17 months. I am curious what MBR teachers and practitioners will be moving with this fall as they continue to offer classes, workshops, and healing sessions—in and out of the space. SAVE the SPACE MBR continues through the end of 2021. Open and ready to receive, I will send news of upcoming events in a separate email.
With light as you dance through darkness,
With health as you move through our world,
And grace to empower your hopes & dreams,
Mary Abrams
& Moving Body Resources
Special thanks to Dawn, for the inspiring salutation.
Weekly Classes &

Weekend Workshops ONLINE

MOVING BODY INNOVATIONS
via Zoom & In-person
Drop-in Classes:
Please email mary@movingbodyresources.com
Or Whatever you can contribute
mary@movingbodyresources.com
ALL ABOUT ATTENTION via Zoom
Fridays, Sept 10, 17, 24
Registration is Required--Please email
mary@movingbodyresources.com to register for class.
Limited to 5 people per class.
$55, $35 or whatever you can contribute
Private sessions with Mary in-person, online or via phone
are always an option.
Please email if you are interested.
Private Sessions with Lisa Clementi
grounded, balanced, whole, present, integrated and unstuck?

grief and loss, past trauma, uncertainty and destructive patterns

self-esteem, intuition, connection, spirituality, and transformation.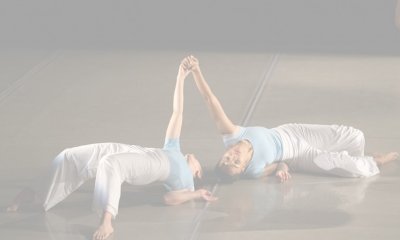 Offering Individual Dance/Movement Psychotherapy Sessions

The roots of dance as a healing practice are found deep within many cultures and have been throughout time. Dance/movement therapy, a relatively new healing practice is based on the idea that the mind, body and spirit are connected and uses movement to help integrate our social, emotional, cerebral, and physical selves to improve one's mental health for ultimate well-being and living to one's greatest potential. Learn more at www.ADTA.org
Through one-on-one sessions and tailored to your needs, dance/movement therapy guides you through an exploration of movement and verbal processing for a deeper awareness of your life journey and experiences unique to you according to your own rhythm and pacing.
Lisa Clementi, MS, BC-DMT, LCAT

In-Person SPACE RENTAL

&

VIRTUAL OFFICE RENTAL!

For all Teachers & Practitioners:
Our spaces remain safe and clean for you to work in.
We aim to support all professionals who work for the health, well-being, and safety of their clients and students.
If you are still teaching and seeing clients remotely,

and

tired of working from home, we offer high-speed internet, our spaces can also be rented for work via the internet.
MBR has wonderful spaces for teaching
and healing arts of all kinds.


NEW OFFERING
VIRTUAL OFFICE RENTAL!
Working from home yet need a separate address
for billing or other needs?
$100/month Virtual Office Space rental with MBR is now available! Call for details and added benefits.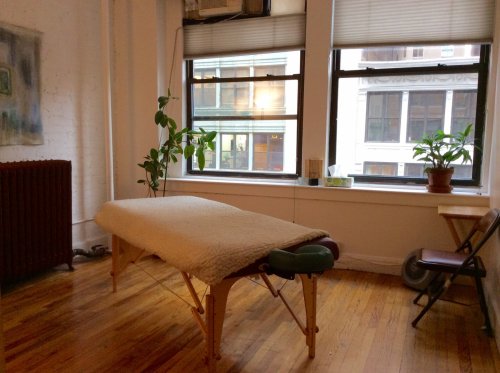 MBR has 3 office spaces and 2 group spaces available by the hour and the day. Any space can be rented for one time, one hour, a few hours, a full day, an entire weekend, or for ongoing classes.
Our 3 offices are ideal for a variety of private practice sessions.
Our 2 group studios -- 400 sq. ft. Small Studio and 1300 sq. ft. Large Studio -- are great for classes, workshops, and other group events.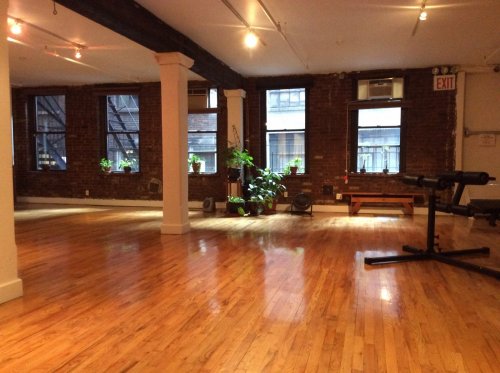 Office rates begin at $37 / hour through 2021.
SAVE the SPACE MBR!

ALL YOU CAN still DO!

DONATE to receive a THANK YOU GIFT

private sessions, classes,
and more,
see below!
Donate now at GoFundMe.com

RENT SPACE to use in-person

or occupy from a distance—see below!
Click to donate:

Moving Body Salon on Zoom
to support SAVE the SPACE MBR
We've had a long reprieve and the autumn is calling us to SALON!

Get your snacks and beverages lined up. Before you know it from the comfort of your own abode you will be moved, challenged, and inspired by artists/performers at the next Moving Body Salon LIVE on Zoom, in October & December.

Donate now to receive your Salon Zoom Link!

112 West 27th Street. Suite 402.
New York, NY 10001.
(Between 6th and 7th Ave)
Phone: (212) 206-7542
services@movingbodyresources.com