Finally, the shorter days are giving
us
just a little break from the intensity
of the late summer heat wave we have been having. Some got rain (though
not at my house) this past week which also helped. With football season underway and gardens looking like they are finishing up, the feeling of approaching fall is certainly underway.
This week's news features the latest news release from the Unsigned Only Music Competition announcing their 2021 winners. I personally know two
of the winners in the Blues category
and highly encourage you to look them
up and check out their tunes.
The registration for those wishing to compete in the Ozark Blues Society's 2021 Blues Challenge opened last week. Please follow our website for all the information on registration and as we share info about the competitors.
We continue to run articles for other ongoing events for your information, a
nd don't miss the live music calendar waaay down at the bottom. As always it is updated every week.
Always remember, this is YOUR newsletter! Please send
feedback or suggestions our way. You can reach me by email at the address below. We appreciate our readers and want
to see
your ideas included!
Registration Open!

Ozark Blues Society
2021 Blues Challenge
and Best Self-Produced CD competition

The Ozark Blues Society will be holding our regional Blues Challenge at The Meteor Guitar Gallery in Bentonville
on October 22, 2021 for blues acts wishing to gain entry to t
he International Blues Challenge in January 2022. We have also decided to offer access to the Blues Foundation's annual Best Self-Produced CD competition.

and check out the links under "2021 Blues Challenge" and "2021 Best Self-Produced CD" for information on both as well as the link to the Challenge Registration.
Registration opened on September 1st, and run through October 8th for the challenge. Submission for Best Self-Produced CD ends October 1st.
As in past years, at least one musician from each act registering for either competition must be an active member
of Ozark Blues Society. Please
remember to complete your membership application at least one day before
you wish to register for the Challenge
to allow for processing time.
To join, visit the "Member Signup" tab
Unsigned Only Music

Competition
2021 Winners

EMERGING TEEN TALENT SOPHIE PECORA WINS GRAND PRIZE IN UNSIGNED ONLY MUSIC COMPETITION
Judges Include: Chris Daughtry; Linda Perry; NLE Choppa, Aimee Mann, Ruthie Foster, Robert Smith (The Cure), Showtek; LoCash; and More
Nashville, TN, September 8, 2021 – The Unsigned Only Music Competition is pleased to announce its 2021 winners. It is with great pleasure that Unsigned Only bestows its highest honor, the overall Grand Prize, to the gifted 17-year-old singer-songwriter, rap-poet Sophie Pecora for the song "Anxiety." The Grand Prize winner is awarded a prize package totaling $50,000, including $20,000 in cash (US) and more in merchandise and services geared toward helping an artist's career.
Winners were selected by a judging panel comprised of high-profile industry experts and renowned recording artists, including: Chris Daughtry (Daughtry); Aimee Mann; Sanctus Real; O.A.R.; Ruthie Foster; Robert Smith (The Cure); David Benoit; Linda Perry; NLE Choppa; Bibi Marin (Reik); The Devil Makes Three; Showtek; LoCash; and many more (see complete list below). Also on the judging panel were industry executives as well as music journalists from Rolling Stone, Guitar Player, JazzTimes, Yahoo Music, No Depression; Pandora; Blues Music Magazine; Austin Chronicle; and many more.
Established in 2012, Unsigned Only has become known as the leading music competition honoring international artists who are not signed to a major record label. It has become an important source for discovering new talent and acts as a benchmark for excellence in the arena of contemporary music. Selected from almost 10,000 entries from 120 countries, the winners share in over $150,000 in cash and prizes split among 38 winners.
"The word 'authentic' is too often thrown around, but in the case of this year's Grand Prize winner, Sophie Pecora, there is no denying that she is truly an authentic artist," say Candace Avery and Jim Morgan, the founders of Unsigned Only. "She isn't afraid to be vulnerable, express her emotions, and dig deep - and she is only 17 years old. She has such a bright future ahead of her."
Hailing from California, Pecora is a compelling singer-songwriter with a unique poetry-rap style of pop music. Her debut EP Raise the Bar was released at the end of 2020, and her recent EP Wildflower was released in August 2021. Sophie was a performer on Season 14 of America's Got Talent, winning the Golden Buzzer and receiving standing ovations for each song she performed. She is currently working on new material in the studio with the acclaimed will.i.am who discovered her on TikTok. When asked what her music is about, she says, "I turn feelings into art."
"I am so amazed! I wrote the song 'Anxiety' because I know a lot of people go through it, and hopefully, when they're listening to the song they'll feel like someone understands them," says Pecora. "Thank you to all the judges and to Unsigned Only for believing in me and my music. I'm so grateful, and I have many more songs to come."
Winning Unsigned Only is an honor that has seen many winners go on to achieve greater success. Since Unsigned Only's inception in 2012, five Grand Prize winners have been signed to record labels, including Country artist Ingrid Andress (Warner Nashville, nominated for three Grammys this year), emerging pop artist Faouzia (Atlantic Records, she released "Minefields," a duet with John Legend at the end of last year), and more.
The complete panel of judges includes:
Chris Daughtry (Daughtry); NLE Choppa; Aimee Mann; Robert Smith (The Cure); Sanctus Real; LoCash; Bow Wow; I Am They; Bibi Marin (Reik); Darryl McDaniels (Run DMC); David Benoit; Linda Perry; O.A.R.; Showtek; The Devil Makes Three; Janiva Magness; Ruthie Foster; Craig Campbell; Josh Baldwin; Vertical Worship; Rhett Walker; Victor Wainwright; Derek Brown (The Flaming Lips); Russ Landau; Christopher Lennertz; Zbigniew Preisner; Tinariwen; Anthony DeCurtis (Contributing Editor, Rolling Stone); Lyndsey Parker (Managing Editor, Yahoo Music); Christopher Scapelliti (Editor-In-Chief, Guitar Player); Kevin McNeese (President, NewReleaseToday); Jeff Zuchowski (VP, Artist Marketing/Industry Relations, Pandora); Damian Fanelli (Editor-In-Chief, Guitar World); John Dibiase (President, Jesus Freak Hideout); John Cameron (Editor-In-Chief, Selector); Angel Romero (Founder/Sr. Editor, World Music Central); Hilary Saunders (Managing Editor, No Depession); Art Tipaldi (Editor, Blues Music Magazine); Raoul Hernandez (Music Editor, Austin Chronicle); Brandon Chitwood (Founder/Writer, The EDM Scholar); Mac Randall (Editor, JazzTimes); Chad Jensen (Artist Manager, Jensen Artist Mgmt); Brinson Strickland (President, Collective Music Nashville); Evan Stein (Owner, Experience Music Group); Sheryl Louis (CSM Management); James Kempner (Owner, JMK Connections); Jennifer Taunton (Music Supervisor, Level Two Music); Leticia Ramirez (Sr. Latin Curator Programmer, Pandora); James Whitting (Partner, Paradigm Talent Agency); Alison Bonaguro (Freelance Country Music Journalist); Angela Stefano (Editor-In-Chief, The Boot); Gaston Leone (Talent Buyer, Goldenvoice); Mark Garfield (Co-Director, Pop-Up Music UK Ltd.); and Daryl Berg (VP, Music Strategies and Licensing Hallmark (Crown Media)

Unsigned Only is sponsored by A&F Drum Company, Celebrity Access, Disc Makers, Ernie Ball, Eventric, IK Multimedia, Lurssen Mastering, Merch Cat, Mojave Microphones, Orange Amps, The Music Business Registry, TuneCore, and Zildjian.

For more information and to enter, go to www.unsignedonly.com. To listen to the winning songs, go to: www.unsignedonly.com/winners.

The list of 2021 winners is as follows (see website for Honorable Mentions):

Grand Prize
Sophie Pecora (Danville, CA, USA) – "Anxiety"

AAA (Adult Album Alternative)
First Place: Notelle (Richmond, VA, USA) – "Sufjan Stevens"
Second Place: Teenage Joans (Adelaide, SA, Australia) – "Ice Cream"

Adult Contemporary (AC)
First Place: Hailey Belle (Santa Clarita, CA, USA) – "Right At The Wrong Time"
Second Place: Tayler Buono (Orlando, FL, USA) – "My Person"

Americana
First Place: Trent Beaver & The Damage (Molalla, OR, USA) – "Ramblin' Kinda Man"
Second Place: Templeton Thompson Ft. Gina Jeffreys (Glen Rose, TX, USA) – "Recover"

Blues
First Place: Lisa Mann (Portland, OR, USA) – "It's The Monkeys Or Me"
Second Place: Duffmusiq (Toronto, ON, Canada) – "I Can't Get Over Losing You (AKA Ordinary Fool)"

Christian
First Place: Madeline Edwards (Houston, TX, USA) – "The Road"
Second Place: Holly Halliwell (Hoopeston, IL, USA) – "Brand New"

Country
First Place: The Olson Bros Band (Olympia, WA, USA) – "Kill Your Mom"
Second Place: Savannah Keyes (Sandy, UT, USA) – "I'm Not California"

EDM (Electronic Dance Music)
First Place: du0 (Brisbane, QLD, Australia) – "Come Home"
Second Place: Max M (Bry, France) – "Under Water"

Folk/Singer-Songwriter
First Place: Alexander Biggs (Melbourne, VIC, Australia) – "Madeleine"
Second Place: Lauren Jenkins (Fort Worth, TX, USA) – "Ain't That Hard"

Instrumental
First Place: Alicia Enstrom (Topeka, KS, USA) – "Looping Concerto For Violin, Electronics, And Orchestra - Movement 1 - Frenzied Whispers"
Second Place: Christine Kharazian (Yerevan, Armenia) – "Valse Astolfi"

Jazz
First Place: Thana Alexa (New York, NY, USA) – "Ona"
Second Place: George Colligan (Portland, OR, USA) – "Waterfall Dreams"

Latin Music
First Place: Stefano Manrique (Bogotá, Colombia) – "Te Sigo El Juego"
Second Place: ANIA (Lima, Peru) – "Bien Bien"

Pop/Top 40
First Place: Hudson Thames (Studio City, CA, USA) – "Bruce Wayne"
Second Place: PipoBeats (Pasadena, CA, USA) – "Too Fresh"

R&B/Hip-Hop
First Place: Hiway (Eureka, CA, USA) – "Top Floor Ft. Tech N9Ne And Braye Nicole"
Second Place: shiv (Dublin, Ireland) – "You And I"

Rock
First Place: Jordan Adetunji (Belfast, Northern Ireland) – "Wokeup!"
Second Place: Flarelight (New Orleans, LA, USA) – "La Petite Mort"

Screen Shot
First Place: Tamsin (Brentwood, England) – "SOS"
Second Place: Richard Tichelman (Surrey, BC, Canada) – "The One"

Teen
First Place: Ada LeAnn (Battle Creek, MI, USA) – "Someone To Somebody"
Second Place: Aidan Gallagher (Los Angeles, CA, USA) – "4th Of July"

Vocal Performance
First Place: Anna Hawkins Mount (Maunganui, New Zealand) – "Wayfaring Stranger / Yea Though I Walk"
Second Place: Jasmine Crowe (Hilo, HI, USA) – "Love Is Love"

World Music
First Place: King B-Fine and Afrikaya Band (Freetown, Sierra Leone) – "E don Tay"
Second Place: Priyant Sundas (Darjeeling, India) – "Bending Yaman"

Fandemonium (online public vote)
Riccardo Moccia (Rome, Italy) – "2050"

Special Promotion Winners

Triple Play
Week One - Get Feedback
Madison Olds (Kamloops, BC, Canada) – "If You Wanna"

Week Two - Get Published
du0 (Brisbane, QLD, Australia) – "Come Home"

Week Three - Get Paid
Dustin Starks (Snowflake, AZ, USA) – "Winter To Spring"

Win Some Love – three winners (in alphabetical order)

Bun (Lichtervelde, Belgium) – "Burnout"
Desolo (Olympia, WA, USA) – "Mars"
Trent-Jean (Perth, WA, Australia) – "B4IDie"

Hop To It
Lachlan Edwards (Newcastle, NSW, Australia) – "Little Too Late"

Video Only
Professional Video: Max M Max M (Bry, France) – "Imaginary Problems"
Homemade Video: Zach Evans (Boerne, TX, USA) – "Little Bitty Man"
NEW Crystal Bridges

Mobile Art Lab

Concert Series


Local nonprofit Music Moves will curate a traveling concert series in collaboration with
Crystal Bridges as the CB to You Mobile Art Lab makes a tour to several local community
centers through the end of 2021. The CB to You Mobile Art Lab is a traveling pop-up
art experience energizing the power of community through art. Featuring regional artists from across Northwest Arkansas, the art lab will be visiting local libraries and festivals
around the region to bring artmaking, music, storytelling, and more.

Music Moves will showcase local musical talent at the finale of each traveling pop-up.
The first concert in the series will feature a jazz performance by the Matt Smith Trio on
August 21 at the Madison County Library. A full schedule of each stop on the tour is
available on the Crystal Bridges Website

Music Moves is committed to educating and engaging the community by making high quality
performances of Black music accessible to everyone. The nonprofit partners with
local organizations to bring live performances to the community throughout the year.
You can find more information about these events and more at the MUSIC MOVES website
and FACEBOOK page.
Blues Music Awards

All musicians are invited to submit their Blues recordings for consideration.
Blues music released between November 1, 2020 and October 31, 2021 is eligible
for consideration for a 2022 Blues Music
Award Nomination.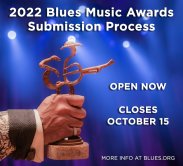 You may now formally submit your album
or minimum 6-song EP for consideration
via our online service here.
Artists now have opportunity to submit a
single for "Song of the Year" consideration
even if you do not have a full album or EP released. To be eligible for submission, your single must be professionally released to the public for the first time between November 1, 2020 - October 31, 2021 and may not be
part of a larger EP or full album release.
To submit a single for "Song of the Year,"
you must contact Joe Whitmer at joe@blues.org directly. Singles may not be directly
uploaded to the online submission
platform without a special code.
Submission fees and deadlines:
September 1, 2021 – September 30, 2021
$180 per album or EP submission / $80 per song submission
October 1, 2021 – October 15, 2021
$225 per album or EP submission submission / $125 per song submission
All music must be uploaded as a WAV file
with album artwork uploaded as a
JPEG or PDF file. If you need assistance
with uploading your music, album artwork, and/or liner notes, please contact
Support Options

For Local Artists

Please check this section of the newsletter weekly for ideas of how to support local musicians and venues. Submissions are being reduced to contact information this week as we restart the Live Music Calendar.
******
The Jeff Horton Band
Based in Bentonville, Arkansas, the
Jeff Horton Band definitely has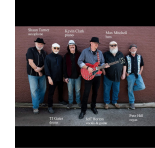 a passion for the Blues! For the last
10 years Jeff and the guys have
done their part in sharing
the Blues
as much as possible, treating their fans to an enjoyable experience.
For more information on the Jeff Horton Band check out:
Jeff has also put together a Spotify playlist for NWA Blues. It can be found, HERE:
Jimmy Wayne Garrett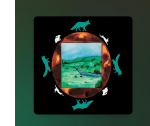 For more information about Jimmy Wayne Garrett, his schedule, recent interviews, or buy the latest album, visit: JimmyWayneGarrett.com
His music may also be found HERE:
YouTube link https://www.youtube.com/watch?v=NAj6BYVglL4&list=OLAK5uy_la2zCm6zUphqeNMMe4j9I2jxiI2YT1AkU
*****
Buddy Shute and the Motivators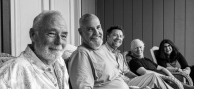 Buddy Shute and the M
otivators live at the Eureka Springs Auditorium on YouTube: LiveAtTheAud
***
To learn more about the band, visit:

Facebook: Buddy Shute and the Motivators
*****
Brick Fields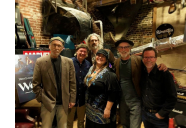 We have released a single from the upcoming album. Here is a link to the video "Take Me To the Riverside"
Once live music begins again, f
olks can stay updated on our concerts by signing up to our email at www.BrickFieldsMusic.com and following us on Facebook at:https://www.facebook.com/BrickFieldsMusic
We also have two stores on our website one for music merchandise and another for Blues Therapy handmade items such as essential oil blends, Jewelry, tie dyes, bath salts, body butters and more.
Thank you for your support.
I pray that each of you and your families are all doing okay through this.
Brick Fields
Booking Call: The Brick House 479-846-4668
*****
LIVE MUSIC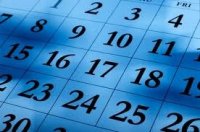 Please enjoy the following listings comprised of bands, venues, and/or organizations that support Ozark Blues Society. Always check with individual venues for event details and schedule changes. Submit weekly listings by emailing: SANDY
09.
10
The Cate Brothers for Happy Hour at George's Majestic Lounge in Fayetteville

The Huntertones for the Starrlight Jazz Series at the WAC in Fayetteville

CongaKeyz Jazz Duo at Sassafras Springs Vineyard in Springdale

Steve Dimmitt at JJ's Grill and Chill in Rogers

Live on the Green Concert Series at The Momentary in Bentonville

Michael Wouter Project at Gotahold Brewing in Eureka Springs
09.11
Buddy Shute and Mark McGee at Jammin' Java in Fayetteville

Vince Turner at Sassafras Springs Vineyard in Springdale

Elizabeth Bainbridge Jazz Duo at Levi's Low Bar in Rogers

Ashtyn Barbaree at Bentonville Farmer's Market in Bentonville

Blew Reed and the Flatheads at Rowdy Beaver Den in Eureka Springs

Jazz Weekend at Basin Springs Park in Eureka Springs

Jazz All-Star Youth Quartet at Gotahold Brewing in Eureka Springs
09.14
Adam Collins, Matt Beach and Garrett Jones for Jazz at the Undercroft Bar in Bentonville
09.17
Full House for Happy Hour at George's Majestic Lounge in Fayetteville

Leah and the Cocktail Club at Sassafras Springs Vineyard in Springdale

Brothers Osborne at The Walmart AMP in Rogers

City Girls: Tribute to the Eagles and Simply Seger at The Meteor Guitar Gallery in Bentonville

Live on the Green Concert Series at The Momentary in Bentonville

Michael Wouter Project at Gotahold Brewing in Eureka Springs
09.18
Counting Crows at The Walmart AMP in Rogers
Please Submit Dates for Regional Blues Artists and Group Events HERE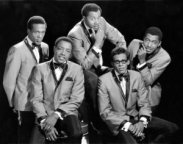 Today's show features music performed
by Chuck Berry and B.B. King

"Playing guitar is like telling the truth - you never have to worry about repeating the same [lie] if you told the truth. You don't have to pretend, or cover up. If someone asks you again, you don't have to think about it or worry about it because there it is. It's you.
"
B. B. King

Blues Education Supporters
Thanks to the following for their support of blues education.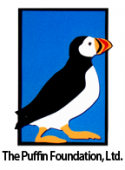 Check Out these regular local radio programs

"The Generic Blues Show" hosted by Paul Kelso airs every Friday night at 9pm on KUAF 91.3FM
Rockin' Hog Radio presents "Sunday Morning Blues" from 8am to 10am every Sunday
LINK
Get Involved with the Ozark Blues Society

Annual membership levels begin at $15 and give you so much in return, including meeting new friends while enjoying the best blues artists in the area.
By being a member of The Ozark Blues Society of Northwest Arkansas, you are helping to support the Arts and to preserve the Original American Art Form known as The Blues.
Membership Benefits Include:

Weekly E-newsletter
Opportunities to win tickets to events
VIP seating at events (when available)
Discounts on OBS merchandise
Social networking – meeting other people who also love the blues
Opportunities to volunteer on OBS committees and at events
Ability to attend board meetings and vote on upcoming organizational issues and elections
Visit our Website to renew or join! Ozarkbluessociety.org