Press release: From our partner Blues In Motion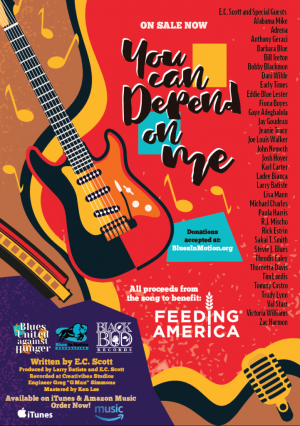 For immediate release: October 19, 2021
Blues United Against Hunger
For the first time in blues music history, artists have come together to record a special
song titled
"You can depend on me"
; a truly amazing and heartfelt recording, with all
the proceeds from the sale of the song going to Feeding America.
This will be the first time that so many Blues Artists will come together for an event of
this magnitude.
The
Blues in Motion Foundation has done it again and rallied up
something very special.
The Blues in Motion Foundation is the
nonprofit arm of The Blues Television Network. It
works
in partnership with Blues Artists in the hopes of helping them navigate their
career in today's fast-paced and constantly evolving music industry.
The goal is to share the love of 'Blues' music throughout America and the world to
create a better understanding and appreciation for the 'Blue's culture'. If that wasn't
enough, the Foundation has outdone itself and has recorded a truly unifying song that is
sure to captivate hearts across the country.
An inspiring and uplifting song has never been so needed, as in these trying and
uncertain times. A song that has been carefully written by the renowned E.C. Scott
(recorded in 'Creativibes' Studio in Union City, California) and truly made with 'Blues
love'.
E.C. Scott has previously been nominated for 9 Blues Music Awards and has shared
the stage with artists such as Ray Charles, Patti LaBelle, Lou Rawls, John Lee Hooker,
and the Ohio Players.
She brings together more than 35 of our top Blues Artists to collaborate in an effort to
tackle the ever-increasing hunger crisis. Artists have come together whilst also raising
awareness about the Blues community.
The collaborating artists include E.C. Scott, Alabama Mike, Anthony Graci, Barbara
Blue, Dani Wilde, Early Times, Fiona Boyes, Gaye Adegbalola, Jeanie Tracy, Joe Louis
Walker, John Németh, Josh Hoyer, Ladee Bianca, Larry Batiste, Lisa Mann, Michael
Charles, Paula Harris, R.J. Mischo, Sakai T. Smith, Stevie J. Blues, Theodis Ealey,
Thornetta Davis, Tommy Castro, Trudy Lynn, Eddie Blue Lester, and Zac Harmon.
All sales of the record "You Can Depend on Me" will be donated to Feeding America to
assist in this unprecedented time of need.
'Blues in Motion' will be working in partnership with 'The Feeding America' organization,
a network that provides 4.3 billion meals annually, helping 1 in 7 Americans facing
hunger live more secure and stable lives.
Feeding America is the largest hunger-relief organization. It helps provide meals to
children and families in need across the US.
A highly important organization that tries to alleviate the pressure on the 11.8% of the
American population who live in households that lack access to affordable and nutritious
meals.
It is a time to help those who need our help the most, it is a time for us to stand together
and show our support to the millions of children and families who walk these streets
pained by hunger.
Together, with your much-appreciated support, 'The Blues Community' will be able to do
what they do best: help.
The release date is Monday, 11th October and the song can be purchased on all major
streaming platforms. Donations can be made via bluesinmotion.org
Media Contact
For media inquiries please contact:
Website: Blues In Motion
Email: ycdom.info@gmail.com