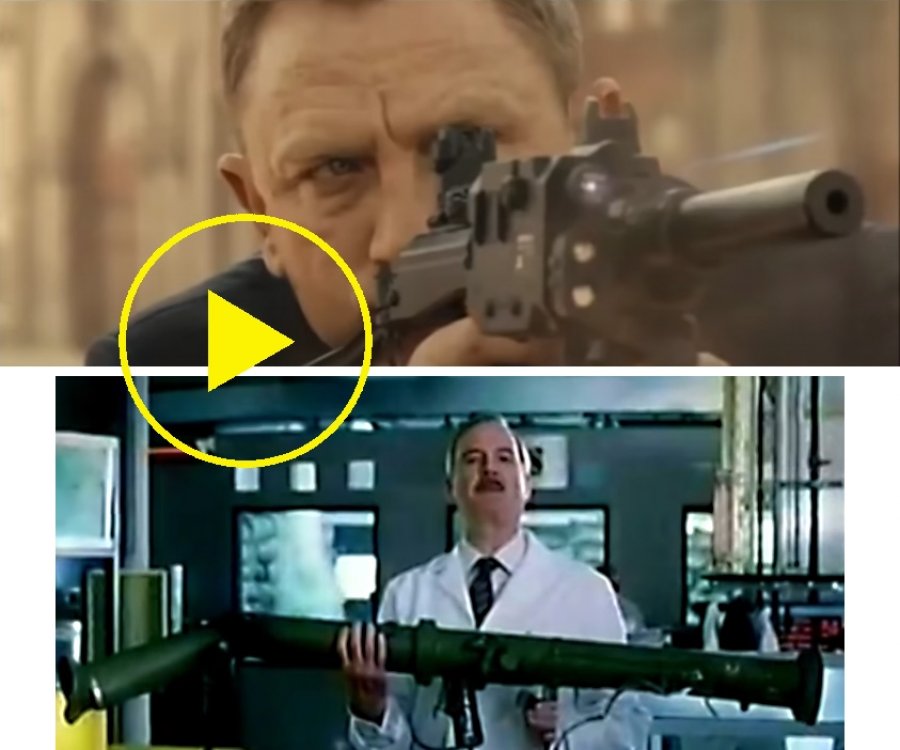 December 2021 Newsletter

For 17 years our newsletter has gone to more than 20,000 Firearms
Collectors,
Enthusiasts, Historians and Professionals Worldwide. We now reprint o
ver 6000 Vintage Gun Catalogs, Books and Manuals from the 1840s to the 2000s
Back issues: you can view the newsletter on our website. For a downloadable copy of our catalog of reprints or manuals this will take you there. Also, we have Interesting downloads at our website. Please forward this letter to your friends.





Most Internet Browsers – Firefox, Edge, Opera etc – have decided to truncate, or cut off, the bottoms of long emails. There is a tiny note at the bottom allowing you to retrieve the rest of the email. Rob and Abby




Someone complained that the Christmas list of our publications we featured in our last newsletter, he called it "crass commercilization (sp)". So, ok, we won't repeat it... however, for those of you dying to see it again here is the link! Rob

Archaeologists used tree rings and astrophysics to prove Vikings were in Canada in 1021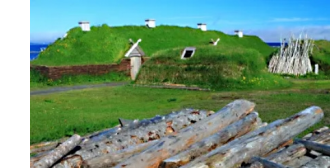 Scientists and historians have long known that the Vikings beat Christopher Columbus to the Americas, and now they know by exactly how much: 471 years. A group of archaeologists, geoscientists, and at least one dendrochronologitst — a scientist who dates events and objects using tree rings — reported in the journal Nature that they have pieced together definitive evidence that Vikings arrived in Newfoundland, Canada, in 1021, exactly 1,000 years ago.
The Week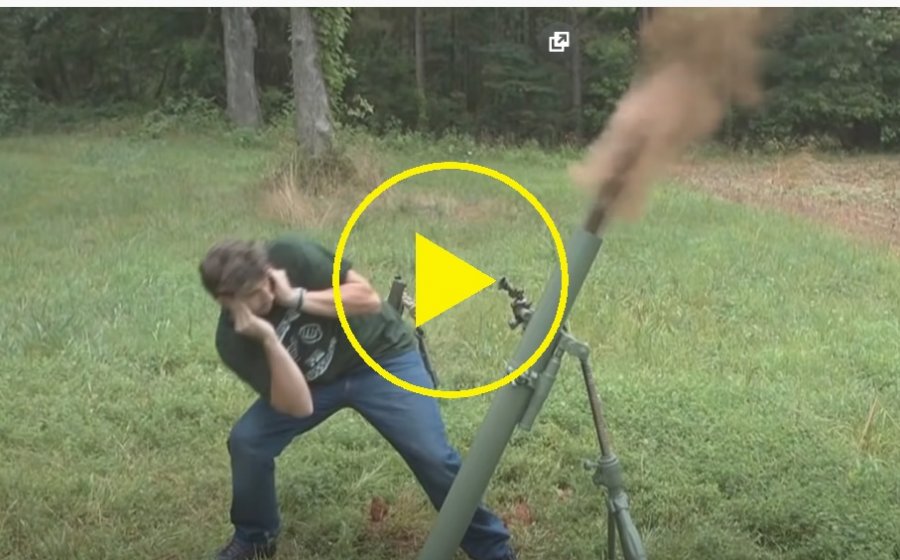 Well, FPS is still around and his videos are still available but things have changed. The show's producer, you will remember, Keith Ratliff, was murdered in his gun shop. Kyle Myers who played Dmitri Potapoff is a free man today after some legal troubles, who appeared on
Painkiller Already
, a video podcast. The whole FPSRussia story is well documented on
this webpage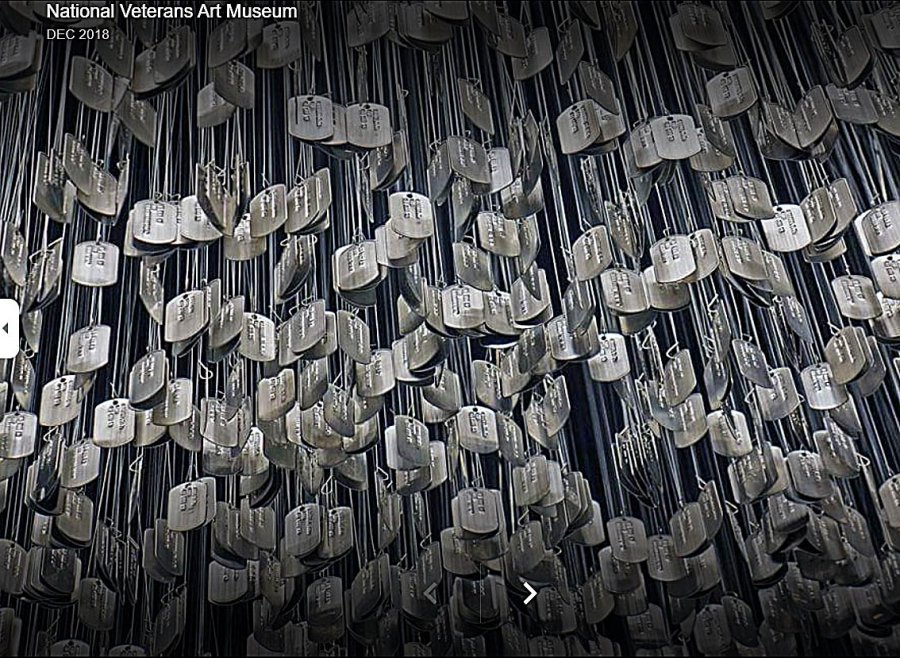 When visitors first enter the museum, they will hear a sound like wind chimes coming from above them and their attention will be drawn upward 24 feet to the ceiling of the two-story high atrium.

Dog tags of the more than 58,000 service men and women who died in the Vietnam War hang from the ceiling of the National Vietnam Veterans Art Museum in Chicago. The 10-by-40-foot sculpture, entitled Above and Beyond, was designed by Ned Broderick and Richard Stein.


A British couple sleep inside a "Morrison shelter" used as protection from collapsing homes during the WWII 'Blitz' bombing raids. March 1941.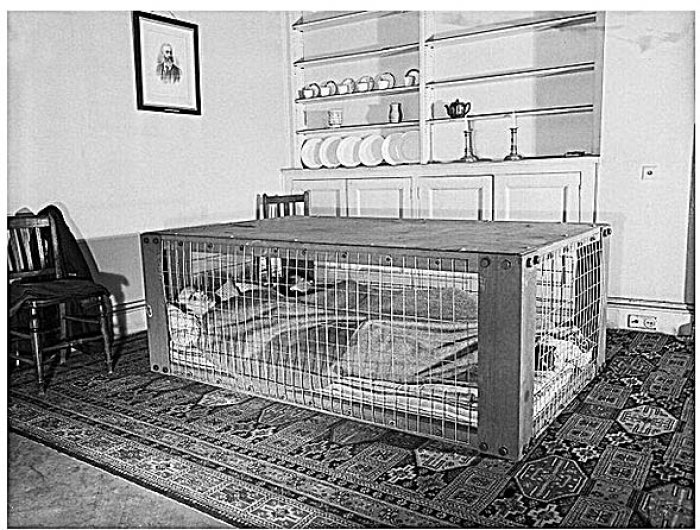 "You're never too old to learn something stupid."
In 1955, this small electric narrow gauge train was installed in New York's Holland Tunnel to monitor traffic speed. We vividly remember the smell of leaded gas in the Holland Tunnel, that must have been an awful job, riding that tram.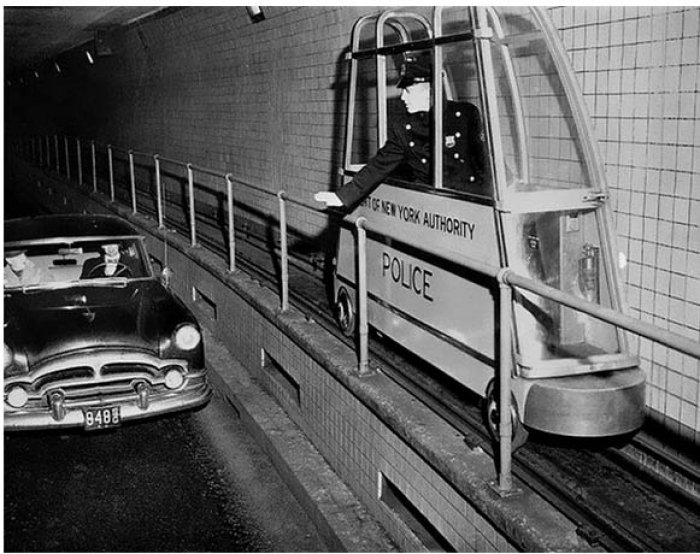 OLD CAR NAVIGATION SYSTEMS

This 1930 device came with a set of paper maps. These were wound from one roll to another across a display and a cable connected to the speedometer controlled the scroll rate. The speed with which the display moved was proportional to the speed of the car so it always showed the correct point.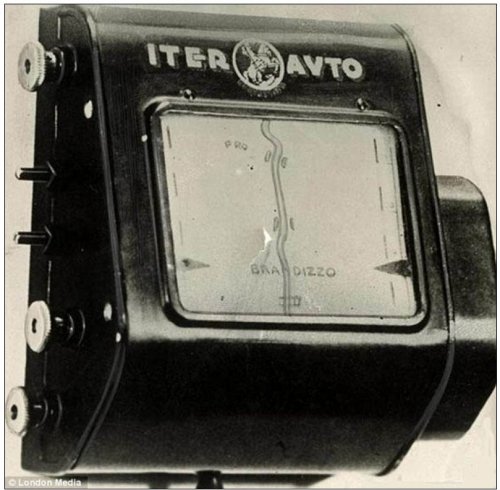 The 1927 Plus Four Wristlet Route Indicator's tiny interchangeable paper maps seem quaint compared with their modern counterparts. The idea is that if you want to go from London to Bournemouth you put that map into the watch and then as you drive along you wind the device to keep pace with where you are.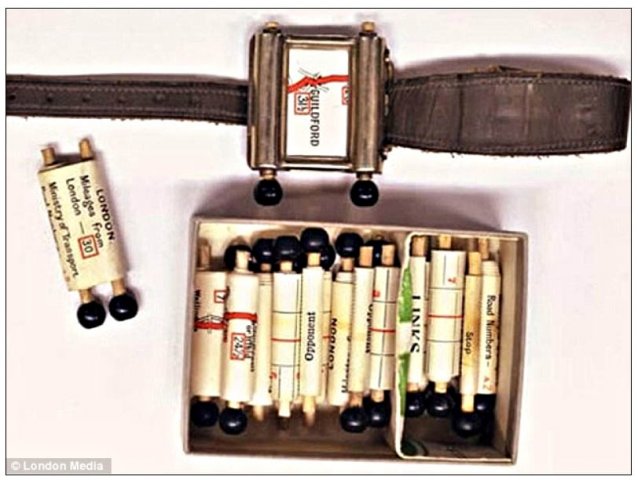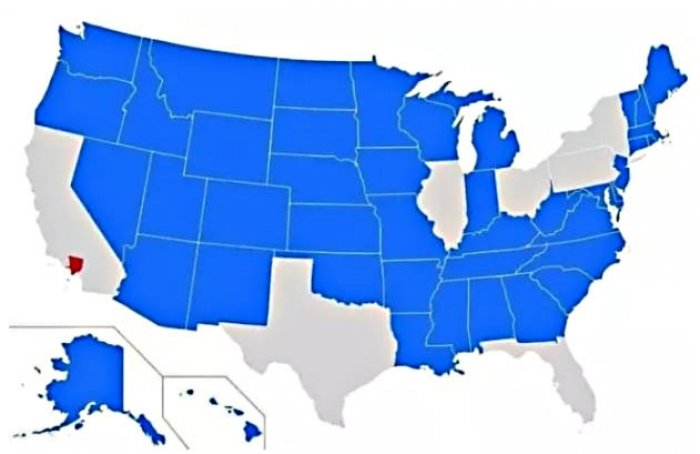 The states depicted in blue have a smaller population than Los Angeles County, shown in red!

(the map just used blue and red as colors, it is not a reference to politics)
_______________________________________
(where we don't have to pay commissions, thereby lowering prices for everyone!)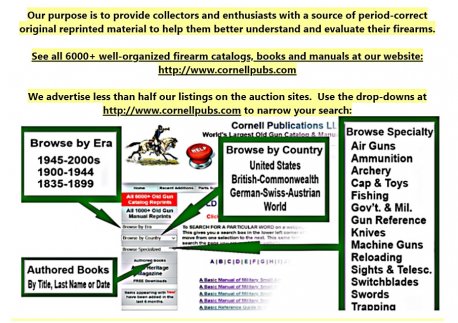 This notice is for foreign readers only - EBAY Global Post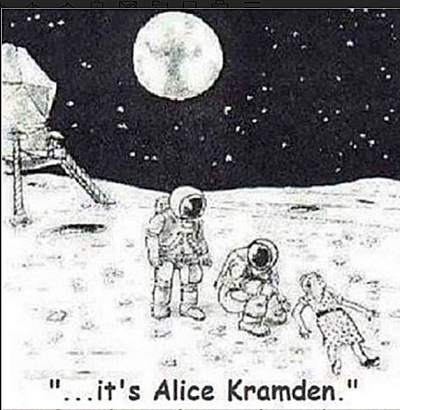 We've talked a lot about the shipping issues we've had trying to mail packages overseas and to Canada. Because the regulations are so different, complex and onerous we've had no luck solving the problem... until now when we a glimmer of hope.
The absolutely last thing we want to do is drive U.S. residents to eBay! We mean that. Ebay commissions, rules and the darned feedback system that empowers customer to bomb sellers with all their pent-up childhood frustrations make the marketplace unprofitable for us. We sell on ebay because we hope the site introduces people to our products and we hope that, on their own, they find our website.
But, ebay has apparently figured out how to ship packages outside the U.S.. We haven't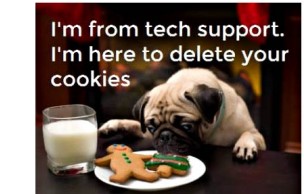 shipped through ebay yet because we've added only a few hundred items to their Global Post system so far and none has sold. When one does sell we, reportedly will be told to ship the package to an ebay hub in the U.S. and from there ebay takes over to ship the package to the destination. They become responsible for delivery, not us, which is great.
So, we are adding items to the Global Post system as quickly as we can. However, we sell only about 3500 of our 6000 items on ebay and, as I said, only a few hundred of them are currently available to be shipped by the ebay program today.
Rob and Abby
"He has no enemies, but is intensely disliked by his friends." Oscar Wilde
************************************

"War does not determine who is right - only who is left."





************************************************


Dear Rob and Abby, Just wanted to thank you for your newsletter. Really enjoy reading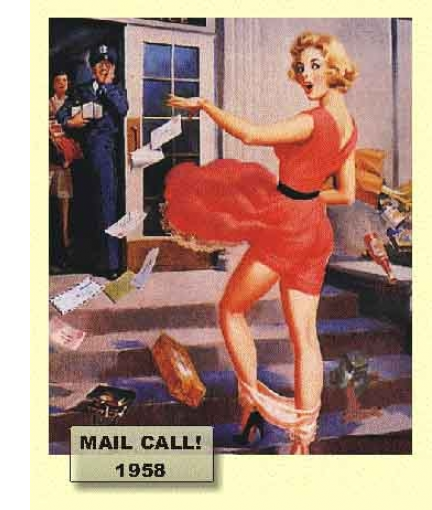 it. Too bad you can't screen some of the buyers before they buy Lol..... Bud
*****************************************


A relatively new ebay user gave us a neutral because, he claimed, he never got the publication we sent him. This began a time consuming sequence of events starting with a review of our records to find the tracking number and verify the package had been delivered. Then we had to contact the buyer to let him know about the delivery and to ask him to look for the package in his mail. Then we contacted ebay and proved the delivery and requested they remove the neutral feedback, which they did.





Next we had several emails back and forth with the buyer ending in our voluntarily telling him we would replace the item for free. The point of all this is that if you have problem with anything, please just shoot us an email and we will be happy to fix it. To begin with a complaint to ebay, gunbroker or Paypal just complicates the issue and takes much longer to resolve.



Dear cornellpubs, My apologies for the negative feedback. I'm not very eBay savvy so I assumed that was the proper way to get in touch. I have looked everywhere for the package and unfortunately I have not found it. Jack

I'll send you a replacement, Cheers, Rob

Dear cornellpubs, Rob that's awesome, thank you very much. If I go into my account am I able to delete that review? If not, I could always post a positive follow up.

Thanks Jack, but I was able to get ebay to remove the neutral based on proof it had been delivered, so not to worry. From our experience, it is always best to contact the seller through ebay to make a complaint before leaving less than positive feedback. That save a bunch of time, usually on both sides of the fence. Of course, if you don't get satisfaction, then is the time for bad feedback. Cheers, Rob
*****************************************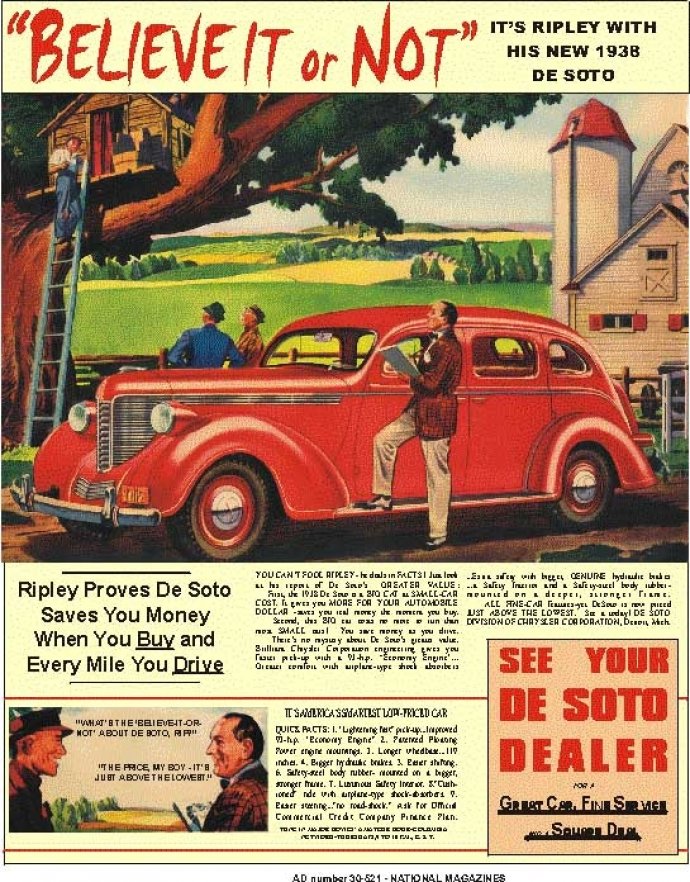 "I'm supposed to respect my elders, but now it's getting harder and harder for me to find one."



************************************************
Send another Ben Pearson 1942 Archery Catalog, same address. Both bot on eBay, Thx JohnLee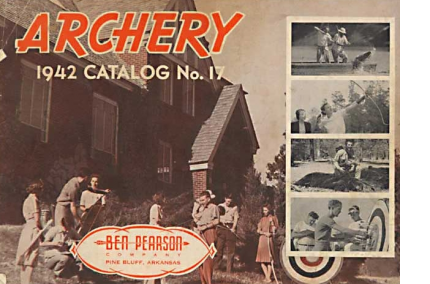 John, Sorry to ask, but you have to buy it at ebay, I can't buy it for you, or invoice you, unless you buy it. Ebay rules are very strict and come from deep paranoia! Best wishes, Abby

People are saying your items at eBay are were unavailable. That's the reason for my order direct but I was finally able to buy catalogs from eBay. But you need to find out why your items could not be purchased on eBay ? Best Wishes John Lee



Hi John, When you say "people are talking" about the unavailability of our ebay items, what people do you mean? Are they forums or friends or emails you get, what? If forums, which ones? I'd like to get to the bottom of that because, to the best of my knowledge, it isn't true and I'd like to stamp it out before it gets carried away.





We did have a three-day outage on our website last month when the site host was bought by people who live in mud huts and power the site by bicycle. OK, I'm sorry, I shouldn't have said that, I take it back, I'm sure they are well intentioned.




Thanks, Rob for cornellpubs



It turned out the people who complained are folks who live in Canada. We've been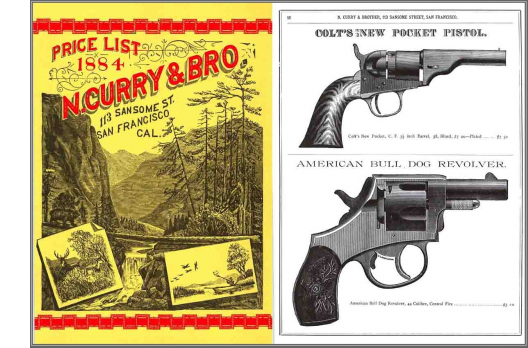 unable to ship to Canada since summer because our shipping programs (both of them managed by postal companies) want to charge an additional $7 or more in duty for commercial shipments to Canada. I recognize that private consumers can send things to Canada with no issues but because we are a company we are subject to whatever rules the countries set. So, for now, we are not shipping outside the US.





BUT… good news for those who are not in the US. We are slowly setting up ebay Global Post for our items. We have about 3700 of our 6000 items available for sale on ebay and we have so far added many to the program. I talk more about this elsewhere in this newsletter.


************************************************
Hello. I noticed that you have several editions of The Weatherby Guide available for sale on eBay. Can you please tell me all of the editions that you have? I am interested in buying editions that I do not already have in my own collection. Look forward to hearing back. Daran

Daren, Thanks for your interest, here is a link to all 50 Weatherby Catalogs we offer. Best, Abby

Hello Abby. Thank you for your reply and for sharing the list. Since sending my original email, I looked through what you had available on your website and identified [many] Weatherby Guides as ones that I am interested in purchasing.

Abby, I noticed that you "reprint" manuals and catalogs, so I wanted to confirm that the items listed above are all original copies and not reproductions. Please clarify. I am only interested in "The Weatherby Guide", not the standard catalogs from Weatherby. If you have any other "The Weatherby Guides" or catalogs that say "Tomorrow's Rifle Today" not listed above from your website, please let me know because I would like to add those to the purchase. Thank you again for your help.
Daran



Hi Daran, We don't sell our originals, only reprints, over 6000 of them (note the description stating they are reprints). Ebay has some originals for auction. Cheers, Abby



Abby, Got it. I do see that now. Thank you for the clarifications. Daren
************************************************
Hello There! I just wanted to let you know that I received the 1876 Remington and Colt Revolver Gun Flyers today - I rarely ever complain about anything, so it pains me to even write this - You sent them FOLDED! yes FOLDED! Really? And the printing is a little light as well - I know that $13.62 is not a lot of money, but come on guys! I live on a fixed income, and I really don't have a lot of money to throw away. Unsatisfied for sure. Jim Young

Jim, Everything we offer, all 6000, except those two images, are flat items, books, catalogs and manuals. Once or twice a year we sell one or both of them and, so far, nobody has complained that we folded them. I can guess, however, that you want to frame the pieces so, because it is Christmas, I'll reprint them, roll them up and stuff them in a priority box for you. I'll see if I can make them a bit darker too, but because they are printed on a different printer than we normally use it may not work... I'll try though. Happy Holidays, Rob Mouat

Thanks Rob! Merry CHRISTmas! Jim
************************************************
Do either one of these two J. T. Vorisek titles, "The Breech Loading Shotguns 1860-1940" Vol. II or "A Short History of Harrington & Richardson Arms Company" have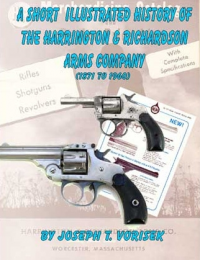 any shotgun serial # / DOM information in them? I' m mostly interested in the 2 or 3 years before and after 1920. -- Thanks,Randy Atkinson

Randy, No, Joe could only find approximate ranges of serial numbers for certain shotguns by year. Best, Abby

Abby, Are there any approximate serial number ranges for 1908 [H&R] shotguns and which one of Joe's books are they in ? Regards, Randy Atkinson

Yes there are! Harrington & Richardson Arms Co., A Short Illustrated History of Best wishes, Abby

************************************************
Glenn, We cannot ship out of the US at this time. We have refunded your payment in full. If you know of someone in the US that could forward these to you we can do that and the shipping would be much less than out of the US. Abby Mouat at Cornell Publications

Abby, Why is it not possible to ship these publications? Glenn

Glenn, Due to the complex and impenetrable regulations requiring sellers to collect VAT/Duty for shipments to overseas countries, we can no longer ship outside the US. You may have noticed that no shipping charge was added to your order. unfortunately, we cannot stop Paypal from accepting orders from overseas.
Abby Mouat at Cornell Publications

Abby, Thank you for the explanation. Just so you are aware, it's possible to order books from American sellers who in turn have no issues shipping them to me in Canada. Glenn

Glenn, Yes, I know, but those sellers have staffs of people prepared to track money, prepare reports, study import regulations, submit reports and all the rest of the nonsense Canada requires to allow sellers to collect their duty/VAT. There are just two of us and we don't have the time to do all that during our busy season- fall and winter. Sorry, Abby
************************************************
Hello, again, Abby! Thank you for your prompt reply. I note that the pages of the re-print little Chas. Newton catalog are rather thin, causing the print from both sides of the paper employed to interfere with reading the lines on the opposite page. (I, especially, take note of the situation, since I published my recently introduced "coffee table" quality book "The Artistry Of Ralph P Bone" on 80 lb silk stock. (Please take a look at my website).

Is it possible, therefore, for you to print the subject little catalog on higher quality paper, in order to eliminate the mentioned condition? I shall be pleased to pay an incremental price increase for the improvement. Is it feasible for you to make such an improvement? Thanks, Huxley Walters

Dear Mr. Walters, While we don't stock anything as elegant as 80# silk paper we do have some 24# paper we use for printing color that we can print the Newton book on. Would you like one or three done with that paper or do you have something else in mind? Rob

Rob: Thank you very much for your kind offer. However, what you sent me is fine. However, in the future, when you print that little booklet, you might consider employing a bit heavier paper. Best regards, Huxley



Huxley, Actually, the reason we use 20# has nothing to do with paper quality, it is the cost of postage today that dictates the difference. We often ship many hundreds of pages and people prefer lower postage. We spend over $40,000/year at the PO and paper weight has become important to our little retirement business! By the way, not that you are wrong, but in the last 20 years and over 20,000 packages a year, worldwide, you are the first to notice a bleed-through. Cheers, Rob


************************************************
Good morning, I recently ordered and received two reprints from your firm on the subject of U.M.C. ammunition. They were excellent; thank you! I am looking for info on the subject of Winchester "New Rival" shotshells". Please confirm that your Item # 2274 has information on the New Rival line, and I will place an order. Alternately, recommend another product that does have New Rival loading details. Thank you for your time to reply, Jon

Jon, A quick look at the 1905 Winchester catalogs (that is how we identify our items, by name and year, not number) shows no cartridges by that name. We can't do specific research for people but I can usually find time to look at a catalog you select. That said, what you probably want is the 1897 Shot Shell catalog which has what you are looking for.
Cheers, Rob
************************************************
Re: November Newsletter: I'm not sure why you are trying to solicit business from me when you couldn't bother to ship me the last item I ordered? Mark

Hello Mark, When you say "couldn't bother" are you outside the U.S.? If so, I hope you have had the opportunity to read some of the explanations I've made about why we can't ship overseas or to Canada until we figure out the issue we have with countries demanding that we collect their duty and VAT taxes. I do have some hope to ship overseas using ebay global shipping. I should know withing a week or so if that option will be available to our customers. If, on the other hand you are stateside, what were the circumstances that caused you to say we didn't bother shipping to you? Cheers, Rob

Hello Rob. I didn't see anything about shipping to Canada on your site. I did a google search for a specific book and it brought up the page on your website. I added it to the cart and paid with PayPal immediately. There was no notification or pop up that said you don't ship to Canada. I received an email the next day that you got the order and it was on its way. After 6 weeks I had not received it so I emailed asking about it but received no reply. After another couple weeks with no reply I contacted PayPal for a refund, which went through with no hassle. Normally if someone doesn't ship to Canada when I am entering my address it will tell me. There was also the confirmation email that could have said sorry we can't process your order. Finally there was no reply to my inquiries as to what was happening. I order from the US numerous times a week and I have never had any problems with an order going through but not being shipped or contacting the customer as to why they can't ship it. Mark

Mark, We are not Amazon, just two old retirees trying to provide a service to our friends, colleagues and enthusiasts who are interested in historic firearms. We use an antiquated Paypal shipping cart that Paypal will not allow me alter to add messages, they want me to buy a more expensive cart (naturally) and add it manually to our 6000 listings one at a time. So, no joy there.

Paypal, however, in its infinite wisdom, prohibits me from denying sales to people with a mailing address outside the U.S. so we get scores of payments from people we cannot ship to every day. We do our best to weed them out and make refunds, but, I guess, we miss a few and for that I apologize. I guess we are just overwhelmed.

I have an appointment with a woman tomorrow at 10 AM ET to discuss a new website and if eBay comes through with their Global Shipping program, that may help to, meanwhile we trudge along. Cheers, Rob
************************************************
Dear Colin, We cannot ship out of the US at this time. I am refunding in total the payments you made for your catalog or manual. If you know of a someone in the US that could forward your items to you we could then ship them to your contact in the US, Please let us know if this something you could do and with a minimum of postal fees. Regards, Abby

Abby, Any idea why you cannot ship to Canada? Any idea when the policy might change? Colin

Hi Colin, I've said this many times to people all over the world. Most countries, Canada included, decided this summer that it would be just ducky if they told "foreign" shippers to collect their VAT/Duty and send them a check regularly. Of course, the impenetrable web pages are unfathomable and all the countries have different regulations. Anyway, ebay, may offer a solution with their Global Post. We'll know in a week or two whether that will work for us. Sorry, Rob
************************************************

Cheers,
Rob and Abby
The End.