For the first time, Joyce and I are featuring two authors as our experts. Why? Because both Amy Butler Greenfield and Laurie Wallmark wrote new books on the same spy hunter-- Elizebeth Smith Friedman. In addition to their article describing how every writer must write a book suitable to her audience, you'll meet some spies and spy hunters who may surprise you.
Do you know a teen or tween who loves reading and would like to introduce books for us? Please email us with their contact information.
By Laurie Wallmark & Amy Butler Greenfield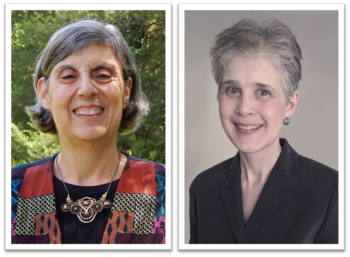 Both of us wanted to write an engaging biography about pioneer codebreaker Elizebeth Smith Friedman, but the needs of our readers meant that we created very different books. Laurie was writing for the picture-book audience, so CODE BREAKER, SPY HUNTER had to be compact and easy for a younger reader to understand. Amy was writing for teens, so THE WOMAN ALL SPIES FEAR needed to be a much longer book that explored complex topics in challenging ways.
For us both, it was important to include examples of Friedman's codebreaking in an age-appropriate way. For Laurie, that meant explaining words and concepts in simpler terms, such as defining "ciphers, a type of code" within the text. For her older readers, Amy created "Code Break" sections that examine Friedman's work in detail and teach readers the basics of codes and ciphers.
We both covered Friedman's entire lifespan, but Laurie had to boil everything down to its essence, while Amy had the freedom to explore events in detail. For example, both books tell the story of the "Doll Lady." Laurie only says that Velvalee Dickinson's letters appeared to be about buying and selling dolls. Amy explains in detail why the FBI came to suspect that these letters were written in code, how Friedman cracked them, and how the FBI stole the credit for her work.
Amy was also able to tackle aspects of Friedman's life that Laurie had to omit, such as her husband's struggle with mental illness. In picture books, you have to limit your focus.
Biographies are challenging to write, but by paying close attention to what our readers need, we're both proud to have accomplished the same goal: helping our readers connect with history, technology, and the amazing achievements of Elizebeth Smith Friedman.
Award-winning author
Laurie Wallmark
writes picture book biographies of #WomenInSTEM (science, technology, engineering, and math) as well as fiction. Her books have earned five starred trade reviews, been chosen as Junior Library Guild Selections, and received awards such as Outstanding Science Trade Book and Best STEM Book.
Code Breaker, Spy Hunter
is a Cyblis 2021 Finalist
.
Amy Butler Greenfield
writes award-winning books about history, including The Woman All Spies Fear and the Ra the Mighty mystery series. While researching The Woman All Spies Fear, she appeared on PBS's American Experience, spoke at a spy museum and a secret intelligence agency, and learned how to break codes herself. The book has also been optioned by a movie producer.
by E.B. Lewis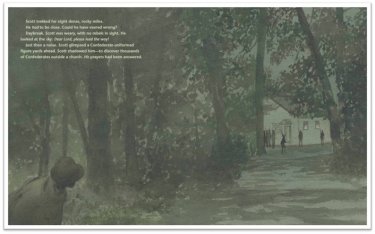 You probably can't read the text in this illustration but you can enter our giveaway to get a closer look at SEEKING FREEDOM by Selene Castrovilla. SEEKING FREEDOM is a little known story about an African-American who spied for the Union army during the Civil War.
E.B. Lewis calls himself an Artistrator. In addition to being a fine artist, he has illustrated over 70 books for children and won many coveted awards!
A TEEN'S TAKE ON THREE BOOKS

by Elliott Kurta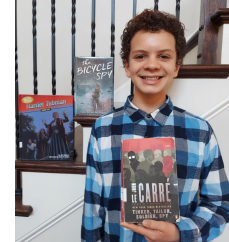 In this captivating middle-school novel, Marcel dreams of participating in the Tour de France, but the German Occupation has put his dreams on hold. Now he's limited to the once busy streets of Paris, where his parents send him on weekly missions to deliver bread to Madam Troitter. In a bout of hunger, he cuts open the loaf of bread he was to deliver and discovers a carefully folded note inside. Who are his parents working for? Will they get caught? And above all, can they help his new friend, Delphine, who could be hiding from the Germans just like the notes Marcel ferrets away?
A sophisticated young adult novel, Tinker Tailor Soldier Spy addresses what happens when a spy betrays secrets; and who has to pick up the pieces afterward. George Smiley is nothing like your movie spies - short, balding, portly. In fact, he isn't even a spy; he retired years ago. But a cautionary tale of a man named 'Karla' who's causing trouble for the Circus brings Smiley back into the tradecraft business. This intricately woven tale of spies and soldiers will keep you reading well past midnight in a race to finish the book. A common theme ties the book together: 'How do we manage people who don't exist?'
In this beautifully illustrated children's book, discover the life of Harriet Tubman and the role she played in the Civil War and the Underground Railroad. Did you know Harriet Tubman was born with the name Araminta before she bought her freedom and fought against slavery under the name 'Harriet Garrison'? Vital information is broken down into easily understood facts presented in an engaging format that makes for an educational and entertaining read.
Elliott is a prolific reader of various genres who is more than happy to share his opinions on books. In his free time, he enjoys writing, reading, and running. He is an 8th grade homeschool student in Charlotte, NC.
Classroom or Home School Activity


By Joyce Hostetter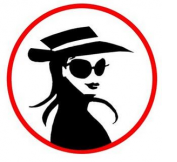 Studying spies is a sure way to take history lessons to an exciting new level. Consider sending your students on one of the following missions.
Research some famous spies from United States history. Choose one to report on.

Make a poster or lapbook that depicts the spy's personality, mission, methods and his or her motivation for spying. Include a story about an exciting event or a time this spy helped change history.

Research some famous female spies. How do you think spying would be different for men and for women? Write a paragraph, a rap, or a poem about a female spy.

Spies often have to wear disguises to hide their identity and escape being caught. If you were going to be a spy what outfits would you wear? Write a paragraph or draw pictures to show how you would change your appearance.

Discuss the characteristics one would need to be a good spy. Make a list. Discuss the dangers and rewards of being a spy.

Then create a character and a situation that requires spying. What is your character looking or listening for? How will he or she get the information? What things does he or she do to keep from being discovered? What does he or she do with the information?
Visit The Spy Museum online. This site offers an abundance of info about spies as well as curriculum guides, book lists and educator resources. Classes can learn about history, take virtual tours and participate in workshops!
We love to hear from our readers!

You can contact us through the newsletter or individually at the following websites.

We're also both available for school visits.

Joyce

We're always looking for teen or pre-teen reviewers. If you know someone who might be interested in reading and writing a short synopsis of three books, please email us.
Please Share Talking Story!
Have you noticed the "Share" button on the top of this newsletter? If you share TALKING STORY either on social media or email it to a friend, we will enter your name in our giveaway. Please
email
by January 17 to tell us what you have done, and your book preference and we will add your name to the hat!
If you're having trouble emailing us, try using CHROME browser.
and we'll enter your name to win one of the three books below.
Each will intrigue a young reader in your life.
If you have a book preference, please mention it. We try to honor requests.
US

address

only!
Enter by
January 17

(Or better yet, enter right now!)
If you forward Talking Story
to a friend or share this issue on social media, please let us know. We will enter your name for one of these three books.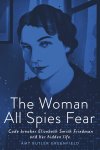 by Joyce Hostetter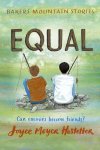 My latest book, EQUAL is the story of Jackie Honeycutt, an eighth grade boy living through the Civil Rights movement and the Cold War. During the course of Jackie's story, the Russians shoot down a US spy plane. At first the Eisenhower administration tells the American public that a weather plane strayed into Soviet airspace but the truth comes out when the Russians publish a photo of the plane and the spy who survived the crash. I always learn so much fascinating history while writing my middle grade novels!
Books About


SPIES

and

SPY HUNTERS

Congratulations to

winners from our

Fall issue.

Ashley Greene won Write On, Irving Berlin.
Betsy Krause won Ellis Island And Immigration for Kids.
Amy Danielle Tart won Saving Lady Liberty.

To Amy Greenfield and Laurie Wallmark
for being our experts.
To Eliiott Kurta for being our teen reviewer.
To Astra Publishing for donating
Seeking Freedom.
To Abrams Books for
Young Readers for donating Code
Breaker, Spy Hunte
r.
To Penguin Random House for donating The Woman All Spies Fear.
To Joanne Hunsberger for proofreading.