Maybe not surprising, considering what
is happening in the world lately, but
I
have David Bowie in my head.
He
sang, "A million dead end streets
and Every time I thought I'd got it made
It seemed the taste was not so sweet." Perhaps lately all of us are feeling
something akin to his lyrics.
Likely, most readers have heard the news that the International Blues Challenge has been postponed until later in 2022. Check out the article below for more information if you hadn't heard. Our January IBC fundraiser scheduled for January 29th IS still happening as we still have need to raise funds to cover the costs related to sponsoring our winners trip to Memphis later this year. Please check out the article below for information and links for tickets.
Remember, tickets with reserved seating are limited
so be sure and get yours soon.
Also this week we have a couple new articles. Read on below for news of leadership changes from the Northwest Arkansas Jazz Society and a "Save the Date" piece with basic information about the annual Subiaco "Blues at the Abbey."
As the winter calendar offerings continue to be limited, remember we are always looking for articles from readers. If you have a blues history topic, blues event, of an artist or their music you wish to share a review of, drop Sandy an email so she can help you share.
Always remember, this is YOUR newsletter! Please send
feedback or suggestions our way. You can reach me by email at the address below. We appreciate our readers and want
to see
your ideas included!
2022 International

Blues Challenge

Postponed

The Blues Foundation Board of Directors has made the very difficult decision to postpone the 37th International Blues Challenge that was to take place January 18-22, 2022.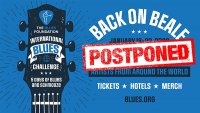 While this decision is coming at a late stage, it was not made lightly. As recently as mid-December, the COVID-19 pandemic and Omicron variant seemed under control, as vaccination rates were growing and large events were taking place successfully with safety protocols in place. The past couple of weeks, however, have shown a significant increase in positive cases not only in the US but globally. Memphis has seen its highest spike in positive cases this week since the inception of the pandemic.
After consulting with our IBC partners including hospitality vendors, event venues, and merchants; as well as with the University of Tennessee Health Sciences Department, similar organizations, and members of our blues community, the decision was made to postpone IBC until later in 2022.
We recognize this will be a great disappointment to the challengers, affiliates, fans, and supporters, but we hope each of you understands our primary concern in making this decision is your safety and wellbeing.
The Blues Foundation is actively working with our IBC partners to determine a new event date, and we will share that news as soon as possible.
Details regarding ticket options will come in a follow-up email. Room reservations can be canceled or changed directly with your hotel.
Thank you for your continued support and understanding. We'll see you back on Beale soon!
For questions or concerns, please contact The Blues Foundation's Board Chair, Scott Fitzke, at chairperson@blues.org.
Tickets Now On Sale!

IBC sponsorship fund

2022 Fundraiser

Get your tickets for reserved seating now! Seats are limited! Visit our website or click the link below: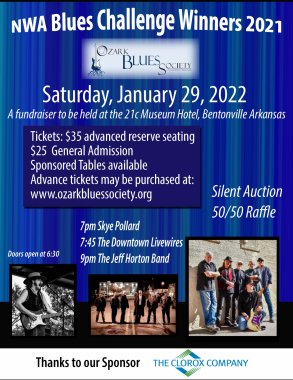 Limited sponsored tables are also available. Email Liz Lottmann for more information
What: 20th Annual "Blues at the Abbey" featuring Blind Mississippi Morris.

When: February 2, 2022 at 7:30pm

Where: Subiaco Academy

Northwest Arkansas
Jazz Society
From our local Jazz Society:
Fayetteville, AR - January 04, 2022 | The Northwest Arkansas Jazz Society (NAJS)
has announced new positions on its staff and board. Graham Stewart has been hired as
the new Executive Director of NAJS. Founder and longtime NAJS Executive Director
Robert Ginsburg will transition into the role of Artistic Director. Additionally, five new
members join the NAJS Board of Directors in 2022: Margaret Clark, Tim McCarley, Jerry
Moye, Barbara Taylor, and Tod Yeslow.
"I am excited by the new opportunities for NAJS in the coming years," says Ginsburg.
"Both the addition of Graham Stewart to our staff and the incredible collection of new
board members will position NAJS to do big things in 2022 and beyond."
Stewart's role as Executive Director will be operational and financial, allowing Ginsburg,
as Artistic Director, to focus on the music and the NAJS education programs.
Stewart, a musician who has performed with the Fayetteville Jazz Collective and other
jazz ensembles in Nashville, TN and New York, served as chief alumni officer for the
University of Arkansas from 2012 to 2014, and most recently in the same role for
Vanderbilt University. While in Nashville, Tennessee, he helped lead the Nashville Jazz
Workshop through a major transition and relocation. Stewart returned to Northwest
Arkansas in 2020 and served on the NAJS Board of Directors before being hired as
Executive Director.
"I have always been passionate about jazz music," says Stewart. "I am both a musician
and an arts administrator. That experience has given me a unique insight into this field.
It is a pleasure to join the incredible things NAJS is doing for Northwest Arkansas."
Brief biographies of the new board members are available at the NAJS website:
www.digjazz.com.
NAJS expresses its enormous gratitude to David Crittenden and Bob Arvin for their
years of service. Crittenden and Arvin are leaving the NAJS Board of Directors after
serving seven years with distinction. Crittenden joined the board NAJS in 2014 and has
been acting President for six years. Arvin has also served NAJS since 2014 and was
instrumental in revitalizing board development as well as raising public awareness of
the NAJS. Thank you Bob and David for keeping Jazz alive in Northwest Arkansas!
NAJS seeks to present, preserve, promote, and celebrate the great American art form
known as jazz.
For more information, contact:
Jacob Christiansen
Operations Manager, NWA Jazz Society
jacob@digjazz.com | (402) 709-8314
Support Options

For Local Artists

Please check this section of the newsletter weekly for ideas of how to support local musicians and venues. Submissions are being reduced to contact information this week as we restart the Live Music Calendar.
*****
The Jeff Horton Band
**Read on for NEW information**
Based in Bentonville, Arkansas, the
Jeff Horton Band definitely has

a passion for the Blues! For the last
10 years Jeff and the guys have
done their part in sharing
the Blues
as much as possible, treating their fans to an enjoyable experience.
Jeff reports he has some exciting gigs coming up at Good Vibrations in Rogers. There will be a new jam every other Monday from 7-9pm, beginning December 27th. Additionally, he and the band will be hosting the New Year's Eve party
at
Good Vibrations this year.
For more information on the Jeff Horton Band check out:
Jeff has also put together a Spotify playlist for NWA Blues. It can be found, HERE:
*****
Jimmy Wayne Garrett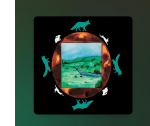 For more information about Jimmy Wayne Garrett, his schedule, recent interviews, or buy the latest album, visit: JimmyWayneGarrett.com
His music may also be found HERE:
YouTube link https://www.youtube.com/watch?v=NAj6BYVglL4&list=OLAK5uy_la2zCm6zUphqeNMMe4j9I2jxiI2YT1AkU
*****
Buddy Shute and the Motivators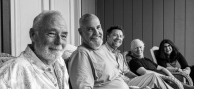 Buddy Shute and the M
otivators live at the Eureka Springs Auditorium on YouTube: LiveAtTheAud
***
To learn more about the band, visit:

Facebook: Buddy Shute and the Motivators
******
Brick Fields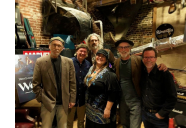 We have released a single from the upcoming album. Here is a link to the video "Take Me To the Riverside"
Once live music begins again, f
olks can stay updated on our concerts by signing up to our email at www.BrickFieldsMusic.com and following us on Facebook at:https://www.facebook.com/BrickFieldsMusic
We also have two stores on our website one for music merchandise and another for Blues Therapy handmade items such as essential oil blends, Jewelry, tie dyes, bath salts, body butters and more.
Thank you for your support.
I pray that each of you and your families are all doing okay through this.
Brick Fields
Booking Call: The Brick House 479-846-4668
*****
LIVE MUSIC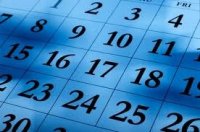 Please enjoy the following listings comprised of bands, venues, and/or organizations that support Ozark Blues Society. Always check with individual venues for event details and schedule changes. Submit weekly listings by emailing: SANDY
1.
07
Earl and Them for Happy Hour at George's Majestic Lounge in Fayetteville

Blew Reed and the Flatheads at Good Vibrations in Rogers
1.08
Dawn Cate Band at JJ's Grill and Chill on Steamboat in Fayetteville

Jenna and Friends at JJ's Grill and Chill on Dickson in Fayetteville
1.11
Adam Collins, Matt Beach and Garrett Jones for Jazz at the Undercroft Bar in Bentonville
Brick Fields Blues Therapy at Moranos in Fayetteville

Vince Turner at JJ's Grill and Chill on Steamboat in Fayetteville

Ben Harris jazz guitar at Six-Twelve Coffeehouse and Bar in Fayetteville

Honey Collective (jazz) at Undercroft Bar in Bentonville
1.13
Jazz Jam with the Claudia Burson Trio at Roots HQ in Fayetteville

Richard Burnett at JJ's Grill and Chill in Bella Vista
1.14
Simply Seger-Bob Seger Tribute for Happy Hour at George's Majestic Lounge in Fayetteville

Keith Nicholson at JJ's Grill and Chill in Bella Vista
1/29
Bound for Beale IBC Fundraiser at 21c Museum Hotel in Bentonville
Please Submit Dates for Regional Blues Artists and Group Events HERE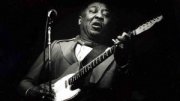 Today's show features music performed by Muddy Waters and Clara Smith

"I been in the blues all my life. I'm still delivering 'cause I got
Muddy Waters


Blues Education Supporters
Thanks to the following for their support of blues education.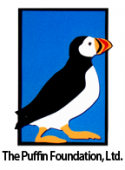 Check Out these regular local radio programs

"The Generic Blues Show" hosted by Paul Kelso airs every Friday night at 9pm on KUAF 91.3FM
Rockin' Hog Radio presents "Sunday Morning Blues" from 8am to 10am every Sunday
LINK
Get Involved with the Ozark Blues Society

Annual membership levels begin at $15 and give you so much in return, including meeting new friends while enjoying the best blues artists in the area.
By being a member of The Ozark Blues Society of Northwest Arkansas, you are helping to support the Arts and to preserve the Original American Art Form known as The Blues.
Membership Benefits Include:

Weekly E-newsletter
Opportunities to win tickets to events
VIP seating at events (when available)
Discounts on OBS merchandise
Social networking – meeting other people who also love the blues
Opportunities to volunteer on OBS committees and at events
Ability to attend board meetings and vote on upcoming organizational issues and elections
Visit our Website to renew or join! Ozarkbluessociety.org