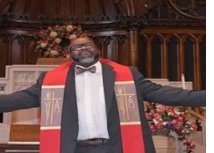 Greetings, beloved!
John 4:13-15 (NRSVUE – New Revised Standard Version Updated Edition)
Jesus said to her, "Everyone who drinks of this water will be thirsty again,
but those who drink of the water that I will give them will never be thirsty.
The water that I will give will become in them a spring of water gushing up to eternal life."
Water is us, we are water.
Water shared between us is both a gift and a promise.
Water can cleanse us and heal our wounds.
Water holds promise of life!
This week think about the many gifts we share,
the many attributes that we have in our midst.
Think also about "amen" and "ase

.

"
Amen, so it is!
Ase

,

' we — us, our ancestors and Divine Source, have agency in bringing our Future Story to fruition!
There's an old song that we used to sing on baptism days, that I want to share with you.
"
Wade in the Water
" is an African American jubilee song, a
spiritual
— in reference to a genre of music "created and first sung by African Americans in slavery." The lyrics to "Wade in the Water" were first co-published in 1901 in
New Jubilee Songs as Sung by the Fisk Jubilee Singers
by Frederick J. Work and his brother, John Wesley Work Jr.,
an educator at the
historically black college
in Nashville, Tennessee,
Fisk University
.
The Sunset Four Jubilee Singers made the first commercial recording of "Wade in the Water" in 1925 — released by
Paramount Records
.
W. E. B. Du Bois
called this genre of songs the Sorrow Songs. "Wade in the Water" is associated with
songs of the Underground Railroad
.
(edited from Wikipedia)
The refrain says,
"Wade in the water
Wade in the water, children
Wade in the water
God's gonna trouble the water."
Enjoy this classic version
And this modernized version
(My apologies, both use masculine references to God and binary gender language)
Yours in service and love,
— Rev. Louis
Caring & Sharing: Stories About Stewardship
Caring & Sharing Time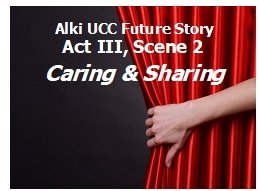 with Dan Kennedy
As the liturgist last Sunday I spoke about the idea of giving some of our time, talents and treasure to our church so we as givers will be affected for the better and so Alki UCC may continue to be an enriching spiritual home for ourselves and a kind and determined energy in the local and wider world. This theme will continue in many of the services to come as the liturgists at each of the services share their own stories.
I used myself as an example, focusing on my efforts using my time and talents as a singer to give many hours to the church and its music program over the last couple of decades. I've sung in various versions of our choir while being directed by a host of fine directors. Some of my happiest moments—literally—have been while singing with my choirmates for you and others in our community. It's been a give and take, yes? Better yet, a give and receive.
As for my thoughts about my treasure, (as it is!) and the church, I am now pleased to be giving monthly via a regular automatic withdrawal from my bank account instead of giving more casually when I felt like it. That's more for me and you. Thank God. — Dan Kennedy
# # #
Each week, the liturgist or another church member will tell their personal story about a caring and sharing experience from their heart about Alki UCC both at Sunday Worship and in this newsletter.
Do you have a story to tell? Please feel free to sign up to share your participation in caring for this community with your time, talent, and treasure! If you have questions, please email the Stewardship team: stewardship@alkiucc.org.
Memorial Service/Celebration of Life for Dayle B
Sunday, May 15 at 1:00 pm
(See story below)
May Donations Drive
Sunday, May 22 from 11:00 am to 3:00 pm
Front Courtyard
Non-perishable food donations distributed by the White Center Food Bank; Men's Casual/Work Clothes find new homes at the Westside Interfaith Network "Welcome Table" lunch for our neighbors experiencing homelessness
Memorial Service/Celebration of Life for
Dayle B Sunday, May 15 at 1:00 pm
As previously announced, our own Dayle B passed away at St.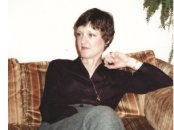 Joseph Residence on March 31. Arrangements are being made for a memorial service at Alki UCC on Sunday, May 15 at 1:00 pm.



Note: the service is in-person only.





Although Dayle was a very private person, she was an active member of Alki UCC for many years and was well-known. Many Alki people supported her in the past several years, helping with tasks around her apartment or driving her to her numerous appointments; we're sure there are many memories floating around out there!





Join us for a post-service reception (dress for outdoors) following the memorial, where folks can share more stories and enjoy some of our favorite Dayle coffee hour recipes: i.e. Nordy Bars, Molasses cookies and Peanut Butter cookies. Donations may be made to Alki UCC in Dayle's memory.



Volunteers are needed to help with the reception! Please contact Sandy J or Vicky S.

Strengthening Our Journey:
A Vigil for Racial Justice
Wednesday, May 25
Gather at 6:00; Vigil Service at 6:30 pm
Immaculate Conception Church
820 18th Ave, Seattle

Speakers: Jeanette Rodriguez, Ph.D.
Professor, Theology and Religious Studies, Seattle University
Michael Ramos, MDiv
Executive Director at Church Council of Greater Seattle




Join us to commemorate the 2nd Anniversary of the murder of George Floyd. There will be time for personal reflection followed by an opportunity to recommit ourselves to working for racial justice.

Sponsored by South Seattle Deanery Racial Solidarity Committee.
For more information or questions, contact Deacon Steve Wodzanowski.

Alyson H wrote to let us know the sad news that Nick Tobler-Wolf, son of Jane and Dan died tragically in a recent pedestrian accident. Members of the Tobler-Wolf family were part of the Alki UCC community for many years and our collective heart goes out to them in their grief.
For those grieving the recent death of a loved one:
The Alki UCC community and friends/family of our own Dayle B, Julia, Rod and family on the death of Julia's youngest brother Rick B, Cinda S and family on the death of her brother-in-law Tom P, Charlie H and family, Todd S and family, Patty M
Recent hospitalization, illness and other concerns:
Dan K, former Alki UCC member Mark H, Shannon's "stepmomma" Gail B, Julia C's good friend Kevin B, Nette M, Dan K, Sue B's friends Mary and Louise, Cindy, Jeff and Kirstin's sister-in-law Sue, Kirstin D, Shannon P's father Rev. Dr. Bill, Verona's younger brother Eric, Bonita C, Claire F, Imy P, Kirstin D's father, Don P

For homebound members/friends of Alki UCC: Doris C
Wider World: Prayers for all those affected by the corona virus outbreak; all those suffering from PTSD in the military and around the world; for all those affected by misguided immigration policies; prayers for fewer guns, for all victims and those affected by gun violence; victims and survivors of extremist violence around the world; migrants seeking refuge around the world, and for those who are trying to help them. The rest of the missing schoolgirls kidnapped by Boko Haram, who remain in our hearts as long as they remain missing. The hungry and homeless, the ill and the addicted, the lost and the lonely; the unemployed.
Worship this Sunday,

May 15

at 10:00 am

The Fifth Sunday of Easter


Guest Accompanist: Zachary Kellogg


Liturgist:





Contemporary Voice:


"Everyone has burdens. What counts is how you carry them."


― adapted from a quote by Merle Miller


Scripture Reading:
Galatians 6:1-3


(NRSV)





Our Shared Time Together: "Burdens and Blessings"



Music Highlights:
To You, O God, All Creatures Sing, #17 NCH
Surely No One Can Be Safer, #487 NCH
Spirit of God, Descend upon My Heart, #290 NCH
How Great Thou Art (Zachary Kellogg, Alto Flute)

Click here for the Order of Online Worship.



If you're already registered for Sunday worship on Zoom, use your personal link. If not, welcome! Please
register here.

PNCUCC May Post Now Online
Check it out here!

Featuring the Reflection given by Rev. Mike Denton at the Annual Meeting, Mike's Denton's blog, Conference Calendar, World Labyrinth Day and more!

"Alaska Suite" to Benefit Green Buildings Now
Sunday, May 15
3:00 pm
Seattle First Baptist Church
1111 Harvard Ave
The Nelda Swiggett Quintet performing "Alaska Suite," Swiggett's multimedia jazz story of beauty, loss and hope.
Information and tickets:

Seward Park Neighborhood Fundraiser for Refugees
Sunday, May 15
9:00 am to 3:00 pm
51st Ave S between S Dawson and S Farrar Streets.


Event benefits three local nonprofits working with Ukrainian and Afghan refugees.
Enjoy yard sales, artwork, plants, plus delicious
baked goods from local refugee communities.
Check out the flier here.
For secure, online giving through Give Lively, click the blue button below.

You can also send your check,
made out to "Alki
UCC" to:
6115 SW Hinds
Seattle, WA 98116
Sunday Worship Videos Posted on YouTube

Sunday Worship recordings now online! Check out Alki UCC's very own YouTube channel.
Sunday Worship Registration

If you've already registered on Zoom, you can still use your personal link. If not, you can register here.
When you register, please use your first/last name plus your email.

Check for church news and calendar updates at www.alkiucc.org.