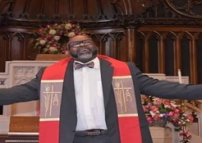 Well, beloved, here it is, my final newsletter with you.
Some of you will be sad and others, hopefully not too many, will be happy to read someone else's "voice" weekly!
That was my attempt at trying to inject some levity into this bittersweet moment.
First, thank you! Just thank you. It seems too small a phrase to capture my gratitude and joy for all you've shared, given, taught me over our brief time together.
Second, let's continue to hold each other in prayer. Prayer is a powerful tool, like gratitude. I will continue to hold you in my heart and my prayers.
Third, don't let go of the dream! Setbacks, detours, speed bumps and road rash are all part of the journey! Take some deep breaths and dare to dive back into the deep end.
Fourth, and most importantly, God is able! Miracles happen every day. The impossible is just not yet. Try your best not to let today's hard realities dampen the brightness of possibilities!
As one of my dearest friends would say every time we parted, be good to yourself!
Be kind to yourself. Be tender to yourself. Be forgiving to yourself. Be proud of yourself. Be enamored with yourself. Be in love with the wonderful creation of God that you are!
Ase' and amen!
May the grace of God, the teachings of Christ and the fire of the Holy Spirit surround, inform and infuse us as we go!
Blessings and love,
— Rev. Louis
Caring & Sharing: Stories About Stewardship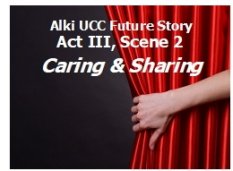 I cannot imagine my life without being part of our Alki UCC family.
I've attended various Christian congregations since the 1980s, where my experiences ranged from OK to being disappointed with what I perceived as an undercurrent of "othering" ... an attitude lacking inclusion or acceptance ... far from what I consider to be "Christ-like."
Christ is and was the most inclusionary, accepting, righteous, context-sensitive person that ever graced our earth. I hadn't been to "church" for more than 10 years when I walked into Alki UCC on December 3, 2017. That day everything changed and our UCC family at Alki became my home! On that divine day when the Spirit nudged me to "just go, Kim," I was greeted by our then Pastor Diane at the entryway and was embraced by a loving family who invited me to sit with them.
Although I'm an extrovert who loves people and being around people, I was admittedly pretty nervous about going back to church. That day, my spiritual doors were blown off! Messages of Hope! Inclusion! Acceptance! Forgiveness! Humility! Love without condition! Wow. During that hour of observation, I went from skepticism to spiritual belonging.
Following the service, Pastor Diane asked me if I sang. I had participated in choirs many years back and she asked if I wanted to sit in on choir practice following the service. I did and that was it: I was all in.
Since that time, I've had the distinct pleasure to serve for a short time on the Council, and to be part of the ongoing team charged with crafting our Future Story, a very enjoyable and fulfilling mission involving nearly a year of comprehensive congregational-wide engagement. I also served on the Caring Community Committee, and am presently on the Stewardship team.
Our church family is now embarking on a critical mission to build on our century-plus history of care by creating a Multi-Faith Community Center which will host a rich diversity of community offerings — from spiritual to cultural expression and exploration. I'm thrilled to be part of this transformation work because I'm certain that the Spirit will bring more folks in our doors as a place of refuge, social justice, exploration, celebration and care.
We have a historic opportunity, and indeed a collective responsibility, to continually work to intentionally love and provide care without boundaries and/or judgement just as Christ taught us. It's a tall order, but it is what I believe to be our purpose of life while we're here so briefly: to care for each other — all people in all circumstances and our fragile planet with a finely tuned compass grounded in equity and social justice. That's what Christ is all about.
— Kim B
# # #
Each week, the liturgist or another church member will tell their personal story about a caring and sharing experience from their heart about Alki UCC both at Sunday Worship and in this newsletter.
Do you have a story to tell? Please feel free to sign up to share your participation in caring for this community with your time, talent, and treasure! If you have questions, please email the Stewardship team: stewardship@alkiucc.org.
Pastoral Search Committee (PSC) Update
The Pastoral Search committee wants to share some news. Our recent final candidate for our designated-term pastor has declined our call. We are sad and disappointed but not dispirited. We understand the reasons for our candidate to feel that the Spirit is not calling them to Alki; that said, we are recommitting ourselves to continue our search.
We are reviewing and updating our church profile and will resubmit it to the Pacific Northwest Conference to be posted for a National UCC search.
It has been a long year of praying, reading, discussing and more praying as we search for the next designated-term pastor for Alki UCC to lead us into our Future Story. Please keep us in your prayers.
We are full of hope, and confident that God will lead us to the place and person we need. As our conference minister, Mike Denton reminds us, "Trust the Spirit."
Prayerfully,
Julia P for the
PSC
Heart Flags for Hope and Peace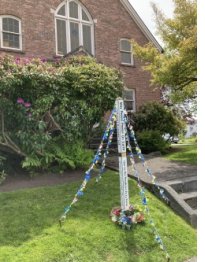 The church's Peace Pole, which was installed in 2007 on the grounds in front of the original entrance, is now festooned with dozens of specially-designed batik hearts created last month during a workshop with local social justice activist and artist Denise Hendrickson.
On Sunday,
Cinda S and Julia C decorated the pole with heart flags representing Ukraine, Somalia and Yemen to show our love and support for the people of these and other conflict zones.

You're invited to unpin a heart from the Peace Pole to wear in solidarity and support.
# # #
And now a flash from the past … (excerpt from Alki UCC 2007 Annual Report)
Peace Pole and November 11 Dedication: Shannon preached ... and after worship we dedicated our Peace Pole, which proclaims "May Peace Prevail on Earth" in nine languages: Spanish, Vietnamese, Japanese, Swahili, Arabic, Braille, Salish (Duwamish Tribe), Hebrew and English.
Much thanks to Blair Constantine for his expertise in the installation of the pole, Joe Aprile for his generous contribution, and the congregation for all of their donations and support.
Continued prayers of healing and comfort for Jeff D's brother, Andy, recovering from complications after surgery.
For those grieving the recent death of a loved one:
The Alki UCC community and friends/family of our own Dayle B, the Alki UCC community and friends/family of Nick Tobler-Wolff; Julia, Rod and family on the death of Julia's youngest brother Rick B, Cinda S and family on the death of her brother-in-law Tom P, Charlie H and family, Todd S and family, Patty M
Recent hospitalization, illness and other concerns:
Dan K, former Alki UCC member Mark H, Shannon's "stepmomma" Gail B, Julia C's good friend Kevin B, Nette M, Dan K, Sue B's friends Mary and Louise, Cindy, Jeff and Kirstin's sister-in-law Sue, Kirstin D, Shannon P's father Rev. Dr. Bill, Verona's younger brother Eric, Bonita C, Claire F, Imy P, Kirstin D's father, Don P

For homebound members/friends of Alki UCC: Doris C
Wider World: Prayers for all those affected by the corona virus outbreak; all those suffering from PTSD in the military and around the world; for all those affected by misguided immigration policies; prayers for fewer guns, for all victims and those affected by gun violence; victims and survivors of extremist violence around the world; migrants seeking refuge around the world, and for those who are trying to help them. The rest of the missing schoolgirls kidnapped by Boko Haram, who remain in our hearts as long as they remain missing. The hungry and homeless, the ill and the addicted, the lost and the lonely; the unemployed.
Worship this Sunday,

May 29

at 10:00 am

Communion Sunday

The Seventh Sunday of Easter

Celebrating

Rev. Louis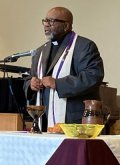 Guest Accompanist: Zachary Kellogg


Liturgist:





Contemporary Voice:
"Gratitude is a Power Tool"
— Rev. Louis J. Mitchell

Scripture Reading:
2 Timothy 1:3-4

(NRSV)





Our Shared Time Together:


"Thanking God for What We've Shared!"





Music Highlights:
Come, O Fount of Every Blessing, #459 NCH
There Is a Name I Love to Hear, #52 NCH
Blessed Be the Tie That Binds, #393 NCH
Amazing Grace
God is Able
Smokie Norful

Click here for the Order of Online Worship.



# #



Attend in-person (masks required) or virtually via Zoom. If you're already registered for Sunday worship on Zoom, use your personal link. If not, welcome! Please
register here.

Help plan Rev. Louis' last Sunday (May 29) at Alki UCC
THIS Sunday, May 29, is our beloved Rev. Louis' last service with us before he leaves to begin his new calling at Tucson's Rincon Congregational United Church of Christ.

Join us in the sanctuary for 10:00 am Sunday worship when we will celebrate him and send him off in style with gratitude and great love.

Your reflections about him, stories, blessings, songs, etc. will be an important part of our time together.

If you haven't already, please send your entry TODAY or first thing tomorrow.

You're invited to read your offering during service … or if that's not your thing, we're happy to read your reflection for you.

— Julia P, Dan K, and Cinda S, who will be compiling your notes.

Sunday, June 12
Budget Preview Conversation
right after worship
Sunday, June 26
Annual Meeting of the Congregation during 10:00 am worship
Join us for a lively conversation about the future of your church. You'll have the opportunity to ask questions of the council, celebrate the work we have already done together and plan your future Alki UCC!
In-person attendance is encouraged for both meetings. Face coverings required/social distancing observed.
If virtual attendance via Zoom is your only attendance option, contact Shannon P for a quick overview.
― Your Alki UCC Council
For secure, online giving through Give Lively, click the blue button below.

You can also send your check,
made out to "Alki
UCC" to:
6115 SW Hinds
Seattle, WA 98116
Sunday Worship Videos Posted on YouTube

Sunday Worship recordings now online! Check out Alki UCC's very own YouTube channel.
Sunday Worship Registration

If you've already registered on Zoom, you can still use your personal link. If not, you can register here.
When you register, please use your first/last name plus your email.

Check for church news and calendar updates at www.alkiucc.org.