From the Council Moderator
Hello fellow Alki UCC folks:
It's that time of year again when we elect new folks to the council and ministry teams ... and we need everyone to step up and find a way to be involved.
Please volunteer to join a ministry team. Volunteer to lead one of those ministry teams, which means helping coordinate the activities of that team. And we need folks to agree to be representatives of those teams to the Alki Council.
Those serving as council members do not have to be the same people who are leading the team; dividing up the work helps spread the load. Many of our current council members have served for several years in a row, and while they remain passionate about their volunteer work, it would be better if there were some new folks serving the council.
We meet once a month, and we even have had instances where two team members share that responsibility, so it is not an overwhelming time commitment. Engaging in the process of being a church is part of what sustains and moves Alki UCC as a vibrant church community.
In the coming weeks we will identify and provide information about the various ministry teams available for your participation. If you have an interest in joining a team or stepping up to a role on the Council, please reach out to me.
We need and want each of you to be involved!
— Joe M, Council Moderator
Caring & Sharing: Stories About Stewardship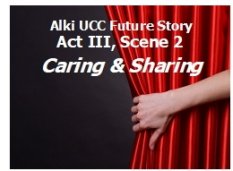 The common thread from Dan and Kim's stewardship messages of the last couple of weeks has been their stories of what brought them to Alki and why they stayed and got involved. So here is a short version of my story.
Nette and I first came to Alki for the baptism of Ian Gesellchen, about 21 years ago. Soon after that, Gary, who was on the pastoral search committee, invited us to come listen to Diane's first sermon, and we did. While we knew a number of folks from Alki through other connections, we were not looking for a church. But we were intrigued by that first sermon, so we came back a few times. We went on the summer camping weekend, and then on the retreat to Seabeck. And then I was invited to join the choir.
Somewhere in that first year I joined Diane's first new members class (along with Cinda), and a few weeks later Nette and I became members. After that Claire invited me to join the nominating committee, and within a couple of years I was on the board, serving as chair during my second year.
While I had not been looking for any of this, it turned out that the various church activities fed needs I didn't know I had, and the sense of belonging to this wonderful church community became one of the key parts of my life.
Stewardship is about time, talent and treasure. The financial part is key, obviously, because the pledges and other donations form the basis for establishing an operating budget to hire staff and maintain the building. I prefer, however, to focus on the time and talent aspects. First, I salute all of you who have contributed your time and talents over the years and recently. For those of you who have not been active, I encourage you to become involved. And I ask everyone to do more.
The reality is that we are a small congregation. The past two years of being away from physical engagement with our church community due to the pandemic, has resulted in fewer people doing more things. So please dig deep in the coming weeks and find one or more new ways to help us move into the future.
If you aren't on a ministry team, please join one. If you are, join a second team or assume a leadership role in one of those teams. And we really could use some new Council members. Over the years, being involved in choir, the Council and various other teams has brought me closer to this wonderful, loving community and the people who make up our congregation.
The gift of your time and talent will come back to you many times over. I also encourage everyone to find ways to share your own Alki UCC stories.
— Joe M
# # #
Each week, the liturgist or another church member will tell their personal story about a caring and sharing experience from their heart about Alki UCC both at Sunday Worship and in this newsletter.
Do you have a story to tell? Contact the Stewardship team: stewardship@alkiucc.org.
Tonight at 6:30 pm:
Join Carpool for Interfaith Prayer Vigil and March Against Gun Violence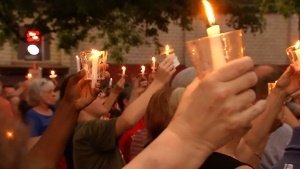 All people of faith are invited to come together in a prayer vigil for the victims of the massacre in Uvalde.

We will gather at 6:30 pm at Temple De Hirsch Sinai at 1511 East Pike Street, and then march to St. James Cathedral where we will continue to pray, remember the victims, and strengthen our resolve to end the scourge of gun violence in our nation.

Julia P is organizing a carpool. Contact her here to get on board!

Parking at Temple de Hirsch Sinai is limited. Please consider taking public transportation to the Temple. Free parking is available at St. James Cathedral.

Amnesty International Webinar for UCCs
on the Human Rights Crisis in Ukraine
and Refugee Rights
Monday, June 6 from 7:00 to 8:00 pm (PT)
Register here

Amnesty International USA will share information and resources for advocacy around the human rights crisis in Ukraine and equity in refugee rights as a whole. Alex Raufoglu, an AIUSA Country Specialist and renowned journalist in the region of Turkey and Eurasia, will cover the state of affairs on the ground in Ukraine, the international laws being violated, and the war crimes being committed.

Alex will also discuss the inequity in the global and US response to Ukrainian refugees, and how it has differed from the treatment and policies around Black and brown refugees. Jennifer Estrada, AIUSA Community Program Manager, will provide resources to take action to support Ukrainians and refugees as a whole, both in the moment and in an ongoing way. Register here!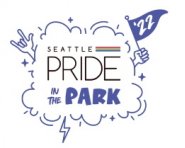 Does anyone want to attend the Pride Parade?

Seattle Pride Parade follows a downtown route on Sunday, June 26 Let's start planning!

— Cinda


Continued prayers of healing and comfort for Jeff D's brother, Andy, recovering at home from complications after surgery.
For those grieving the recent death of a loved one:
The Alki UCC community and friends/family of our own Dayle B, the Alki UCC community and friends/family of Nick Tobler-Wolff; Julia, Rod and family on the death of Julia's youngest brother Rick B, Cinda S and family on the death of her brother-in-law Tom P, Charlie H and family, Todd S and family, Patty M
Recent hospitalization, illness and other concerns:
Dan K, former Alki UCC member Mark H, Shannon's "stepmomma" Gail B, Julia C's good friend Kevin B, Nette M, Dan K, Sue B's friends Mary and Louise, Cindy, Jeff and Kirstin's sister-in-law Sue, Kirstin D, Shannon P's father Rev. Dr. Bill, Verona's younger brother Eric, Bonita C, Claire F, Imy P, Kirstin D's father, Don P

For homebound members/friends of Alki UCC: Doris C
Wider World: Prayers for all those affected by the corona virus outbreak; all those suffering from PTSD in the military and around the world; for all those affected by misguided immigration policies; prayers for fewer guns, for all victims and those affected by gun violence; victims and survivors of extremist violence around the world; migrants seeking refuge around the world, and for those who are trying to help them. The rest of the missing schoolgirls kidnapped by Boko Haram, who remain in our hearts as long as they remain missing. The hungry and homeless, the ill and the addicted, the lost and the lonely; the unemployed.
In-Person Only

Worship this Sunday,

June 5

at 10:00 am

It's Pentecost Sunday!


You're invited to join us in the sanctuary for an in--person only service, featuring members of the congregation leading each element of worship and joyous hymns to sing in celebration.
In true Pentecost tradition you are encouraged to WEAR RED!!
By Sunday we should also have an update for you on our pastor situation.
Your safety is a continued priority; we will be well- spaced, and singing with masks on.
Join us after worship for Coffee Hour, hosted by Sandy J and the Fellowship Team.
Service Leaders:
Joe M and members of our Worship and Music/ Worship Logistics ministry teams.
Guest Accompanist: Zachary Kellogg
It's a Zoomless Sunday! The service will NOT be streamed live or taped to give our dedicated tech hosts a much deserved break. Zoom streaming will resume for the June 12 Sunday service.
Coming to Your Inbox:
Stewardship Info Arriving Tomorrow!
Your Stewardship Forms will arrive via email tomorrow on Friday, June 3. Please watch for this important message, which includes a link to our handy, online form.

Reach out to the team at Stewardship@AlkiUCC.org if you have any questions.
Extra printed forms will be available at the church on Sunday, June 12 during our post-worship Business Meeting.
Sunday, June 12




Budget Preview Conversation




right after worship



Sunday, June 12
Food/Men's Casual Clothing Donations Drive
11:0o am to 3:00 pm
Front Courtyard



Sunday, June 26


Annual Meeting of the Congregation during 10:00 am worship


Join us for a lively conversation about the future of your church. You'll have the opportunity to ask questions of the council, celebrate the work we have already done together and plan your future Alki UCC!





In-person attendance is encouraged for both meetings. Face coverings required/social distancing observed.

If virtual attendance via Zoom is your only attendance option, contact Shannon P for a quick overview.


― Your Alki UCC Council



West Seattle COVID Vaccine Clinic this Saturday, June 4
Appointments available between 10:00 am and 3:00 pm
Walt Hundley Playfield
6920 34th Ave SW
Sign up here!

The clinic is featured as part of the Loop the 'Lupe Fun Run fundraiser.
Given the CDC's new recommendation for boosters for kids 5+, this is turning out to be very timely.

For secure, online giving through Give Lively, click the blue button below.

You can also send your check,
made out to "Alki
UCC" to:
6115 SW Hinds
Seattle, WA 98116
Sunday Worship Videos Posted on YouTube

Sunday Worship recordings now online! Check out Alki UCC's very own YouTube channel.
Sunday Worship Registration

If you've already registered on Zoom, you can still use your personal link. If not, you can register here.
When you register, please use your first/last name plus your email.