From the Council Moderator
Since I am temporarily filling the Pastor's corner, let me share a brief reflection of the pastor's role, both historically and looking forward. This is a condensed version of my message in Sunday's service when I expressed my delight to see so many of you in person!

Alki UCC boasts a rich tradition of pastors who have taken turns to serve this congregation for more than a century. Our church also has a tradition (shared by most UCC congregations, I am certain) of having a variety of interim and bridge pastors during those in-between times, which have often lasted for several years.

While it is true that Diane has been gone for several years now, this is not a time for concern or despair. We have been ably served and led by Pastor Kelly and mostly recently Reverend Louis, as well as a variety of short term pastors. Pastor Kelly helped us through our discernment process and re-organizing how we do the business of church, both endeavors essential to our search and call for a new pastor. Reverend Louis opened our eyes to new possibilities and stretched our horizons of understanding and accepting all people, and I believe he has changed us forever.

The pastoral search committee started their work last fall, creating an extensive church profile in order to "go to market" in search of a new 3/4 time pastor. That process led to a number of applications received last winter, followed by several months of reviewing those applications and choosing three finalists. One of the final three decided to withdraw and stay at his existing job. Reverend Louis received a full-time offer that he couldn't refuse, and we celebrated with him a week ago. The third finalist was presented with an offer, but due to changing family dynamics ultimately decided that a move to Seattle was not appropriate at the moment.

The search committee is in the process of reviewing and updating the church profile, and, after a period of rest from their nine months of work, will re-post the job and begin accepting applications once again. In the meantime, the bridge pastor search team immediately reconvened. They found that their alternative choice from the bridge pastor search last year was still interested. An offer has been made and final negotiations are underway. We should be able to make an announcement in the near future.

For this Sunday and next, we again welcome an old friend and someone who helped us in the early days after Diane's departure, Reverend Dr. Bill Peterson, Shannon's father, who is in town for a visit. He will lead service for the next two weeks.

So we are in good hands, as we have been for the past several years, and God is with us as we continue moving forward towards our Future Story and what God calls us to be.

Peace be with you all.
— Joe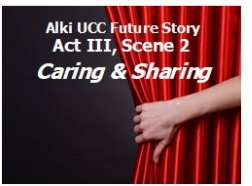 As we think about old and new ways to become church it is important for all of us to become valuable stewards! Linked here is the information emailed to you all last week. We invite you to prayerfully consider how you can support this amazing community.
Please note: we will not be mailing stewardship letters this year to save on paper and postage. Copies of the letter and Stewardship form will be available this Sunday after worship when we present the preliminary budget to the congregation. Join us in person or online for worship. And please email us at stewardship@alkiucc.org if you would like us to mail you a print version of the letter and form.
— Your Stewardship Team: Kim, Dan and Shannon along with Emily and Sandy who are representing the caring community/fellowship ministry team.
We look forward to hearing from you by Sunday, June 19

when we celebrate Stewardship Sunday.

Food/Men's Casual Clothing Donations Drive this Sunday, June 12
11:00 am to 3:00 pm
Front Courtyard

When you come for worship, bring your food/men's casual clothing and outdoor gear donations.

The Westside Interfaith Network (WIN), our donations drive partner, requests clean, wearable spring/summer clothes only, appropriate for unsheltered folks: jeans, khakis, hoodies, sweatshirts, tee shirts, vests, etc. Outerwear for rainy, cooler weather is also needed, as well as NEW underwear and socks.

Men's spring/summer casual/work clothes ONLY:

please NO suits, suit jackets, dress pants, dress shoes, etc.



WIN continues to need sleeping bags, blankets, tarps and backpacks

for our unsheltered neighbors.

As always, we welcome non-perishable food and hygiene items to be distributed through the White Center Food Bank. Visit the bank's Facebook page for the latest needs!

Other priority donations include: rice (white rice, basmati, jasmine, Thai sticky rice, etc.); sugars (white or brown) and oil — ideally containers that are 5 lbs. or less (not bulk).

Many thanks to our generous community for supporting our neighbors in need.

Report:
June 2 Interfaith Prayer Vigil and March Against Gun Violence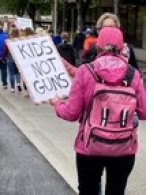 Alki UCC's Julia P, Cinda S, Joe A and Julia C participated. Security was tight as the 6:30 pm Vigil got underway at Seattle's Temple De Hirsch Sinai. The outdoor service began with a very moving prayer and reflection, followed by several congregational songs.
Then we marched ... following Madison Avenue outside the temple all the way to St. James Cathedral. It looked like hundreds of people attended the service and even more joined us along the way. The street was closed to cars and we had a police escort to ensure public safety.
The prayer vigil at St. James Cathedral was very moving. I was especially touched by the Cathedral's beautiful interior, the choice of emotionally inspired music, heart-wrenching poetry, ending with a Candlelight ceremony and prayers. The most memorable part of the service was when two young girls read the names of those who died in Uvalde, followed by a woman who read the names of those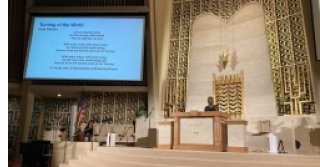 lost in Buffalo.
Please take a moment or two to read There is a Place, a powerful poem composed in 1996 by John Bell for the victims of the massacre at Dunblane Primary School, Scotland.
The whole experience gave me emotional access to feel at least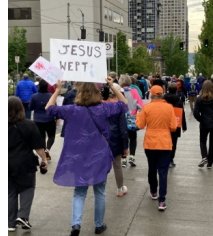 some of the pain endured by the victims' families. I was also even more motivated to join the effort to do something to stop gun violence!
Watch this space! The Social Justice Team is researching the best way(s) churches can help. Thank you for your deep-rooted concern and compassion.
— Julia C
Julia C's photos of the two Prayer Vigils and March are linked here
Pentecost Sunday at Alki UCC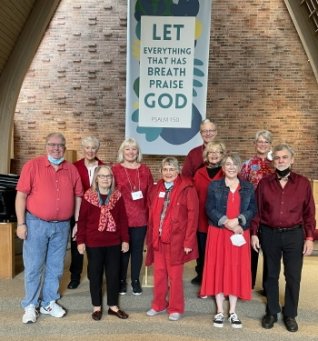 Thanks to Kathy O for sharing her pix of this festive
(and oh so goooood-looking) group.
Seems they all got the same "Wear Red for Pentecost" memo!
Prayers of support and healing for Julia C's good friend Cheryl W in anticipation of her impending back surgery for a serious injury.
For those grieving the recent death of a loved one:
The Alki UCC community and friends/family of our own Dayle B, the Alki UCC community and friends/family of Nick Tobler-Wolff; Julia, Rod and family on the death of Julia's youngest brother Rick B, Cinda S and family on the death of her brother-in-law Tom P, Charlie H and family, Todd S and family, Patty M
Recent hospitalization, illness and other concerns:
Jeff D's brother Andy, Dan K, former Alki UCC member Mark H, Shannon's "stepmomma" Gail B, Nette M, Dan K, Sue B's friends Mary and Louise, Cindy, Jeff and Kirstin's sister-in-law Sue, Kirstin D, Shannon P's father Rev. Dr. Bill, Verona's younger brother Eric, Bonita C, Claire F, Imy P, Kirstin D's father, Don P

For homebound members/friends of Alki UCC: Doris C
Wider World: Prayers for all those affected by the corona virus outbreak; all those suffering from PTSD in the military and around the world; for all those affected by misguided immigration policies; prayers for fewer guns, for all victims and those affected by gun violence; victims and survivors of extremist violence around the world; migrants seeking refuge around the world, and for those who are trying to help them. The rest of the missing schoolgirls kidnapped by Boko Haram, who remain in our hearts as long as they remain missing. The hungry and homeless, the ill and the addicted, the lost and the lonely; the unemployed.
Worship at 10 am followed by Business Meeting

this Sunday

June 12

Trinity Sunday





Guest Pastor:




Rev. Dr. Bill Peterson


Rev. Bill is an ordained minister of the United Church of Christ. He has served churches as a pastoral counselor, pastor, and professional transitional minister since 1974. He began his professional life as an engineer with The Boeing Company. Bill's transition into ministry began as a lay youth leader with the United Methodist church of Mercer Island in the late 1960's. He was challenged by their questions and inspired by the thoughtfulness of youth, and moved his career into the ministry. He attended Chicago Theological Seminary and the University of Chicago for degrees in theology and human services, joined the UCC, and the rest is history.
Rev. Bill lives in Jacksonville, FL with his life partner, Rev. Gail Anne Benson who is also a professional transitional minister.



Guest Accompanist: Zachary Kellogg



Liturgist:


Cinda S





Scripture Reading:
Proverbs 8:1-4, 22-36

Homily:


"Getting Centered"



Click here for the Order of Online Worship.



If you're already registered for Sunday worship on Zoom, use your personal link. If not, welcome! Please
register here.





# # #





Budget Preview Conversation


Immediately after a slightly shortened service





Additional printed Stewardship forms and info sheets will be available



In-person attendance is encouraged. Face coverings required/social distancing observed.

If virtual attendance via Zoom is your only attendance option for the meeting, contact Shannon P for a quick overview.

Annual Meeting of the Congregation
Sunday, June 26
during 10:00 am worship
Join us for a lively conversation about the future of your church. You'll have the opportunity to ask questions of the council, celebrate the work we have already done together and plan your future Alki UCC!
In-person attendance is encouraged. Face coverings required/social distancing observed.
If virtual attendance via Zoom is your only attendance option, contact Shannon P for a quick overview.
― Your Alki UCC Council

Does anyone want to attend the Pride Parade?

Seattle Pride Parade follows a downtown route on Sunday, June 26 Let's start planning!
— Cinda

PNCUCC June News Now Online
New Committee members have been added to the Conference Directory and the churches and clergy changes are being updated. The 2022 edition will be available soon!




Our June issue features, Quick Links, Mike's Denton's blog the Conference Calendar, June Celebrations and more!

Read it here.

For secure, online giving through Give Lively, click the blue button below.

You can also send your check,
made out to "Alki
UCC" to:
6115 SW Hinds
Seattle, WA 98116
Sunday Worship Videos Posted on YouTube

Sunday Worship recordings now online! Check out Alki UCC's very own YouTube channel.
Sunday Worship Registration

If you've already registered on Zoom, you can still use your personal link. If not, you can register here.
When you register, please use your first/last name plus your email.
6115 SW Hinds,
Seattle, WA 98116
Church news and calendar updates at www.alkiucc.org.