It's rare to meet a child who doesn't enjoy books about animals. When the story includes an animal who is helping other animals or humans--then the draw is even greater. In this issue we feature an author whose debut lower middle grade book is coming out in September and an artist who illustrated a beloved book twelve years ago. Animal love is perennial! We hope one of the three giveaways will be a welcome addition to a reader's bookshelf in your home or school.
By McCall Hoyle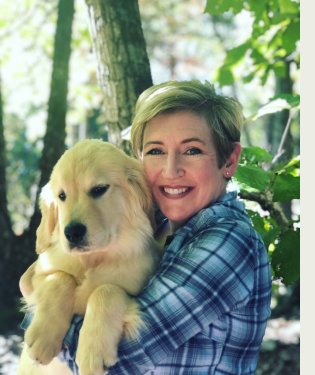 Emily Dickinson, one of America's best-loved poets, once said, "Dogs are better than humans because they know but do not tell."
Animals have always been some of my best friends because they seem to listen, understand, and love unconditionally. As a child, I was happiest at the barn with my pony or lying on the floor of my bedroom curled up with a Nancy Drew book and my cat.
As a young adult, I was loved by a golden retriever named Chip, bred to be a service dog, but by a fortunate twist of fate, ended up as our beloved family pet. That is where my fascination with working dogs began.
In addition to training Chip and several other dogs I also teach middle school. I love helping both people and dogs master new skills. It's rewarding to see a learner's confidence blossom—whether human or canine—as a result of newly acquired skills and knowledge.
My experiences as a child, and later as a teacher, inspired me to write Stella, a story about a working dog and a child with epilepsy. I was thrilled that my publisher, Shadow Mountain, decided to include my book in their empathy-building line-up.
Children can learn empathy through programs such as the 4H-Dog Club at my school, my library READing Paws programs, and our local American Kennel Club handling classes. These programs also share info about dog breeds and temperaments as well as activities families can participate in with their pets.
McCall Hoyle is an award-winning author and teacher-librarian. When she "grows
up", she'd also like to be a professional dog trainer. She writes hopeful, heartfelt books for kids of all ages and believes one of the best ways to spread hope is by writing about the special bond between dogs and their humans. Stella has been nominated for eight
Best Book of the Year state library awards. A companion book about another lovable canine will release in May 2023.
A YOUNG READER'S TAKE ON THREE BOOKS

Two Bobbies
by Kirby Larson and Mary Nethery
This is a true story that takes place in New Orleans after Hurricane Katrina. It is about two abandoned animals with stubby tails, a dog and a cat, that try to find a new home. Someone takes them to an animal shelter. The animal shelter discovers the cat is blind, so the dog is the cat's seeing-eye dog! I enjoyed reading about this unusual pair because dogs and cats normally fight!
Heroes: Incredible True Stories of Courageous Animals
by David Long
This book is about several different animals that helped in wartime. Some of them are birds, dogs, cats, and other animals. One interesting story is about a bear that carries bombs in WWII. He helps supply ammunition to the Allies' guns. I liked that there were a lot of animals that I did not expect could help in wartime.
Goliath: Hero of the Great Baltimore Fire
by Claudia Friddell
This story is about a horse named Goliath that helps in the Great Baltimore Fire. His job is to transport a water tower that blasts water into skyscraper windows. While at the burning building, an explosion burns Goliath. The water rig is trapped and they can't get out of the narrow street. Finally, he lunges forward and the rig breaks free. The building collapses just as Goliath and the engine escape. At the end of the fire, Goliath is taken care of and amazingly survives his burns. I thought it was interesting that horses pulled fire engines at that time. This is an exciting picture book with engaging illustrations.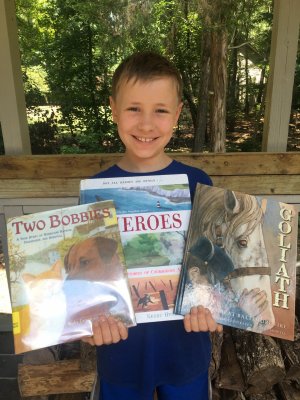 Jack B. is 9 years old and lives in Matthews, NC. He loves to write, build forts, tinker, and build things.
Classroom or Home School Activity


by Joyce Moyer Hostetter

Lead a class discussion on animals as helpers. Some questions to consider include:
1. What are some ways that animals can help people or other animals?
2. Have you heard some unusual stories about animals helping out in a crises?
3. How do your animals help you personally? (or your family)
After your students have identified ways their pets have helped them or a family member, encourage them to write about that experience. Have them:
Identify the animal by name and type.

Describe their animal's habits and personality quirks.

Include a specific anecdote about when their animal contributed to their health, safety, or emotional well-being.

Include descriptions, actions, and feelings.
If some of your students haven't experienced this, give them an opportunity to research online or read a library book about someone who has gotten help from an animal. Ask them to write that story, using the suggestions above.
We love to hear from our readers!

You can contact us through the newsletter or individually at the following websites.

We're also both available for school visits.

Joyce

We're always looking for teen or pre-teen reviewers. If you know someone who might be interested in reading and writing a short synopsis of three books, please email us.
Please Share Talking Story!
Have you noticed the "Share" button on the top of this newsletter? If you share TALKING STORY either on social media or email it to a friend, we will enter your name in our giveaway. Please
email
by July 28 to tell us what you have done, and your book preference and we will add your name to the hat!
If you're having trouble emailing us, try using CHROME browser.
and we'll enter your name to win one of the three books below.
Each will intrigue a young reader in your life.
If you have a book preference, please mention it. We try to honor requests.
US

address

only!
Enter by
July 28


(Or better yet, enter right now!)
If you forward Talking Story
to a friend or share this issue on social media, please let us know. We will enter your name for one of these three books.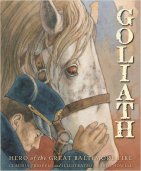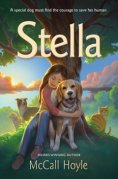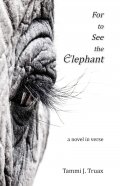 While there are many stories about animals who rescue, serve in wars, or help fight fires one of the main things they do for humans is provide emotional support.

When I wrote Healing Water which takes place in Hawaii, I gave my character, Pia a horse named Maui. However, when Pia contracts leprosy and is banished to a remote peninsula on the island of Molokai, he finds himself in survival mode - separated from all he loves, home, family and his beloved horse.
His fight for survival is both physical and emotional. And while his family cannot provide him companionship in the leprosy settlement, his horse is allowed. If only Pia can find the means to get him there.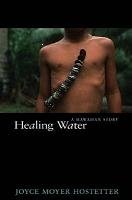 Books About


SPIES

and

SPY HUNTERS

by Calvin Alexander Ramsey
Congratulations to

winners from our

Spring issue.

Monica Roe won No Clues, You Lose.
Barbara Baldwin won AIR.

Michelle Wall won My Three Friends and Me Zulay.
To Jack Browning for being our book reviewer.

To Sleeping Bear Press for Goliath illustration and giveaway copy.

To Shadow Mountain for providing a giveaway copy.

To Joanne Hunsberger for proofreading.