It's Stewardship Time ... Read this!
Special treats could be yours!!
Stewardship Sunday is THIS weekend on June 19 and there WILL be special recognition for everyone who has turned in their forms.

… so please try to get your form in

by this Sunday, June 19.

The sooner, the better! Early submission is important so we can plan the coming year to make best use of your generous gifts of time, talent AND treasure!
It will only take a few minutes to complete your Stewardship Form. Here are some easy options:
Be sure to follow instructions all the way through to the bottom of the form to ensure it is submitted correctly. You will receive an email confirmation that it has been completed
♥ PRINT & MAIL your form to the church office,

6115 SW Hinds St, Seattle, WA 98116.
You can pick up a printed copy at the church
or print the online form.
♥ PRINT & BRING the completed form

with you to church THIS Sunday!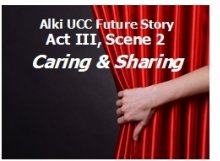 When you arrive for worship this Sunday, write your name on a piece of paper and add it to the collection plate.
Stay tuned... during our Annual Meeting next Sunday, June 26, we will draw a few names for folks to receive some special treats.
You do not have to commit to anything to fill out a form, you can just verify that you have received the form and confirm your contact information and you will still qualify for the drawing!
If you have any questions, please email us.
Thank you from your stewardship ministry team!
— Shannon, Dan and Kim along with Emily and Sandy representing the Caring Community ministry team
From the Council Moderator
Great news! As I announced Sunday for those attending worship, our prayers for a new bridge pastor have indeed been answered. Reverend Emily Tanis-Likkel will be joining Alki UCC starting Tuesday, July 5, with her first Sunday in the pulpit the following Sunday, July 10.
Emily is from West Seattle and embodies a fascinating variety of experience, as you will see in her personal introductory letter below. She was one of three finalists for the bridge pastor position last year, and also applied for our designated pastor position last winter. We received outstanding recommendations from her most recent churches, and she has expressed great excitement to be joining us.
Here is the letter she sent me by way of introduction:
— Joe
Dear Alki UCC,
I am so excited to be your new Bridge Pastor!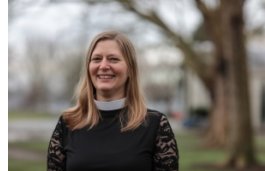 I was ordained in 2005 at Eagle Harbor Church, UCC in Bainbridge Island and served as their associate pastor for seven years. Next, I started a new church, Tapestry, following a Holy Spirit spark of discernment moment with none other than Rev. Diane Darling.
After a move to West Seattle, my experiences included Minister of Spiritual Play at Valley and Mountain United Methodist Church, preschool teacher, teacher of middle school specialist classes such as drama and creative writing, and Family Life Minister at St. John the Baptist Episcopal Church in West Seattle.
As your new Bridge Pastor, I am coming home to the United Church of Christ and home to pastoral ministry. I come to you, ready to listen to your experience, and we will listen together to our still-speaking God.
I live in West Seattle in a multigenerational household with my spouse, two teenagers, and my parents. My spouse, Brett, works for T-Mobile, and we have been married for twenty-five years. My daughter Eva is nineteen and just finishing up her first year of online college through North Seattle. She spends much of her time with books and crochet hook. My son Day is fifteen and just finished his 9th grade year at Summit Atlas High School and drivers training. He enjoys video gaming and hanging out with friends. My family is known for our giant batches of popcorn that we have at least three times a week. We love spending time together over dinner, watching movies, and playing games.
I write, teach, preach and lead from a foundation of embodied spirituality, expansive theology and wonder. I am trained in Nia, a holistic movement practice, which has informed my own spiritual practice of embodying Scripture, which is the basis of the book that I have been writing. I also love to read books. My latest read is How to Wash the Dishes by Whidbey Island author Peter Miller. "You will know your state of mind when you wash the dishes. Your care or your impatience; your attention or your distraction. You will see yourself, at that moment, clearly." So good!
I am very much looking forward to getting to know each one of you. I'm grateful to come alongside you in ministry.
In hope,
— Pastor Emily
John C's Stewardship Moment
I give my donation of time and a bit of talent by helping on the building maintenance team with Russ and Dave. My background in construction allows me to contribute in a way that saves the church money by doing certain projects ourselves and is part of my greater connection to Alki UCC and my fellow members.
I also donate a small amount in the form of a monthly pledge as having some predictable income streams helps the church plan ahead in terms of the budget. In the past I have been on the board and a couple of committees. However, my temperament isn't well suited for the pace and process required for this collaborative and rule bound process so I found another way to support my beloved church.
I want to encourage others to look at their own talents and see where they may be able to be put to use at Alki UCC. I find a great satisfaction from my volunteering and I have formed a new friendship and strengthened others that are now 20 years old while serving a greater good.
Thanks, John
Initiative to Create Affordable Public Housing
in Seattle
The House Our Neighbors! Coalition is collecting signatures to support passage of I-135 on the upcoming November ballot.
This initiative would require the City of Seattle to create a public- development authority (PDA) to build and operate permanently affordable housing much like the tremendously popular and successful European model of public housing (aka "social housing") exemplified by Seattle's well-known and successful Pike Place Market PDA.
We need to pursue more types of housing in our region, so this initiative would require the city to pursue a proven PDA model that catalyzes more permanent affordable housing for a wide range of people.
We will have signature forms at service this Sunday, please consider signing!
More information here.
Alki UCC Helping Our Neighbors in Need
Three women have recently requested financial help from the church, we have been able to provide a modest level of assistance to each.
One in particular regularly cleans for Alki Pre-School (her mother is a teacher there) and is seeking more opportunities to clean homes and do yard work.
If you need a house cleaner or someone to do light garden work, please contact Cinda.
Prayers of Congratulations and Celebration for Jeff and Kirstin D's daughter Kelly, who will be walking at graduation tomorrow at Spokane Falls Community College!!
For those grieving the recent death of a loved one:
The Alki UCC community and friends/family of our own Dayle B, the Alki UCC community and friends/family of Nick Tobler-Wolff; Julia, Rod and family on the death of Julia's youngest brother Rick B, Cinda S and family on the death of her brother-in-law Tom P, Charlie H and family, Todd S and family, Patty M
Recent hospitalization, illness and other concerns:
Jeff D's brother Andy, Julia C's friend Cheryl W, Dan K, former Alki UCC member Mark H, Shannon's "stepmomma" Gail B, Nette M, Sue B's friends Mary and Louise, Cindy, Jeff and Kirstin's sister-in-law Sue, Kirstin D, Shannon P's father Rev. Dr. Bill, Verona's younger brother Eric, Bonita C, Claire F, Imy P, Kirstin D's father, Don P

For homebound members/friends of Alki UCC: Doris C
Wider World: Prayers for all those affected by the corona virus outbreak; all those suffering from PTSD in the military and around the world; for all those affected by misguided immigration policies; prayers for fewer guns, for all victims and those affected by gun violence; victims and survivors of extremist violence around the world; migrants seeking refuge around the world, and for those who are trying to help them. The rest of the missing schoolgirls kidnapped by Boko Haram, who remain in our hearts as long as they remain missing. The hungry and homeless, the ill and the addicted, the lost and the lonely; the unemployed.
Worship this Sunday,

June 19

at 10:00 am

Stewardship Sunday


Guest Pastor
Rev. Dr. Bill Peterson
Guest Accompanist:
Zachary Kellogg
Liturgist:
Emily H
Contemporary Voice: "Nobody will stop you from creating. Do it tonight. Do it tomorrow. That is the way to make your soul grow – whether there is a market for it or not! The kick of creation is the act of creating, not anything that happens afterward. I would tell all of you . . . : Before you go to bed, write a four line poem. Make it as good as you can. Don't show it to anybody. Put it where nobody will find it. And you will discover that you have your reward."
— Kurt Vonnegut
Scripture Reading:
Galatians 3:23-29
Sermon:
"The Way We've Always Done It"
Click here for the Order of Online Worship.
If you're already registered for Sunday worship on Zoom, use your personal link. If not, welcome! Please
r
egister here.
Annual Meeting of the Congregation
Sunday, June 26
during 10:00 am worship
Join us for a lively conversation about the future of your church. You'll have the opportunity to ask questions of the council, celebrate the work we have already done together and plan your future Alki UCC!
In-person attendance is encouraged. Face coverings required/social distancing observed.
If virtual attendance via Zoom is your only attendance option, contact Shannon P for a quick overview.
― Your Alki UCC Council
Please NOTE!!
Worship Plans for Cancelled Alki UCC Service on Sunday, July 3
During last night's council meeting, it was decided to NOT hold service at Alki UCC on Sunday, July 3.

Following are our recommended alternatives for your consideration:

Longtime Alki UCC friend, Rev. Bruce Wilson, is currently the temporary minister at Admiral UCC while Pastor Andrew is on sabbatical.

Our own Cinda S is leading service/preaching at Normandy Park UCC with another longtime Alki UCC friend, Shannon Thomas, as liturgist.

Two excellent options!

Watch for additional details and relevant links in next week's newsletter.

— Joe M,
Council Moderator

PNCUCC June News Now Online
New Committee members have been added to the Conference Directory and the churches and clergy changes are being updated. The 2022 edition will be available soon!

Our June issue features, Quick Links, Mike's Denton's blog the Conference Calendar, June Celebrations and more!

Read it here.

For secure, online giving through Give Lively, click the blue button below.

You can also send your check,
made out to "Alki
UCC" to:
6115 SW Hinds
Seattle, WA 98116
Sunday Worship Videos Posted on YouTube

Sunday Worship recordings now online! Check out Alki UCC's very own YouTube channel.
Sunday Worship Registration

If you've already registered on Zoom, you can still use your personal link. If not, you can register here.
When you register, please use your first/last name plus your email.
6115 SW Hinds,
Seattle, WA 98116
Church news and calendar updates at www.alkiucc.org.