Dear Alki UCC,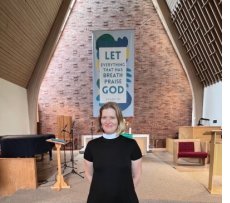 Last Sunday we heard Paul and Timothy's message of encouragement to the church in Colossae, of their prayers of thanksgiving after hearing of the faith, hope, and love that had borne fruit among them and in their community. I shared that I have been praying for you and thanking God for you, because I have heard how your faith, hope, and love has borne fruit among you, and in your community.
If you missed the service, you can find the edited recording here:
Alki UCC Sunday Worship July 10 2022.
This week we continue our look at Paul and Timothy's letter to the Colossians, as they remind the church to be steadfast in faith, "without shifting from the hope promised by the gospel." Artist and poet Jan Richardson writes this poem about hope in her book, The Cure for Sorrow: A Book of Blessings for Times of Grief.
Blessing of Hope
So may we know
the hope
that is not just
for someday
but for this day—
here, now,
in this moment
that opens to us:
hope not made
of wishes
but of substance,
hope made of sinew
and muscle
and bone,
hope that has breath
and a beating heart,
hope that will not
keep quiet
and be polite,
hope that knows
how to holler
when it is called for,
hope that knows
how to sing
when there seems
little cause,
hope that raises us
from the dead—
not someday
but this day,
every day,
again and
again and
again.
—Jan Richardson
We'll gather this Sunday to share our hope together in community!
Peace,
Pastor Emily
Thank you to all who have already emailed me to share a prayer request or a bit about who you are.
For those of you who have not done so, I welcome your personal message at pastor@alkiucc.org.
Anything goes! A prayer request, a favorite food, your connection to Alki UCC, whatever you'd like to tell me. I look forward to getting to know you!"
Contact

Info for Pastor Emily
pastor@alkiucc.org
Office Hours
Monday, Tuesday, Wednesday
8:30 am to 12:30 pm
Best to contact first before dropping by
Coming soon!
End of Fiscal Year 2021-22 Statements.
The Fiscal year for Alki UCC ended June 30, 2022. The Financial Secretaries are making the final statements available through the U.S. Postal service soon.

Be on the lookout for our mailing so you can compare your 2021-2022 pledge to your donations.

Many thanks to all who have made contributions to continue the support of our historic space to do God's work around this community and beyond!

— Financial Secretaries: Sandy J. and Julia P.

Please Read:
Printed Bulletins Return to In-Person Worship
Online Order of Service Still Available
The Worship and Music team has decided to bring back bulletins!
The shift begins this Sunday, after hearing that the slides on the monitor were not easy for everyone in the room to see.
Here is how you can access each Sunday's bulletin:
• In-Person: Printed bulletins will be available. To support our church's mission of being a "green building," please pick up a hymnal as you enter the Sanctuary so we don't unnecessarily waste paper printing the hymn lyrics of selections already in the hymnal. Lyrics to non-hymnal selections will be included.
• Online: A link to the online Order of Worship is posted every week in the Sunday worship event listing. Go to the home page of alkiucc.org and scroll down a bit to find the listings.
The link is also included in the newsletter's worship section (note: newsletter distribution will resume when the Office Manager returns from her summer break on August 8).
To access the bulletin for this Sunday, July 17, click here
Thank you for your patience as we continue to adapt to the challenges of staying safe while providing you with the best possible worship experience, whether you attend in the Sanctuary or virtually via Zoom.
Pastor Emily welcomes your feedback! Contact her here.
Jan and Ned Cochran send their greetings from Colorado. Ned says both of them were glad that Patty and Sandy were able to pick some flowers from their yard for the Alki UCC altar. It's been seven years they were back for a visit, but their gorgeous florals brighten service in their absence.
For those grieving the recent death of a loved one:
The Alki UCC community and friends/family of our own Dayle B, the Alki UCC community and friends/family of Nick Tobler-Wolff; Julia, Rod and family on the death of Julia's youngest brother Rick B, Cinda S and family on the death of her brother-in-law Tom P, Charlie H and family, Todd S and family, Patty M
Recent hospitalization, illness and other concerns:
Amy Y's mother Corlene, Jeff D's brother Andy, Julia C's friend Cheryl W, Dan K, former Alki UCC member Mark H, Shannon's "stepmomma" Gail B, Nette M, Sue B's friends Mary and Louise, Cindy, Jeff and Kirstin's sister-in-law Sue, Kirstin D, Shannon P's father Rev. Dr. Bill, Verona's younger brother Eric, Bonita C, Claire F, Imy P, Kirstin D's father, Don P

For homebound members/friends of Alki UCC: Doris C
Wider World: Prayers for all those affected by the corona virus outbreak; all those suffering from PTSD in the military and around the world; for all those affected by misguided immigration policies; prayers for fewer guns, for all victims and those affected by gun violence; victims and survivors of extremist violence around the world; migrants seeking refuge around the world, and for those who are trying to help them. The rest of the missing schoolgirls kidnapped by Boko Haram, who remain in our hearts as long as they remain missing. The hungry and homeless, the ill and the addicted, the lost and the lonely; the unemployed.
6115 SW Hinds,
Seattle, WA 98116
Church news and calendar updates at alkiucc.org.
Alki UCC Worship

Sunday, July 17

at 10:00 am





Rev. Emily Tanis-Likkel



Liturgist:
Cinda S.

Guest Accompanist:
Zachary Kellogg



Scriptures:


Psalm 15
reinterpreted by
Maren Tirabassi in
Living Psalms Book
Colossians 1:15-28
NRSV



Sermon:




"Born of Hope"



Join us either in-person (masks required) or virtually via Zoom.

Click here for the Order of Online Worship.

If you're already registered for Sunday worship on Zoom, use your personal link. If not, welcome! Register here.

Church Office on Summer Break
Beginning July 16
Larisa is taking her three-week summer break from July 16 through August 7.

Here's who to contact for:
Email Blasts
The newsletter will be on hiatus for the weeks of July 18, 25 and August 1. If you have any time-sensitive announcements send the info to Charlie H.
Scheduling Zoom
Contact Cinda S if you need to set up a church meeting. Email her with the meeting title, date/time and duration, and she will send you the login information to forward to your participants.
Building Use
If you want to use a room for an in-person meeting before August 8, please don't assume it will be available. Our building partner, KHN, uses the building on a regular basis. Contact Kristin M
BIG thanks as well to Shannon P handling communication with the worship team.
The church office is open through tomorrow in case you need anything or have a special request.
It's (still) Stewardship Time
Thank you for supporting our campaign!


There is still time to pledge or increase your pledge for the coming year. Just fill out or update your form and mail it in or fill out a new form HERE.
Thank you! And don't forget to contact the Stewardship team to let us know how you would like to share your time and talent.
For secure, online giving through Give Lively, click the blue button below.

You can also send your check,
made out to "Alki
UCC" to:
6115 SW Hinds
Seattle, WA 98116
Sunday Worship Videos Posted on YouTube

Sunday Worship recordings now online! Check out Alki UCC's very own YouTube channel.
Sunday Worship Registration

If you've already registered on Zoom, you can still use your personal link. If not, you can register here.
When you register, please use your first/last name plus your email.