The idea of a full flowing river is what comes to my mind as again this week, we have a newsletter FULL of news! How appropriate for news related to an American art form that grew out of the delta of the mighty Mississippi River. The don't miss news this week is an exciting announcement of a ticket give away to the upcoming appearance of the Robert Cray Band at the Walton Arts Center. There is also an article about the upcoming Gospel Celebration in Fayetteville, information about using AmazonSmile to help support Ozark Blues Society, and a helpful link for musicians looking for ways to add new income streams to their efforts. Read on below for these don't miss items. Returning articles from last week include information about registering for the Ozark Blues Society Blues Challenge. Also, important for this week in the information about some cool upcoming events this weekend and next. Please read on for information on all of these events.
And finally, below you will find an invite to join in at the upcoming OBS board meetings. We are always anxious to have member input!

Do always remember, this is YOUR newsletter! Please send
feedback or suggestions
our way. You will find Sandy's email address below.
We appreciate our readers and want
to see
your ideas included!
Fayetteville

We have real-deal Blues artists coming our way August 25-27, at the Roots Festival at the Downtown Square in Fayetteville. Of special note for those who love the legends: Taj Mahal, Bettye LaVette, and the North Mississippi Allstars! And of course the line-up features lots more artists! Check out their website for more info and to buy tickets.
Robert Cray

Coming to the WAC

This week our board officers received an exciting offer from the Walton Arts Center. They have the Grammy Award winning, Robert Cray Band, in concert on September 27th and have given us the privilege of giving away a free set of tickets to the show
to one of our lucky readers! We will hold a drawing on Saturday, September 17th and winners will be able to pick up their tickets at will call on the day of the show.

So how do you enter you ask?
To enter, just click here to email Sandy McCann. Put "Ticket Giveaway" in the subject line
and include your name, phone number
and email address in the body of the message. This drawing is open to ALL readers, however current and new members get an extra entry! No need to do anything,
we will verify your membership. All entries
will get an email confirming their entry. Emailed entries may be submited until midnight, Friday, September 16, 2022.
Watch this newsletter for more information about this awesome upcoming concert. Here is the basic information: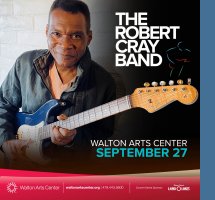 Who:
The Robert Cray Band
Where:
Walton Arts Center
When:
Tuesday, September 27 at 7:00pm
Thanks again to Liz Lottmann for sharing another link offering great information for musicians seeking to generate more income from their craft!
Found another little gem for our musician subscribers!

on Amazon Smile

Just this week, our board president, Liz Lottmann, reminded our board to make sure we were selecting Ozark Blues Society when we shop on Amazon. At that moment, I realized that since I regularly shop on the app, I was missing out on this option.
Good News! The AmazonSmile option is available on the app and the set up is simple!
It is a one time set up to participate.
1) Open and log in (if necessary) to your Amazon Shopping App.
2) Find and click on the set of menu lines found near the cart icon.
3) Find and select the topic, "Gifting and Charity"
4) Scroll down, if needed, to find and select AmazonSmile on the list
5) If you have already selected Ozark Blues Society of Northwest Arkansas on the web based version, it should appear at the top of the page. Click the "on button" to turn on AmazonSmile in the app. Do note that the app requires you to renew your choice of using Amazon Smile in the app 2x a year.
Thank You so much for your support!
Gospel Celebration

Coming to Fayetteville
September 11, 2022
September has been designated as Gospel Music Heritage Month by both the U.S Congress and
the Arkansas legislature as a means of recognizing the historic impact of Gospel music on American culture. Local nonprofit Music Moves is pleased to bring this national observance of Gospel music to Northwest Arkansas in September with special performances by acclaimed artists.
In honor of Gospel Music Heritage Month, Music Moves is presenting a Gospel Celebration on September 11 in Fayetteville, Arkansas. Hosted
by Grammy-winning educator Dr. Jeffrey Murdock with special guest artist Stephen Ivey, the Gospel Celebration will feature Fred Hammond, the
architect behind the creation of Gospel
sub-genre Urban Praise & Worship.

Throughout his professional career, Grammy-winning vocalist, songwriter, musician, and producer Fred Hammond has maintained a reputation for excellence. With over 8 million albums sold, Hammond has established himself as a mainstay on Billboard's Gospel Chart top 10. Recent nods from Chance the Rapper, Jamie Foxx, and Justin Bieber highlight Hammond's mainstream appeal.
The Gospel Celebration will be held at 6pm on Sunday, September 11 at Christian Life Cathedral in Fayetteville. General admission tickets are available for $10, with $5 tickets for children 2-10 years of age. Children 2 and under receive free admission. Tickets and more information are available at www.musicmovesar.com.
Music Moves is committed to educating and engaging the community by making high-quality performances of Black music and the arts accessible to everyone. The nonprofit partners with local organizations to bring live concerts to the community throughout the year and has recently produced and distributed curriculum showcasing Black cultural influence in the arts to music teachers in NWA. You can find more information about these events and more at the Music Moves website and Facebook page.
Sign Up Now!

Ozark Blues Society

Blues Challenge
Registration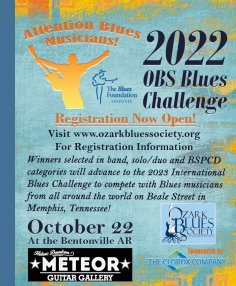 If you've been getting this newsletter for several years, you know all about the Challenge and its rewards. If you've just recently joined our list, well, you're about
to get schooled! Every year the Blues Foundation, based in Memphis, TN, produces the International Blues Challenge. All the venues in and around Beale Street
are filled with bands from all over the world
for four days and nights, to compete for the Big Win. There are around 250 participating blues societies from every country
imaginable, that send their local challenge winners to compete in Memphis.
Our Challenge will take place at the Meteor Guitar Gallery in Bentonville, AR, on October 22, 2022. Registration is now open and continues through October 8, 2022. Registration is open to blues bands and solo/duo artists that reside within 250 miles of Bentonville, Arkansas. The person registering for each act must be an active member of Ozark Blues Society to access the registration process. Please visit our website for all the details about the 2022 Blues Challenge as well as registration information.


Dusk to Dawn

Blues Festival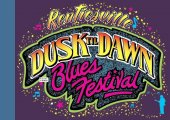 Something to DO over Labor Day Weekend!
200 musicians...Kids under 12 free, 3 stages
The Five W's:

WHAT

: Rentiesville Dusk til Dawn Blues Festival #32
WHEN

: Labor Day Weekend, Fri Sat Sun 5 pm til 5 am each night. Gates open at 4, Music at 6
WHO:

a virtual showcase of 22 regional groups and 5 national headliners.
WHAT's COOL

, WHAT'S NOT: Bring chairs or blankets unless you come early. No coolers or pets or arms or carry in drinks or food.
HOW MUCH:

$18/night, kids under 12 free Three Stages, Thirty Bands ...indoors til 5 am
The best version of the line up so far ! ... Looking forward to a great weekend!
MOTELS:

Muskogee is 17 miles north of here, straight up US 69. Many hotels and motels are up there!!! Candlewood is very reasonable and newly remodeled..
VOLUNTEER OPTION

: It takes a lot of people to do this – so we have a great deal for volunteers! Help us out for three hours before or during the event,,,you get i n that night free and a 1/2 off ticket on a T Shirt
We appreciate your support and look forward to seeing you. It takes a lot of people to do this... Thanks!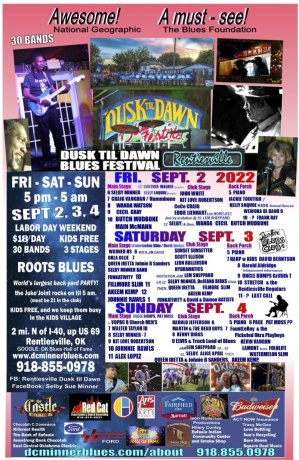 At Our Next

OBS Members Are Always Invited to the General Sessions of our b

oard meetings! The next meeting is scheduled for September 7th at the Holiday Inn in Springdale, AR. The General Session starts at 6:00pm. We meet in our "Blues Enclave" off of the main floor dining area. If you aren't a member yet, visit our website to join us. Membership benefits are listed over on the right-hand sidebar.
LIVE MUSIC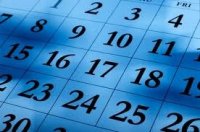 Please enjoy the following listings comprised of bands, venues, and/or organizations that support Ozark Blues Society. Always check with individual venues for event details and schedule changes. Submit weekly listings by emailing: SANDY
8.
26
Steve Pryor Tribute with Paul Benjaman and Friends for

Happy Hour

at George's Majestic Lounge in Fayetteville

Fayetteville Roots Festival at various venues in Fayetteville

Elizabeth Bainbridge Jazz Duo at the Inn at Carnall Hall in Fayetteville

Vince Turner at Sassafras Springs Vineyard in Springdale

Keith Nicholson at JJ's Grill and Chill in Bella Vista

Skye Pollard and the Family Holler at Chelsea's in Eureka Springs
8.27
Fayetteville Roots Festival at various venues in Fayetteville

Buddy Shute and the Motivators at Ozark Folkways in Winslow

Blew Reed and the Flatheads at Wanderoo Lodge and Bar in Eureka Springs
8.29

8.30
8.31
Brick Fields Blues Therapy at Moranos in Fayetteville

Ben Harris at Six-Twelve Coffeehouse and Bar in Fayetteville
9.02
Gone Country for

Happy Hour

at George's Majestic Lounge in Fayetteville

Elizabeth Bainbridge Jazz Duo at Levi's Gastrolounge in Rogers

Dusk to Dawn Blues Festival in Rentiesville OK
9.03
Blew Reed and the Flatheads at Boar's Nest Cafe in Rogers

Buddy Shute and the Motivators at New Delhi Cafe in Eureka Springs

Dusk to Dawn Blues Festival in Rentiesville OK
9/2-9/4 Dusk to Dawn Blues Festival in Rentiesville OK

9/8 Concert For A Cause, benefitting Micah's House at Thaden Fieldhouse in Bentonville
9/10
Kurt Allen Band at The Meteor Guitar Gallery in Bentonville
9/24 Belle and the Vertigo Waves at the Meteor Guitar Gallery in Bentonville

10/14 Scotty Austin with The Alive at the Meteor Guitar Gallery in Bentonville

10/22 OBS Blues Challenge 2022 at the Meteor Guitar Gallery in Bentonville

10/27 John Moreland at the Meteor Guitar Gallery in Bentonville
Please Submit Dates for Regional Blues Artists and Group Events HERE
August 26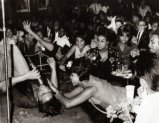 Today's show features music performed by Freddie King and Jackie Wilson




"When I'm singing the blues, I'm singing life."
Etta James

Blues Education Supporters
Thanks to the following for their support of blues education.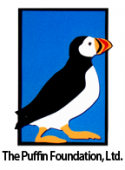 Check Out these regular local radio programs

"The Generic Blues Show" hosted by Paul Kelso airs every Friday night at 9pm on KUAF 91.3FM
Rockin' Hog Radio presents "Sunday Morning Blues" from 8am to 10am every Sunday
LINK
Get Involved with the Ozark Blues Society

Annual membership levels begin at $15 and give you so much in return, including meeting new friends while enjoying the best blues artists in the area.
By being a member of The Ozark Blues Society of Northwest Arkansas, you are helping to support the Arts and to preserve the Original American Art Form known as The Blues.
Membership Benefits Include:

Weekly E-newsletter
Opportunities to win tickets to events
VIP seating at events (when available)
Discounts on OBS merchandise
Social networking – meeting other people who also love the blues
Opportunities to volunteer on OBS committees and at events
Ability to attend board meetings and vote on upcoming organizational issues and elections
Visit our Website to renew or join! Ozarkbluessociety.org