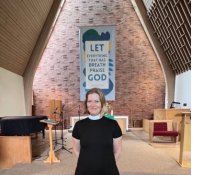 Dear Alki UCC,
This week I became an admin on our church's Facebook page, so I can join the other admins to keep you and the world informed about Alki UCC happenings. If you haven't checked it out lately, here's the link!
I believe it's important for churches to use social media, because social media is where people are. But I also believe that we need to be really intentional about how we use it. Social media does not have our best interests in mind.
Recently I read the book, Stolen Focus: Why You Can't Pay Attention — and How to Think Deeply Again by Johann Hari. This excellent read lays out why the inability to pay attention is often not due to a personal failure or lack of willpower, but a systemic erosion of focus by corporate greed.
The book has made me more aware of my compulsion to unlock and "check" my smartphone. What am I checking for? Will there be updates to news, social media, new emails in my inbox, promotions I might not want to miss? Yes, there always are. And, they will be there whether I check it twice an hour or twice a day.
I'm working on pausing before picking up my phone and asking why I am checking. When it feels hard to stop the social media scrolling, I remind myself that this is by design! It's not me, it's the system.
I am trying to be more intentional about the digital content I choose to engage with. A practice that has been spiritually sustaining for me over the years has been UCC's Stillspeaking Daily Devotional.
When I check my email in the morning, I try to go first to the Devotional, which includes a Scripture excerpt, an engaging and theologically progressive reflection and a brief prayer. If you don't yet receive it, you can sign up here.
Amidst the clutter of my digital life, it is a worthwhile and at times even transformative read, an invitation to focus and think deeply.
Peace,
Pastor Emily
In case you missed it ... YouTube video of Sunday, Aug 28 worship/celebration of Zachary Kellogg now online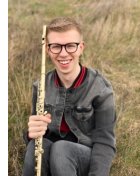 Sunday worship was a heartfelt, moving celebration to recognize Zachary's unique contributions to worship and the Alki UCC community. It also served as a rousing sendoff for his imminent departure to New York adventure and new opportunities.

Highlights include a sublime interpretation of Amazing Grace/House of the Rising Son with Zachary on flute and Joe M, vocals. The Postlude will get you on your feet with unleashed musical joy. Enjoy it here!

UPDATE/Support Opportunities:
Peruvian Families Seeking Asylum Status
Our Peruvian families have settled in nicely in their temporary home with Karen (thank you Julia C!). Because Karen is fluent in Spanish as well as being a retired social worker, she has been a great comfort to them. She is also wonderful at asking for item donations on Facebook, etc., and reports that the families' winter clothing needs could be taken care of by the end of the week! Way to go, Karen!
Thanks to the invaluable assistance of Church Council of Greater Seattle accompanists (thank you, Cinda!), the families continue to seek asylum status. Hearings are pending separately for each family.
Yanko, the nine-year-old boy is registered for 4th grade at Roxhill Elementary, where he will receive support from a bilingual assistant. We are working on enrolling Jhadiel, the just-turned-four-year-old boy, in Roxhill's Head Start program. We have also given the parents information about area ESL classes.
Alki's Outreach ministry has given $1,000 and we are delighted to report that Fauntleroy UCC's Immigration Task Force is gifting us with $1,000 to help the Peruvians.
Many of you have asked how you can help. Here are some suggestions:
• Volunteer to drive them places: They are currently living near the 200 buses a day that pass by Westwood Village and are happy to use the bus, but sometimes a ride is nice. One regular ride would be to take one of the parents to the food bank. With seven people to feed, we hope to take them at least a couple of times a week. Google Translate works great for 'pass the phone' conversations!
• Donate food: they use a lot of onions, potatoes and rice (jasmine rice a treat!). They also eat a lot of eggs, tuna and chicken. Bring your food donations to church on Sunday and they will be delivered.
• Donate $$ to help cover Karen's additional utility and food expenses.
Checks: make out to Alki UCC with "Peruvian families" in the memo line; leave in Sunday's offering plate or mail to 6115 SW Hinds, Seattle 98116.

After entering your $$ amount, click on "Dedicate this Gift" and enter "Peruvian Families" in the Dedicatee's Name box, then click save.
To donate with a credit card, click on "choose another payment method" and complete the transaction.
• Research permanent housing options: The two families will do nicely staying together – Family #1: Danner, Manuela and children Yanko and 19-month-old daughter, Evaluna. Family #2: Jhordy, Yesenia and Jhadiel.
Join the Peruvian Family support brigade!
Have questions? Want to sign up to assist?

Drop by for an organizational meeting on Thursday, September 8 at 6:30 pm in the church Parlor.
But wait … there's more! Dianne from Fauntleroy's immigration task force reports that the Church Council of Greater Seattle is recruiting volunteers for their highly effective Accompaniment Training Program for folks who would like to be active refugee advocates and "alleviate the burden of navigating fearsome and unknown systems alone by acting as a support system and serving as a community."
Read about it here … sign up yourself and/or share the link with others in your community.
Please email me if you have questions, want details about our upcoming meeting and/or want to help in any way!. All suggestions are gratefully accepted as we negotiate this new territory.
It's been 20 years since Alki helped Afghan refugees, and 40 years since we resettled Cambodian refugees, so there is much to learn.
It has been a heartwarming experience to have these two lovely families bring together so many caring people! God is here! Dios está aquí! Thank you!
— Vicky S
Julia C's friend Lorrie C on the loss of her husband, Peter

Please continue prayers for Don and Imy P and family. Don and Imy have both moved to Providence Mount St. Vincent.



For those grieving the recent death of a loved one:
Jeff D and family, Julia C's friends Peter C and Cheryl W, the Alki UCC community and friends/family of our own Dayle B, the Alki UCC community and friends/family of Nick Tobler-Wolff; Julia, Rod and family on the death of Julia's youngest brother Rick B, Charlie H and family, Todd

and family, Patty M



Recent hospitalization, illness and other concerns:
Jane C and her family, Sue B's brother Tom and his wife Carla, Julia C's friend Jessie T & family; Amy Y's mother Corlene, Jeff D's brother Andy, Dan K, former Alki UCC member Mark H, Shannon's "stepmomma" Gail B, Nette M, Sue B's friends Mary and Louise, Cindy, Jeff and Kirstin's sister-in-law Sue, Kirstin D, Shannon P's father Rev. Dr. Bill, Verona's younger brother Eric, Bonita C, Claire F, Imy P, Kirstin D's father



For homebound members/friends of Alki UCC: Doris C


Wider World: Prayers for all those affected by the corona virus outbreak; all those suffering from PTSD in the military and around the world; for all those affected by misguided immigration policies; prayers for fewer guns, for all victims and those affected by gun violence; victims and survivors of extremist violence around the world; migrants seeking refuge around the world, and for those who are trying to help them. The rest of the missing schoolgirls kidnapped by Boko Haram, who remain in our hearts as long as they remain missing. The hungry and homeless, the ill and the addicted, the lost and the lonely; the unemployed.

This Sunday, September 4 Worship Cancelled ...
... to give our leadership and hard-working volunteers a much-needed respite




Here's a suggested alternative:

Longtime Alki UCC friend, Rev. Bruce Wilson, is the temporary minister at Admiral UCC while Pastor Andrew is on sabbatical.

Worship at 10:30 am
In-person only
4320 SW Hill St
Note: service is outdoors on the Admiral UCC front lawn. Bring your face mask and sun screen!.

If you want to attend the post-service luncheon to honor Pastor Bruce; please bring a potluck dish and your own beverage.



# # #





Have a safe and happy Labor Day weekend

Sunday worship resumes September 11.

Attention!!
September is National Preparedness Month
National Preparedness Month is an important observance to raise awareness about the essential need to prepare for disasters and emergencies.

Now that the building has reopened and is getting busier by the day, it's the perfect time to brush up on our Building Radar!
There are some simple steps we can follow as a community to be safe if confronted with an unforeseen event.
Stay tuned throughout the month for specific suggestions on home and church safety. To get started please do look over the Preparedness website for an overview of valuable information and resources.
Wrassle up those broken or unused electronics (unidentified cords, anyone??!!) and drop them off for recycling. The earth will thank you.

Sat, September 24
9:00 am to 3:00 pm
Fauntleroy Church
Parking Lot
9140 California Ave SW
Some small appliances also accepted. Check here to make sure your items are approved for recycling!

For secure, online giving through Give Lively, click the blue button below.

You can also send your check,
made out to "Alki
UCC" to:
6115 SW Hinds
Seattle, WA 98116
Sunday Worship Videos Posted on YouTube

Sunday Worship recordings now online! Check out Alki UCC's very own YouTube channel.
Sunday Worship Registration

If you've already registered on Zoom, just use your personal link. If not, welcome! You can register here.
When you register, please use your first/last name plus your email.

Church news/calendar updates
at alkiucc.org.