Still cookin' along with LOTS going on! This week's newsletter is still filled with many articles. Even if you have read them, please remember to scan them for updates. To get you off and running,
this weekend offers some awesome not
to be missed events. Also, very importantly, this next week represents your last chance to enter our Robert Cray at the WAC ticket giveaway. And don't forget, Ozark Blues Society members get a bonus, second entry in this drawing!
Be sure and check out both of these
news items in the articles below.
We have a number of returning articles this week, but most importantly I would draw your attention to the article about our 2022 Blues Challenge in Bentonville. Registration is underway with one month left to secure your spot in the competition which represents the first step toward being chosen to represent Northwest Arkansas in Memphis at the 2023 International Blues Challenge. Read on below or visit our website www.ozarkbluessociety.org to learn more.

Do always remember, this is YOUR newsletter! Please send feedback or suggestions our way. You will find Sandy's email address below.
We appreciate our readers and want
to see
your ideas included!
TONIGHT!

Rock and Blues Show

in Bentonville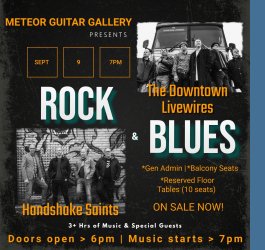 You don't have to dance...
but it will be hard not to
on Friday, September 9th, at the Meteor Guitar Gallery in Downtown Bentonville! This three-hour-plus Rock and Blues Show will feature not one, but two exciting local bands, The Downtown Livewires and Handshake Saints. TICKETS: General Admission and Reserved tickets can be purchased at https://stubs.net/event/4808/the-rock-and-blues-show, and at the door the night of the event if tickets are still available. Les Key, the owner of the Meter Guitar Gallery, is allowing this event to be a BYOB event and is excited to launch the Fall season of live music with a show featuring two of the region's must-experience bands!
Doors open at 6 pm, with The Downtown Livewires taking the stage at 7 pm, with driving electric blues and several special guests, including harmonica player and singer Bob "Superharp" Coleman, who has been on medical leave from the Livewires band since March 2022, who will make a special three song appearance you won't want to miss. Filling in for Bob on harmonica the rest of the evening is nationally renowned Porkchop Slim - a must-see! Ticket holders will also jump for joy with "The Haas Horns", the three high school sons of Livewire's keyboardist Kurt Haas, who will bring dynamic baritone sax, trumpet, and trombone on select blues numbers. And finally, all the way from Beaumont, TX, Stu Ransonette will make an appearance, singing lead on several blues classics throughout the night. The Downtown Livewires music can be found on your favorite streaming service and YouTube.
Around 8:30 pm, the Handshake Saints will take the stage, bringing a catalog of original songs cultivated by a blend of musical influences that bring a decidedly modern twist on a vintage sound. Their upbeat rhythms, infectious melodies, and engaging lyrics feel rich in rock-n-roll history, born from the same blue-collar street corners that made Bruce Springsteen "Born to Run" and caused Aretha Franklin to preach about "Respect." When the Saints hit the stage, the music explodes, often driving the crowd into a righteous and rhythmic fervor that takes them on a rollicking journey through a series of passionate, tuneful, and charmingly ferocious songs. Several of their original songs are now on Spotify and all streaming platforms.
Robert Cray

at the Walton Arts Center

Entries are coming in, and we are excited
to announce that anyone who wants the membership bonus of a second entry in the drawing will have
until midnight, Thursday, September 15th to join
or renew! We will review the membership status
of all entries
on Friday, September 16th and confirm with those who qualify for the membership entry bonus.
Thank you again to the Walton Arts Center for this amazing opportunity for our readers
and members to
have an opportunity to win
a set of 2 tickets to hear the Grammy Award
winning, Robert Cray Band,
on September 27th
!
We will hold our drawing
on Saturday, September 17th and winners
will be able to pick up their tickets at will
call on the day of the show.

So how do you enter you ask?
To enter, just click here to email Sandy McCann. Put "Ticket Giveaway" in the subject line
and include your name, phone number
and email address in the body of the message. This drawing is open to ALL readers, however current and new members get an extra entry! No need to do anything,
we will verify your membership. All entries
will get an email confirming their entry. Emailed entries may be submitted until midnight, Friday, September 16, 2022.
From the Walton Arts Center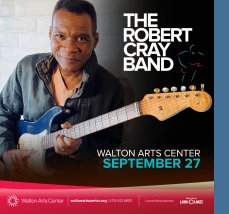 Who:
The Robert Cray Band
Where:
The
Walton Arts Center
When:
September 27 at 7:00pm
"Robert Cray is not only making music, he's making history," writes Guitar Player Magazine. Since 1974, The Robert Cray Band has been touring and recording their unique groove, born from a love of soul, American roots, R&B, gospel, blues and rock 'n' roll.
On his newest album, That's What I Heard, Cray celebrates the music of Curtis Mayfield, Bobby "Blue" Bland, The Sensational Nightingales and more, alongside his own songs. "Funky, cool and bad," is how the Blues Hall of Famer describes the Grammy(R)-nominated album, produced by longtime collaborator Steve Jordan, who adds, "I thought, if we could get this thing that Sam Cooke used to have, the kind of sound that early Sam Cooke records had, that we could pull this off."
Cray and Jordan go way back, having met during the making of the Chuck Berry documentary Hail! Hail! Rock 'n' Roll in 1987. They started working together in 1999, when Jordan produced the Grammy-winning Take Your Shoes Off, and again on the recent Grammy-nominated LP Robert Cray & Hi Rhythm. That's What I Heard is their sixth album.
"Once you start working with Steve, it's kind of hard to get away from him," said Cray.
"Robert is just a great person besides being extraordinary talent," adds Jordan. "People gravitate to his guitar playing first, but I think he's one of the best singers I've heard in my life. Not only because of his singing ability, but his interpretations. He's such an honest soul in my opinion."
The Robert Cray Band has released more than 20 acclaimed albums, with five Grammy wins and millions of records sold worldwide. "The band continues with the same enthusiasm and joy in what we do, no matter the accolades," says Cray. "Today is all that matters!"
Cray's band features Richard Cousins (bass), Dover Weinberg (keyboards), Terence F. Clark (drums), and Steve Jordan (drums, percussion).
This Sunday!

Gospel Celebration

September has been designated as Gospel Music Heritage Month by both the U.S Congress and
the Arkansas legislature as a means of recognizing the historic impact of Gospel music on American culture. Local nonprofit Music Moves is pleased to bring this national observance of Gospel music to Northwest Arkansas in September with special performances by acclaimed artists.
In honor of Gospel Music Heritage Month, Music Moves is presenting a Gospel Celebration on September 11 in Fayetteville, Arkansas. Hosted
by Grammy-winning educator Dr. Jeffrey Murdock with special guest artist Stephen Ivey, the Gospel Celebration will feature Fred Hammond, the
architect behind the creation of Gospel
sub-genre Urban Praise & Worship.

Throughout his professional career, Grammy-winning vocalist, songwriter, musician, and producer Fred Hammond has maintained a reputation for excellence. With over 8 million albums sold, Hammond has established himself as a mainstay on Billboard's Gospel Chart top 10. Recent nods from Chance the Rapper, Jamie Foxx, and Justin Bieber highlight Hammond's mainstream appeal.
The Gospel Celebration will be held at 6pm on Sunday, September 11 at Christian Life Cathedral in Fayetteville. General admission tickets are available for $10, with $5 tickets for children 2-10 years of age. Children 2 and under receive free admission. Tickets and more information are available at www.musicmovesar.com.
Join the Fun!

EP Release Super Party

in Fayetteville

Buddy Shute & the Motivators will be celebrating the release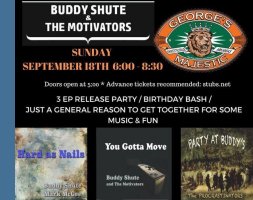 of their new EP,
YOU GOTTA MOVE, at George's Majestic Lounge in Fayetteville on Sept. 18, 6-8:30,
The release of Buddy Shute & Mark McGee's new EP, HARD AS NAILS, and the Procrastinators new EP, PARTY AT BUDDY'S, will also be celebrated. TJ Gates will be on drums and former Fayettevilleian Keith Hubborrd, who appears on two of the EPs, will be joining the band on keyboards.
Tickets are $8.00 and it is recommended
you purchase them in advance.
For tickets, click HERE: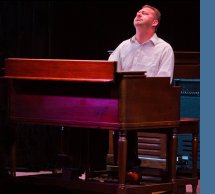 The Pat Bianchi Trio
will perform as part of the Northwest
Arkansas Jazz Society' (NAJS) and KUAF's Summer Jazz Concert Series on Saturday, September
24 at the Roots HQ on the Fayetteville Square. Joining Bianchi (jazz organ) is Colin Stranahan
(drums) and Paul Bollenback (guitar).
Tickets are available at: digjazz.com/events.
The 23
rd
season of the Summer Jazz Concert Series concludes with famed jazz organist Pat Bianchi
live in concert.
Two-time Grammy®-nominated organist Pat Bianchi is one of the most in-demand
organists today. His command of the instrument, harmonic prowess, rhythmic intensity and versatility
are rivaled by few. Voted best Jazz Organist in the 2019 NYC Hot House readers' poll as well as
winner of Downbeat's 2016 critics poll, Bianchi's deep knowledge of jazz organ history continues to
inform his own voice.
Bianchi is a self-described disciple of the Hammond B3 organ legend, Joey DeFrancesco.
DeFrancesco passed away last month at the age of 51. Bianchi will program music that pays tribute
to both DeFrancesco and Doctor Lonnie Smith for his NW Arkansas concert.
Bianchi will be performing alongside Colin Stranahan (drums) and Paul Bollenback (guitar).
The Northwest Arkansas Jazz Society is a community leader in presenting world-class jazz
performances in Northwest Arkansas. Their mission is to present, preserve, promote, and
celebrate the great American art form known as jazz through education, concert presentation, and
artist promotion. They seek to find innovative ways to engage with new and diverse audiences and
keep jazz alive and well. Learn more at digjazz.com.
Sign Up Now!

Ozark Blues Society

Blues Challenge
Registration
Registrations are coming in and now is the time to jump over to our website and enter. To find out more, visit www.ozarkbluessociety.org and click on the 2022 Blues Challenge menu tab.
There you will find all the information about the event as well as the registration link. Do remember the band member processing the registration needs to be an active member of Ozark Blues Society.
Every year the Blues Foundation, based in Memphis, TN, produces the International Blues Challenge. All the venues in and around Beale Street
are filled with bands from all over the world
for four days and nights, to compete for the Big Win. There are around 250 participating blues societies from every country
imaginable, that send their local challenge winners to compete in Memphis.
Our Challenge will take place at the Meteor Guitar Gallery in Bentonville, AR, on October 22, 2022. Registration is now open and continues through October 8, 2022. Registration is open to blues bands and solo/duo artists that reside within 250 miles of Bentonville, Arkansas. For more information, visit:
www.ozarkbluessociety.org
Thanks again to Liz Lottmann for sharing another link offering great information for musicians seeking to generate more income from their craft!
Found another little gem for our musician subscribers!

on Amazon Smile

Just this week, our board president, Liz Lottmann, reminded our board to make sure we were selecting Ozark Blues Society when we shop on Amazon. At that moment, I realized that since I regularly shop on the app, I was missing out on this option.
Good News! The AmazonSmile option is available on the app and
It is a one time set up to participate.
1) Open and log in (if necessary) to your Amazon Shopping App.
2) Find and click on the set of menu lines found near the cart icon.
3) Find and select the topic, "Gifting and Charity"
4) Scroll down, if needed, to find and select AmazonSmile on the list
5) If you have already selected Ozark Blues Society of Northwest Arkansas on the web based version, it should appear at the top of the page. Click the "on button" to turn on AmazonSmile in the app.
Do note that the app requires you to renew your choice of using Amazon Smile in the app 2x a year.
Thank You so much for your support!
At Our Next

OBS Members Are Always Invited to the General Sessions of our b

oard meetings! The next meeting is scheduled for October 5th at the Holiday Inn in Springdale, AR. The General Session starts at 6:00pm. We meet in our "Blues Enclave" off of the main floor dining area.
If you aren't a member yet, visit our website to join us.


LIVE MUSIC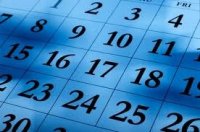 Please enjoy the following listings comprised
of bands, venues, and/or organizations that support Ozark Blues Society. Always check
with individual venues for event details
and schedule changes. Submit weekly listings by emailing: SANDY
9.
09
Oreo Blue for

Happy Hour

at George's Majestic Lounge in Fayetteville

Buddy Shute and the Motivators at Good Vibrations in Rogers

Downtown Livewires and Handshake Saints for Rock and Blues Show at the Meteor Guitar Gallery in Bentonville
9.10
Buddy Shute and the Motivators at Shiloh Museum Quilt Festival in Springdale

Vince Turner at JJ's Grill and Chill in Springdale

Kurt Allen Band at The Meteor Guitar Gallery in Bentonville

Oreo Blue at Hero's in Fort Smith
9.13
Jazz at the Undercroft Bar in Bentonville

Keith Nicholson at JJ's Grill and Chill in Bella Vista
9.14
Brick Fields Blues Therapy at Moranos in Fayetteville

Ben Harris at Six-Twelve Coffeehouse and Bar in Fayetteville
9.15
9.16
Full House for

Happy Hour

at George's Majestic Lounge in Fayetteville

Elizabeth Bainbridge Jazz Duo at Levi's Gastrolounge in Rogers
9.17
Buddy Shute at Jamin' Java in Fayetteville

Japanese Breakfast with Pura Coco on the Green at the Momentary in Bentonville
9/18 Buddy Shute and the Motivators EP release party at George's Majestic Lounge in Fayetteville


9/24 Belle and the Vertigo Waves at the Meteor Guitar Gallery in Bentonville

10/14 Scotty Austin with The Alive at the Meteor Guitar Gallery in Bentonville

10/21 Rompin' Ronnie Hawkins and the Hawks Tribute at Meteor Guitar Gallery in Bentonville

10/22 OBS Blues Challenge 2022 at the Meteor Guitar Gallery in Bentonville

10/27 John Moreland at the Meteor Guitar Gallery in Bentonville
Please Submit Dates for Regional Blues Artists and Group Events HERE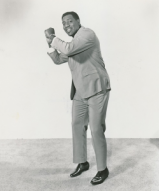 Today's show features music performed by Buddy Guy and Otis Redding




"There is nothing more beautiful than a simple blues tune. There is beauty in simplicity."
Otis Redding

Blues Education Supporters
Thanks to the following for their support of blues education.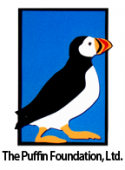 Check Out these regular local radio programs

"The Generic Blues Show" hosted by Paul Kelso airs every Friday night at 9pm on KUAF 91.3FM
Rockin' Hog Radio presents "Sunday Morning Blues" from 8am to 10am every Sunday
LINK
Get Involved with the Ozark Blues Society

Annual membership levels begin at $15 and give you so much in return, including meeting new friends while enjoying the best blues artists in the area.
By being a member of The Ozark Blues Society of Northwest Arkansas, you are helping to support the Arts and to preserve the Original American Art Form known as The Blues.
Membership Benefits Include:

Weekly E-newsletter
Opportunities to win tickets to events
VIP seating at events (when available)
Discounts on OBS merchandise
Social networking – meeting other people who also love the blues
Opportunities to volunteer on OBS committees and at events
Ability to attend board meetings and vote on upcoming organizational issues and elections
Visit our Website to renew or join! Ozarkbluessociety.org