Today is the last day to enter the Robert Cray ticket giveaway! Entries may be submitted, as described below, through midnight today, Friday, September 16th. Check out the article below for all you need to know about entering before this contest is wrapped up.
This week's newsletter is still filled with articles about a plethora of upcoming events. We also have a new "Mark Your Calendar" article highlighting the upcoming annual Good News and the Blues Fundraiser. Seats are limited so be sure and get your tickets soon.
Finally, don't forget to share with your blues musician friends about the Ozark Blues Society's 2022 Blues Challenge in Bentonville. Registration is underway with just less than one month left to secure a spot in the competition. Also found on our website is the information for those interested in submitting a qualifying CD for our 2022 Best Self Produced CD competition. Both opportunities represent the first step toward being chosen to represent Northwest Arkansas in Memphis at the 2023 International Blues Challenge. Read on below or visit our website www.ozarkbluessociety.org to learn more.

Do always remember, this is YOUR newsletter! Please send feedback or suggestions our way. You will find Sandy's email address below.
We appreciate our readers and want
to see
your ideas included!
Robert Cray

at the Walton Arts Center

Today (9/16) is your last chance to submit your entry for this awesome opportunity! Entries will be accepted by email through midnight. Entries will then be checked to confirm all who have current membership in Ozark Blues Society receive their bonus entry. We will hold
a Facebook Live on our Ozark Blues Society FB page at 2pm on Saturday where the winning entry will be drawn. The winner will be notified by email following the drawing and will be able
to pick up their tickets at will
call
Thank you
again to the Walton Arts Center for this amazing opportunity for our readers
and members to
have an opportunity to win
a set of 2 tickets to hear the Grammy Award
winning, Robert Cray Band,
on September 27th
!
So how do you enter you ask?
To enter, just click here to email Sandy McCann. Put "Ticket Giveaway" in the subject line
and include your name, phone number
and email address in the body of the message. This drawing is open to ALL readers, however current and new members get an extra entry! No need to do anything,
we will verify your membership. All entries
will get an email confirming their entry. Emailed entries may be submitted until midnight, Friday, September 16, 2022.
From the Walton Arts Center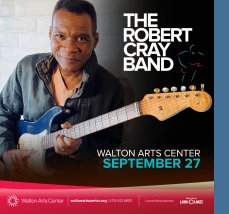 Who:
The Robert Cray Band
Where:
The
Walton Arts Center
When:
September 27 at 7:00pm
"Robert Cray is not only making music, he's making history," writes Guitar Player Magazine. Since 1974, The Robert Cray Band has been touring and recording their unique groove, born from a love of soul, American roots, R&B, gospel, blues and rock 'n' roll.
On his newest album, That's What I Heard, Cray celebrates the music of Curtis Mayfield, Bobby "Blue" Bland, The Sensational Nightingales and more, alongside his own songs. "Funky, cool and bad," is how the Blues Hall of Famer describes the Grammy(R)-nominated album, produced by longtime collaborator Steve Jordan, who adds, "I thought, if we could get this thing that Sam Cooke used to have, the kind of sound that early Sam Cooke records had, that we could pull this off."
Cray and Jordan go way back, having met during the making of the Chuck Berry documentary Hail! Hail! Rock 'n' Roll in 1987. They started working together in 1999, when Jordan produced the Grammy-winning Take Your Shoes Off, and again on the recent Grammy-nominated LP Robert Cray & Hi Rhythm. That's What I Heard is their sixth album.
"Once you start working with Steve, it's kind of hard to get away from him," said Cray.
"Robert is just a great person besides being extraordinary talent," adds Jordan. "People gravitate to his guitar playing first, but I think he's one of the best singers I've heard in my life. Not only because of his singing ability, but his interpretations. He's such an honest soul in my opinion."
The Robert Cray Band has released more than 20 acclaimed albums, with five Grammy wins and millions of records sold worldwide. "The band continues with the same enthusiasm and joy in what we do, no matter the accolades," says Cray. "Today is all that matters!"
Cray's band features Richard Cousins (bass), Dover Weinberg (keyboards), Terence F. Clark (drums), and Steve Jordan (drums, percussion).
THIS SUNDAY!

EP Release Super Party

in Fayetteville

Buddy Shute & the Motivators will be celebrating the release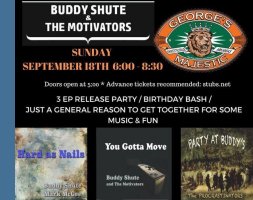 of their new EP,
YOU GOTTA MOVE, at George's Majestic Lounge in Fayetteville on Sept. 18, 6-8:30,
The release of Buddy Shute & Mark McGee's new EP, HARD AS NAILS, and the Procrastinators new EP, PARTY AT BUDDY'S, will also be celebrated. TJ Gates will be on drums and former Fayettevilleian Keith Hubborrd, who appears on two of the EPs, will be joining the band on keyboards.
Tickets are $8.00 and it is recommended
you purchase them in advance.
For tickets, click HERE: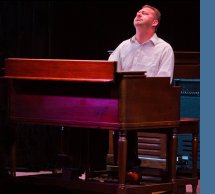 The Pat Bianchi Trio
will perform as part of the Northwest
Arkansas Jazz Society' (NAJS) and KUAF's Summer Jazz Concert Series on Saturday, September
24 at the Roots HQ on the Fayetteville Square. Joining Bianchi (jazz organ) is Colin Stranahan
(drums) and Paul Bollenback (guitar).
Tickets are available at: digjazz.com/events.
The 23
rd
season of the Summer Jazz Concert Series concludes with famed jazz organist Pat Bianchi
live in concert.
Two-time Grammy®-nominated organist Pat Bianchi is one of the most in-demand
organists today. His command of the instrument, harmonic prowess, rhythmic intensity and versatility
are rivaled by few. Voted best Jazz Organist in the 2019 NYC Hot House readers' poll as well as
winner of Downbeat's 2016 critics poll, Bianchi's deep knowledge of jazz organ history continues to
inform his own voice.
Bianchi is a self-described disciple of the Hammond B3 organ legend, Joey DeFrancesco.
DeFrancesco passed away last month at the age of 51. Bianchi will program music that pays tribute
to both DeFrancesco and Doctor Lonnie Smith for his NW Arkansas concert.
Bianchi will be performing alongside Colin Stranahan (drums) and Paul Bollenback (guitar).
The Northwest Arkansas Jazz Society is a community leader in presenting world-class jazz
performances in Northwest Arkansas. Their mission is to present, preserve, promote, and
celebrate the great American art form known as jazz through education, concert presentation, and
artist promotion. They seek to find innovative ways to engage with new and diverse audiences and
keep jazz alive and well. Learn more at digjazz.com.
Music Moves is gearing up for their signature fundraising event - Good News & The Blues which will be held on October 16 at the Fayetteville Town Center. The event will feature the Blind Boys of Alabama and a catered meal.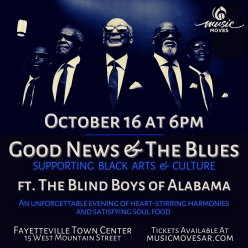 Sign Up Now!

Ozark Blues Society

Blues Challenge
Registration
Registrations are coming in and now is the time to jump over to our website and enter. To find out more, visit www.ozarkbluessociety.org and click on the 2022 Blues Challenge menu tab.
There you will find all the information about the event as well as the registration link. Do remember the band member processing the registration needs to be an active member of Ozark Blues Society.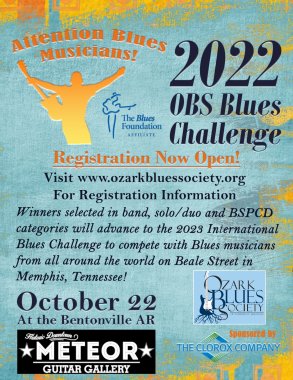 Our Challenge will take place at the Meteor Guitar Gallery in Bentonville, AR, on October 22, 2022. Registration is now open and continues through October 8, 2022. Registration is open to blues bands and solo/duo artists that reside within 250 miles of Bentonville, Arkansas. For more information, visit:
www.ozarkbluessociety.org
on Amazon Smile

Just this week, our board president, Liz Lottmann, reminded our board to make sure we were selecting Ozark Blues Society when we shop on Amazon. At that moment, I realized that since I regularly shop on the app, I was missing out on this option.
Good News! The AmazonSmile option is available on the app and
It is a one time set up to participate.
1) Open and log in (if necessary) to your Amazon Shopping App.
2) Find and click on the set of menu lines found near the cart icon.
3) Find and select the topic, "Gifting and Charity"
4) Scroll down, if needed, to find and select AmazonSmile on the list
5) If you have already selected Ozark Blues Society of Northwest Arkansas on the web based version, it should appear at the top of the page. Click the "on button" to turn on AmazonSmile in the app.
Do note that the app requires you to renew your choice of using Amazon Smile in the app 2x a year.
Thank You so much for your support!
At Our Next

OBS Members Are Always Invited to the General Sessions of our b

oard meetings! The next meeting is scheduled for October 5th at the Holiday Inn in Springdale, AR. The General Session starts at 6:00pm. We meet in our "Blues Enclave" off of the main floor dining area.
If you aren't a member yet, visit our website to join us.


LIVE MUSIC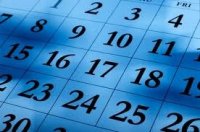 Please enjoy the following listings comprised
of bands, venues, and/or organizations that support Ozark Blues Society. Always check
with individual venues for event details
and schedule changes. Submit weekly listings by emailing: SANDY
9.
16
Full House for

Happy Hour

at George's Majestic Lounge in Fayetteville

Elizabeth Bainbridge Jazz Duo at Levi's Gastrolounge in Rogers
9.17
Buddy Shute and Keith Hubbard at Jamin' Java in Fayetteville

Vince Turner at Sassafras Springs Vineyard in Springdale

Richard Burnett at JJ's Grill and Chill in Springdale

Japanese Breakfast with Pura Coco on the Green at the Momentary in Bentonville
9.18
Buddy Shute and the Motivators EP Release Party at George's Majestic Lounge in Fayetteville

Voces Latinas for SoNA Beyond at Fayetteville Public Library in Fayetteville

Richard Burnett at JJ's Grill and Chill in Springdale

Goo Goo Dolls with Blue October at the AMP in Rogers
9.20
Jazz at the Undercroft Bar in Bentonville

Alice in Chains/Breaking Benjamin at the AMP in Rogers
9.21
Brick Fields Blues Therapy at Moranos in Fayetteville

Ben Harris at Six-Twelve Coffeehouse and Bar in Fayetteville

Jazz and the Civil Rights Movement at Bentonville Public Library in Bentonville
9.22
9.23
Leah and the Mojo Doctors for

Happy Hour

at George's Majestic Lounge in Fayetteville

Format Festival in Bentonville

Buddy Shute and the Motivators at New Delhi Cafe in Eureka Springs

Jenna and the Soul Shakers at Chelsea's in Eureka Springs
9.24
Pat Bianchi Trio at Roots HQ in Fayetteville

Elizabeth Bainbridge Jazz Duo at Sassafras Springs Vineyard in Springdale

Belle and the Vertigo Waves at the Meteor Guitar Gallery in Bentonville

Format Festival in Bentonville

Divas on Fire at Chelsea's in Eureka Springs
9/23-9/25 Format Festival in Bentonville


10/7 Fresco Trey at the Meteor Guitar Gallery in Bentonville

10/14 Scotty Austin with The Alive at the Meteor Guitar Gallery in Bentonville

10/16 Good News and the Blues at Fayetteville Town Center in Fayetteville

10/21 Rompin' Ronnie Hawkins and the Hawks Tribute at Meteor Guitar Gallery in Bentonville

10/22 OBS Blues Challenge 2022 at the Meteor Guitar Gallery in Bentonville

10/27 John Moreland at the Meteor Guitar Gallery in Bentonville
Please Submit Dates for Regional Blues Artists and Group Events HERE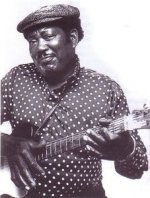 Today's show features music performed by Tommy Dorsey and Boogie Bill Webb




"Bebop has set music back
Tommy Dorsey

Blues Education Supporters
Thanks to the following for their support of blues education.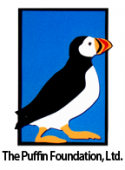 Check Out these regular local radio programs

"The Generic Blues Show" hosted by Paul Kelso airs every Friday night at 9pm on KUAF 91.3FM
Rockin' Hog Radio presents "Sunday Morning Blues" from 8am to 10am every Sunday
LINK
Get Involved with the Ozark Blues Society

Annual membership levels begin at $15 and give you so much in return, including meeting new friends while enjoying the best blues artists in the area.
By being a member of The Ozark Blues Society of Northwest Arkansas, you are helping to support the Arts and to preserve the Original American Art Form known as The Blues.
Membership Benefits Include:

Weekly E-newsletter
Opportunities to win tickets to events
VIP seating at events (when available)
Discounts on OBS merchandise
Social networking – meeting other people who also love the blues
Opportunities to volunteer on OBS committees and at events
Ability to attend board meetings and vote on upcoming organizational issues and elections
Visit our Website to renew or join! Ozarkbluessociety.org