We are just a week away from the Ozark Blues Society's Blues Challenge. Competitions like ours are held worldwide by blues societies who are affiliates of the Blues Foundation in Memphis. The Foundation provides guidance to affiliates for their competitions to not only assure fairness, but also to help the regional challenges bring forth IBC ready acts. We are honored to commit our time and resources to this awesome program. We thank our members and corporate sponsors for joining us in financially supporting not only the competition, but also the generous sponsorship we offer our winning acts. So, why not join us in this mission of keeping the blues alive, GRAB SOME TICKETS HERE, and join us next Saturday, October 22nd, at the Meteor Guitar Gallery in Bentonville for the 2022 Ozark Blues Society Blues Challenge. OBS and the bands appreciate you support!
For those who wanting even more of the blues challenge experience, ti
ckets for the January International Blues Challenge go on sale and hotel room blocks open on October 15th at BLUES.ORG
This week's news features an article about another cool event this Friday at the Juke Joint Project facility in downtown Fayetteville as well as more information on the Northwest Arkansas Jazz Society's upcoming Toots Thielemans tribute at Roots HQ.
Returning articles include a reminder about this weekend's Good News
and the Blues event, as well as the update from Subiaco Academy on the new date for their rescheduled Blues at the Abbey event. You will also find the submission information for those artists wishing to submit their music to the Blues Foundation's Blues Music Awards.
Not seeing articles and calendar listings for your favorite artist? Do always remember, this is YOUR newsletter! Please consider sharing dates that are not included in the community calendars we use to compile our newsletter. You may send information, feedback, and suggestions our way. Just click on Sandy's email address below.
We appreciate our readers and want
to see
your ideas included!
Tickets On Sale NOW!

Ozark Blues Society

Blues Challenge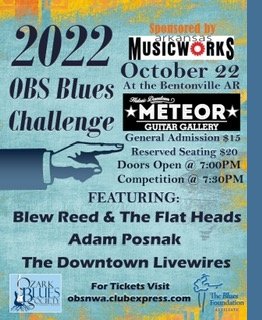 The challenge is just over a week away. Please join us in cheering on your favorite local blues acts. Our challenge this year, will follow the Blues Foundation's rules for a competition featuring
a mix of band and solo/duo acts, with one ultimate winner!
Let The Downtown Livewires, Blew Reed and the Flatheads, along with solo bluesman, Adam Posnak sooth your soul with their blues. Doors at the Meteor Guitar Gallery in Bentonville open at 7pm with the first act playing at 7:30.
To get your tickets, visit
Friday Night Fun!

A Juke Joint

in Fayetteville?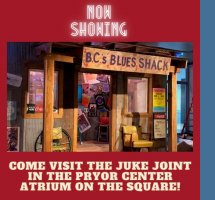 Looking for something a bit different for your Friday night music fix? Why not check out the Juke Joint Project's "BC's Blues Shack?"
It is located in the Atrium of the Pryor Center for Arkansas Oral & Visual History at
1 E.Center St. in Fayetteville and tonight's happy hour music will feature the awesome duo of Buddy Shute & Mark McGee.
The Blues Shack was commissoned by the Clinton Museum to replicate a juke joint, many of which were/are located in the Delta region. Buddy says " I've actually gotten to play a couple of the real things" Mark & Buddy will be jukin' Friday 10/14, 5:30 to 6:30.
THIS SUNDAY!

Good News

and the Blues

Music Moves is gearing up for their signature fundraising event - Good News & The Blues which will be held on October 16 at the Fayetteville Town Center. The event will feature the Blind Boys of Alabama and a catered meal.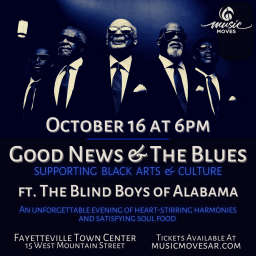 Good News & The Blues featured artists the Blind Boys of Alabama are recogn

ized worldwide as living legends of Gospel music. Celebrated by The National Endowment for the Arts (NEA) and The Recording Academy/GRAMMYs with Lifetime Achievement Awards, inducted into the Gospel Music Hall of Fame, and winners of five GRAMMY® Awards, they have attained the highest levels of achievement in a career that spans over 70 years. The Blind Boys are known for crossing multiple musical boundaries with their remarkable interpretations of everything from traditional Gospel favorites to contemporary spiritual material by songwriters such as Eric Clapton, Prince and Tom Waits. They have appeared on recordings with many artists, including Lou Reed, Peter Gabriel, Bonnie Raitt, Willie Nelson, Aaron Neville, Susan Tedeschi, Ben Harper, Patty Griffin and Taj Mahal with career that has both defined the sound of the American South and pushed it forward from the 20th century into the 21st.
In addition to the musicians, the Blind Boys membership consists of Jimmy "Jimster" Carter, Ricky McKinnie,
Rev. Julius Love, newest singer
Sterling Glass, and Music Director/Guitarist Joey Williams.
5 Days Left to Enter!

Blues Foundation

Blues Music Award

Submissions

From the Blues Foundation:
All musicians are invited to submit their Blues recordings for consideration.
Blues music released between November 1, 2021 and October 31, 2022 is eligible for consideration for a 2023 Blues Music Award Nomination.
Your complete album music must be uploaded as a WAV file with album artwork uploaded as a JPEG or PDF file. If you need assistance with uploading your music, album artwork, and/or liner notes, please contact Joe Whitmer at joe@blues.org.
Submission fee and deadline:
October 1 – October 18, 2022 - $225 per submission
The submission process officially closes on October 18, 2022. You must upload your music and artwork and complete payment for your submission transaction no later than OCTOBER 18TH to be considered for a Blues Music Award nomination.
Announcment

of a NEW DATE

Blues at the Abbey

Many of you remember the pains
of the canceled and rescheduled events due to a Covid 19 surge and weather woes earlier this year. One of the events affected by this was Subiaco's annual Blues at the Abbey.
The Abbey is happy to announce their annual event has now
been rescheduled!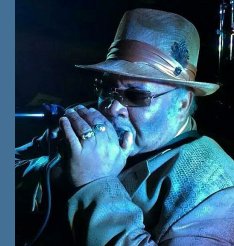 If you find yourself
to visit the Subiaco Academy to attend this awesome free event, you will not be disappointed!
What: 21st Annual Blues at the Abbey
Featuring Blind Mississippi Morris
When: October 29 7:30 PM
Where: Subiaco Performing Arts Center,
405 N. Subiaco Avenue
Free Admission and the public is invited.
A TRIBUTE TO JAZZ LEGEND
TOOTS THIELEMANS
From Northwest Arkansas Jazz Society: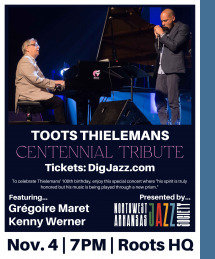 NAJS is proud to present pianist Kenny Werner
and harmonica master Grégoire Maret in a Centennial Tribute
Concert celebrating the music of Toots Thielemans at Roots
HQ on the Fayetteville Square. On Friday, November 4, at 7
p.m., Thielemans' heir apparent on the harmonic, Maret, and
Thielemans' longtime pianist, Werner, will perform a special concert tribute to the jazz legend, who
would have turned 100 this year. Tickets are available at: digjazz.com/events.
In this tribute concert, Werner and Maret honor Thielemans who passed away in 2016 (at 94) with
songs written by or associated with Thielemans like "Bluesette," "Midnight Sun," "Theme from
Midnight Cowboy," "I Do It For Your Love," and "What a Wonderful World." One of the most
recognizable sounds in jazz history, Thielemans made the harmonica into a legitimate jazz
instrument, recording over 30 albums and working with artists including Charlie Parker, Miles Davis,
Bill Evans, Ella Fitzgerald, and Pat Metheny. His soundtrack work for projects ranging from Midnight
Cowboy to Sesame Street endeared him to millions.
Werner has been a world-class pianist and composer for over forty years, earning a Grammy
nomination in 2003 in the Best Instrumental Composition category.
In 2010, Werner was awarded
the Guggenheim Fellowship and in 1995 he was commissioned to compose a piano concerto
dedicated to Duke Ellington. Most importantly, Thielemans and Werner were soul mates. Werner
performed as pianist for Thielemans for over 20 years.
Swiss-born Grammy-winner Maret has a résumé that includes Prince, Marcus Miller, Kurt Elling,
Pete Seeger, Cassandra Wilson, and more. For this tribute performance to his mentor and
inspiration, Maret says the duo will, "find new places where his spirit is truly honored but his music is
being played through a new prism." Thielemans took a special interest in Maret because he had his
own sound and style, and while influenced by Thielemans, never sought to copy him.
Roots HQ is an incredible, intimate (90-seat capacity) environment for live music, reminiscent of a
classic jazz club.
The Northwest Arkansas Jazz Society is a community leader, presenting world-class jazz
performances in NWA. Their mission is to present, preserve, promote, and celebrate the great
American art form known as jazz through education, concert presentation, and artist promotion. They
find innovative ways to engage with new and diverse audiences and keep jazz alive and well.
LIVE MUSIC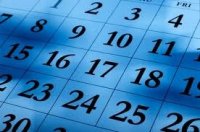 Please enjoy the following listings comprised
of bands, venues, and/or organizations that support Ozark Blues Society. Always check
with individual venues for event details
and schedule changes. Submit weekly listings by emailing: SANDY
10.
14
Full House for

Happy Hour

at George's Majestic Lounge in Fayetteville

Buddy Shute and Mark McGee at BC'c Blues Shack at the Pryor Center in Fayetteville

UA Jazz: An Evening at Mary Lou Williams Apartment at UA Global Campus in Fayetteville

Mary Gauthier at Roots HQ in Fayetteville

Scotty Austin with The Alive at the Meteor Guitar Gallery in Bentonville
10.15
Elizabeth Bainbridge Jazz Duo at Levi's Gastrolounge in Rogers

Jeff Horton Band at the Meteor Guitar Center in Bentonville

Buddy Shute and the Motivators at New Delhi Cafe in Eureka Springs

Brick Fields at Chelsea's in Eureka Springs
10.16
10.18
10.19
Brick Fields Blues Therapy at Moranos in Fayetteville

Ben Harris at Six-Twelve Coffeehouse and Bar in Fayetteville
10.21
Honeyjack for

Happy Hour

at George's Majestic Lounge in Fayetteville

Rompin' Ronnie Hawkins and the Hawks Tribute at Meteor Guitar Gallery in Bentonville

Keith Nicholson at JJ's Grill and Chill at Bella Vista
10.22
10/22 OBS Blues Challenge 2022 at the Meteor Guitar Gallery in Bentonville
10/27 John Moreland at the Meteor Guitar Gallery in Bentonville
11/04 Toots Thielemans Centennial Tribute at Roots HQ in Fayetteville
Please Submit Dates for Regional Blues Artists and Group Events HERE
October 14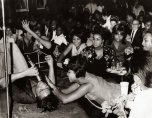 Today's show features music performed by Jackie Wilson and Kenny Neal

"The blues is not a creation of a crushed-spirited people. It is the product of a forward-looking, upward-striving people.
"
Albert Murray

Blues Education Supporters
Thanks to the following for their support of blues education.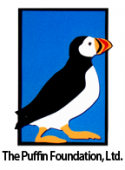 Check Out these regular local radio programs

"The Generic Blues Show" hosted by Paul Kelso airs every Friday night at 9pm on KUAF 91.3FM
Rockin' Hog Radio presents "Sunday Morning Blues" from 8am to 10am every Sunday
LINK
Get Involved with the Ozark Blues Society

Annual membership levels begin at $15 and give you so much in return, including meeting new friends while enjoying the best blues artists in the area.
By being a member of The Ozark Blues Society of Northwest Arkansas, you are helping to support the Arts and to preserve the Original American Art Form known as The Blues.
Membership Benefits Include:

Weekly E-newsletter
Opportunities to win tickets to events
VIP seating at events (when available)
Discounts on OBS merchandise
Social networking – meeting other people who also love the blues
Opportunities to volunteer on OBS committees and at events
Ability to attend board meetings and vote on upcoming organizational issues and elections
Visit our Website to renew or join! Ozarkbluessociety.org