The Ozark Blues Society's Blues Challenge is THIS Saturday! As you can likely imagine, that event leads the current "details" list for the OBS board of directors. In order to achieve a fair first round of qualifying for the International Blues Challenge, competitions like ours follow the guidance the Blues Foundation provides to affiliates for their competitions. We also begin planning for assisting our winner in the registration process for entering the IBC. Many blues societies hold their challenges earlier in the year, so for those of us holding them later have just a few weeks to help our winners complete the official IBC registration process. As I mentioned last week, we are honored to commit our time and resources to this awesome program and thank our members and corporate sponsors for joining us in financially supporting not only the competition, but also our ability to fund the generous sponsorship we offer our winning acts. This year may be small in numbers of competitors, but it is still a BIG deal! Please consider showing your support by GRABBING SOME TICKETS HERE, and join us this Saturday, October 22nd, at the Meteor Guitar Gallery in Bentonville. Check out the article below for all the information on the event. We will also announce the winner of our 2022 Best Self-produced CD winner Saturday night.

For those who seek even more of the blues challenge experience, please consider attending the International Blues Challenge in Memphis in January 2023. Ti
ckets for the IBC along with access to discount hotel room blocks opened on October 15th at BLUES.ORG
This week's news features an article information on the newly announced NAJS jam with Pepe Rivero on Halloween evening. Also below is information on how to get raffle tickets from the Kansas City Blues Society's for another chance at a trip for two on the 2023 January sailing of the Legendary Rhythm and Blues Cruise.


Returning articles include the update
from Subiaco Academy on the new date for their rescheduled Blues at the Abbey event as well as the article about
Northwest Arkansas Jazz Society's upcoming Toots Thielemans tribute
Not seeing articles and calendar listings for your favorite artist? Do always remember, this is YOUR newsletter! Please consider sharing dates that are not included in the community calendars we use to compile our newsletter. You may send information, feedback, and suggestions our way. Just click on Sandy's email address below.
We appreciate our readers and want
to see
your ideas included!
THIS SATURDAY!

Ozark Blues Society

Blues Challenge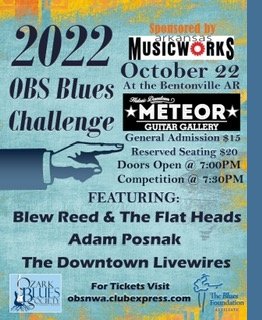 The challenge is THIS Saturday. Tickets are available online (see link below) or at the door. (reserved seating is limited.)
Please join us in cheering on your favorite local blues acts.
The Meteor Guitar Gallery is still a BYOB venue, so plan on bringing your favorite beverages when you come. Our challenge this year
will follow the Blues Foundation's rules for a competition featuring
a mix of band and solo/duo acts, with one ultimate winner!
Let The Downtown Livewires, Blew Reed and the Flatheads, along with solo bluesman, Adam Posnak sooth your soul with their blues. Doors at the Meteor Guitar Gallery in Bentonville open at 7pm with the first act playing at 7:30.
To get your tickets, visit
Announcment

of a NEW DATE

Blues at the Abbey

Many of you remember the pains
of the canceled and rescheduled events due to a Covid 19 surge and weather woes earlier this year. One of the events affected by this was Subiaco's annual Blues at the Abbey.
The Abbey is happy to announce their annual event has now
been rescheduled!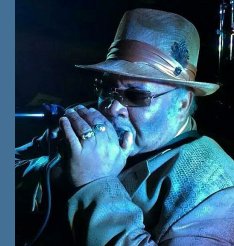 If you find yourself
to visit the Subiaco Academy to attend this awesome free event, you will not be disappointed!
What: 21st Annual Blues at the Abbey
Featuring Blind Mississippi Morris
When: October 29 7:30 PM
Where: Subiaco Performing Arts Center,
405 N. Subiaco Avenue
Free Admission and the public is invited.
WITH WORLD RENOWNED MUSICIAN

The Northwest Arkansas Jazz Society and Roots HQ are
teaming up with the University of Arkansas on the RefleXions Music Series. On Monday, October 31,
these groups present a free Jazz Jam session, open to the public, featuring internationally acclaimed
pianist, composer and arranger Pepe Rivero. Alongside Rivero will be Adi Meyerson (bass),
Fernando Valencia (percussion) and Ivanna Cuesta (percussion).
Musicians are invited to sit in with the band after their introductory performance.
The fun begins at 6:00 PM at Roots HQ (1 E Mountain Street) on the Fayetteville Square.
This jam session is part of U of A's RefleXions Music Series, back this fall with RefleXions Music
Tertulia, a series of events featuring regional, national and international citizen-artists presenting
their music, their advocacy and action for creative justice.
Learn more at digjazz.com/events.
The Northwest Arkansas Jazz Society is a community leader in presenting world-class jazz
performances in Northwest Arkansas. Their mission is to present, preserve, promote, and
celebrate the great American art form known as jazz through education, concert presentation, and
artist promotion. They seek to find innovative ways to engage with new and diverse audiences and
keep jazz alive and well. Learn more at digjazz.com.
A TRIBUTE TO JAZZ LEGEND
TOOTS THIELEMANS
From Northwest Arkansas Jazz Society: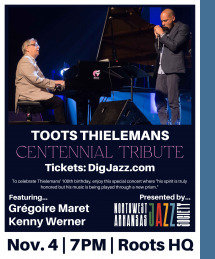 NAJS is proud to present pianist Kenny Werner
and harmonica master Grégoire Maret in a Centennial Tribute
Concert celebrating the music of Toots Thielemans at Roots
HQ on the Fayetteville Square. On Friday, November 4, at 7
p.m., Thielemans' heir apparent on the harmonic, Maret, and
Thielemans' longtime pianist, Werner, will perform a special concert tribute to the jazz legend, who
would have turned 100 this year. Tickets are available at: digjazz.com/events.
In this tribute concert, Werner and Maret honor Thielemans who passed away in 2016 (at 94) with
songs written by or associated with Thielemans like "Bluesette," "Midnight Sun," "Theme from
Midnight Cowboy," "I Do It For Your Love," and "What a Wonderful World." One of the most
recognizable sounds in jazz history, Thielemans made the harmonica into a legitimate jazz
instrument, recording over 30 albums and working with artists including Charlie Parker, Miles Davis,
Bill Evans, Ella Fitzgerald, and Pat Metheny. His soundtrack work for projects ranging from Midnight
Cowboy to Sesame Street endeared him to millions.
Werner has been a world-class pianist and composer for over forty years, earning a Grammy
nomination in 2003 in the Best Instrumental Composition category.
In 2010, Werner was awarded
the Guggenheim Fellowship and in 1995 he was commissioned to compose a piano concerto
dedicated to Duke Ellington. Most importantly, Thielemans and Werner were soul mates. Werner
performed as pianist for Thielemans for over 20 years.
Swiss-born Grammy-winner Maret has a résumé that includes Prince, Marcus Miller, Kurt Elling,
Pete Seeger, Cassandra Wilson, and more. For this tribute performance to his mentor and
inspiration, Maret says the duo will, "find new places where his spirit is truly honored but his music is
being played through a new prism." Thielemans took a special interest in Maret because he had his
own sound and style, and while influenced by Thielemans, never sought to copy him.
Roots HQ is an incredible, intimate (90-seat capacity) environment for live music, reminiscent of a
classic jazz club.
The Northwest Arkansas Jazz Society is a community leader, presenting world-class jazz
performances in NWA. Their mission is to present, preserve, promote, and celebrate the great
American art form known as jazz through education, concert presentation, and artist promotion. They
find innovative ways to engage with new and diverse audiences and keep jazz alive and well.
Our sister affiliate in Kansas City is holding a raffle for a cabin for two on the January 2023 Legendary Rhythm and Blues Cruise. Read on for information on how to try your luck at winning!
GREETINGS BLUES LOVERS
The Kansas City Blues Society (KCBS) is again selling cruise raffle tickets to Roger Naber's Legendary Rhythm & Blues Cruise #38, which sets sail January 28-February 4, 2023, from Ft. Lauderdale, FL to St. John, St. Maarten, and Half Moon Cay on Holland America's NEW ms Nieuw. This cruise is completely SOLD OUT and there's a waiting list.
Cruise raffle tickets are just $20/ticket and only 500 are printed. The winning ticket includes a cabin for 2 people with a value of $3520. (The winning ticket does not include transportation to Ft. Lauderdale). You may purchase tickets at: blueskc.org or by mail at: Kansas City Blues Society, P.O. Box 32396, Kansas City, MO 64171.
Once again, it's a fantastic lineup that will make any Blues Lover's heart swoon.
ARTISTS LINEUP:
Taj Mahal, Keb Mo' band, Tommy Castro & the Painkillers, Ruthie Foster Quintet, BB King Museum presents The Legacy Tour featuring Lucille & the Legacy band with Tony Coleman, Russell Jackson, Teeny Tucker & special guests, A museum exhibit will be on display, Walter Trout, Jontavious Willis, Mitch Woods Club 88, Eden Brent, Fred & Darnell Neal, Chicago plays The Stones featuring Ronie Baker Brooks & Billy Branch, Ivan Neville's Dumpstaphunk, Theodis Ealey, Billy Branch & Sons of Blues, Kenny Neal band featuring Lil' Ray Neal, Terrance Simien & the Zydeco Experience, Sue Foley, Vanessa Collier, Lil Ed & the Blues Imperials, Thornetta David, Tyree Neal, Eddie 9V, Silent Partners featuring Russell Jackson, Tony Coleman, Jonathan Ellison, & special guest Jim Pugh, GA-20, Dave Gross & Pat Harrington, Doug MacLeod, Victor Wainwright & the Train with Dave Gross, Barry Cuda Trio, Travis Colby, Marcella Simien, Tony Holiday, Ronnie Baker Brooks, Southern Avenue, Mr. Sipp, Daryl Davis, Chuk Barber's Soul Lounge, Dave Cross & Pat Harrington, Gabe Stillman, Rev. Billy C. Wirtz, 2022 IBC Band Winner!
The winning ticket will be drawn at the Thanksgiving Day Breakfast Dance on November 24, 2022.
For questions or additional information, please call or text Ron Clond at (913) 205-7138 or email at clondr@gmail.com.
ALL PROCEEDS BENEFIT THE KANSAS CITY BLUES SOCIETY.
LIVE MUSIC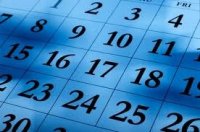 Please enjoy the following listings comprised
of bands, venues, and/or organizations that support Ozark Blues Society. Always check
with individual venues for event details
and schedule changes. Submit weekly listings by emailing: SANDY
10.
21
Honeyjack for

Happy Hour

at George's Majestic Lounge in Fayetteville

Elizabeth Bainbridge at Sassafras Springs Winery in Springdale

Keith Nicholson at JJ's Grill and Chill at Bella Vista
10.22
10/22 OBS Blues Challenge 2022 at the Meteor Guitar Gallery in Bentonville
10.23
10.25
10.26
Brick Fields Blues Therapy at Moranos in Fayetteville

Ben Harris at Six-Twelve Coffeehouse and Bar in Fayetteville
10.27
10.28
10.29
10/22 Buddy Shute and the Motivators at Rowdy Beaver Tavern in Eureka Springs
11/04 Toots Thielemans Centennial Tribute at Roots HQ in Fayetteville
11/11 Simply Seger tribute at the Meteor Guitar Gallery in Bentonville
11/12
RESCHEDULED
Rompin' Ronnie Hawkins and the Hawks Tribute at Meteor Guitar Gallery in Bentonville
Please Submit Dates for Regional Blues Artists and Group Events HERE
October 21


Today's show features music performed by T-Bone Walker and Steve Cropper

"I think if it wasn't for the blues,
there wouldn't be no jazz."
T-Bone Walker

Blues Education Supporters
Thanks to the following for their support of blues education.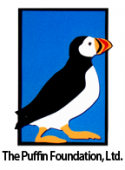 Check Out these regular local radio programs

"The Generic Blues Show" hosted by Paul Kelso airs every Friday night at 9pm on KUAF 91.3FM
Rockin' Hog Radio presents "Sunday Morning Blues" from 8am to 10am every Sunday
LINK
Get Involved with the Ozark Blues Society

Annual membership levels begin at $15 and give you so much in return, including meeting new friends while enjoying the best blues artists in the area.
By being a member of The Ozark Blues Society of Northwest Arkansas, you are helping to support the Arts and to preserve the Original American Art Form known as The Blues.
Membership Benefits Include:

Weekly E-newsletter
Opportunities to win tickets to events
VIP seating at events (when available)
Discounts on OBS merchandise
Social networking – meeting other people who also love the blues
Opportunities to volunteer on OBS committees and at events
Ability to attend board meetings and vote on upcoming organizational issues and elections
Visit our Website to renew or join! Ozarkbluessociety.org