Eagle Butte, SD - Joye Braun (Wambli Wiyan Ka'win), a citizen of the Cheyenne River Sioux Tribal Nation and dedicated water protector, passed away at her home on Sunday, November 13th. She was 53 years old. Joye was the National Pipeline organizer for the Indigenous Environmental Network, IEN representative for the People Vs Fossil Fuels Coalition and was a proud servant for her people as a grassroots advocate for climate justice.
Joye traveled extensively throughout Turtle Island to support Indigenous struggles against extraction and colonization. She was a nonviolent direct action organizer and policy advocate who trained hundreds of people over the years. She was known as a firestorm when compelled to champion calls to action, and was fiercely loyal to family, friends, and her community-at-large.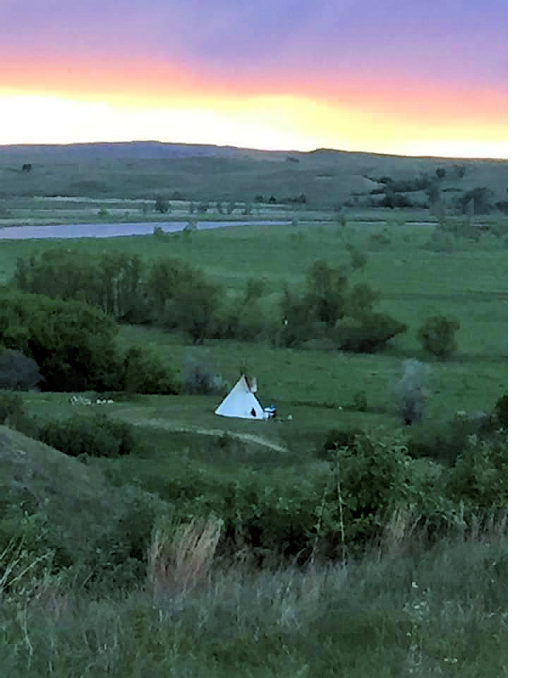 As a founder of the Oceti Sakowin Camp at Standing Rock, hers was the first lodge to go up and one of the last to come down (image at left).
Joye was one of the leaders who maintained the grounding tenets of peace and prayer in the months that followed the establishment of this historic and pivotal moment in Indigenous history.
"Joye was a force to be reckoned with, but to those who knew her well, her heart was as big as Turtle Island and she would give her last meal or pair of moccasins to those in need," said Kandi White, IEN Programs Director and friend. "Her advice and counsel was sought by many, she could always be counted on to speak the truth and she pulled no punches. For this, and so much more, she was respected by colleagues and adversaries alike. Joye is/was the epitome of a Modern Day Warrior. We will continue the work she was dedicated to in her honor; just as she would expect us to. Our sister will be greatly missed."
Funeral arrangements are to be announced.
---
For financial support for family and expenses,
please donate through the following options:
Venmo: smurfi94
Cashapp: $smurfiikim or $kookiee3